Adrianne Meldrum (Made For Math) works with tutors to help them navigate the business side of tutoring with tools like the Profitable Tutor Framework. Whether you are just tutoring for a side income or dream of tutoring becoming your sole income, she's got you covered.
Find out how Adrianne was able to start a tutoring business from home.
Tell us about your entrepreneurial journey.
In 2006, I had been a stay-at-home mom for just over a year. I loved it, but I felt like my brains were leaking out my ears. I asked my oldest sister what I should do. Like all good older sisters do, she told me exactly what to do: "Start tutoring and use your education degree." I was so nervous about it, but little did I know that tutoring would put me on the path I am today! I adore tutoring middle school math students and enjoy all their quirks. How many people can say that?
As part of my journey, I started the Tutor Coach in 2011. The site mostly began as a place to share what I was doing during tutoring and morphed into a site where tutors can find tips and training for their businesses. I've enjoyed watching tutors begin with just a simple search on my site and blossom into their own amazing businesses.
Tutoring has been a major blessing in my life. It allowed us to stay afloat when my husband was laid off in 2009 shortly after the birth of my third son, and gave me the flexibility to deal with a myriad of autoimmune disorders. It's the flexibility I cherish and can't imagine leaving.
What sort of individuals make good tutors?
I've watched hundreds of tutors start their journey, and I would say the ones that stand out are tutors who have patience, quiet confidence, and an ability to connect with students and get to the root of a problem instead of just providing students with the answers.
Good tutors are genuinely interested in their students' success and humble enough to learn right alongside their students.
Fantastic tutors are those who have clear boundaries with students, parents, and themselves. There is a segment of tutors who continually blow me away with how they handle some of those awkward situations that arise in tutoring and how they can state how they feel without coming off like a complete jerk. That takes time to learn, and I am still learning how to perfect this art myself!
How did you land your first tutoring client?
My very first client came because I opened my mouth and actually told someone I was tutoring! Too often, we make a decision and then keep it to ourselves. Your family, friends, and community are your best bet at finding your first clients. I found my first client after a friend had shared with her friend that I was tutoring.
It only takes one student to get started, but even though that number may feel small, it is significant because this one person said YES to you tutoring them. One person coming to tutoring fills one spot on your calendar. When one person signs up for your tutoring, the tally count goes up by just one. And yet, we forget how much that number represents.
You are making a difference in this ONE person's life. So even though getting just one student feels small, it is a big responsibility and one I hope you'll relish in.
Getting started can feel like you're just wandering around in the dark, but it doesn't have to be that way. I created a quiz to help tutors shed light on the exact steps they need to take next.
What types of marketing techniques have worked best for your tutoring business?
In the beginning, my biggest referrals were word of mouth and also from being placed on my local school district's tutor list. In 2011, I started a website for my tutoring business and over time it has become my number one referrer.
I adore websites because they promote me 24/7 which no employee or marketer that I hire could do. Parents often lie awake at night worrying about their child's grades and take action by heading to the internet to look for a tutor. Thankfully, my tutoring business shows up on the very first page.
Another surprisingly helpful tactic is to be present in private Facebook groups. I am part of a few parenting or garage sale groups. The best thing you can do is to just be part of a group, show up, and be helpful. Share about your services at the right time and not spamming the group with information about your tutoring.
Do you have any tips for determining your rates?
Choosing your tutoring rate is a juggling act as you have many things to take into consideration. Many tutors make the mistake of charging too little. I am sure that won't come as a shock to you. They often forget to take these things into consideration:
Time travel
Expenses
Planning
Taxes
Savings
Vacation
Instead of just looking at a few tutors in your area and settling on the lowest rate, I'd encourage you to stop and reflect on what you'd like to make tutoring. What would you like to earn after paying for expenses and your taxes?
Reverse engineer your hourly rate by estimating your taxes, expenses, and savings. Take this total and add it to the amount that you would like to take home at the end of the year.
Now figure how many hours you'll work during the year. Don't forget that not all of the hours you'll work will be billable! Think of travel and planning too. Divide the hours you can actually bill for an entire year by the total of expenses, taxes, and take-home pay. The number may surprise you! I hope it will inspire you to charge the amount you deserve.
Goal take-home pay: $30,000
Expenses: $24,000 (taxes and expenses)
Need to make during one year: $54,000
Full-time hours: 1,398
Approximately $39 per hour
What should aspiring tutors look for when they're scoping out third-party tutoring jobs?
The most important tip I can give you in this area is to pay attention to where third-party tutor jobs rank for you locally. Use an incognito window and search for the type of tutoring you do in your area. For example, you could search "math tutor Denver, CO." Using an incognito window allows you to search without any of the saved history or cookies stored on your browser which affects results.
You would only list yourself on the sites that show up on the first page of results. Before you add yourself to a third-party site, also make sure that the average tutoring rate lines up with the rate you've chosen for yourself. Some sites are infamous for having very low tutor rates which don't attract the right type of students.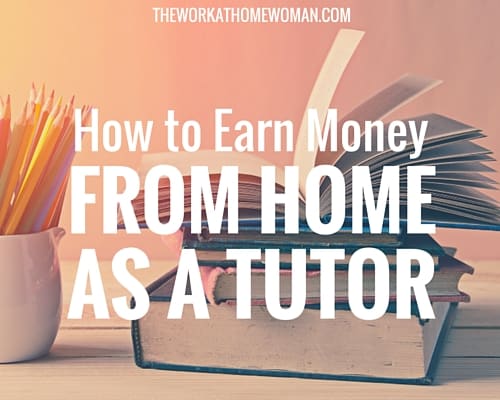 What advice would you give to a new or aspiring home-based tutor?
Create boundaries right from the beginning. What do I mean? Write yourself some policies so that you are clear about how you feel in very specific areas like:
Late payments
Missed tutoring
When payments are due
What materials are needed
How often can students cancel
Illness
Coming late to tutoring
Tutors have the biggest hearts and are often taken advantage of when they are put on the spot to decide how they feel about their student that comes twice a week to hold their spot while they participate in soccer. You have to know how you feel about scenarios like that before they spring up so you can calmly tell someone how you feel about that. This protects your time and money.
What has been your biggest struggle as an entrepreneur?
Being a business owner is a wild ride with peaks and valleys mixed with calamities. It's an array of emotions as you reach goals, fall short, and want to give up only to find renewed spirits the next day. This image below is an actual reality for me:
One thing I am consistently working at is quieting the voice in my head that whispers and tells me lies like, "Who are you to be creating this new experience? How can you compete with them?" I do know this truth: I am a doer. When most sit around and say, "Wouldn't it be great if…" I am able to actually carry out a plan. I know how to get things done! Yet these doubts creep into my mind often. Can you relate?
To combat this internal dialog, I take the following actions:
Participate in Mastermind Groups:
A mastermind is a group of people with similar needs who meet on a consistent basis to talk about their goals and business. I am part of four groups. I know that sounds like a lot to keep track of, but it isn't too hard to do. All of my mastermind groups are fairly relaxed in format, but they have been essential to me getting things done.
Each week, I report to these groups my goal for the week, and then I report back how things are going. I can use these groups for those moments when self-doubt creeps in, or I need a fresh perspective. I reach out to these groups and find support plus renewed desire to keep going.
Read Inspiring Words:
I do a lot of reading. I mean A LOT. You'll always find me reading stuff about business and education; I don't spend much time just reading a novel. There's a good reason for that. If I read a novel, I ignore my responsibilities for days because I have to find out what happens. I binge-read. But an informational book is easier to pick up and put down, so I select books that teach me something 90 percent of the time.
These are my top suggestions:
What are some of your favorite time management tips and tools for home-based tutors?
Handling the financial side of tutoring can be a total pain. I developed an app that helps tutors invoice their students faster. Not only can you invoice everyone at the same time, but you can notify everyone of sudden cancellations when illness or worse strikes. My Tutor Tracker app has saved my rear a time or two!
I also use Google Drive religiously to create content for my websites, collaborate with other teacher entrepreneurs, and share documents with students. There are so many great uses for the apps, but my favorite unsung hero is Google Keep. It is a checklist app that I can use anywhere to help me keep track of both my coaching business and private tutoring needs. I have checklists for my onboarding process so I don't forget a step, lists for updates to my app, and even lists for blog posts I'd like to write.
Thanks to Adrianne Meldrum, The Tutor Coach for sharing her success story!