One of the greatest benefits of working from home is that you don't have to invest in and wear an expensive work wardrobe. In fact, as many work-at-home women will tell you, it's possible to work in bed, in your jammies without anyone being the wiser. But dressing up for work isn't just about pleasing your co-workers, clients or superiors. It's about putting on a "game face" and feeling your best.
What To Wear:
Obviously, there is no reason to wear a suit or to dress like you're going to an important client meeting if you're just going to be sitting at the kitchen table with your laptop all day. What I'm talking about, however, is getting up early enough to take a shower, put on a little makeup (if you wear it), fix your hair and wear something that is both comfortable and professional, so that you are psychologically prepared to take on the day.
Scientifically Proven:
There have been numerous studies done on the effects of what you wear on your overall psychology and outlook on life. This is the reason more schools are adopting a dress code or uniform policy. Human beings can be as affected by our clothing choices as we are by our environment. A new pair of shoes can make you feel vibrant. A favorite lipstick can make you feel powerful. An ironed ensemble can give you a sense of purpose.
You're Not Being Vain:
Many of us put off this conversation with ourselves and our friends because we don't want to appear superficial. After all, women have enough of being told how to look with the unreachable icons presented in media. But this is about looking your best. It's not about fashion or sex appeal.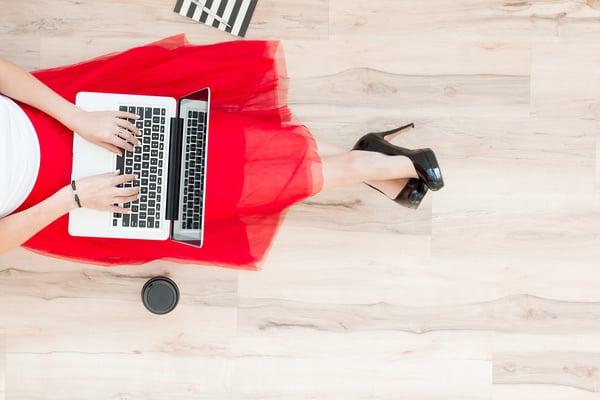 A good rule of thumb is to dress each day in a way that would not embarrass you if a client just happened to "stop by" to see you. Granted, that may never happen—especially if you do most of your work online, but ultimately YOU will know how you look and that can have a big effect on the choices you make throughout the day. And let's not forget the increasingly popular video chat that will become more and more ubiquitous the longer we continue to do business online.
Conclusion:
Working at home takes a great deal of discipline, and it's not for everyone. To be successful, you need to be able to take it seriously. Dressing in a way that promotes focus, assertiveness, and professionalism—even when you are sitting in your dining room—can be an important element to your work-at-home success.