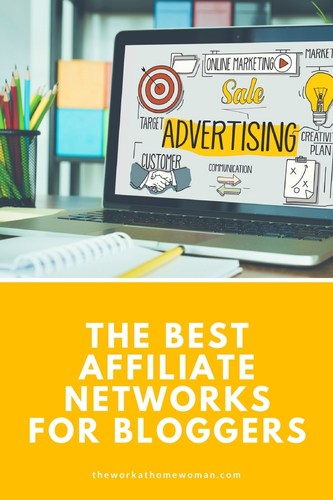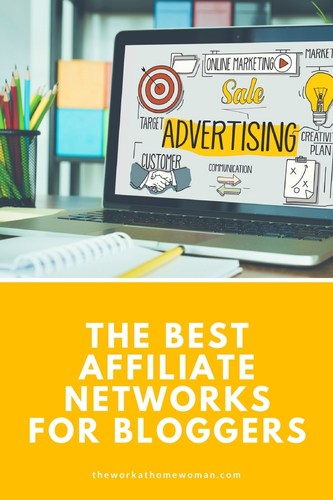 Maybe you've dabbled in affiliate marketing but have yet to find the best affiliate networks for bloggers.
First off, if you haven't read this post, please do so, as it explains the details and rules of affiliate marketing, along with some handy tips.
With affiliate marketing, bloggers can earn money by recommending products and services to their readers. A commission is usually earned when the reader makes a purchase, but, it can also be earned from referrals and leads.
So if you're a blogger looking to diversify your blogging income, affiliate sales are an excellent way to do that.
There are TONS of affiliate networks out there.
Here are a few to help you get started on your affiliate marketing journey.
Affiliate Networks For Bloggers
Formerly Linkshare, Rakuten Marketing works with companies such as Lane Bryant, Bare Minerals, Ashley Homestore, Macy's, Destination Maternity, and more. Payment is made either by check, direct deposit, or PayPal. There is a minimum payment threshold of $50.
Pepperjam allows you to promote products such as health & beauty, travel, home & garden, sports & fitness, food & drinks, and more. They have a super cool feature that allows you to build a store containing the products you want to promote. After adding products, you simply copy a code and insert it into your website. A few of my favorite companies are Mrs. Fields, Grace & Lace, Dollar Shave Club, Wilson's Leather, and Lindt Chocolatier.
E-Junkie is a great way to promote your favorite digital products. There is no cost to become an affiliate, and payment is through PayPal. Finding programs you want to join might take a while as there is a vast array of books, worksheets, memberships, services, and more.
Another great option for selling digital products from others, many bloggers use this program themselves to sell their own products. Commission percentages on earnings vary as each business sets its own. One thing to mention about Send Owl is that you can't go there to search for programs. I found them through finding the products I wanted to promote and a few of them just happened to be through Send Owl.
Affiliate Window is one of my favorite affiliate networks. Not only do they make it easy to share on social media thanks to their Awin tool for Chrome, but they have a convert-a-link tool that easily covers standard links to affiliate links on your website. Another thing I appreciate is they have a helpful Facebook group where you can ask as many questions as you like. I've even had someone walk me through how to do a task step by step—they really go the extra mile to help.
Impact Radius offers a wide variety of categories such as apparel, home & garden, computers & electronics, baby & kid, flowers & gifts, and pets. You can find companies like Levi's, Shoe Dazzle, Kohl's, Dockers, Adidas, and Target. The payout threshold is $50, and you receive payments through PayPal or bank transfer.
A great option for fashion, lifestyle, and home decor bloggers, Shop Style Collective offers women's clothing, shoes, handbags, and beauty products as well as items for men, kids, and the home. Their product widget tool allows you to easily promote specific products on your website by simply inserting a bit of code they provide (simple copy and paste – nothing technical here).
Don't see your favorite product on the list above? Search for the product and add 'affiliate program' at the end. Many companies have their own affiliate program and don't use networks at all.
Companies with Affiliate Programs
If there is a brand, product, or service that you love, there is a good chance that they have an affiliate program. To find out if they do, go to their website and look at the footer of their site for the word, AFFILIATES. If you don't see anything there you can try Googling their name and the words 'affiliate program'. As a last resort, you can email them to find out if they have an affiliate program.
Here are just a few affiliate programs I enjoy working with on my blog:
It's easy for me to promote Grove Collaborative as I use their service every month. Grove allows me to save time and money by shipping products I use every month straight to my door. No wasted time at the store, no money spent on things I don't need. Their products work well (and smell great!). You can earn through Grove when you refer your reader, and they sign up to try out the service. Your reader gets $10 to spend when they sign up – sometimes more if there's a special going on. Grove also has regular campaigns where free products are offered for new sign-ups as well, so they make it very easy to promote them.
Rakuten saves you money when you shop online at your favorite stores. You simply visit the Rakuten site and then click through to your desired store to do your shopping. They also have a super helpful browser extension for Chrome. If you visit a site that uses Rakuten, a little notification will pop up, and upon clicking it your purchase will count towards your Rakuten cashback.
They have a referral program where you receive money when your reader signs up to shop through Rakuten. You can share them on social media or in a blog post. If you have friends or family who might be interested, you can even email them through Rakuten, giving them a $10 credit for signing up. You earn $50 when you refer two friends – $5 for every person you refer and another $40 when two friends join and make a purchase. Some of my favorite stores to shop through Rakuten are Walmart, Target, Amazon, Lane Bryant, and Bath & Body Works.
eBay is a well-known brand that has been around for a long time. Being eBay is primarily an auction site, you don't earn on the sale price but rather on the auction fees they charge. Commission rates are generally 50%-70% of auction fees.
Along with companies, there are many bloggers, writers, and small business owners that have their own affiliate programs as well. If you've purchased a product or use any service and think it would be valuable to your audience, check to see if they have an affiliate program. I bet they do!
If you're in the business of helping other bloggers and small business owners, you might want to recommend the awesome products and services that you are using yourself.
Services with Affiliate Programs
As a blogger, you use a wide variety of products and services to run your blog. You'll probably even write about your blogging journey or be asked about products, services, and courses you recommend — so why not earn a little extra from these recommendations?!
Here are just a few frequently used blogging tools and their respective affiliate programs.
Social Media Scheduling:
Tailwind – Approved by Pinterest, this scheduler has helped many bloggers grow their Pinterest accounts and get more page views.
SocialBee – Schedule Twitter, Facebook, LinkedIn, Pinterest, and Instagram.
Website Hosting Programs:
There are quite a few hosting companies out there. While you're of course free to promote whichever ones you'd like, I recommend only suggesting the ones you either have had good experiences with in the past or that you are currently using yourself.
A few of the most popular are:
Email Marketing Platforms:
The same thing applies to email marketing. If you promote every company, your readers aren't going to think you're genuine in what you are promoting. Try to stick with products you have used yourself and feel good about recommending to others.
Here are some options:
Website Themes:
One thing all bloggers need is a theme for their site. Themes can range in price from free to an expensive custom theme, but most bloggers wind up choosing something in the middle.
You can find moderately priced and beautifully designed themes with affiliate programs too, and you can recommend them to your readers here:
Blogging Courses:
Of course, if you're serious about making money with your blog, you're going to invest in some blogging courses. Most of the courses I know about have very generous affiliate programs.
Here are just a few that I know about:
Conclusion
Hopefully, this list of the best affiliate networks for bloggers will get you off to a good start at earning money through affiliate programs. Know of any other good options? Feel free to leave your suggestions in the comments.