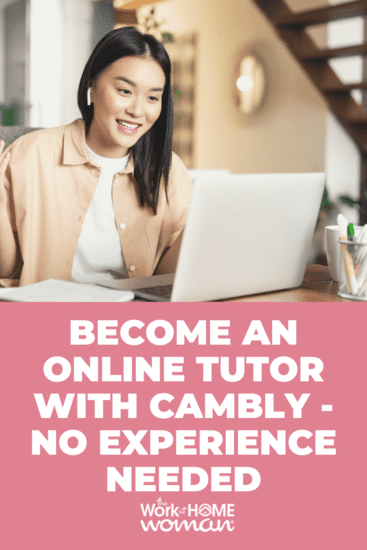 Do you want to get paid to speak English online? With Cambly, you can make money as an English tutor, and you don't need a bachelor's degree, TEFL certification, or experience to get started.
Not too long ago, when I was a teacher, I remember how thrilling it was to educate. I relished in creating different projects with my students, interacting with them, seeing their faces light up when they understood something, and most of all, I loved being around individuals with such a desire to learn.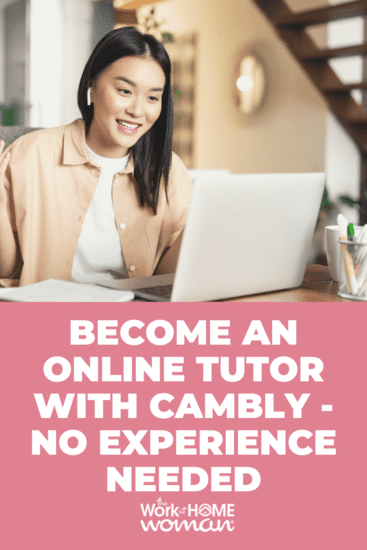 On the other side, of course, came the dreadful correcting and the inevitable designing and redesigning of lesson plans. Don't get me wrong, I liked creating the plans, but the amount of time it took me to craft the perfect lesson (I'm a bit of a perfectionist with certain things!) took hours and hours. I agonized over every detail and pined even more on how to present them.
When my husband and I decided to try to survive on one income, I truly began to miss my students but was thankful for the break from lesson planning and hours upon hours of paperwork. I often thought about how perfect teaching would be if I didn't have to worry about lesson planning or some of the other housekeeping items I needed to do as a teacher.
So off I went searching for potential teaching gigs minus the lesson plans. This was when I discovered Cambly!
If you're like me and have a flair for interacting with people, plus love the idea of teaching and helping others (minus creating the lesson plans), then becoming a Cambly tutor may be for you!
What is Cambly?
What is Cambly, and how does it work exactly? With Cambly, you'll be able to discover new people worldwide and turn your spare time into a money-making opportunity simply by conversing with students studying English as a language. Yes, that is correct; Cambly pays you to speak with students from all over the world.
Essentially, Cambly is an online English teaching and tutoring service that connects you (the tutor) to students who are learning English.
Cambly utilizes its own video platform to accomplish this, and what's even better is that you can chat from anywhere. Connecting with a Cambly student can happen on your laptop, desktop at home, or even through the Cambly app if you're on the go with your phone!
What Sets Cambly Apart From Other Online ESL Companies?
With Cambly, you can log in from wherever you are, for as long or as short of a time as you would like, and speak with students on your own schedule. Aside from the timing aspect, Cambly shines in its ability to have students and tutors casually discuss grammar, punctuation, and slang, all without the confines of a structured environment.
What Are the Qualifications for Becoming a Cambly Tutor?
Cambly has one of the most accessible formats for joining. You don't need a teaching certificate or prior teaching experience to become a Cambly tutor. Aside from that, there are three requirements you need to meet.
Must be a native English speaker; can live in the United States, Canada, Australia, or anywhere else where native English speakers reside. However, they don't accept applicants from California.
You need a computer. While Cambly allows users to access tutors via tablets and smartphone devices, tutors must have a computer or laptop with a webcam and microphone. You'll also need a reliable internet connection. If you have a desktop computer, you may need to purchase a separate webcam to work as a tutor.
You'll need to be able to accept payments via PayPal.
Another note on the technical requirements: While computer mics tend to work well, some can sound muffled or not work at all. With my computer's mic, for example, my voice is completely drowned out by background noise. To be successful as a tutor or with any online position that requires you to speak or teach others, you should invest in a mic or a headset that has a built-in noise-canceling feature.
What Hours Can I Work as a Cambly Tutor?
One of the best benefits you'll enjoy as a Cambly tutor is that you'll set your own hours! You can work as much or as little as you want, log in whenever you have a moment, and start taking calls.
Because you're working with individuals from all over the world, you set the stage for timing and hours. In other words, Cambly is open for you to accept jobs any time of the day or night. How's that for flexibility?
Cambly Application Process
What is it like to sign up and get started with Cambly? I went ahead and signed up as a tutor and was amazed at how easy the process was.
After clicking the "get started" button, you fill out some basic information about yourself and set up your tutor profile.
Cambly will then check your computer to ensure that your microphone and camera are compatible.
After that, you'll need to create a short video. No worries if you're a bit camera shy; it's super easy, and Cambly allows you to record as many times as you would like. Make sure you have good lighting and a noise-free background. Check out my screenshot below!
As you can tell by the "record another video" note from Cambly above, it took me a few tries to get the video the way I wanted it to be (a bit of that "type A" personality coming out again). Thankfully, Cambly also provides some easy pointers to help you with your video. The biggest thing to remember is that the video is very casual, so have fun with it!
After submitting your video, you'll need to wait to see if your account is approved before starting to video chat with students. You'll get a screen pop-up similar to this:
If you don't hear back right away, no worries. I've researched other people's experiences, and some say it can take a week or more before Cambly approves your account.
How Much Money Can I Earn as a Cambly Tutor?
Cambly pays its tutors by the minute. I know this sounds different, but the system is designed well. While chatting with students, Cambly tracks your time and then pays you for every minute you teach English online.
With Cambly, you can teach adults for $0.17 per minute, which adds up to $10.20 (USD) per hour.
Or you can join Cambly Kids and tutor children, ages 4-15 for $0.20 per minute or $12.00 (USD) per hour. Pretty fabulous for making money in your free time.
Another great benefit is that Cambly pays you every single Monday. If your total is over $20 (easily accomplished in just 2 hours per week), you can look forward to some consistent cash in your PayPal account every week!
You may be wondering if Cambly can be a full-time job, and the answer depends on your financial goals. One tutor documented that her average earnings with the platform are $330 a week, working approximately 26-30 hours per week. You also need to remember to set aside money for self-employment taxes and health insurance since you'll be working as an independent contractor.
How Do I Handle Taxes?
Like many freelance contracting positions, you'll oversee the tax side of things for all earnings you take in as a Cambly tutor. In other words, because you're an independent contractor, you'll be responsible for reporting all your earnings from Cambly.

Reviews and Recommendations on Becoming a Cambly Tutor
While I have not worked for Cambly, many people have. Cambly maintains a 3.7-star rating on Glassdoor, with over 78% of tutors recommending Cambly to a friend and 78% approving of Cambly's CEO.
Many reviews rave about the flexibility of tutoring with Cambly, and tutors also state that they love interacting with students from different parts of the world.
Another great aspect of Cambly is that you'll have the opportunity to learn alongside your students while speaking with them. Tutors can immerse themselves in another foreign language and culture naturally while making money; it's a win-win!
Here are some other great benefits highlighted by Cambly tutors in their reviews:
Ability to gain experience in ESL (English as a Second Language) to non-English speaking language learners.
Simple, casual conversational work that requires no lesson prep.
Unstructured environment and unscheduled times. You pick when you want to log in and chat with students.
Doesn't require TEFL courses or certification.
If you would like to read the actual reviews on Cambly, you can go to Glassdoor and check them out!
I also came across a few cons, which is expected with any position, regarding Cambly.
Here are some of the more common complaints I found:
Occasional internet connection issues.
Cambly students have the option to take a free trial before signing up.
Low pay.
No benefits.
Conclusion
If you love interacting with people and are looking for a way to be an English teacher online, becoming a Cambly tutor is the perfect opportunity for you! Whether you're starting your journey as a work-at-home woman or expanding upon it, working for Cambly is a simple way to earn money every week.
Are you ready to become a Cambly tutor? Awesome, click here! For more online teaching companies, check out this post.
We love to hear from our readers! Do you have questions about Cambly? Leave a comment or question below!
Originally published May 28, 2019. Content updated December 2022.