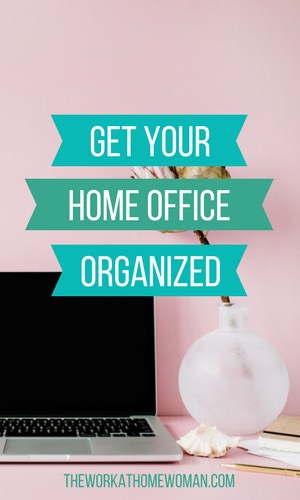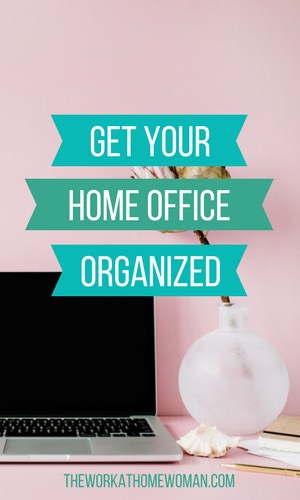 We have all been there. You walk into your home office, and what do you see? Piles of papers, file folders, sticky notes everywhere, and phone numbers in random places. Nothing is more frustrating than having the feeling of "Where do I start?" Being disorganized adds anxiety, stress, and a sense of no control to our lives.
Being organized brings us a sense of peace. It brings us back into control of our space and our time. Time – something we all have so little of; I would much rather find the paper I need when I need it than spending several minutes ruffling through a bunch of stuff.
We work better when we are organized. Working better means working smarter. Working better and smarter means success! And we all want to be successful.
Having a home office myself that I share with my husband, I've learned the hard way what works and what doesn't.
Here are some great tips to get your home office organized while giving your desk a makeover!
1. Clean
Take everything off your desk, filing cabinets, bookshelves, and clean your office—dust the plants, the awards, and the pictures on the walls. If you want to organize, start with a clean office.
2. Plan and Set Goals For Your Space
Whether you share this space with someone else or not, it's important to have a plan on how the space is being used. What is your ultimate goal on how this space is to be used? Just a little planning and goal setting sets enough vision for you to get started on organizing your office.
3. Sort
Go through your "stuff" and get rid of what is no longer needed! Go through pens and other office supplies; if they do not work and are not being used, they are wasting your space! Recycle old files and papers. Look for duplicate information and information you can find online. 80% of what we file, we never look at again.
4. Have a Solid Mail System
Set up an inbox for all incoming mail, go through it every day, and file the mail. The most important organizing principle I teach my clients – It is CRUCIAL that every single piece of paper has a home. If it doesn't, you make one! Warning: Stay away from the Miscellaneous File. This can easily become a clutter zone. If you do not have time to file right away, then I suggest you have a file that says To File – but as soon as this gets too full, you absolutely need to make it a priority!
5. Have a Solid Filing System
If you have filing cabinets but are not using them, then you need to create a different system that works. Analyze your current system and think about why it's not working for you; maybe you need to rename the files to make better sense to you, maybe you need to try to go paperless. The less paper you have, the less you have to file. There are many reasons, why, and lots of solutions; you just have to take the time to look at your own needs and get a system that works!
6. Organizing Your To-Do List
I highly recommend the Hit List for organizing your To-Do's. This is an excellent way to organize your projects and priorities. This completely changed the way I think about my work. And it's free to download for now!
7. Make Maintenance a Habit
Clean up! To stay organized, you have to take the time every night before you leave to sort, file, and put away. It only has to take a few minutes. Make it a goal every day to clear off your desk and prepare and plan for your day tomorrow.
How do you get your home office organized?
Nikki Kinzer is a professional organizer and owner of Take Control Organizing and a proud mother of two. She helps individuals and families build new habits and discover the benefits of organized living.