One of the biggest challenges of being a work-at-home mom is finding that ever so delicate balance between work life and home life. For myself, and many other women out there, cooking and cleaning house becomes a never-ending task which depletes our valuable time and energy.
To help put the focus back on where it should be, our families, I've decided to share with you some of my favorite meals and recipes that can be made in minutes. The focus is to spend less time in the kitchen, and more time with your loved ones.
Here is my first installment of meals in minutes …
This is my go-to recipe for breakfast on the run, it's also great for large groups. I originally found this recipe on the picky-palate but modified it just a tad.
Bacon Egg and Cheese Breakfast Cups
Ingredients:
3 English muffins
12 slices pre-cooked bacon
3/4 cup shredded cheddar cheese
12 eggs
salt and pepper to taste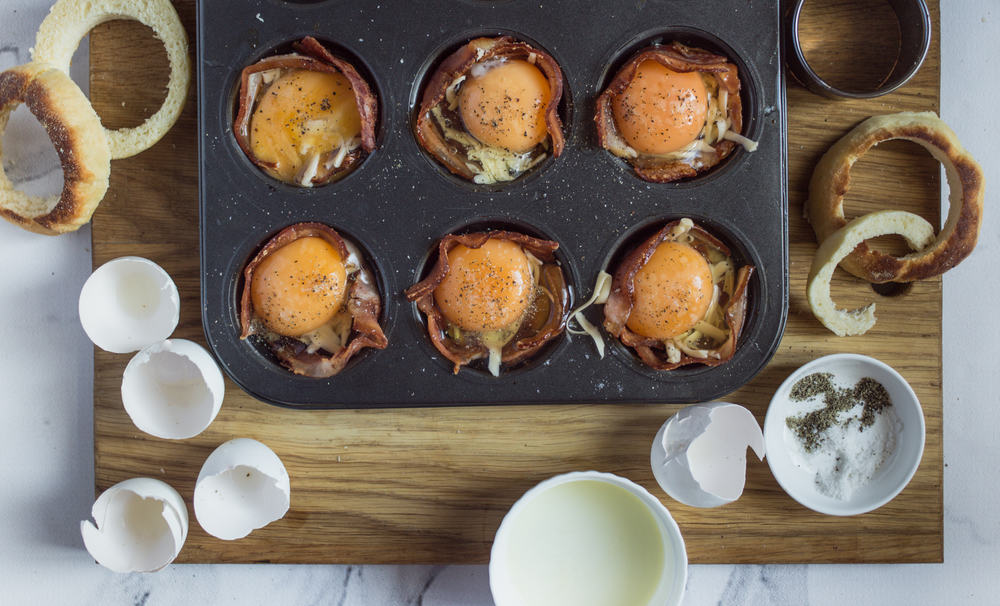 Directions:
1. Preheat oven to 350 degrees and spray a 12 cup muffin tin with non-stick cooking spray.
2. Cut English muffins in half. With a 1 3/4 inch round cookie cutter, cut out two circles from each English muffin half. If you don't have a small cookie cutter, you could use the rim of a shot glass to form the circles. Place one muffin circle in each muffin tin.
3. Place bacon around inside rim of muffin tins.
4. Add a small pinch of cheese to each muffin tin.
5. Crack an egg into a glass measuring cup, then add one egg into each muffin tin. Sprinkle with salt and pepper.
6. Bake for 15-20 minutes. Let cool for 5 minutes.
I love to make this recipe on Sunday for brunch. I then refrigerate the leftovers and have them for breakfast during the week. They reheat in the microwave nicely. You can even make a double batch on Sunday so that you have enough for the week.
I've made this recipe for a large group and they loved it! Be sure to make an extra pan, people will want more than one!
What's your go-to for a quick and easy breakfast?
Do you struggle with managing your work life, your personal life, and your family life? For the longest time, I did too. To help other women achieve all of their big dreams, I took everything I knew about time management and put it into my new book, Time Management in 20 Minutes a Day: Simple Strategies to Increase Productivity, Enhance Creativity, and Make Your Time Your Own. Get your life in order by grabbing your copy on Amazon today.
You'll Also Love These Posts:
Studies have shown if you like this blog post — you will also love the following articles.
Originally published April 16, 2012. Content updated on September 29, 2017.
Holly Reisem Hanna is the publisher and founder of  The Work at Home Woman, which has been helping individuals find remote careers and businesses that feed their souls since 2009. Through her unconventional career path of holding over 30 jobs and obtaining two college degrees, she's been able to figure out how to find a career path that you're truly passionate about. Holly's had the pleasure of sharing her expertise on sites like CNN, MSN Money, Huffington Post, Woman's Day Magazine, as well as being recognized by Forbes as one of the "Top 100 Websites for Your Career." Holly resides in Austin, Texas, with her husband and daughter and enjoys reading, traveling, and yoga.
This page includes affiliate links. Please be aware we only promote advertising from companies that we feel we can legitimately recommend to our readers. Please see our disclosure policy for further information.