Back in the day, when I worked in a cube and had a two-hour round-trip commute, I used to spend the last 15 minutes of my workday scanning the internet for a recipe to make for dinner.
This loose-knit meal planning system worked well because I got to leave work around 3:00 pm, giving me enough time to stop at the grocery store to grab the necessary ingredients. I'd make tasty seafood dishes and spicy Mexican food, and I enjoyed creating delicious meals.
Fast forward to the present time — I hate cooking and menu planning!
Working from home has a TON of perks. However, since I don't have a daily commute, and I batch my errands to be more productive, I only make it to the grocery store once a week. So, this means I have to be super organized with meal planning and my grocery list.
But, when Sunday night rolls around, the last thing I want to do is take an hour out of my busy schedule to sit down and meal plan. The truth is that I hate menu planning, and I hate cooking. At the end of a busy day, I just don't want to take 60 minutes to cook a meal that's eaten in 10 minutes, with another 20-30 minutes of cleanup. Ahhhh, I dread it.
Over the past few years, I've tried a lot of different solutions to solve my menu planning problem, and I've discovered a lot of great options for moms who hate cooking and menu planning.
Budget-Friendly Meal Planning Services
1. $5 Meal Plan
The $5 Meal Plan is a weekly service (arrives every Friday morning) that contains five dinner recipes with sides, one breakfast recipe, one lunch recipe, and a random "goodie" recipe (which could be a dessert, snack, or drink), along with your weekly shopping list.
Meals are family-friendly and are supposed to cost $2 per person per serving (or less). I have yet to try this one, but it gets terrific reviews online and works to help families save time and money.
The $5 Meal Plan offers a free 14-day trial, and after that, if you like it, you'll be switched to the monthly plan, which is $5 a month.
Cook time: 20 minutes or more
Price: $5 a month (each portion costs $2 per person to make)
Specialty diet plans: Regular, paleo (gluten-free), slow-cooker, and vegetarian
2. Lauren Cobello
Lauren Cobello is a well-known personal finance blogger who has developed four different crockpot meal plans that can save you time and money. Each plan comes with 7-12 recipes (for a family of 4-6) that you prep, dump, and freeze for later use.
I have yet to try this meal system myself, but the recipes sound delicious, and most of them are family-friendly. The downside with this plan is that the ten recipes repeat themselves, so you have to factor in having the same recipe twice in one month.
Cook time: 3 hours for 20 meals
Price: $9.97 per plan (estimated $150 for food)
Specialty diet plans: No
3. Platejoy
With this service, you take a short quiz to identify your preferences, restrictions, and goals. Then Platejoy makes custom meal plan recommendations for you.
You'll receive customized recipes to match your needs and wants. Then you purchase and cook the food yourself (to help control the cost). Most meals are ready in about 30 minutes.
Cook time: 30–45 minutes
Price: $12.99 per month (or cheaper if you purchase multiple months)
Specialty diet plans: Vegetarian, vegan, gluten-free, dairy-free, pescatarian, paleo, and more
Menu Planning Services
4. Green Chef
Green Chef is the first meal-planning subscription box service I tried out.
All ingredients in these boxes are organic. Subscribers can choose between several meal types and box sizes (ex: 2, 4, or 6 people with 2, 3, or 4 meals per week, depending on the meal type). Subscribers can choose from 30 weekly recipes and mix and match diet preferences in one weekly box.
It's been a while since I've used this service. The reason I stopped was that the recipes weren't kid-friendly, and I wasn't crazy about them.
If you decide to try this option out, the website offers discounts on your first boxes (which change periodically).
Cook time: 30–45 minutes
Price: $11.99-$12.99 per serving
Specialty diet plans: Vegetarian, keto, vegan, Mediterranean, fast and fit, protein-packed, and gluten-free
5. HelloFresh
I tried this service a few years ago, and I really liked it. The recipes were tasty, and they were also super easy to make.
HelloFresh sends you pre-portioned, farm-fresh vegetables and ingredients along with the recipes so you can skip both meal planning and grocery shopping! Choose your diet preferences and customize your plan size (ex: 2 or 4 people with 2–6 meals per week). Then pick from 30+ delicious recipes each week and receive everything right at your front door.
I love that this company works hard to reduce food waste and its carbon footprint, plus you can cancel anytime or even skip a week if you go on vacation.
The website offers discounts that vary over time to try out the service.
Cook time: 30–45 minutes
Price: $8.99-$12.49 per serving
Specialty diet plans: Classic (omnivores), vegetarian, family-friendly, fit and wholesome, quick and easy, and pescatarian
6. Blue Apron
A friend introduced me to Blue Apron, and I LOVED their recipes! In fact, I probably used this popular service for about six months.
Like the other subscription boxes, you can choose your dietary preferences to account for any dietary restrictions and customize your plan (ex: 2 or 4 people with 2–4 meals per week).
Blue Apron understands life changes, so you can skip, pause, or cancel your subscription at any time.
While I loved their recipes with this option, it took me forever to make each meal. That's why I ultimately stopped ordering, although now they have a Fast and Easy menu option that's supposed to be quicker than their classic recipes.
If you decide to try this option out, the website offers several different discount options to save money on your first order.
Cook time: 45–60 minutes
Price: $7.99-$11.99 per serving
Specialty diet plans: Chef favorites, wellness, family-friendly, fast and easy, and vegetarian
7. One Potato
One Potato is a relatively new subscription box service. Unlike the others (which offer family options), their box is geared toward people with kids.
Each box contains organic, pre-prepped ingredients for meals, sides, condiments, and dressings. Choose your plan size and the number of family-friendly meals per week (2 or 3).
And here's the fun part — each box comes with an organic slice-and-bake cookie dough to complete your meal. Plus, there are other breakfast and snack add-ons you can include, such as smoothies.
I actually signed up for this option after researching this post. Sadly, they're not available in my area yet, but you can sign up for alerts.
Cook time: 30–60 minutes
Price: $11.77-$20.26 per serving
Specialty diet plans: Omnivore, vegetarian, and gluten-free
8. Home Chef
If you like home-cooked meals (but don't want meal prep), this meal delivery service may be the perfect option for you. Home Chef delivers pre-portioned ingredients and step-by-step instructions to your door each week. Each recipe takes approximately 30 minutes to make.
Their weekly menus include 30 meals and 18 extras to choose from, and you can swap out suggested recipes for new ones before your order is finalized. Also, you can find nutrition information (including calories per serving) on the website and the recipe cards that arrive with your food.
The cook time and pricing are comparable to the other options, and many of the meals are kid-friendly — but they are very meaty.
You can usually find coupons for Home Chef if you Google "Home Chef coupons."
Cook time: 30 minutes
Price: $8.99+ per serving
Specialty diet plans: No
9. Cook Unity
If you want meals that genuinely have a home-cooked feel, Cook Unity may be the best option. This service provides chef-prepared meals using fresh farm-to-table whole foods made in small batches.
Choose your plan (4–16 meals per week), and your fresh (not frozen) prepared meals will arrive at your doorstep. They even claim to tailor meals to your dietary preferences and restrictions.
I haven't tried this service myself because it doesn't look family-friendly. But the meals do look delicious!
Like many meal planning and delivery services, the website offers a discount for new subscribers (the discount varies).
Cook time: 30–45 minutes
Price: Unsure
Specialty diet plans: Omnivore, gluten-free, dairy-free, keto, paleo, and vegan
10. Eat Proper Good
Do you mostly eat on the run? If so, you need quick meals that are ready in a flash. Check out Eat Proper Good, which delivers nutritious, ready-to-eat meals that are ready in 90 seconds (and don't need to be refrigerated).
Currently, they only offer soups, chilis, curries, rice, and oatmeal. But they have some delicious-looking options, and you can easily add them to baked potatoes, on rice, or in burritos if you want something heartier (but still fast).
Cook time: 90 seconds
Price: $3.49+
Specialty diet plans: Omnivore, gluten-free, dairy-free, keto, and low sodium
11. Farmer's Fridge
Here's a meal service that takes a different approach. Instead of delivering meals straight to your door, Farmer's Fridge delivers fresh, ready-to-eat meals to "fridges" (cooled vending machines).
You can typically find these machines in universities, hospitals, office buildings, and airports. They're geared toward people who are out and about (instead of at home) but want to eat healthfully.
Locations are still limited, but the company is actively expanding them. Check out their website and search for fridge locations to learn more.
Cook time: No prep or cooking needed
Price: Prices are not posted on the website and may vary by location
Specialty diet plans: No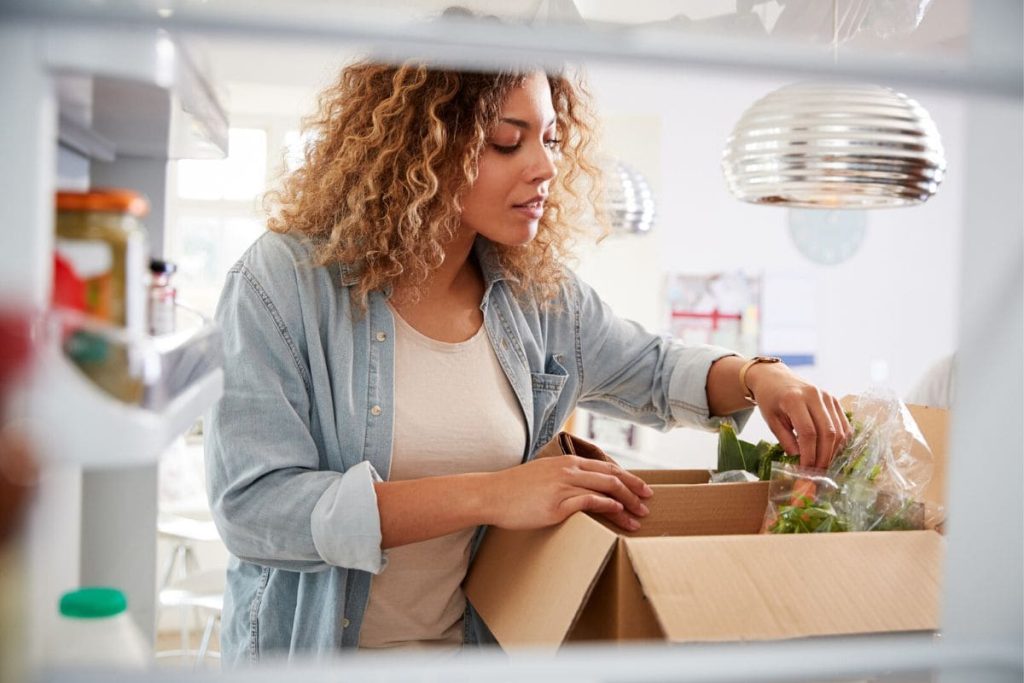 12. Hungryroot
I used Hungryroot off and on for a long time; the food is excellent, and the chickpea cookie dough is so yummy! But I often had issues with their service. Late deliveries, broken food containers, incorrect items, and substitutions that weren't equivalent to what I ordered — so I stopped using them, even though I liked the recipes and quality of food.
The experience of ordering from Hungryroot begins with taking a short quiz to reveal your dietary needs, the number of people you're feeding, goals, and preferences.
From there, the service suggests groceries and recipes. Edit the selections as you wish to receive exactly what you want. Then, once you've tried the dishes, rate them to "teach" the service so that it improves its recommendations each time you place an order.
As a bonus, you get a free gift (veggie, protein, or chickpea cookie dough) in every delivery.
Cook time: 30–45 minutes
Price: Plans start at $65
Specialty diet plans: Omnivore, gluten-free, dairy-free, egg-free, soy-free, vegan, vegetarian, pescatarian, nut-free, and shellfish-free
13. Front Porch Pantry
This menu planning service delivers generous servings of already-prepared meals right to customers in Texas, Oklahoma, Louisiana, and Arkansas. Front Porch Pantry creates delicious classics that the whole family will love. For example, choose between pot roast, lasagna, or chicken pot pie.
This service saves you time by delivering already-made meals that you simply need to reheat and serve. No meal prep time!
Cook time: 20–30 minutes
Price: $5.95+ per serving
Specialty diet plans: Hearty taster box, high protein box, and lower carb lifestyle box options
14. Every Plate
This meal kit subscription service delivers ingredients and recipes to your door weekly. Every Plate focuses on keeping costs down while allowing you to choose from 21 weekly recipe options.
Because this service works to keep costs down, it doesn't offer certain dietary plans such as paleo, keto, etc.
Cook time: 30–45 minutes
Price: $4.99 per serving
Specialty diet plans: Meat, vegetarian, family-friendly, and quick and easy
15. Purple Carrot
Here's a service that provides both meal kits and prepared meals so that you get exactly what you need in a menu planning service! Purple Carrot focuses on plant-based meals, but you don't have to be vegetarian or vegan to appreciate their deliciousness. Kale has never tasted so good!
Cook time: 5 minutes for prepared meals;
Price: $11.00-$13.25 per serving
Specialty diet plans: Vegetarian and vegan
Custom Meal Plans
16. In-Home Personal Chef
Now, I've only splurged on this option once — but I LOVED it! I met a local chef who came to my house and cooked four restaurant-quality freezer meals. I chose the recipes, and she came with all the pots, pans, tools, and ingredients to make four meals (four servings each) with sides and a dessert.
She was at my house for about three hours, and the meals were fantastic! The cost was $200 (back in 2014) for three chicken entrees and one ground beef recipe, plus I tipped 20% on the total. Really if you break it down ($15 per serving), it's not much more than the other options above.
Cook time: Just reheat
Price: $200 and up
Specialty diet plans: Yes
Grocery Delivery Services
Now, if you just hate going to the grocery store — there are a lot of options for you to have your groceries and spices delivered. For a fee, companies like Favor, Amazon Fresh, Shipt, and Instacart will shop for and deliver your groceries to your doorstep.
I've used Instacart for the past few years, and I love it! While it saves me a ton of time, it does have one drawback: it's a pricey service.
Other companies like Tastefully Simple and RawSpiceBar will send you spices and mixes along with recipes so that you can get out of the funk of what to make for dinner. I've tried both of them out, and I enjoyed them. Unfortunately, they didn't solve my problem of hating to cook.
Best Meal Planning Services
So what's the best menu planning system for moms who hate to cook? That's for you to decide!
There is no one-size-fits-all solution when it comes to choosing a meal planning option, but I think each one of these is a viable option for different reasons.
Now that I've shared my take on the best meal-planning options – I want to know what you think!
Leave a comment and let me know: What's your favorite menu planning system, subscription service, or meal delivery option?
Originally published November 15, 2016. Content updated March 2023.