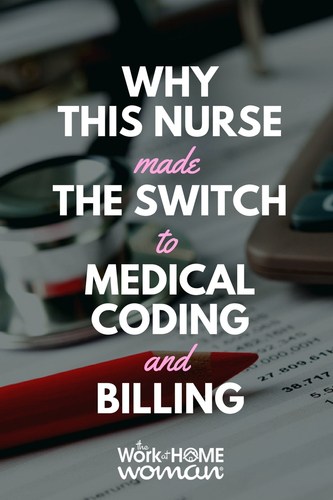 A few weeks ago, Tricia Mitchell left a comment on one of The Work at Home Woman's Facebook posts about how she quit her nursing job and is now working from home as a medical coder and biller.
Because I too am a retired nurse, I was curious as to why she made the career transition and to find out why she LOVES medical coding and billing.
Read on to find out why she made the switch from nursing to medical coding and billing.
Tell us a little bit about yourself and your journey to becoming a medical coder and biller.
I am a Registered Nurse from a very small town in central Kansas. I have been married a little over two years, and we have a 10-month-old little boy. I graduated from a local private college with a Bachelor of Science in Nursing and worked in a local hospital specializing in Medical/Surgical patients and also Labor and Delivery.
Nursing for me was always the goal; I never wanted to be anything different. I gained my mother's nurturing side and have always felt compelled to help those who are not able to help themselves.
As a young nurse, I went into my profession giving 100% of myself to every patient I ever had the pleasure of taking care of; however, I was let down on too many occasions by the "bureaucracy" behind healthcare. The system we currently have now is not working for the citizens of our country who need it the most. Too many high-risk populations are being overlooked, and I felt I needed to find a way to be a voice for those slipping through the cracks.
Medical Billing and Coding has given me a voice with regards to medical policy and how it affects patients on an individual level – I specialize in Fraud, Waste, Abuse, and Error and play an active role in fighting for the voiceless on a daily basis.
Why did you leave the nursing field?
One of the most difficult decisions of my life was leaving bedside nursing care. However, the personal goal of wanting to start a family with my husband conflicted with working full-time nights. I researched and researched viable work-from-home jobs that allowed me to continue to grow as a nurse and stumbled upon Medical Billing and Coding courses on Dave Ramsey's website! I now have a 10-month-old son and a work-from-home career that gives me the flexibility to be an engaged mother but also continue to impact the delivery of healthcare.
What do medical coders and billers actually do on the job?
On a daily basis, coders look at medical records and turn a doctor's charting into a "bill" that is then sent to insurance companies for reimbursement. With all of the changes in healthcare the past few years, the coding industry is ever-evolving and in a way provides "job security" for medical coders. This career will never be an automated process and will always need specially trained individuals to complete.
Do you have any special training?
As mentioned before, I stumbled across Medical Billing and Coding on Davy Ramsey's website as he endorses an online technical school, CareerStep. CareerStep is an online school that provides several programs that are 100% self-paced and, upon completion, allows students to certify and apply for work-from-home careers. I completed the coding and billing program through CareerStep over four months, certified through AAPC, and then received a job offer through my current employer. Even though I was an RN before attending CareerStep, their program is geared toward those individuals without any medical experience. They require no prerequisites and is a fantastic option for those who want to gain new skills while still working or raising children full-time.
Do you have to go to school to learn about the medical coding and billing field?
It is possible to buy a current set of Medical Coding books and teach yourself; however, it is a lot of information and can be quite overwhelming without a program to organize the information. CareerStep did an excellent job of organizing a lot of new information in a way that was easy to understand and allowed me to learn the content relatively quickly and pass the certifying exam.
I have not come across an employer who is hiring non-certified coders to work from home. Certifying is the key to success for individuals who are new to Medical Billing and Coding because it "proves" you are able to complete the job, and CareerStep teaches you all of the "need to know" information in order the pass the certifying exam.
How easy was it to find a remote medical and coding job?
CareerStep has a very thorough Graduate Support Service that keeps in contact with graduates aiding them in finding jobs. They sent me the contact information for my current employer, and I was able to find a remote coding position right after graduating. There are many resources out there to find remote careers after certifying including Facebook groups and LinkedIn. Also, please feel free to use me as a resource and email any questions to [email protected]!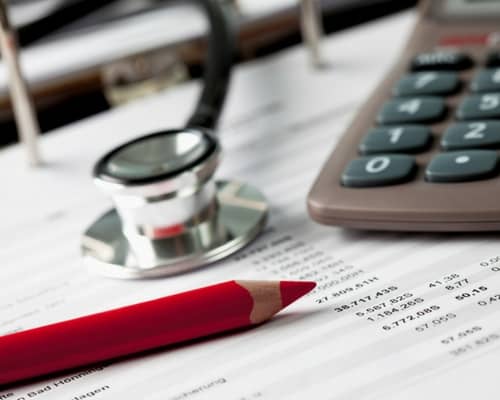 What advice do you have for aspiring medical billers and coders?
Go for it! It is a career that is just exploding right now. The demand for Medical Coders is greater than it ever has been and is opening the door for more remote positions. I have personally seen individuals with no medical experience take the online program, certify, and are now working from home. I no longer just have a job; I have a career. The possibilities are endless, and I'm constantly working my way up the ladder, which never would have been possible for me in small-town Kansas!
Thanks, Tricia for sharing your story!
To get more information on becoming a medical coder and biller, click here, then click on the pink "Get Started" button to receive additional info.