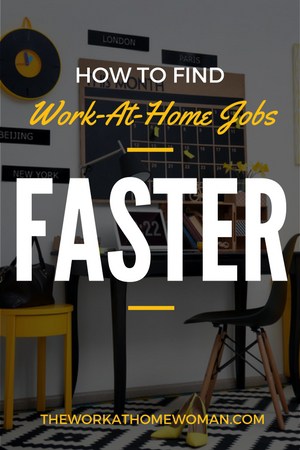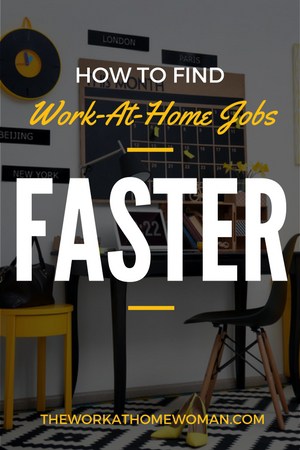 Many people want to work-at-home these days, but they're unsure how to go about it.
One thing is for sure – you'll need to find a job faster if you're considering quitting your day job to pursue your dream of working at home.
It can be challenging; it's not for the faint of heart. If you want to be successful working at home, you have to hustle. It's not all lunch dates with your girlfriends and margaritas by the pool. Lucky for you, we have some tips to help you find that work-at-home job and get you on the path to living your dream.
Here are some great ways you can get a job quickly.
1. Word of Mouth
This is step one. Let everyone in your network know that you're looking for a home-based job, including your current boss, if you have one. You'd be surprised how many positions can be done from home, especially if you work in an office. Your boss might be willing to allow you to work at home in your current position, which would mean that your job search would be short-lived.
You also never know where an opportunity lies. A friend or family member could know of a company hiring remote workers. Or they might be with a company or own a business themselves that needs to hire out help.
2. Pay Attention
What I mean by this is pay attention – really close attention! I have gotten some of my gigs because I was in the right place at the right time. Prospects are everywhere, and by keeping your eyes and ears open and always being on the lookout, you're more apt to find a job faster.
3. Respond Quickly
This is a good tip and one that I need to heed more often. I can't count how many times I've thought, "I'll save this opportunity and get to it a little later," only to find out later that the position has been filled. If you want to find a work-at-home job faster, you have to be fast!
4. Facebook Groups
Facebook Groups are an awesome way to score gigs, and if you belong to the right groups, it opens an enormous amount of opportunities. You can join groups that are in your particular niche–writing, virtual assistants, web designers–or groups for your specific location (sometimes local groups are usually pretty general, so you might have to weed through them).
5. Facebook Pages
There are some really great pages out there that post leads every single day.
A few of them are:
6. Have Confidence
This is something that doesn't come naturally to many people. When you're looking for a position if you don't believe in yourself and your talents, how do you expect to convince someone else that you're right for the job? Know what you're good at and your level of skill, and then own it!
7. Go After What You Want
Most of us have that business, person, or company for which we'd absolutely love to work. Maybe you've always dreamed of working in a certain niche or market. Quit dreaming about it, and start making it happen! Research the company or niche regularly – read everything written about them, visit their website, follow them on social media. Comment on their accounts and sites when appropriate, get your name and face out there. Then reach out! Tell them what you can do for them and how you'd like to work with them. Make sure to fill your pitch with compliments (but be genuine, no one likes a phony).
Conclusion
When you're following the companies that you have an interest in working for, you'll be right there when they do post an opportunity. Just remember to pay attention and respond quickly.
Working at home is truly the best. I hope this list gave you some good ideas about how to make it a reality for you.
If you need help getting started, here's a huge list of job leads to get you on your way to finding work at home jobs faster.