"Just because you can't find them doesn't mean they don't exist. You've got to change the way you're looking for them. Because there are always job vacancies out there." ― Richard N. Bolles
Each day, I receive emails from people who are frustrated with their remote job searches. And I get it. I remember when I was working in medical record review, and my job was mind-numbingly dull, and the minutes passed like hours. I dreaded going to work!
I'd daydream about starting a business but had no clue what I could do. So, I searched for a new role within the nursing field. I eventually stumbled upon pharmaceutical research, and I was convinced that this was my dream job. Unfortunately, I didn't have experience in this field, which the majority of hiring companies preferred.
But, I was determined.
For nine long months, I searched and applied. And when I didn't receive any callbacks, I searched and applied some more. After hearing me complain for months, my husband suggested that I add my hobbies to my resume. So there at the bottom of my resume, I typed:
Extracurricular Activities: Wakeboarding, snowboarding, snorkeling, traveling, cooking, and reading.
And guess what?
In one week, I received a callback for an interview. And the next thing I knew, I was employed in my dream job of pharmaceutical research (or so I thought at the time).
It turns out, one of the hiring managers was an avid wakeboarder, and that little blurb at the end of my resume caught his attention. Crazy, huh?
Searching for a J.O.B. is hard work. And when you're in the thick of it all, it can be difficult to think outside the box, let alone see issues in how you're conducting your job search.
If you're having a hard time thinking outside the box, and you don't want to struggle, incorporate some of these remote job search tools into your job search for quicker results.
9 Job Search Tools to Help You Land a Remote Job
I don't know about you, but I was never taught how to conduct a job search properly. For years, I winged it hoping that my search, apply, and wait method would yield the results I desired. To be effective and more efficient with your search, you need to be organized and have a roadmap that can help you guide your way.
Because so many people emailed me about this aspect of their job search, I created the ultimate job search tool to help you get hired faster. My Work From Home Career Planner is a 126-page planner that will assist you in systemizing your entire job search from start to finish. No more flying by the seat of your pants; this planner will help you track, organize, and steer clear of scams. It's like I'm holding your hand through the entire process.
Here is what others have to say about the Work From Home Career Planner:
"Magic, I swear! I don't know how, but within a week of downloading and using this planner, I was hired for a dream job and got started ASAP! Thank you!!" – Hannah N.
"The planner is FABULOUS! In short: It's easy to fill out, provides guidance for every area in the WAH journey, and it speaks to ME (as a WAHW)! I especially love the resume checklist. I don't know why but resume writing has always created anxiety for me–this eliminates ALL of that anxiety! SIDE NOTE: I had NO idea about the resume tracking system and how significant keywords were in the resume–super important to know! I wonder how many other people DON'T realize this!" – Courtney S.
There are a lot of places to search for remote jobs, but the problem is the majority of job boards don't research the company that is placing the ad. What this means is sometimes, scammers can pay to post their bogus job listings since new postings aren't being closely monitored.
Case in point: an acquaintance of mine applied for a nursing job on LinkedIn. When she went to network with the company on the platform, she found out that they weren't hiring at the time. The scammer had copied the company's logo and old job description for a fake job. Now, this scam company has her personal information.
When you use big job boards, you need to research each job posting carefully (which can be time-consuming). This is just one of the reasons why I recommend paying for a FlexJobs subscription. They examine each company to ensure that it's 100% legit — which saves you from having to do it.
Another thing I like about FlexJobs is the variety of ways you can search for jobs. Unlike most sites, it's not just by location or occupation. You can search by job type, career level, location, work schedule, remote options, and more. So if you need to work part-time, you can look for remote, part-time jobs by your desired location. They seriously have the best search functions of all the major job boards!
While I think FlexJobs is a smart investment for your job search, there is one group that I wouldn't recommend it for, and that's entry-level positions. The majority of the jobs on FlexJobs are for skilled, educated, and experienced individuals. The few entry-level positions they have tend to fill quickly since there is such a high demand for these jobs.
But guess what?
In honor of Labor Day, FlexJobs is offering you up to 50% off a paid membership. Use prior code LABOR at checkout before September 12th.
There are varying opinions on what type of resume you should use when applying for a job.
Alison Doyle, a writer for The Balance Careers, says that you should use a format (chronological, functional, combination, targeted, mini, or non-traditional) that fits your work history, experience, and the type of job that you're applying for. Another career expert, Sam from Financial Samurai, says, don't overthink the design; your content should be the main focus.
But two things these experts don't mention is Applicant Tracking Systems (ATS) and how to stand out from your competition.
First, Applicant Tracking Systems save recruiters and hiring managers time by scanning your resume for the right keywords and phrases. If your resume doesn't contain the right keywords, fonts, formatting, and colors, your resume will never make it into the hands of a real-life person.
Second, if you're using a free template, you're not distinguishing yourself from the crowd, as most job seekers use a free template, and hiring managers can spot a free template and cover letter with the same tired verbiage a mile away!
So, what resume template should you use?
You should use The Ultimate Resume Template Bundle, which is optimized for Applicant Tracking Systems with the right fonts, formatting, and colors, plus prompts and tips for writing a winning resume that gets results.
It includes 3 resume templates, 2 cover letter templates, 3 reference sheet templates, an application and resume cheatsheet, and a bonus action verb sheet! This fully customizable bundle will help you easily write a winning resume and cover letter that generates more callbacks!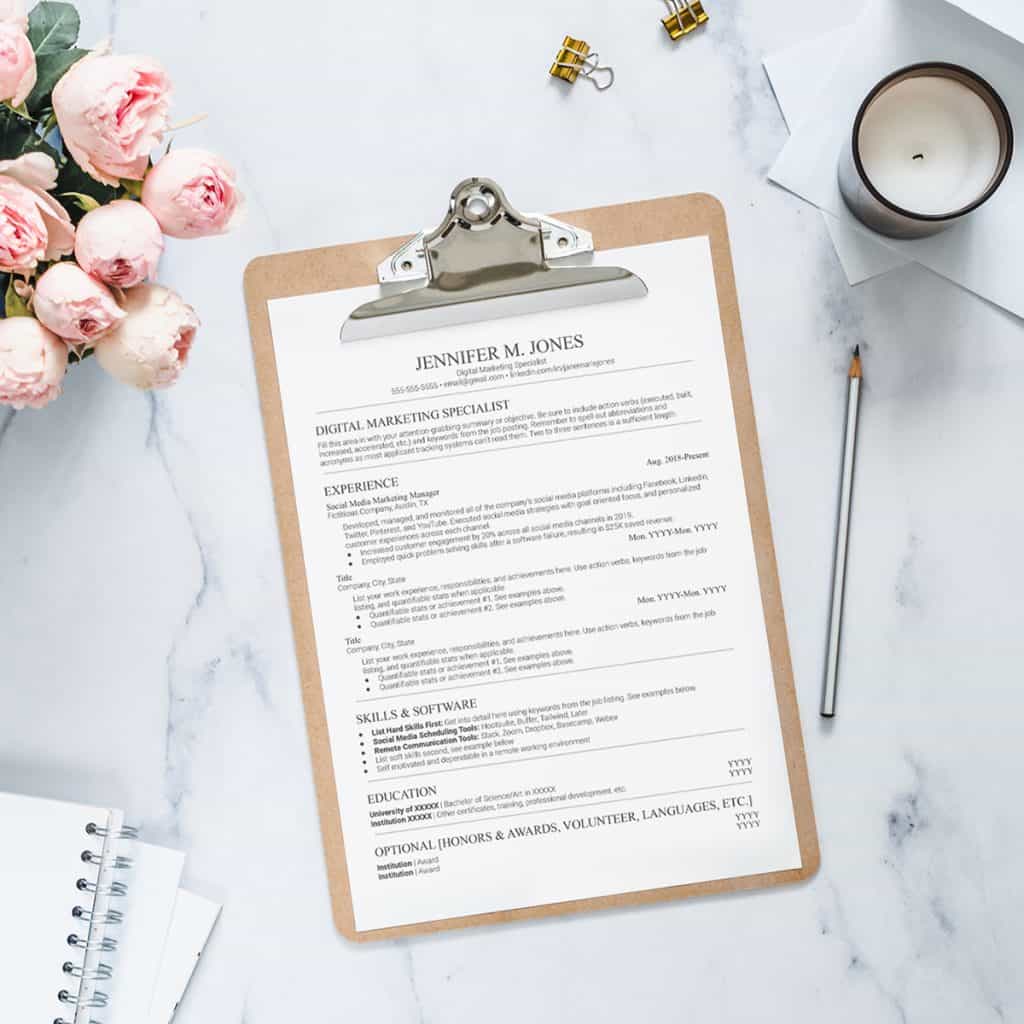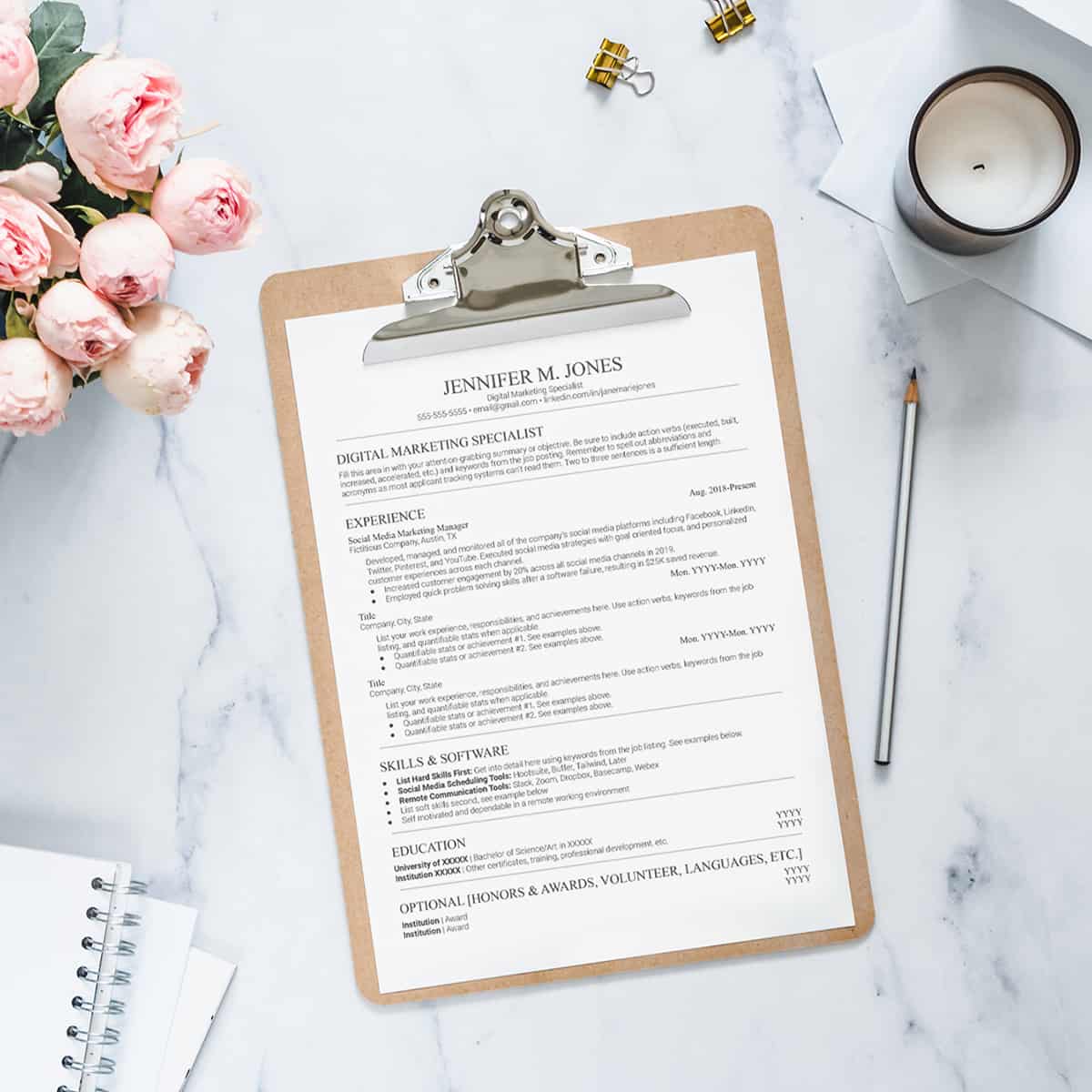 Here is what others have said about The Ultimate Resume Template Bundle:
"Most resume services can leave you feeling frustrated, but this easy-to-follow guide helps you gain some confidence when trying to take control of the hard-to-perfect cover letter and resume. With valuable insight into the secrets in getting your resume recognized, you will be landing interviews once you implement the changes included in this bundle." – Dayna Rasmussen
"If you are looking for a cutting-edge resume builder. This is the one for you. It has all the tools you need to ensure that your resume is the best one on the market. It does so with step-by-step tools to craft your resume how you want it. What can get better than that and all the while making your resume stand out before all others!" – Pascal Nelson-Quiles
4. Jobscan
Did you know that 90% of large companies use Applicant Tracking Systems to scan resumes for relevance? What this means is if you haven't used the correct keywords and phrases on your resume, it will never land in the hands of a hiring manager. This is why it is so important to modify your resume for each job that you apply for. Time-consuming and tedious, right?
If you want to ensure that your resume has all the right wording (and saves time), check out Jobscan. With Jobscan, you copy and paste your resume and the job listing into their platform, and it will calculate your match rate. It then offers up ATS-specific tips so you can optimize your resume and land an interview faster. Jobscan allows five free scans per month, up to 20 scans in total.
If you're not using LinkedIn, you're missing out on valuable opportunities. Over the years, I've gained new advertisers from the platform, I've had numerous recruiters contact me about job openings, and I've connected with like-minded individuals. I have also used it to connect with companies that I want to establish a relationship with.
But, if you're going to use LinkedIn, you need to commit to filling out your profile, adding a professional-looking photo, and dedicating 10 minutes a day to connecting with others.
For instance, say you want a remote job working with Marie Forleo. First, follow her LinkedIn Page and engage with her content — your interaction is much more likely to be seen on LinkedIn than it is on Instagram or Facebook. Next, you can connect with other employees to find out what it's like working for her, and you can start nurturing relationships. Lastly, click on the jobs tab on the left-hand sidebar and then create a job alert so that you're one of the first to know when she's hiring. You can do this for as many companies as you like, and it helps save you time by automating some of your job searches.
We all know that when you're searching for a job, the first thing you should do is network with your circle. People are much more likely to hire (or refer) someone they know, like, and trust. In fact, at least five of my previous jobs (I've had over 30!) I got through networking.
But what happens when you run out of people in your network?
Check out the app, Shapr. With this app, you can connect with other professionals who are looking to build their network. With their machine-learning algorithm, Shapr matches you to 15 relevant people a day based on your goals, interests, and location. If there is a person you'd like to connect with, you swipe right, and if they also swipe right, you'll be matched and can connect. The Shapr app is available in the US and France, and it's available for both Apple and Android devices.
If you're on SSDI or SSI disability benefits and would like to return to work, check out, My Employment Options. They help individuals receiving SSDI or SSI benefits in 47 states with free job placement services (both for remote and on-site jobs). All you have to do is fill out their online application here. My Employment Options also helps job seekers with skill assessment, resume prep, interview practice, and lots more.
Don't you hate it when you find a job that you want to apply for but the company doesn't include the salary or benefits of the position? Then check out Glassdoor for real-life reviews on companies. Employees can leave anonymous reviews listing the good, the bad, and the ugly. You can find out if the company has a positive work environment, what the average pay rates are, and other pros and cons. Companies are rated from 1-5 stars, and the platform contains a wealth of information you'll want to explore before sending out your resume and cover letter.
One of the quickest ways for your resume to end up in the trash is if it has spelling or grammatical errors. If proofreading isn't your strong suit, use a free online editing tool like Grammarly. The free version of the app will detect spelling, grammatical, and punctuation errors, as well as conciseness of the sentence structure. This is an app that I use all the time! Grammarly works on both Windows and Mac operating systems, and there is an extension for Chrome, Safari, Firefox, and Explorer.
Conclusion
While there are lots of guidelines on how to conduct your job search properly, if you're not making progress, you may need to try something new. For instance, in my example at the beginning of this article, I mentioned adding hobbies to my resume. Normally, I would never recommend adding hobbies to your resume, maybe to your cover letter if it pertains to the job or company, but not to your resume. But oddly enough, it worked.
What you have to remember is those general guidelines are helpful, but hiring managers and HR staff are humans who are subjective and have unconscious biases. I've talked to many hiring managers, and they all have their likes and dislikes when it comes to cover letters and resumes.
The best thing you can do is incorporate some of these job search tools to make your job search easier, but also track what's working and what's not. Sometimes it's the minor tweaks and adjustments that make all the difference in your job search.
Originally published January 15, 2020. Content updated September 2021.