Wondering why you haven't landed a remote job yet? Let the Work-From-Home Career Planner help organize your job search for success!
When I started looking for a remote job back in 2007, my job search was all over the place. I didn't have a system for keeping track of my research and I didn't know how to identify scams. I spent so many hours spinning my wheels only to realize that I had already researched the opportunity, or worse yet, I had already applied with them!
Being disorganized with your job search can have dire consequences like missing important dates, forgetting to follow up, or worse yet, falling prey to a work-from-home scam!
Get Organized and Take Control of Your Remote Job Search
Imagine applying for work-from-home jobs with confidence and ease, knowing that you're not going to miss an important date or fall for a scam.
The Work-From-Home Career Planner helps you systemize your entire job search from start to finish. With skill assessments, tracking and research worksheets, calendars, and relationship management tools, you'll always know exactly what needs to be done next.
Just print out these worksheets, fill in the blanks, and the career planner will help guide your way.
With this career planner, you'll stay organized, have greater clarity, and be more efficient with your job search. But not only that, you'll learn the methods and techniques that I use to spot scams, so that you don't fall prey to them.
My goal is to help you quickly locate and land a legit work-from-home job, so you can start making money sooner than later.
Purchase the Work From Home Career Planner here.
Manage Your Remote Job Search With Ease and Confidence
Exclusive Career Planner for Aspiring Remote Workers
Organize Your Job Search
Manage Relationships
Match Your Skills, Education, and Passions to a Job You Love
Learn What's Working and What's Not
Plan Your Strategy
Research and Manage Companies, Applications, and Interviews
Avoid Work-From-Home Scams
What's Included in This Career Planner
Instant Digital Download
126 Pages
Cover
What's Your Vision
Personal Skills Inventory
Network Connections
Job Search Scam Prevention Tips
Job Search Scam Prevention Tracker and Checklist
Job Application Tracker and Checklist
Account Information
Resume Tips
Resume Checklist
Pre-Interview Tips
Pre-Interview Checklist
Post-Interview Notes
12 Month Calendar
Weekly To-Do Lists
Notes
Back Cover
BONUS: Remote Hiring Guide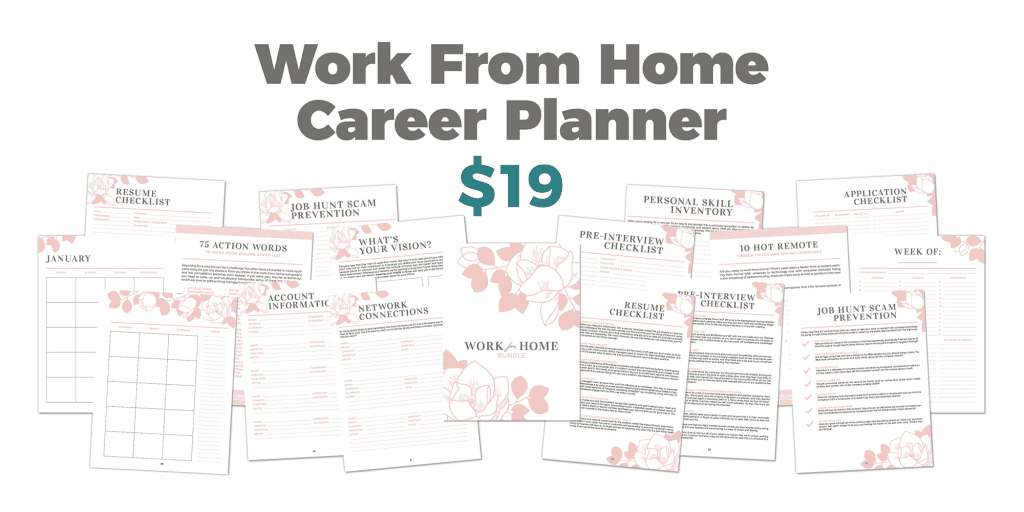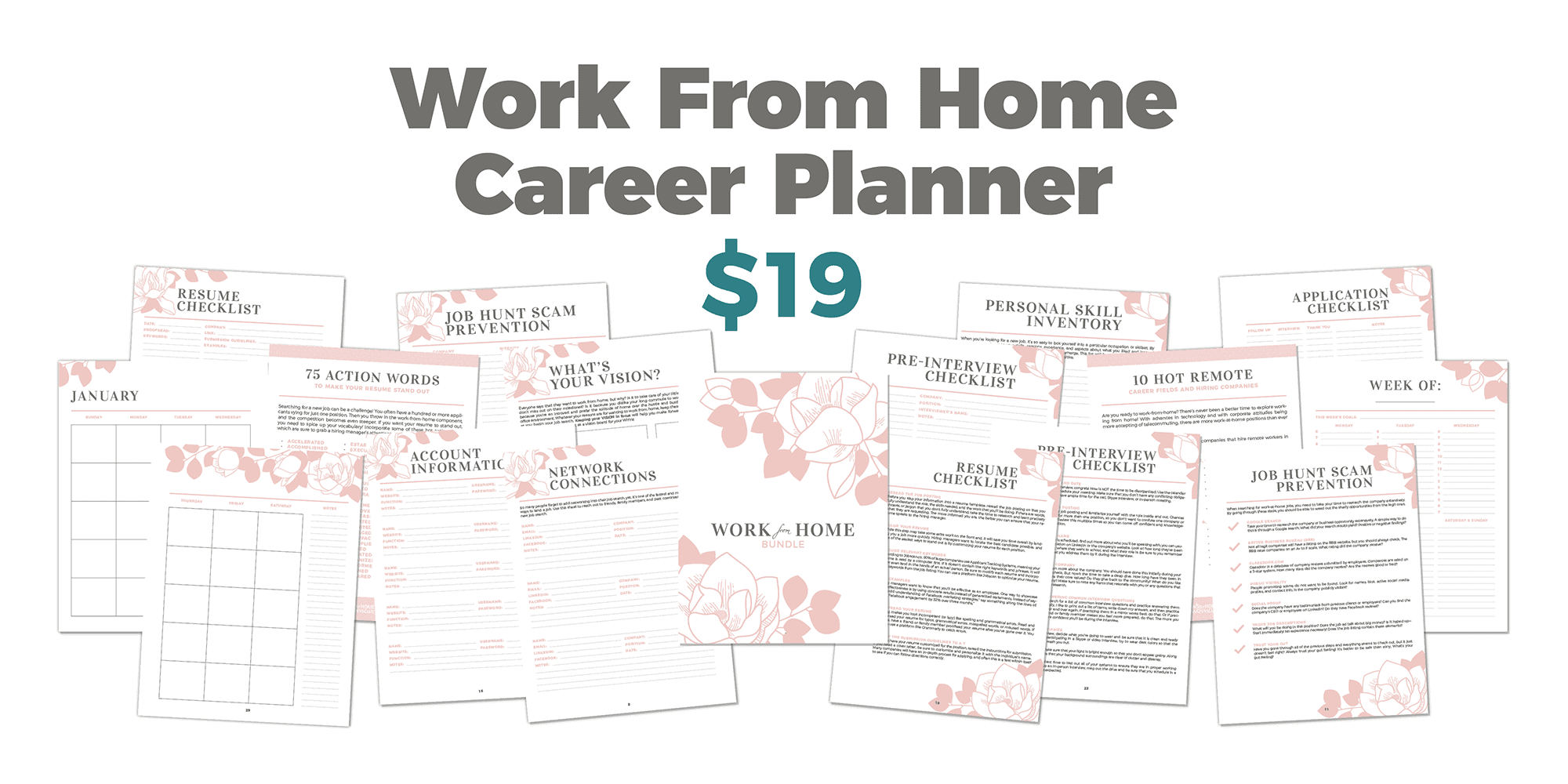 Career Planner Specifications
This is an instant digital download that you can use right away. No physical items are shipped.
Paper size 8.5″ x 11″ (standard US letter size).
You may print and reuse this planner as many times as you like. The calendars and weekly to-do lists do not contain the year or dates — so it's good any time of the year.
The final product comes via email in a file on Google Drive. Once you open the file on your computer, you'll be able to download the career planner in PDF format.
Print double-sided, in color or black and white, hole punch, and put into your favorite 3-ring binder.
This product is for your individual use only. No portion of this career planner may be shared, reproduced, copied, or sold.
Buy your planner HERE
Satisfaction Guaranteed
I know that the Work-From-Home Career Planner is going to be a game-changer in your remote job search! If you're not happy with your purchase, you can request a full refund within 30-days of your purchase, no questions asked.
Please email me at [email protected] for refunds and any issues you encounter.
View all of our digital products here.
Buy Now