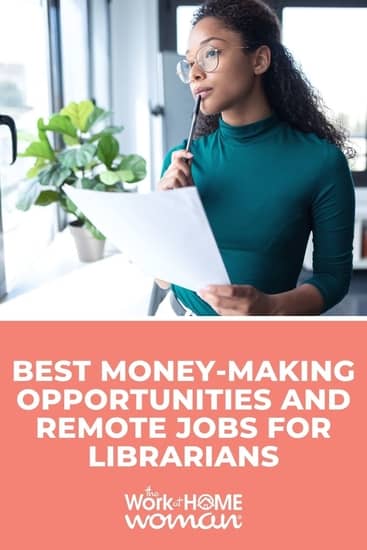 If you've wondered if there is such a thing as remote jobs for librarians, keep reading you'll be pleasantly surprised!
There are a lot of reasons that people go into the librarian profession. A love of books and knowledge and sharing that passion with others are driving forces behind this career. The benefits of pursuing a degree in library science are numerous. After getting your degree, you'll be qualified for a variety of different jobs and will have the opportunity to work with an array of people.
While many librarians enter their profession with the goal of working in a library, you may be surprised to find that there are many online money-making opportunities and remote jobs for librarians.
Are There Really Remote Jobs for Librarians?
The answer is YES! Thanks to the internet, there are many opportunities and remote jobs for librarians! Librarians have and are making money working from home.
Here's a list of money-making opportunities and remote jobs for librarians!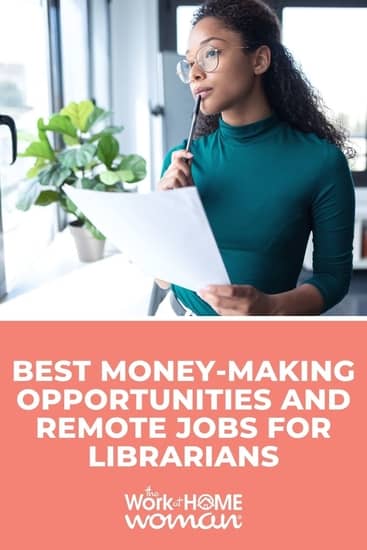 1. B2B Digital Asset Librarian
As a B2B digital asset librarian, you'll work on behalf of a business or organization to filter information to another business. Digital asset librarians take care of digital assets for companies and help develop workflows that allow their target clients to discover information as efficiently as possible.
The exact details of this role can vary by industry, but in general, you can expect to provide assistance to the client so they may make better use of your organization's digital assets. You may need to maintain and train others on how to do so.
2. Remote Digital Asset Librarian
In a similar vein, you can also perform the same duties for an organization itself. Rather than work with clients or other businesses, these librarians help develop and manage databases and digital records.
Again, the work you do will vary depending on the organization, but in general, you'll work with data and documents to ensure information is organized and accessible for users.
3. Online Librarian
Yes, online librarians exist! As a remote online librarian, you'll teach patrons about databases and other resources and help them access information through various mediums.
You may also be responsible for researching and summarizing information or resources for the institution's website. You may need to answer questions and help users use and access databases more efficiently.
4. Proposal Librarian
Do you love to research and write? You can make money working as a librarian by appealing to businesses. As a proposal librarian, you'll help non-profits and small businesses refine the information they're presenting to potential donors or funding sources.
You will work closely with your employer and clients to create the most effective documents to convince others to provide funding to the organization. This position can be a freelance position or a full-time role.
5. Research Librarian
Another option for librarians who enjoy writing and researching is to find work as a remote research librarian.
The exact details will vary per industry and employer, but in general, you'll perform online research for your employer.
You may also be required to interview individuals or study documents and then report back on what you've found. Or, you may be asked to consume information and repackage it in documentation or training. The possibilities are endless with this role, depending on the company and the field of work.
6. Remote Library Consultant
If you love the library but don't want to work in one, this job may be for you. A consultant will go into libraries that need help and provide professional advice.
As a consultant, you'll help businesses build their own libraries by assisting with the selection and implementation of relevant library services. You may also be required to perform administrative duties, such as updating records or managing collections, so that you make the best possible suggestions to the organization.
7. Library Marketing Manager
Marketing managers put together campaigns and promotions on behalf of the library. This can involve writing blog posts, hosting social media contests, or implementing email marketing campaigns.
As a library marketing manager, you'll work directly with the library to determine what they require to promote their services and products. Then, you'll put together content or ideas that will help them reach their goals.
Money-Making Gigs for Librarians
If you are looking for a side hustle or supplemental income, librarians can make some money from home in several different ways.
1. Freelance Content Writer or Editor
If you have experience as a writer and editor, you may be able to find freelance work writing articles and blog posts. This is a great side gig if you enjoy researching and writing but still want flexibility in your work schedule.
Keep in mind that the pay for freelance work can vary wildly, depending on demand and your level of experience and expertise.
If this sounds like something you'd like to do, check out these insider tips for getting a job as a freelance writer.
2. Read and Review Books Online
If you have a bit of extra time and enjoy reading, this could be a great side gig for you.
Depending on your level of expertise, you can get paid to review new releases. This can be done on a freelance basis through sites like Kirkus Reviews or Online Book Club. You can also read and review books in exchange for the book itself or tips from the author.
While you probably won't earn enough to make a living from book reviews, it's an enjoyable way to make some extra money.
3. Answer Questions Online via JustAnswer
Do you enjoy sharing your expertise with others? If so, there are websites where you can do this.
JustAnswer is a resource for people who have questions about all sorts of topics, from car repair to programming and more. The website allows experts in various fields to offer advice online.
While the opportunities are available to everyone, there is a little bit of competition involved. If you offer advice on JustAnswer, you'll need to respond quickly and clearly to compete with other experts.
Again, you may not make a full-time living, but you can earn a decent side income while sharing your expertise!
4. Online Tutor
Last but not least, those who are passionate about sharing their knowledge may enjoy tutoring. If you're knowledgeable about a subject, you can make a living by teaching it to others either in person or online.
This is a great way to earn extra money and is something that you can schedule on your own time.
Learn more about how you can start your own tutoring business from home!
Wrapup: Remote Jobs For Librarians
In conclusion, there are many money-making opportunities and remote jobs for librarians. If you enjoy learning and love to share your expertise, the opportunities are plentiful. If you're having trouble finding these jobs on massive job boards like Indeed or CareerBuilder, give FlexJobs a try. They charge a small fee for membership because they vet every job for legitimacy. But FlexJobs has a whole section dedicated to flexible and remote librarian jobs. Readers can get up to 30% off by using the promo code WAHWOMAN at checkout here.