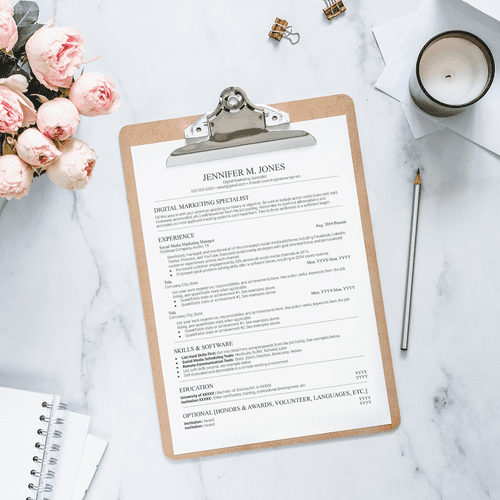 Are you tired of sending out resumes, and never getting any callbacks?
Let The Ultimate Resume Template Bundle help guide your way to landing more interviews and job opportunities!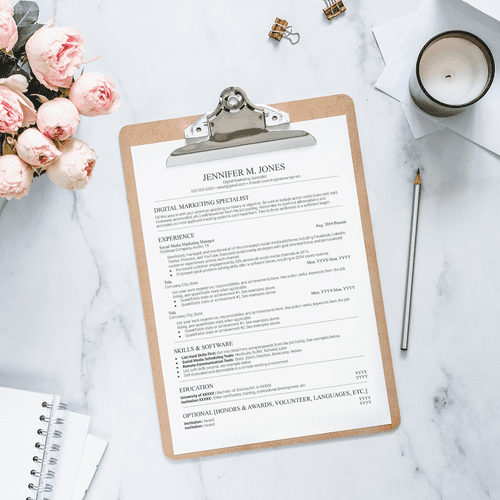 Sadly, there isn't a class in school that teaches people how to write an impressive resume or cover letter that gets results. Hence, most job seekers use the same free templates from Microsoft Word or Google, making it extremely difficult to stand out from your competition.
Using the same templates as everyone else is just one of the many problems that job seekers face.
Did you know that most resumes are scanned by Applicant Tracking Systems (ATS) first? And if your resume doesn't contain the right keywords, fonts, and formatting, your resume will never make it into the hands of a hiring manager!
Then there is the whole issue of what skills, words, and achievements to include so that you stand out as the best candidate for the job!
In a nutshell, writing the perfect resume and cover letter that delivers results can be a challenge.
Don't Get Passed Over for a Job Because of Your Resume or Cover Letter!
Wouldn't it feel great to be able to write your resume and cover letter with confidence and ease, knowing that you'll soon be getting callbacks for interviews?
Writing your resume and cover letter has never been easier with our unique, customizable templates that contain prompts and examples for an effortless writing experience. Not only do our exclusive templates take the guesswork out of what to include, but they have also been formatted and optimized so that they make it past Applicant Tracking Systems.
With The Ultimate Resume Template Bundle, you don't have to worry about your resume getting lost in cyberspace! With these templates, you'll be able to drive better results by landing more interviews and job offers, decreasing the time it takes to land a new job!
Here's what one job seeker had to say about them:
"I can relate to this applicant. I've backed out of applying for so many jobs for this same reason [having to write a cover letter]. I know this post is about the cover letter BUT the templates, in general, really are uhmazzzing!!! They make it so much easier than just trying to come up with something from scratch. They're straightforward and easy to edit. I landed a new career a couple/few weeks after I started using the templates, and I know the door was opened because of how polished and professional my resume and cover letter were. I always keep my eyes peeled for other opportunities, too, so I will definitely be using these resources again. Great investment for anyone who wants to take their career search up a notch. And nope – I wasn't paid to say any of this, but I guess it did turn into a review." – Tmarie Msbrown
What's Inside the Ultimate Resume Template Bundle
Instant Digital Download
Instructions
Resume and Application Cheatsheet
3 Customizable Resume Templates
2 Customizable and Matching Cover Letter Templates
3 Customizable and Matching Reference List Templates
BONUS: Resume Action Verb List
Purchase Your Bundle HERE.
Product Specifications
This is an instant digital download and templates that you can use right away — no physical items will be shipped.
Paper size 8.5″ x 11″ (standard US letter size).
You may copy, edit, and print these templates and documents as many times as you like.
The final product comes via email in a zip file. Once you download the zip file on your computer, you'll be able to download the documents in PDF format.
The resume, cover letter, and reference list templates are located on Google Docs, a free online word processing program.
This product is for your individual use only. No portion of this bundle may be shared, reproduced, copied, or sold.
Buy your templates here.
Satisfaction Guaranteed
Please email me at [email protected] for refunds and any issues you encounter.
I know that The Ultimate Resume Template Bundle is going to be a game-changer in your remote job search! If you're not satisfied with your purchase, you can request a full refund within 30-days of your purchase, no questions asked.
View all of our digital products here.
Buy Now