Over the years, I've used a ton of different planners. Often I purchased ones that had pretty designs, but when I put them into use, they didn't have all the features I needed and wanted in a planner.
For a few years, I purchased a popular-brand planner, and while it worked OK, it had so many pages that I never used, and the pretty customizable covers weren't reusable. Plus, the planner I was using was $55, and I had to purchase a new one every year! So, I decided to take matters into my own hands and created The Determination Bundle.
The Determination Bundle contains the systems that I use to manage my entire life and keep me on track!
Manage Your Life With Ease
Thoughtfully designed, you can customize The Determination Bundle to meet YOUR needs. If there are pages that you don't need, delete them from the bundle. Individual pages, such as the Daily Schedule, can be printed one- or double-sided, saving you on paper costs. Best of all, this is the LAST planner you'll ever need to purchase since calendars are blank and can be used over and over again — this saves you oodles of moola!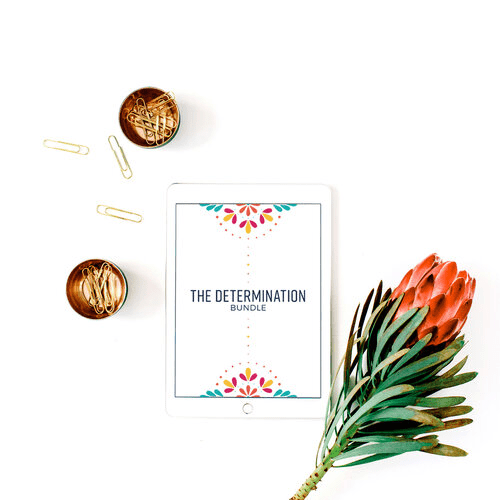 With The Determination Bundle, You'll Be Able To
Set your annual, monthly, and daily goals
Track your progress
Organize your day-to-day life with less stress and more success
Printing Tip: I have the Brother INKvestment Tank Color Inkjet Printer and it comes with a year's supply of ink. I've had my Brother Printer for over a year, and I still haven't had to replace the ink! It's excellent for printing out documents like this and it will save you money on ink.
What Comes in the Determination Bundle
Instant Digital Download
92 Pages
Cover
Important Dates
Important Accounts
Annual Outlook
Monthly Overview
Monthly Ideas Page
Monthly Income
Monthly Expenses
Calendar Pages
Note Pages
Daily Schedule + Habit Tracker
Grocery List
Meal Planning Sheet
Project Planning Page
Weekly Time Blocking Pages
Back Cover
Product Specifications
The Determination Bundle is an instant digital download that you can use right away. No physical items will be shipped.
Paper size 8.5″ x 11″ (standard US letter size).
You may print and reuse this planner as many times as you like. The calendars and weekly to-do lists do not contain the year or dates — so it's good any time of the year.
The final product is delivered via email and can be accessed in Google Docs. Once you open the link in Google Docs, you'll be able to download the bundle in PDF format.
Print double-sided, in color or black and white, hole punch, and put into your favorite 3-ring binder.
This product is for your individual use only. No portion of this bundle may be shared, reproduced, copied, or sold.
Purchase this printable planner HERE.
Satisfaction Guaranteed
I know that The Determination Bundle is going to be a game-changer for keeping you on track and increasing productivity! If you're not happy with your purchase, you can request a full refund within 30-days of your purchase, no questions asked.
Please email me at [email protected] for refunds and any issues you encounter.
View all of our digital products here.
Buy Now