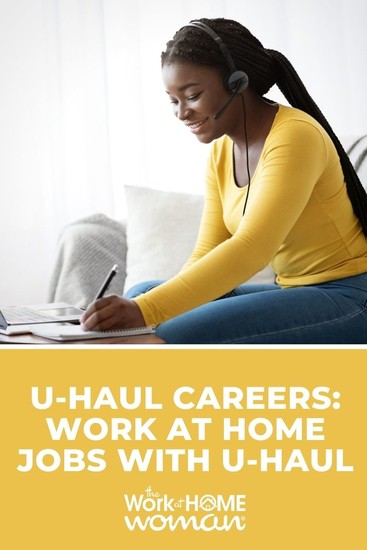 There are so many opportunities to work from home with U-Haul! Check out this list of U-Haul careers that you can do remotely.
If you are looking for a part-time job that allows you to work from home, then U-Haul should be on your radar. They frequently hire remote staff, and they offer flexible hours too!
Whether you know a lot about U-Haul or haven't heard of them before, this guide will tell you everything you need to know to get a job with them.
What Is U-Haul?
U-Haul is a company that rents out trucks, trailers, storage, and moving supplies. They have more than 20,000 locations and claim they are "your one-stop shop for your DIY needs."
You might have seen their moving vans in your neighborhood or while you were driving along the highway.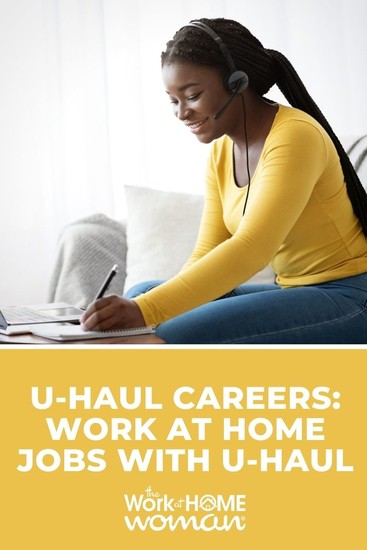 U-Haul Careers From Home
U-Haul has lots of work-from-home jobs that you can get. They offer training, flexible hours, and even bonus incentives!
The best part is, it's not part of the "gig economy." If you work for U-Haul, it's as an employee, so you don't have to worry about paying your taxes at the end of the year like you would as an independent contractor. Plus, they also offer their moonlighting and part-time employees excellent benefits.
Let's look closer at this opportunity to see if it is right for you.
Types of Remote U-Haul Jobs
U-Haul hires sales and reservations agents that work from home. This is a part-time job with flexible hours.
As a sales and reservation agent, you will take back-to-back incoming calls from customers that call the 1-800-GO-UHAUL number as well as people who call specific U-Haul Moving Centers across the U.S. and Canada. You will be answering general product and rental questions and helping people schedule reservations for everything U-Haul offers.
This means you will need a quiet place to work, a headset, high-speed internet, and the ability to close sales. This is a fantastic opportunity if you need a part-time job and you don't mind talking on the phone to people.
How Much Does U-Haul Pay to Work From Home?
The exact amount U-Haul pays isn't available on its hiring pages.
U-Haul says that their part-time remote sales and reservations agents have the potential to hear $14-$18 per hour on average. This average includes the base pay plus the bonus that is outlined next. According to Glassdoor reviews, the $15 per hour average is pretty accurate.
The base pay without the bonuses used to be around $7.50-$8.50 per hour. The bonuses (explained next) are what help you earn more money.
Performance Compensation Bonus
In addition to the hourly pay, U-Haul offers a bonus that employees can earn. They determine the bonus amount weekly and pay $2.05 per piece of equipment that the employee reserved. They don't offer bonuses during training.
Here's how much and how quickly you can earn your first bonuses.
After going through training, in your 4th-8th week of employment, you qualify to earn a bonus if you achieve three confirmed reservations per hour worked.
Starting in your 9th week of employment, you will be eligible for a bonus if you book 3.25 confirmed reservations per hour worked and you are in compliance with a weekly monitored call.
U-Haul Part-Time Career Benefits
Another fantastic benefit of working for U-Haul from home is that they have benefits, and you don't have to work full-time to qualify for them.
These are the benefits they offer part-time employees:
Medical Reimbursement Indemnity Plan
Rx Savings Plus Discount Plan
Dental Plan
Vision Plan
Retirement Savings 401(k) Plan
Life Insurance
Discounts on computers, hotels, and more
24-hour physician available for children
They also offer opportunities for advancement. If you enjoy this job, you could advance your career through the company.
How Long Is Training at U-Haul?
They train you for four weeks. All four weeks of training are paid for by U-Haul. You will also receive a $50 bonus after you complete all four weeks of training.
Week One is an accelerated classroom education with an instructor. Week Two and Three are hands-on classes in small groups that are led by an instructor. After you complete the initial instruction, you will work independently with continued education courses and counseling from your manager, assistant manager, and team coaches.
Reviews of this training say it's very fast-paced, and you learn the most when you actually start working. Don't be afraid to ask a lot of questions. This job is best for people who are assertive, confident, and able to speak up.
What Is a Moonlighter at U-Haul?
A moonlighter is another way to say a part-time employee. When you search for U-Haul work-from-home jobs, you'll probably come across the term U-Haul moonlighter. It means the hours are part-time.
Part-time workers usually work around 32 hours per week, and this includes some weekends. They work pre-assigned shifts, and these shifts are available seven days a week.
How to Get a Work-From-Home Job with U-Haul Careers
Are you interested in working for U-Haul from home? If you enjoy helping people, have an outgoing personality, and thrive in a fast-paced environment, then keep reading. This job is for anyone who has the confidence and ability to manage your time efficiently and close sales and reservations quickly.
These are the requirements and qualifications for the job and how to apply.
Qualifications
The only educational requirement for this job is that you must have a high school diploma or equivalent. There are a few traits and skills you should have to be successful at this job.
Available to work holidays
Clear speaking voice
Basic computer skills
Excellent verbal communication skills
General knowledge of U.S. geography
You must also have a quiet place to work. This means if you work from home, you need to have a place where you can work uninterrupted. It's best if you arrange childcare or work while they are asleep.
Another thing you need to have to work for U-Haul is the ability to learn very quickly. According to current and past employees, the training is comprehensive, and it is a lot to take in very quickly. If you are a fast learner and can meet the sales/reservation requirements, you will enjoy this job.
Technical Requirements
To work for U-Haul from home, you need to have these things in place first:
A computer with Windows XP or higher. Apple/Mac computers are not supported or accepted.
Cable or DSL internet connection that is wired. Wireless connections are not allowed. Your upload and download speeds must meet their requirements.
A headset. One won't be provided, so you'll need to buy your own.
Download their VOIP (voice-over internet protocol) software.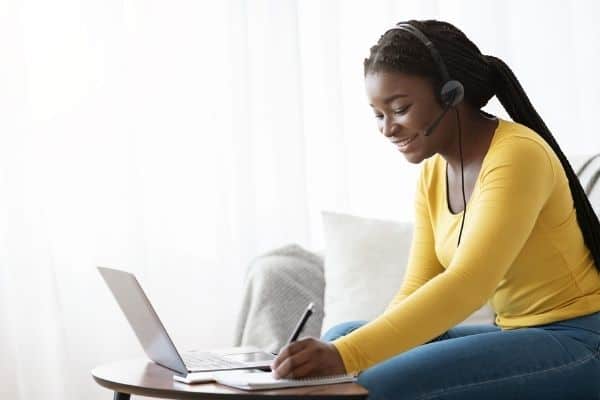 Apply for U-Haul Careers From Home
If you are interested in working for U-Haul from home, browse the available jobs on the U-Haul site. To see the work-from-home jobs, just filter work type by "part-time/moonlighter."
Is U-Haul a Good Company to Work For?
Browse the reviews on Glassdoor, and you'll see lots of people raving about how much they enjoy the work. Headlines like "Amazing company to work for!" and "Good side hustle" are common.
Here is an excerpt from one happy review:
"Working from home is a huge plus!! If you can handle a fast-paced call center environment, then this is the place to be! Uhaul does care for its employees. They are great about working with you and treating you like a valuable part of the company."

Employee, April 2020 review
There are also some negative reviews, so how much you enjoy working for them will depend on how you respond to their fast-paced environment.
Here is one negative review that sums up some of the main complaints:
"A little too much of a fast-paced training. Took calls before I knew everything I needed to. Not enough support when taking calls. No knowledge base kind of system to find answers on my own, which I feel like would make calls go better when starting out on the phones."

Employee, May 2018 review
Another place to find reviews of working for U-Haul from home is Niche. Out of 33 reviews, U-Haul has an average rating of 4 out of 5 stars. Most people on this site say that the hours aren't as flexible as you might imagine. It's a part-time job with set hours. It would help if you also were a fast learner since they teach you a lot of information quickly.
Does U-Haul Pay Weekly or Bi-Weekly?
U-Haul figures your bonuses each week, and then they pay employees bi-weekly.
Where to Find More Work-From-Home Jobs
U-haul careers are a great place to start if you are looking for a part-time job with benefits. Another place to search for more work-from-home jobs is FlexJobs. There are more than 50 career fields from which you can apply – and all of them are remote. Choose from things like accounting, computers, sales, research, and even government jobs.
Working from home is a lot of fun, but there are some things you should know. I have lots of advice for working from home to help you be more successful and happier with your choice.