Whether you're looking for a part-time job you can squeeze in alongside your regular 9-to-5, or you need a flexible way to make extra money, there are lots of part-time weekend jobs for the taking!
In today's post, I'll brainstorm some work-from-home weekend jobs that will work with even the busiest of schedules.
1. Writer or Proofreader
If you have any writing or grammar acumen, there are dozens of writing and proofreading gigs that you could do from your laptop on lazy Sundays. You could do a simple Google search for "editing services" and come up with at least half a dozen companies that offer this service and, as a result, need good writers and editors.
A few companies I found were:
Are you interested in learning more about a proofreading career? Check out Caitlin Pyle's free introductory workshop, where you'll learn if you're well suited for this weekend job and where to find clients.
2. Tutor or SAT Prep Coach
If your SAT scores are still something you like to brag about, or you have some legit math, reading, or grammar skills, you might be able to pick up some part-time work being an SAT prep coach or tutor. With today's technology (Zoom, FaceTime, Skype), you can even do this from the comfort of your home. You might have to change out of your pajamas, though. You can spread the word among your contacts on Facebook or LinkedIn, or some sites you can check out for opportunities include:
3. Transcription Services
I have a few friends who do medical transcription. The beauty is they earn money on their own timeline, even on Saturdays, while watching college football games. If you aren't interested in going through the training that medical transcription requires, you can do general transcription.
You will need to be able to type quickly with accuracy because you are paid by the audio hour or minute, which is different than per minute or hour worked. You'll likely need to listen to the audio clip multiple times to decipher what's being said. Skilled transcribers usually have a 3:1 turnaround rate, which means it takes three minutes to transcribe one minute of audio.
Some websites to look into include:
4. Short-Term Freelance Projects
If you want variety, you might try doing one-off projects or odd jobs by utilizing a freelance website like Fiverr, Upwork, or PeoplePerHour.com. You can look at the projects that interest you, bid to complete the work (building in your needed "weekends only timeline"), and make a little extra money in the process.
5. Paid Surveys
One of the most flexible ways to put away some spare change in your free time is by taking paid surveys online. There's zero commitment; just sign in during downtime as your schedule allows. While you won't get rich taking surveys, it's a great way to earn extra cash when you'd normally be scrolling Facebook! Most surveys pay anywhere from $1-$10 per 15-minute survey, but a few sites will pay $50 or more.
Here are a few sites to check out:
6. Short Tasks
Short tasks are exactly what they sound like – short! You can complete these jobs even with the most chaotic of schedules. What type of tasks you take on is entirely up to you and your area of expertise. Depending on what short task site you sign up for, you could be doing anything from reviewing online advertisements or search results to transcribing or translating videos.
These are some of the best short-task sites:
7. Website Testing
Companies will pay good money for honest reviews of their websites. As a website tester, you'll browse company sites and provide feedback (usually via audio or video recording) on things like usability, speed, and responsiveness. Website testing gigs typically pay around $10 for each 5- to 25-minute test. These gigs come and go quickly, so to maximize your earning potential, sign up for more than one site!
Here are a few to check out:
8. Virtual Assistant
The beauty of working as a virtual assistant is that the sky is really the limit on the type of work you can do. If there's a particular line of work that interests you or a specific skill you have, you can probably offer it as a VA service. Some of the more common VA tasks include social media management, inbox management, and calendar management—most of which can be done on the weekends or while your kiddos sleep!
If you're just getting started as a VA, here are a few places where you can find VA work:
9. Customer Service

Agent

Many contact centers are open nearly 24/7, so if there's a schedule you're looking for, you're likely to find a customer service job to match, and weekend workers are always in high demand!

Some of the companies that offer weekend hours include:
10. O

utside Gig Work

If you don't mind leaving the house for a bit, you can make money on the weekends by completing on-demand gigs. Gig workers are in high demand in cities, so there are tasks available every day of the week!

Some of the most popular on-demand apps include: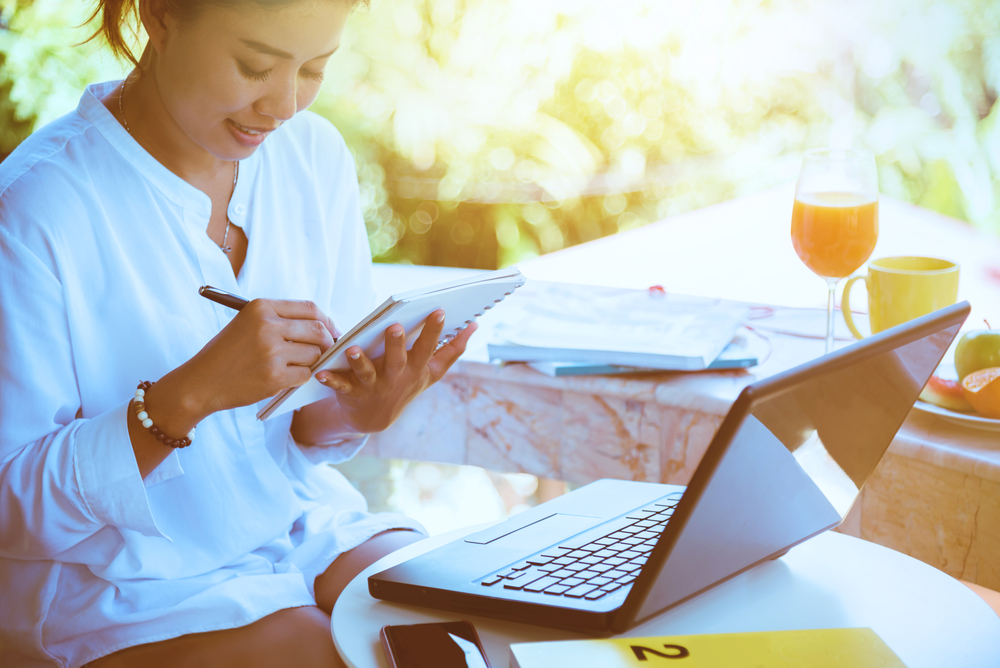 11. Market Research Gigs
Market research companies conduct a wide variety of research, including paid focus groups, behavior research studies like sharing your web browsing activity or store receipts, mystery shopping gigs, and even mock juror opportunities. These activities are used by brands and companies to understand consumer behavior and to help create marketing and advertising campaigns, improve customer service, increase engagement, and even shape policies and procedures. While you're not going to make a full-time income from participating in marketing research, you can make decent money ($50-$150 per hour) and earn some fun freebies as well.
If you'd like to make some extra money on the weekends by participating in market research gigs, here are some legit companies to explore.
12. Social Media Management
If you enjoy being on social media, there are lots of companies that will pay you for your social media expertise. From moderating content and performing customer service duties to running ads and creating and curating content, social media is one of the fastest-growing marketing fields. For these positions, you'll need familiarity with platforms like Facebook, Twitter, Instagram, and Pinterest and excellent written communication skills. The best thing is that social media is available to consumers 24/7, 365 days a year, so there are many day, night, and weekend shifts available.
Here are some companies to check out for flexible work-from-home jobs:
13. Rate Videos
This next opportunity requires a bachelor's degree, but it offers tons of flexibility and the ability to work weekend day or night hours. Vericant hires native English speakers with a bachelor's degree to review and rate spoken English language evaluation videos. These videos are used by schools and universities for admission programs. For these part-time online roles, you must be able to dedicate 5-15 hours, rating at least 12 videos a week per week during the months of September to March. Due to the nature of this work, as long as you can complete the 12 required videos, you can work any hours or days that meet your scheduling needs.
14. Start a Side Hustle
If you want complete control over your own schedule, starting a weekend side hustle is the perfect opportunity for you to make money on your own terms. Luckily, with advances in technology, beginning an online business has never been easier or more affordable. In some cases, you don't even need to invest any money upfront, just a little of your time and some creativity.
To get started, follow these simple steps:
Decide what you're going to sell (product or service)
Pick a platform to sell your products and services on
Get the word out about your business by marketing your business on social media
Perform your service or ship out your product and get paid
If you're having a hard time deciding what side hustle to start, here are some ideas you get your creative juices flowing:
Conclusion
Part-time weekend jobs are a great way to dip your toes into the work-at-home world, start working in a new industry or make some money on the side. Whatever your reasons, I hope this list has been helpful!
This is just a small selection of places to look for weekend work. For an up-to-date list of new job postings, check out our work-at-home job board or sign up for our newsletter to get new leads delivered straight to your inbox.
What do you do to earn a little extra cash on the weekends? Have you tried any of the jobs on this list? Let us know in the comments below!
Originally published October 18, 2016. Content updated January 2023.