A couple of years ago I quit my job abruptly and decided to work at home.
My plan? To become a freelance copywriter and make money using Upwork, a popular online freelancing platform where hundreds of jobs are posted each day.
Taking advantage of a freelancing platform like Upwork seemed a no-brainer to me, because real, paying clients were already there, looking to hire someone who could help them.
That meant I didn't have to go out and find work, which is the hardest part, especially when you're just starting out …
Instead of goofing around with cold calling, networking, and marketing myself online (not to mention good old-fashioned prayer), I could just start applying for jobs that very same day.
Which is exactly what I did. And I've never looked back! I've been able to pay the bills and then some with my Upwork income since day one.
Check out my earnings to date:
And given that I started with no formal experience or training whatsoever, I think that earning money on sites like Upwork is something that just about anyone can do.
Here are some tips that helped me get on the fast track to online freelancing success (and made all of my "j-o-b" friends jealous) despite the disadvantages of being a total newbie …
1) I looked for jobs I could do without previous experience
Many of the jobs posted daily on online freelancing sites don't require the expertise of an established professional. For example, anyone can write a blog post like the one you're reading right now.
Lots of clients are just looking for someone who is reliable and puts some care and common sense into their work. Take a look at my very first freelancing job, which I won just two days after creating my Upwork account:
If you look closely, you'll see that the client's post itself gave me all the info I needed to do the job.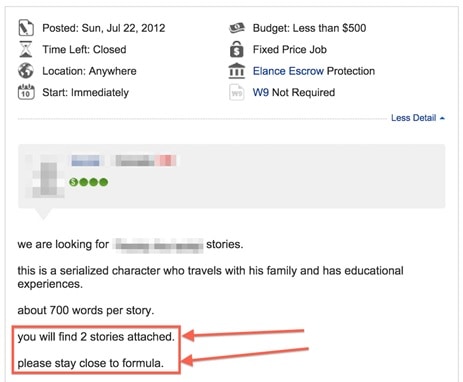 The stories they needed were short, super simple, and followed a clear formula that was easy to replicate; in short, the main character was a boy who visited famous places and always learned three things about them. The client even gave me topics to work with, so essentially all I had to do was search Google for some cool facts about each destination, and plug them into the story's template.
I made $340.00 writing these fun little stories in my first days of freelancing, and I was stoked!
There are plenty of other jobs on Upwork (and other sites) that can be done by any conscientious person with an eye for detail, including proofreading jobs, virtual assistance, research, and lots more.
2) I "went steady" with Upwork
Most people make a detrimental mistake when they start freelancing online. That is, they find work from multiple freelancing sites simultaneously.
On the surface, the thinking behind this move appears to make sense — having accounts at more freelancing sites means more potential job opportunities.
But there's one fatal flaw with this approach: online freelancing sites reward focus.
Why? Because, building up a good solid working history — along with good reviews from lots of clients — helps you win better-paying jobs, with less effort.
To understand what I mean, imagine that an Upwork client is considering hiring one of two freelancers. They appear almost identical, except one of them has a history consisting of 10 good reviews, while the other has only 3…
Naturally, all else being equal the client is going to choose the freelancer with more positive reviews.
I took advantage of this simple fact by using Upwork exclusively, rather than diluting my results by freelancing on multiple sites at once. It wasn't long before my job history was more impressive than my more experienced competitors.
So, contrary to the natural urge to "diversify" your freelancing work across multiple sites, you'll actually do better if you focus on just one instead, at least when you're first starting out. (As a bonus, this makes your job much simpler and easier to manage.)
3) I wooed clients
Though I admittedly started off pretty clueless, one thing anyone can offer clients is an exceptional experience.
That's why, starting with my very first client, I went out of my way to do simple things that I knew they would love. Stuff like …
Surprising them by completing jobs a day or two ahead of schedule
Sending proactive updates to let them know that everything was going great (pro-tip: clients appreciate it when you keep these short and to the point)
Going out of my way to sound friendly and human in messages, including liberal use of emoticons :-)
Checking over my work a few extra times to ensure it was flawless when the client received it
Sending clients links to my Upwork invoices, making easier for them to pay (this also gets you paid quicker, which is pretty sweet)
These "little things" made all the difference, helping me gain two key advantages over my more experienced competition:
a) Lots of repeat customers who continued to effortlessly send work my way.
b) Exceptional (rather than "pretty good") reviews that made it much easier for me to land new clients whenever I wanted/needed to. Check out a couple of examples below.

The bottom line is that clients want to hire (and rehire) people they like, and who make their lives easier.
By being that person, you'd be amazed at the advantage you can get in the online freelance marketplace, regardless of how little you happen to "know" when you first start out.
Why anyone can start making money freelancing right away
Once upon a time, freelancing was hard. There wasn't much work to go around, and the competition was fierce.
But today, sites like Upwork have made freelancing one of the best ways to make real money online.
Thousands of jobs are posted each day, and snagging enough of them to make a nice living is very doable if you're willing to go the extra mile.
I did, and it paid off big-time for my family and me.
Now it's your turn …
If you've been looking for a reliable way to make money from home doing something you enjoy, I hope you'll give online freelancing a try. You and your family deserve a big piece of the pie too.
Danny Margulies is a copywriter and 6-figure Upwork on a mission to help parents earn great money from home.