If you want to work from home and wonder which writing specialty is in demand and profitable, copywriting is the answer! In this post, we'll uncover what a copywriter is, how much you can earn, and places where you can submit your copywriting work!
I remember the first time I heard the term copywriting. I thought it was a profession based on copyrighting books, basically registering legal documents for books and other literary publications. It turns out I was completely wrong.
What is Copywriting?
Copywriting is a form of persuasive writing where the goal is to get the reader to take action. That action may be signing up for a newsletter or trial, purchasing a product, or clicking through to a landing page or website. Copywriters write the words in TV commercials, radio ads, magazines, newspapers, billboards, flyers, websites, and direct mailings – wherever something is being sold, copywriters are hard at work writing alluring and compelling advertisements.
What Types of Copywriting Work Can People Do?
Copywriters can work in a wide variety of niches (health, finance, Christian, retail, technology, pet industry, and more) and can work on many different projects. Below is a sampling of the types of projects professional copywriters can work on; some are long-form copy, while others are short-form copy.
B2B copywriting
Blog writing
Case studies
Direct mail
Print advertising
Online advertising
Email marketing
Billboards
Brochures
Product descriptions
PPC ads
Press releases
Sales copy
Search Engine Optimization (SEO) copywriting
Social media copy
Website copy
White papers
Video scripts
What Training Do You Need to Become a Copywriter?
There are a few ways you can become a copywriter, and depending on where you want to work will likely determine your path to becoming a copywriter.
The first way to become a copywriter is to obtain a college degree in advertising, marketing, English, journalism, or communications. This is the route you'll want to go if you want to work for a big marketing or advertising agency.
If you want to be a freelance copywriter, you can take an online course that teaches you the craft of copywriting. Many copywriting programs can be completed within a few months and cost less than $500.00. I have a couple of friends who got started this way.
My friend, Prerna Malik, started her work-from-home career as a freelance writer and blogger. As her writing and digital marketing skills progressed, she took on more robust writing and marketing projects. She took some copywriting courses through Copyhackers, Bushra Azhar, and Ray Edwards. Today she runs a global copywriting agency from home with her husband!
Another friend, Mindy McHorse, was looking for a new job when she learned about American Writers & Artists Institute (AWAI). She had always loved writing and decided to take their flagship copywriting course. Mindy quickly worked her way through the course and landed her first clients within a couple of months of finishing the course. Today, she earns six figures a year working as a freelance copywriter.
The third way to become a copywriter is through on-the-job experience. Danny Margulies began his freelance copywriting career using the freelance platform Upwork (formerly Elance). Without a shred of experience, he was able to earn six figures in his second year working as a copywriter. If you'd like to see how he got started, he documented his process in this post – it's pretty amazing!
How Much Do Copywriters Make?
According to Nicki Krawczyk, a copywriting coach, "a new (trained) copywriter could make anywhere in the $25 to $35 per hour range, so you're looking at beginning salaries between roughly $52,000 and $62,000." Copywriters with more experience who can generate high conversion rates and have proven results can earn much more.
Another factor to consider is what type of project you're working on and the skills and expertise needed. You'll also want to factor in what niche you're writing for. You'll be able to command a higher rate in the health and wellness niche, which is a billion-dollar industry, whereas non-profit organizations won't be able to pay as much.
To get an idea of what some copywriters charge, check out this web writing fee schedule. Writing a five to six-page website using SEO strategies can bring in a whopping $1,500 to $3,500 per project!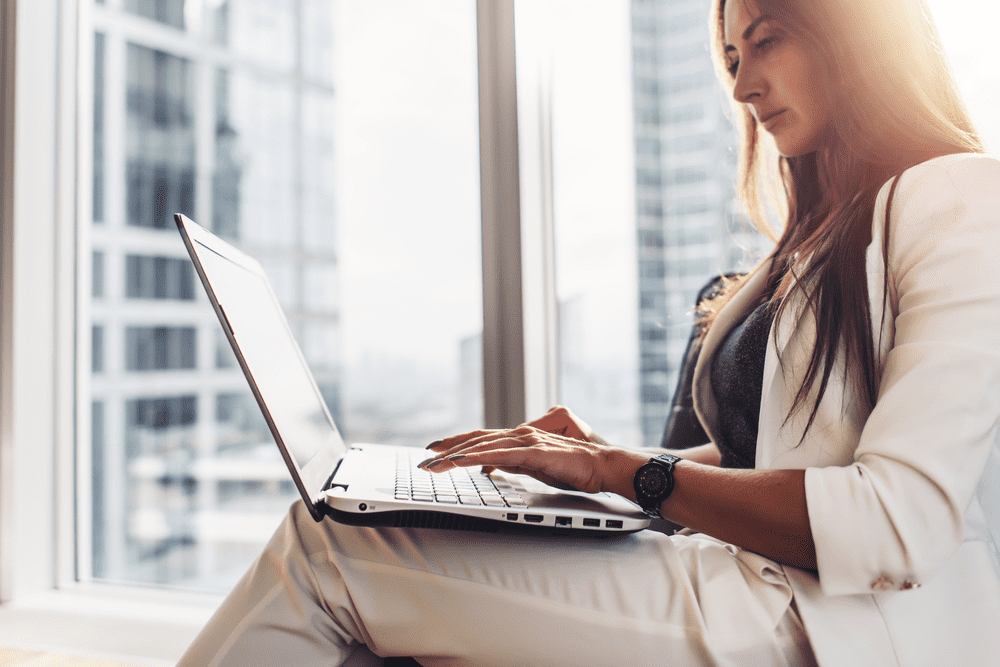 Where Do You Find Copywriting Gigs and Jobs?
There are a couple of routes you can take with copywriting. One, you can work for an ad agency as an employee, or you can start your own freelance copywriting business. Most ad agencies will require you to have a marketing or advertising degree, which is why many copywriters choose to freelance.
Here are some of the best places to search for copywriting jobs.
Ready to Start Your Freelance Copywriting Business?
Like any other home business, you will need to educate yourself on the best business practices, file the appropriate paperwork, and get your legal and financial ducks in a row. Once you write your business plan and set up the preliminary framework, you can start working on the fun parts of your business.
1. Get the Training You Need
Copywriting is a specialized form of writing, so you need to understand the general concepts of writing persuasively. As discussed above, there are many paths you can take to becoming a copywriter: getting a college degree, taking an online course, reading books on the subject, and getting on-the-job experience.
If you want to explore copywriting before making a big commitment, purchase a book like Start and Run a Copywriting Business by Steve Slaunwhite or The Copywriter's Handbook: A Step-By-Step Guide To Writing Copy That Sells by Robert Bly. These will give you a good foundation to understand what copywriting is all about before investing a significant amount of money.
Have you already decided copywriting is what you want to do? Then check out The AWAI Method for Becoming a Skilled, In-Demand Copywriter. This course teaches copywriting principles and skills so you can work on a wide variety of projects, as well as how to land your first writing job.
2. Choose Your Niche and Copywriting Services
Before you open your doors for business, you'll want to decide what writing services you'll offer as a copywriter. As a beginner, you may want to focus on some of the easier projects like writing blog posts (also called content marketing) and social media content. Other forms of copywriting, like SEO and writing white papers, require additional knowledge you'll need to gain.
But something more to consider is what industry would you like to write for? While some copywriters are generalists and write on a wide variety of topics, it's easier and more lucrative to choose a specialty. Figuring out what niche you want to focus on can be challenging, but you can narrow it down relatively quickly if you mind-map your passions, interests, experience, and knowledge.
Some popular copywriting industries include:
Finance
Pet
Food and wine
Health and wellness
Real estate
3. Build a Website
As a work-from-home copywriter, it's helpful to have a website. Having an online presence can help you attract more clients. It gives you a place to showcase your copywriting portfolio, list your services, and it gives your a professional email address. However, if you don't have the funds to invest in a website, you can start your business without one.
If you decide to do the latter, I suggest modifying your LinkedIn profile for your freelance copywriting services or creating a profile on Fiverr. This will give clients a place to check you out, read testimonials, and verify your credentials. If you would like to start a website, here are step-by-step instructions to get started.
4. Market Your Copywriting Business
As a beginner, the easiest way to find your first client is by pitching your services to people you know. Don't worry; this doesn't have to be high-pressure sales; just let your friends and family know that you're open for business. Give them a link to your website or LinkedIn profile, and ask them if they or anyone they know needs a freelance copywriter.
Once you've gone through your contacts, you can create a dream list of potential clients and connect with them on their social media profiles. Once you've established the relationship, follow up with your dream clients, and pitch them your services. You can continue to do this until you have a constant flow of clients in your pipeline.
Of course, there are other ways to promote your copywriting business! The thing you need to remember is consistency is key. Choose two to three methods that you think you'll enjoy doing and spend time working on those methods each day.
Social media
Networking events
Public speaking
Guest blogging
Advertising
Facebook groups
Job boards
5. Organize Your Business for Success
As a freelance copywriter, you'll be wearing many hats: writer, marketer, bookkeeper, editor, administrative assistant, and tax preparer. To stay on top of all your deadlines and duties, you'll need to establish a system to keep everything running smoothly. Don't worry; we have you covered with our Ultimate Online Business Planning Toolkit. This Toolkit will help you set up systems, so you can plan, track, and organize your entire business for success!
6. Invest in Your Skills
As your cash flow builds, you'll want to reinvest some of it into professional development. Luckily, they are events, conferences, webinars, teleconferences, online courses, books, membership sites, mastermind groups, and coaching sessions – there is something to fit every budget and niche. By investing in yourself and your business, you gain the knowledge, information, and skills to make your freelance business a success.
Conclusion
Becoming a work-from-home copywriter may seem like a far-off distant dream, but you've already taken the first step by reading this guide! If you're serious about working from home as a copywriter, start by downloading this free business plan template, and start taking baby steps toward your goal.
Originally published in March 2009. Content updated May 2022.