If you're searching for an online typing job, transcription is one work from home job where people convert their skills into dollars.
In this post, you'll learn everything you need to know about working from home as a transcriptionist. We also have a big list of transcription jobs you can do from home to make money in your spare time!
What is Transcription?
Transcription is the process of taking a live or recorded audio file and converting it into a written document. The audio can be from lectures, interviews, sermons, podcasts, webinars, videos, or any other form of recorded speech.
Why do people convert these recordings into text?
Some professionals are too busy to type their own work, so they use transcribers.
People with hearing difficulties may require subtitles or written documentation to understand what's happening in a movie or TV show. Transcriptionists create documents and captions to assist these people.
Another reason is personal preference. Let's say a business owner records a video, but many of their clients prefer reading over watching a video. They transcribe the video into a written transcript so those clients can consume the content in their desired format.
Transcription Types
There are three main transcription specialties: general, legal, and medical transcription.
General Transcription
As the name suggests, general transcription does not focus on any specific niche. Instead, it involves converting all kinds of audio, like business recordings, interviews, and phone conversations into text. In general transcription, no specialized knowledge or terminology of the subject is required.
Legal Transcription
At times, people need legal recordings transcribed into written documents. These may be court proceedings from judges, lawyers, or advocates. As a legal transcriptionist, you'll need to know legal terminology and produce work without any errors to work in this speciality of transcription effectively.
Medical Transcription
Like legal professionals, transcribers in the medical industry will transcribe audio files for doctors, surgeons, psychiatrists, and nutritionists who need their recordings converted into written documents. Medical transcribers need to know medical terminology and acronyms that are common within the medical field.
One thing to note about medical transcription is the demand and pay rates for medical transcriptionists have decreased as medical facilities have switched over to electronic medical records. I do not recommend this career path as medical transcription is a dying field.
Qualifications Needed for Transcription Jobs
If you have the right skills and knowledge, online transcription jobs are a great work from home opportunity! Here are the qualifications you'll need to start working as a transcriber.
Perfect Command of the English Language
This is self-explanatory. Correct punctuation, spelling, and grammar are necessary to be a transcriber. In short, petty errors such as confusing "it's" with "its" or not knowing when to use a comma or colon should be avoided at all costs. Finally, it's an advantage if you can distinguish between the US and UK commands of English.
Keen Listening Skills
The types of audio you will encounter in transcription will vary significantly in quality, accent, speed, and complexity. As such, one should listen keenly and get the words right.
Good Research Skills
In some instances, you may receive audio that has non-English words or words that you've never heard of before. To create an accurate script, it will be necessary to look some words up. Often names of towns, people, and things may not be clear in the audio. By taking the extra time to research the unknowns, you'll improve the quality and acceptability of your work.
Fast and Accurate Typist
When you're a transcriber, speed is critical to your success. Transcribing one audio file may produce hundreds, sometimes even thousands of words. To be successful, you'll need a typing speed of at least 40-60 WPM (words per minute) for most transcription jobs. The faster you can type, the more money you can earn in most cases. However, it's important to note that speed should not compromise your accuracy.
Required Equipment and Training For Transcription Jobs
If you have a good command of the English language and you're a fast and accurate typist, you may be able to learn transcription without taking a course. If your English, grammar, and typing skills are rusty, taking an online course can help prepare you for this career.
For medical and legal transcription, you'll need to take a course to learn the proper terminology.
I recommend Transcribe Anywhere's courses if you're interested in learning general or legal transcription.
Let's talk about other equipment you'll need to work as a transcriptionist:
Reliable desktop computer or laptop
High-speed internet connection
Audio enhancer software that boosts the quality of the audio files
PayPal account to accept payments
How Much Do Transcription Jobs Pay?
Generally, transcription pay is calculated by the audio hour or minute. According to PayScale.com, the median wage for a transcriber is $18.58. Of course, you can earn more based on the quality, speed, and type of transcription you're doing. One perk about transcription work is you can set your own schedule and work any time of the day or night as long as you meet your deadlines.
One thing to note with transcription is if it says you're paid per audio minute, this is not the same as per minute worked. This is how long it takes you to type out one audio minute. According to the professional transcriber, Lisa Mills, experienced transcriptionists usually have a 3-to-1 turnaround rate, meaning that it takes them three minutes to type out one minute of audio. Beginners can expect a slower turnaround rate, but with practice, you can increase your typing speed and hone your listening skills.
Where to Find Legitimate Transcription Jobs From Home
If you want to work from home doing transcription, there are many transcription companies to explore. Most companies on this list will require you to take and pass a skills test before you're able to start working on projects. Another thing to note is most transcription work is for independent contractors, which means you're responsible for paying self-employment taxes. Be sure to educate yourself on the pros and cons of this work arrangement.
Here are 22 legit online transcription jobs to check out.
1. AccuTran Global
AccuTran Global hires independent contractors living in North America for transcription, stenography, and captioning in a wide range of industries. You'll need excellent communication skills and your own equipment. According to their website, pay is determined by the call length, starting at $75 for events up to an hour.
AccuTran Global gets a 5-star rating on Glassdoor.
2. AlphaSights
AlphaSights hires remote language transcribers and general transcribers from around the globe. These positions require at least five years of experience with a 98%-99% accuracy rate. You'll need to pass an assessment and criminal background check.
AlphaSights gets a 3.5-star rating on Glassdoor.
3. Appen
Appen hires freelance contributors worldwide to complete short tasks like categorizing social media, transcribing audio, moderating content, and more. According to Indeed, independent contractors earn an average of $10.37 per hour.
Appen receives a 3.7-star rating on Glassdoor.
4. CrowdSurf
CrowdSurf hires transcriptionists and captioners from the US, Canada, and internationally. In this role, you'll work as an independent contractor, and you'll be paid per task ($0.03-$0.20 per media minute). Transcribers must pass an initial assessment before taking on projects.
CrowdSurf receives a 3.8-star rating on Glassdoor.com.
5. Daily Transcription
Daily Transcription hires freelance transcriptionists, captioners, and bilingual Spanish transcriptionists from the US and Canada. Starting rates are $0.75-$0.85 per audio minute, and top transcriptionists earn anywhere from $350-$1,250 per week. You'll need to pass a grammar quiz and a transcription test in your area of expertise. Payments are made weekly by check.
Daily Transcription gets a 3.7-star rating on Glassdoor.
6. eScribers
eScribers hires legal transcribers, proofreaders, and stenographic reporters from all states except California and Massachusetts. You'll work as an independent contractor in these roles, and payments are issued via direct deposit. eScribers hires beginners, so if you don't have prior experience, this is a good opportunity to get your feet wet.
eScribers receives a 3.6-star rating on Glassdoor.
7. FlexJobs
FlexJobs is a job board that features flexible and remote job opportunities. What I like about this job board is they hand-screen all of their jobs, so you never have to worry about falling for a scam. While FlexJobs charges a small membership fee, they offer many perks and benefits to their members.
FlexJobs has an A+ rating with the Better Business Bureau.
8. GMR Transcription
GMR Transcription hires US general transcribers, Spanish translators and transcribers, and certified translators. No experience is needed, but you'll need to pass a transcription test. According to their website, transcriptionists and translators earn around $1,000-$3,000 a month, depending on the scope of work.
GMR Transcription gets a 4.5-star rating on Glassdoor.
9. GoTranscript
GoTranscript hires transcribers and translators from all around the world! Transcriptionists earn up to $0.60 per audio minute, and top earners make $1,215 per month. To apply for this transcription job, you'll need to complete an application and pass a sample transcription test. Payment goes through PayPal or Payoneer every Friday.
GoTranscript receives a 4-star rating on Glassdoor.
10. Happy Scribe
Happy Scribe hires freelance transcribers, captioners, and translators from the United States, United Kingdom, Spain, France, Germany, Canada, Kenya, and the Philippines. No experience is needed, but you'll need to pass an assessment test to prove your skills. Transcribers earn €0.90 per audio minute, with top earners making €3,000 a month. Payments go out every two weeks via Wise.
Happy Scribe gets a 4.3-star rating on Glassdoor.
11. VIQ Solutions
VIQ Solutions, formerly Net Transcripts, provides confidential transcription and translation services for law enforcement agencies. They hire a wide variety of transcriptionists who have experience in specialized transcription. In these roles, you'll work as an independent contractor, and payments are made twice a month via direct deposit. They hire in all 50 states except Massachusetts, Illinois, and California.
VIQ Solutions receives a 2.7-star rating on Glassdoor.
12. Production Transcripts
Production Transcripts sporadically hires highly proficient, experienced freelance transcribers from the US, Canada, Australia, and New Zealand. There's not a lot of information listed for this company, and they do not have a rating on Glassdoor, so you'll want to do more in-depth research if you're interested in joining their team.
13. QuickTate
QuickTate hires freelance transcriptionists to transcribe voicemail messages, letters, legal and medical files, phone calls, and other types of audio files. General transcribers earn $0.0025 per word, and medical transcribers earn $0.0050 per word. Payments go out every Monday via PayPal. For this position, you'll need to pass an assessment test and a criminal background check which costs $20. You'll also need to have Excel and Express Scribe Pro.
QuickTate has a 2.7-star rating on Glassdoor, so thoroughly research this company before applying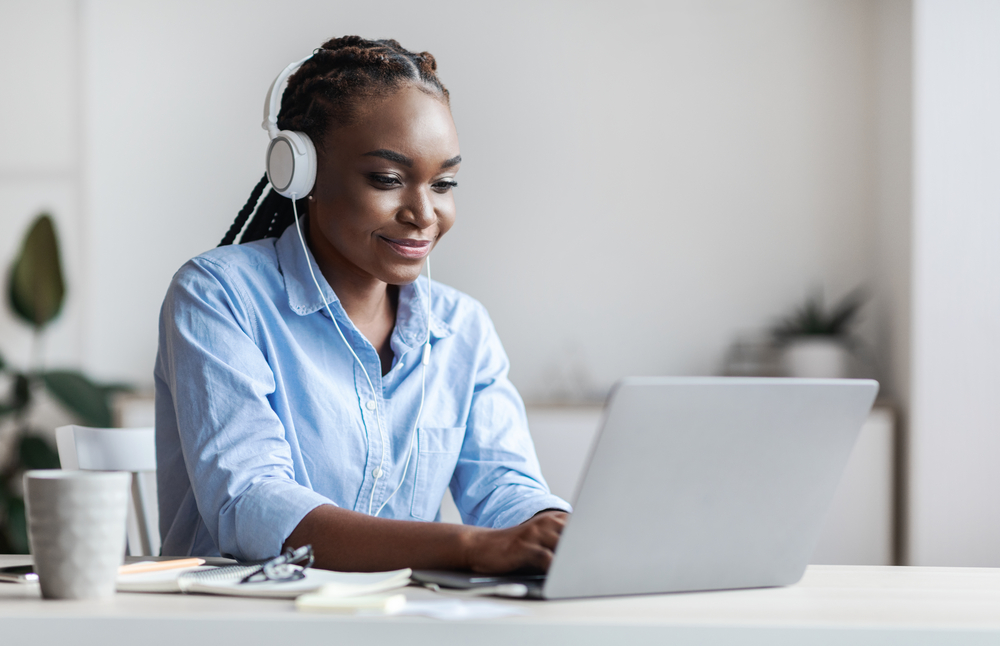 14. Rev
Rev hires freelance transcribers, captioners, and translators from the US (all states except California), Australia, Canada, Ireland, Mexico, the Netherlands, New Zealand, South Africa, the UK, and Ireland. Transcriptionists earn $0.30-$1.10 per audio minute, captioners earn $0.54-$1.10 per video minute, and translators earn $1.50-$3.00 per audio/video minute. Payments are distributed weekly via PayPal, and you must pass a grammar quiz and provide a transcription sample before beginning work. However, they do hire beginners.
Rev receives a 3.6-star rating on Glassdoor.
15. Scribie
Scribie hires freelance transcribers with good communication skills and an excellent command of the English language. You don't need prior experience for this role, but you will need to pass a test and obtain certification through them. Pay is $5-$20 per audio hour, and payments go through PayPal. While this isn't much money, it may be a good way for beginners to gain experience in the field.
Scribie gets a 3.1-star rating on Glassdoor.
16. SpeakWrite
The Austin-based company, SpeakWrite hires legal and general transcriptionists. Before applying, you must pass a typing test with a speed of 60 WPM and an accuracy of 90%. SpeakWrite hires in all states (except California) and Canada, and transcriptionists need one year of experience. According to their website, top earners make $3,400 a month.
SpeakWrite gets a 3.5-star rating on Glassdoor.
17. Speechpad
Speechpad offers captioning, translation, and transcription services to companies. They hire transcribers and translators from all over the world. According to its website, transcribers earn $0.25-$2.50 per audio minute, translators make $2.00-$5.00 per audio minute, and payments go out twice a week. To apply for these positions, you must be fluent in English, have excellent grammar skills, and type at least 40 WPM.
Speechpad gets a 4.4-star rating on Glassdoor.
18. Telenotes
Telenotes is a CRM for salespeople, and part of its offerings are transcription services. For these independent contracting roles, you must live in Utah, be able to type 70 words per minute and have excellent spelling and grammar skills. Most transcription work can be done between the hours of 8:00 am to 8:00 pm, but transcribers will be expected to work one night shift per week, starting at 9:00 pm. The starting pay rate is $11.00 per hour for your first 60 days. While no experience is required for this position, you will be expected to pass a typing test during the application process.
Telenotes receives a 4.9-star rating on Glassdoor.
19. TELUS International
TELUS International is an AI community where freelancers from around the world can work on short tasks and projects like transcription, translation, search engine evaluation, mystery shopping, data collection, and more. Some projects require a preliminary exam to vet your skills and expertise.
TELUS International receives a 3.6-star rating on Glassdoor.
20. Tigerfish
Tigerfish hires elite transcribers to work on general, medical, legal, tech, and finance transcription projects. You'll need to download three MP3 files to your computer and transcribe them for your application. There's not a lot of information about the job, but it looks like you can work part-time or full-time hours.
Tigerfish gets a 5-star rating on Glassdoor; however, they only have one review.
21. TranscribeMe
TranscribeMe offers transcription and translation services to many industries, including medical and educational. To apply for a transcription job, you'll need to be at least 18 years old, have a valid PayPal account, a computer, and a high-speed internet connection, and pass the English entrance exam. Starting pay is $15-$22 per audio hour, with top earners making $2,200 a month. Higher payment is available for specialty areas like medical and legal transcription jobs.
TranscribeMe receives a 3.7-star rating on Glassdoor.
22. Ubiqus
Formerly Verbal Ink, Ubiqus hires freelance transcriptionists, copywriters, proofreaders, editors, and translators from the US. You'll need to be a fast and accurate typist with excellent listening skills and a love for research for this role. You must pass a test before you can accept assignments.
Ubiqus gets a 3.6-star rating on Glassdoor.
Final Words About Online Transcription Jobs
Hopefully, this gives you a better idea of what transcription work entails and how much you can earn as a transcriber. As you can see, this is an excellent career for beginners who don't have years of transcription experience or a college degree.
Transcription jobs are perfect for busy parents since you can work in small increments at any time of the day. While the pay tends to be on the lower side, if you hone your skills and speed and learn a specialty area, you can generate higher paychecks.
If you're looking for more remote transcription jobs, check out this massive list of companies from Lisa Mills, it contains 60 legit transcription companies!
Are you interested in working from home as a transcriber? Not sure if you have the right skills? Check out Transcribe Anywhere's free training workshop here.
Originally published August 25, 2015. Content updated August 2023.
Sheeroh Kiarie is a work at home mom who works as a transcriber and a blogger. She's very passionate about online freelancing. She blogs at workonlinekenya.com, and her goal is to provide others with helpful information about working online and the experiences she has gained in her online work journey.