Considering working from home as a transcriptionist? If you can type well and accurately, you may be the perfect fit for this flexible work-from-home job. As you start to search for legitimate transcription jobs that you can work from home, you're bound to come across Rev.
Rev is an option that many new and intermediate transcriptionists should consider. Rev provides consistent work and pays you competitively per audio minute. This Rev review will cover everything you need to know to help you decide if you should apply for their freelance transcriptionist or captioner role.
Rev Review
Rev is a popular website that helps people get their audio and video content converted to text. They offer transcription, subtitle, and captioning services and charges by the minute.
What sets Rev apart is that they promise quick delivery without compromising accuracy or quality. This means that transcriptionists and captioners are encouraged to work quickly and efficiently on content projects. Other services that Rev offers include foreign subtitles and automatic live captions for Zoom meetings and webinars. Rev works with everyone from large and small-sized businesses to entrepreneurs, YouTubers, and more.
How to Make Money with Rev
There are a few ways to make money with Rev as a freelancer. Two of the most common are by becoming a transcriptionist or a captioner.
1. Transcriptionist
If you like typing and can type pretty fast, Rev's transcription opportunity is one of the best for remote workers. You'll be tasked with listening to audio and video content and then accurately describing what you hear. In short, the audio content should be turned into a word-for-word text document.
The material you transcribe can be anything from a podcast or video to a focus group interview or even class lectures.
2. Captioner
A captioner is a little different from a transcriptionist. Captioners must watch videos and accurately type what is said. In addition to transcribing precisely what's said in the video, you must also describe other sounds you might hear, whether it's music or a brief sound effect.
Closed captions must be very precise as they can be used to help someone who's deaf or has their hearing impaired better understand and enjoy the content. Captioners also time the captions, so they appear at the same time they do in the audio. Rev's captioning jobs can range from writing captions for YouTube videos to working on closed captions for a movie or a brand's marketing videos.
3. Foreign Subtitles Translator
Another type of work you can do through Rev is translating foreign subtitles. If you speak another language, you could take English-written subtitles and translate them into another language. This way, people who view the content and want to read subtitles in another language can do so.
Job Qualifications
To become a transcriptionist or captioner with Rev, you must have strong English language skills and be able to transcribe audio accurately. You'll also need a desktop or laptop computer and reliable internet to complete your work. This is the perfect freelance job for a beginner transcriptionist since you don't need any prior experience. Currently, Rev hires freelancers from the United States (excluding California), Australia, Canada, Ireland, Mexico, Netherlands, New Zealand, South Africa, the UK, and Ireland.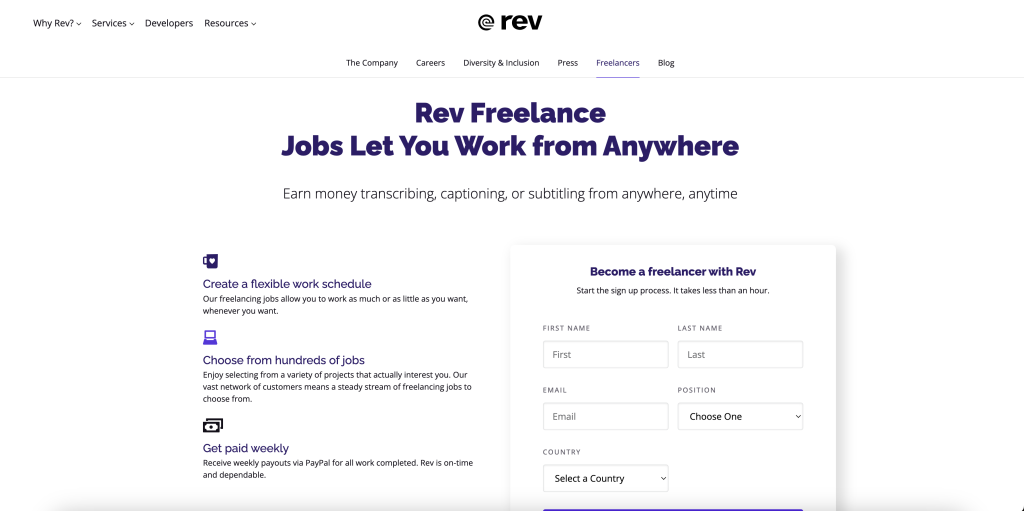 How to Apply For Jobs on Rev
To apply for a position with Rev, click on the purple "become a freelancer" button at the bottom of the home page and select whether you'd like to apply to be a transcriptionist, captioner, or translator.
From there, you will fill out some basic interview questions like your level of education, experience, and interests. You're also required to answer these short-form questions below with a minimum of 200 characters and a maximum of 500 characters:
Why do you want to work for Rev?
Where did you most recently vacation, and what did you do?
What is your favorite hobby, and why are you passionate about it?
After you submit your application, you'll receive a confirmation email saying they received your application. Currently, Rev has a 4-12 week waiting period for new applicants. If you are selected to move forward, you'll receive another email inviting you to take a qualification exam.
This transcription test will assess your English grammar skills and give you a chance to demonstrate how you'd implement Rev's styling rules. If you successfully complete the quiz and are approved to work for Rev, you can begin right away.
Rev has a jobs marketplace that allows you to search for projects that you're interested in and request to claim them. As you're searching for jobs, the audio content, compensation amount, and deadline are all listed upfront, so there are no surprises.
You can apply for as many jobs as you want and set your schedule based on your availability. Rev also provides a web-based transcription editor that can be used to capture all audible English speech in an audio file. Once you finish a project, you can apply to claim the next one. Rev pays freelancers weekly for all work completed that pay period.
What Are Rev's Pay Rates?
Like most transcription jobs, Rev pays freelancers per audio minute. Transcription projects pay anywhere from $0.30-$1.10 per audio or video minute. So this means if you transcribe a 25-minute video file, you'll earn anywhere from $7.50-$27.50 for this project. One important note; Rev pays per audio or video minute, not per minute worked. It will likely take you many minutes to transcribe one minute of audio.
Compensation rates vary based on experience and past projects, including how accurate your work has been. I imagine the top rates are reserved for transcriptionists who deliver top-quality work. The average monthly earnings for top transcriptionists on the platform is $1,495 a month.
For captioning, the rate of pay is $0.54-$1.10 per audio or video minute. Rev's top captioners make an average of $1,570 per month.
Foreign subtitling work pays the highest rate at $1.50-$3.00 per audio or video minute. Rates vary depending on the language you write subtitles in. The average pay for translators on Rev is $958 a month.
Rev pays freelancers weekly via PayPal for all work completed. Payments are always on time, so you don't have to worry about following up with clients or sending invoice reminders.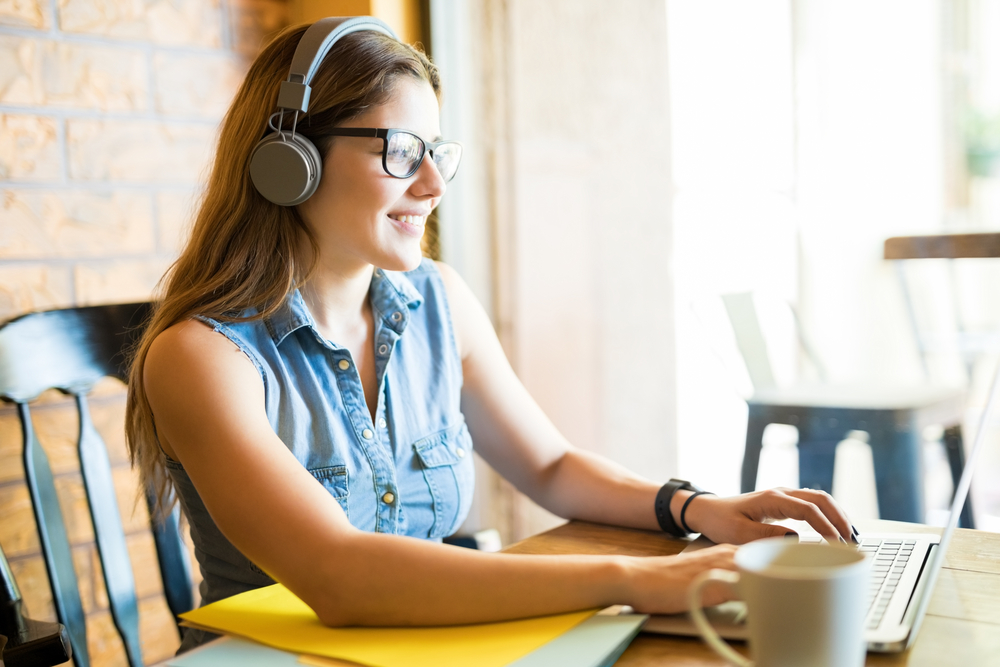 Rev Reviews From Real-Life Workers
I'm always interested in hearing reviews from people who've actually tried certain work from home opportunities, especially when it's a platform promising to provide contractors with consistent work.
One freelancer gave Rev a 3-star rating (out of 5) on Indeed, stating that it was a good side job. This person said they made around $150 per week working for Rev, and it was a decent part-time gig. However, they couldn't see themselves doing it full-time.
Others said it was a very flexible job, but the grading process was a bit strict. To be successful as a transcriptionist, being able to turn in accurate work is crucial. If you're brand new to this type of work, it could be helpful to spend some time practicing and building your skills so you can keep up with Rev's standards.
Overall, Rev gets a 3.6-star rating on Glassdoor.com and a 2.7-star rating on Indeed.
Other Transcription Companies to Explore
With Rev having a long wait period for new transcriptionists, you may want to explore some alternatives. These companies below hire independent contractors for various transcription side hustles.
Rev Review Conclusion
If you want to make money remotely from transcription work, Rev might be a good opportunity for you.
Work is readily available once you're accepted, and you can set your hours by selecting only the jobs with deadlines that will work for you. While Rev is best as a part-time job, you can use the site to improve your transcription skills to prepare for a full-time work from home opportunity and make money in the process.
Remember, for transcription, you'll need a computer, a solid internet connection, good English grammar, and excellent typing and listening skills. To make this side hustle easier, you'll want to invest in a foot pedal to control the speed of the audio clips and some high-quality headphones to help you clearly hear the audio clips you're transcribing.
Transcription is a skill that takes a lot of practice to become proficient, so keep honing your skills. If you'd like more information on getting the skills and training needed for transcription work, check out Janet's free transcription workshop.
I hope this Rev review answered all your questions about the company! If you have further questions, drop me a comment below.
Originally published August 23, 2021. Content updated August 2023.