Want to make money with your car but prefer not to drive people around? Food delivery driving is a great option.
The food delivery industry is booming as many people are willing to pay extra money to use apps like DoorDash, Uber Eats, and GrubHub. This opens up a whole new way to make money if you're looking for a flexible side hustle.
A few months ago, I saw an offer on Swagbucks to become a DoorDash driver and earn 15,000 SB or $150. All I had to do was sign up and complete my first delivery, which they refer to as a dash.
This seemed like the perfect opportunity for me to establish a new income stream, especially since I've been trying to earn extra money for some house projects. Turns out, I love driving for DoorDash, and I feel like it's an easy way to make some extra cash on the side.
Here's how to get started with DoorDash and maximize your earnings.
Getting Started
To sign up with DoorDash, you simply need to visit their site and enter your email and basic info. You'll be prompted to disclose some information about your mode of transportation, so they know how you'll be delivering food.
You don't even need a car to deliver with DoorDash. If you live in a big city or a very walkable area with lots of restaurants, you can use a bike or scooter to deliver.
If you do have a car, you'll need to share the type of car and submit your license. DoorDash also performs a background check on all applicants at no extra cost to you. If you pass, you'll be accepted onto the platform and will receive your starter kit in a few business days.

Requirements
To become a DoorDash driver, you need a mode of transportation, a valid driver's license, proof of insurance (if you'll be using a car), and a smartphone since you'll be using the app to accept orders.
Activating Your Account
Be sure to download the Dasher app from the app store to start driving. Your starter kit will include a DoorDash insulated bag (to keep food warm during your dash) and a Red Card, which is a company card you may use to purchase the customer's food if they don't do it from the app.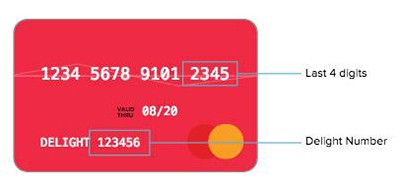 After signing up, DoorDash states that it takes 1-2 weeks to get your account fully activated, but I was able to get everything set up within the same week.
Once you receive your kit in the mail, open the app and activate your account and your Red Card. You'll need the last four digits of the card and your 'delight number' to do this. Getting activated only takes a few seconds, and once it's done, you can start dashing and picking up orders.
Scheduling a Dash
When I first started using the Dasher app, I saw that there was a scheduling tab with different shifts. This is one way to get deliveries through the app.
You can see which shifts are available during certain times of the day and in nearby cities. If you have availability to fulfill a particular shift, feel free to sign up. Here are what some of my shifts look like for nearby towns.
Realize that you don't have to work the full shift if you don't want to. For example, you may see a shift to drive in your town or a nearby area on a particular day from 7:30-11 a.m. or from 6-9 p.m. If you sign up for that evening shift, DoorDash will text you a reminder 30 minutes before. You must go live on the app by clicking 'Start Dashing' around the start of your shift.
If you don't, then your shift will be canceled and may go to someone else. However, once you are dashing during that shift, you can stop and go offline at any time. This is helpful if you just want to squeeze in DoorDash driving for an hour or two. If you have to stop early, you won't be penalized or forced to keep going.
Start Dashing
Scheduling a shift is not the only way to make money as a DoorDash driver. In fact, there may not be many shifts available to you.
During my first week of driving for DoorDash, I signed up for one shift but could not find too many others. Instead, I just waited for my area to show up red in the Dasher app.
When your area shows up red, that means there are some orders taking place, and you're able to go online. Your area map will likely turn red during peak times of the day when people are most likely to order a meal.
Evenings are the most popular because a lot of people are ordering dinner. You may also catch a breakfast rush if you dash in the morning as well. If you don't want to schedule your dashes, keep an eye on your area map in the app and drive whenever you want, so long as the map is red.
Where Will You Pick Up and Deliver?
DoorDash is available in more than 7,000 cities across the US, Canada, and Australia. Many fast-food places and sit-down restaurants partner with DoorDash. You may be picking up food from places like Chipotle, Wendy's, Chili's, Buffalo Wild Wings, McDonald's, and even other smaller local restaurants.
Chipotle is a popular pickup spot for me, but I've also picked up food from local restaurants. Here's how the actual 'dashing' process goes from start to finish.
DoorDash will send you a ping when an order is available for you to take. You have about 80 seconds to accept the order.
Once you accept the order, you can use your phone to get directions to the restaurant.
When you arrive, swipe in the app to confirm that you're at the restaurant.
You'll need to swipe again once you've picked up the food so both the app and the customer know you're en route. The app is good at prompting you to do all of this easily. Once you pick up the food, the address will be revealed, and you can head that way. Sometimes, people leave notes in the app to help you find their home, which is nice. You can also contact the customer via text or phone call if you are having trouble finding them.
When you deliver the food, swipe in the app again to confirm, and then DoorDash will put you back online so you can accept more orders as they come through.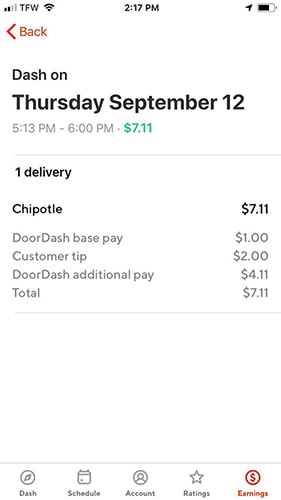 One thing I like about DoorDash is that you don't have to drive long distances to deliver the food. That honestly wouldn't make sense from a logistics standpoint since the farther away you are, the colder the food can get.
Thankfully, most of my dashes have been within 10 minutes from the restaurant, with all of them being less than a 15-minute drive.
Compensation and Getting Paid
DoorDash pays a different rate per dash depending on the driving distance and a few other factors. Generally, they offer a minimum pay for drivers, and a customer tip is added on.
People tip you when they submit their order, so you don't have to wait until after the delivery to get tipped. If the customer doesn't tip well enough, DoorDash will make up for it since they offer drivers guaranteed pay.
On average, I earned more than $6 for completing each dash. Below is a snapshot of what some of my earnings looked like for one week.
Whatever you earn for the week is delivered to you via direct deposit each Monday.
Earning More With DoorDash
So how much can you earn with DoorDash? During my first week, I easily made $100 for a few hours of work.
Ultimately, how much you earn all comes down to how often you drive, along with the strategy you use. Even though I haven't been driving long, I wanted to share some helpful strategies that can allow you to earn more money as a DoorDash delivery driver.
Drive During Peak Times
I already briefly mentioned how it's smart to drive during peak hours when people are more likely to order food. Taking this simple step can significantly boost your earnings. When your area is busy, you are likely to get more back-to-back dashes, and that's where you can start to earn good money if you're efficient.
Take Advantage of Promos
Sometimes, DoorDash offers incentives to motivate people to drive. They may provide an extra $1-$7 for dashes in certain areas during certain times. This may not sound like a lot, but you earn a bonus for each delivery you make, so it can add up.
Accept More Than One Order at a Time
This is something I just found out you can do on DoorDash. Initially, I thought that once you already accepted a delivery, you had to complete it before you could take on anything else. That's not entirely accurate. I found this out when I accepted a Chipotle order, drove to the restaurant, and then thought the app was messing up when I received another ping to pick up a Chipotle.
Now I know that when this happens, you should definitely accept it. If you get two orders at the same restaurant or nearby, that can help you earn more in less time and possibly even save some gas.
Get on a Consistent Schedule
It's nice that DoorDash allows you to drive whenever, but it's also wise to establish a schedule. Choose when you want to drive and block out time in your schedule. If you want to dash for 10 hours per week, put that on your calendar. Either schedule those hours in the Dasher app or set a reminder to go out and drive during that time.
Being consistent will help you earn consistently and learn more strategies that can help you as well.
Conclusion
Overall, becoming a DoorDash delivery driver is not a bad gig. The work is easy and flexible, and you can get paid weekly.
If you have a goal you'd like to reach where having extra money would help, it's quick and easy to get signed up and give it a try. Set an income goal, determine when you can drive, and then see how much you can earn.