If you're looking for ways to make money with your car, this list of ideas has you covered!
The other day I was at the grocery store, and I saw a woman scanning items with her smartphone. As a user of money-making smartphone apps, I decided to ask her which one she was using.
She told me that she was shopping for Shipt, an app that lets users make money by grocery shopping and delivering food to customers. She said it was the perfect side gig for her, as it allowed her to work while her kids were at school.
Shopping for groceries isn't the only way to make money with your car and smartphone!
If you have a reliable car, a smartphone, and some spare time, you can earn extra cash using the gig economy!
Here is a list of the most popular ways to make money with your car!
Make Money With Your Car as a Rideshare Driver
The most well-known way to make money with your car is by offering taxi services through a rideshare company. As a rideshare driver, you'll help people get to their desired location. If you'd like to offer taxi services using your automobile, check out the companies and apps below.
1. Uber
You're probably familiar with Uber, but did you know that being an Uber driver allows you to your make your own schedule and get paid quickly? With Uber, you can accept or deny rides based on the information you receive about the passenger, making this option appealing to female drivers.
Licensed drivers must be 21 with at least one year of driving experience (three if you are under 23). You must have your own 4-door vehicle with up-to-date insurance and registration and pass a background check. Drivers earn as they go and can withdraw earnings weekly or up to five times a day with Instant Pay. Your compensation as a Uber driver will depend on many factors such as location, time of day, the make and model of your car, and how much passengers tip.
2. Lyft
Like Uber, Lyft drivers must be 21 years old with a valid license, registration, and insurance and own a smartphone. Lyft runs a DMV records check to ensure you have a clean driving record. Lyft rides start at a base fee, plus time, and distance. Drivers get to keep ALL tips and can get paid immediately by cashing out, or you can automatically get paid weekly. Lyft offers flexible hours, anytime during the day or night, and working during peak hours or "hot spots" can result in more money. According to GoBankingRates, Lyft drivers earn around $19 per hour per ride.
3. HopSkipDrive
HopSkipDrive is a rideshare app for transporting kids. Drivers must be over 23 and have five years or more of childcare experience. The car must not be older than ten years old, with proof of insurance, valid paperwork, and a license. Drivers must pass an extensive background check and have references. HopSkipDrive "Care Drivers" must pass a 15-point inspection and have an excellent driving record. Care Drivers can earn $50 per hour and have the ability to accept or decline rides. Care Drivers also receive insurance coverage during working hours. HopSkipDrive serves Washington, California, Nevada, Arizona, Colorado, Texas, Wisconsin, Florida, Pennsylvania, Washington DC, and Virginia.
4. Wingz
Wingz is a rideshare service where you'll drive customers to the airport, to an event, or you'll transport senior riders. With Wingz, you must be 21 years old, have a clean driving record and insurance, a van, SUV, or sedan less than five years old, and a smartphone to run the app. Currently, Wingz is only available in Austin, Dallas, Houston, LA, Miami, Orlando, Portland, Phoenix, Sacramento, San Antonio, San Diego, Seattle, and San Francisco. Unlike other rideshare services, customers can rebook their favorite drivers using the app.
5. Kango
With the Kango app, you can earn up to $48 per hour driving or sitting children. To become a driver with Kango, you must be at least 21 years old, have a clean driving record, pass a background check, and have experience with children. Currently, Kango is only available in California and Arizona. Kango receives a 4.8-star rating from the Apple app store.
Food Delivery Drivers
If you're an introvert and don't want the pressure of talking to strangers while transporting them to their destination, becoming a food delivery driver might be a better option for making money with your car.
6. Uber Eats
This service is similar to driving with Uber, but instead of passengers, drivers pick up and deliver food. Uber Eats has the same requirements as Uber — over 21 with a license, a registered vehicle, a scooter or bike, and up-to-date insurance. Drivers must also pass a driving test and initial screening before being accepted into the program. Drivers with Uber Eats make $8-$12 an hour on average, depending on the city and the time of day they work. As with Uber, Ube Eats offers flexible scheduling options.
7. Favor
Favor is a personal concierge-type service that employs "personal assistants" who pick up anything a customer needs. This could range from tacos to groceries to dry cleaning. Personal assistants receive 100% of their tips and a portion of the delivery fee making up to $30 per hour! Drivers must have a smartphone, reliable transportation, license, and registration, and must pass a background check. Drivers must be at least 18 years old, and although this service is currently available only in Texas, it's very popular.
8. DoorDash
DoorDash offers pickup and delivery services for food delivery. Drivers must be 18 years old and can use any car for delivery. They must have a valid license, insurance, and a clean driving record. Drivers may also use bikes or scooters but must have reliable transportation and be able to carry large orders. Pay rates vary based on factors like distance, geographical location, time of day, and tips. Drivers keep 100% of tips earned. Chonce, a writer for The Work at Home Woman, details her experience as a DoorDash driver here.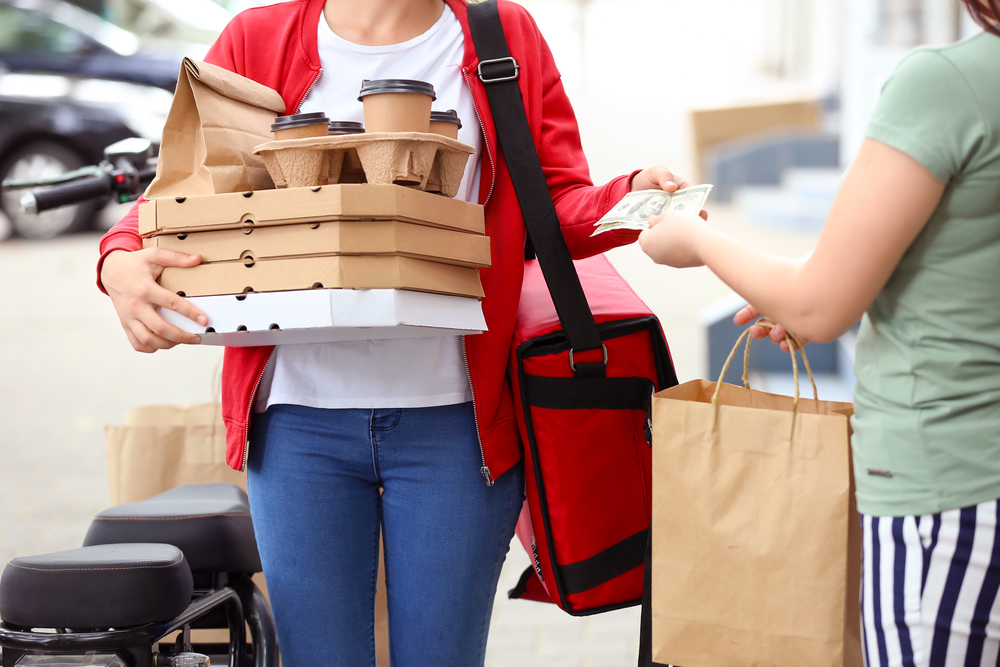 9. Grubhub
Another popular food delivery and pickup service, Grubhub, offers drivers a flexible schedule and pays, on average, $20 per hour. Drivers must be at least 19 years old in most areas (21 in Chicago), have two years of driving experience, and have a valid license, registration, and insurance. Drivers must pass a background check and have a checking account for direct deposit of their paychecks. You keep 100% of the tips as a driver and set your hours.
10. EatStreet
Another food delivery option is EatStreet, which is available in Arizona, California, Colorado, Connecticut, Delaware, DC, Florida, Georgia, Iowa, Illinois, Indiana, Kansas, Kentucky, Louisiana, Maryland, Massachusetts, Michigan, Minnesota, Missouri, Nevada, New Jersey, New York, North Carolina, Ohio, Oklahoma, Oregon, Pennsylvania, Rhode Island, Tennessee, Texas, Virginia, Washington, and Wisconsin.
With EatStreet, you work as a W2 employee, not an independent contractor. With this job, you'll have access to training, a support team, driver benefits, and advancement opportunities. Scheduling is flexible, and according to their website, most drivers earn $17-$30 per hour, and you can get paid daily.
Make Money Delivering Alcohol, Groceries, Packages, and Pets
Delivering restaurant food isn't the only way to make money with your car; you can also deliver alcohol, groceries, small packages, pets, oversized items, and more. Pay rates for these options vary greatly and will depend on where you live and what kind of automobile you own.
11. Shipt
Shipt is an on-demand grocery delivery service. Drivers must be 18 years old with a reliable vehicle (15 years old or newer). As with the other positions, drivers must have a license, insurance, and registration on their car. Drivers must have a smartphone and are asked to provide a cooler or insulated bag for cold grocery deliveries. Drivers must also pass a general background test on their knowledge of brands and groceries, such as produce. Delivery drivers make an average of $15 per hour plus tips. Shipt is available in all states except Alaska.
12. Instacart
Another grocery delivery service, Instacart, offers two positions, in-house grocery shoppers who are W2 employees and full-service delivery roles. Full-service delivery drivers work as independent contractors and must have their own vehicles. They can work unlimited hours on a flexible schedule. Drivers do both the shopping and delivery and must have their own car. Instacart doesn't reimburse for gas, but on average, drivers earn $12-$15 per hour, depending on scheduling and demand. Drivers also keep 100% of their tips.
13. Amazon Flex
Amazon Flex is a great opportunity to deliver Amazon packages to customers. Flex drivers make $18-$25 per hour and get set on their availability and blocks of time to pick up packages and make deliveries. There is no set amount of hours, and drivers can change their availability as needed. Delivery drivers need a smartphone and a vehicle that passes the screening criteria for Amazon Prime Now orders. For regular Amazon orders, drivers must have a 4-door car or sedan.
14. Drizly
If delivering alcohol sounds like a fun side gig, consider becoming a driver for Drizly. With this app, the liquor stores employ delivery drivers, so you'll need to reach out to them for opportunities. First, check here to see if Drizly is available in your city and state and if so, you can fill out this driver application. You can also reach out directly to liquor stores for driver opportunities. According to Glassdoor, Drizly drivers earn an average of $22 per hour.
15. CitizenShipper
With CitizenShipper, you'll transport pets, household items, boats, heavy equipment, freight, and more. On this marketplace, you can connect with individuals who need your shipping services. They'll list all their requirements, and drivers can bid on jobs. Customers choose who they would like to deliver their items. According to their website, drivers earn an average of $6,000-$10,000 per month. CitizenShipper is free for your first three months, and then membership costs $29.99 a month.
16. Dolly
Dolly is an on-demand app where you can make money helping people move their stuff. Helpers can earn up to $50 per hour if they have a pickup truck, cargo van, or box truck, and they can lift at least 75 lbs. If you don't have a truck, you can still make money ($35 per hour) as a helper if you're able to lift 75 lbs. Dolly helpers get paid twice a week and keep 100% of their tips. This opportunity is available in 45 cities across the US, and you must be at least 18 years old and pass a background check.
17. GoShare
Another way to make money with your car is with GoShare. With the app, you can make money delivering packages with your car, truck, SUV, van, or box truck. To become an independent contractor with GoShare, you'll need a vehicle that's 2001 or newer, the ability to pass a criminal background check, and a valid driver's license and insurance. Workers with GoShare earn around $45-$169 per hour based on the type of car they have. Payments for gigs worked are distributed four business days later.
18. MedZoomer
Another side hustle you can start with your car is being a HIPAA-certified courier with MedZoomer. To deliver meds with MedZoomer, you'll need to pass a criminal background check, take their HPIAA certification, have insurance, and have a valid driver's license. With this independent contracting position, you can create your own schedule and be your own boss. MedZoomer gets a 3.3-star rating on Indeed, and drivers earn approximately $25 per hour.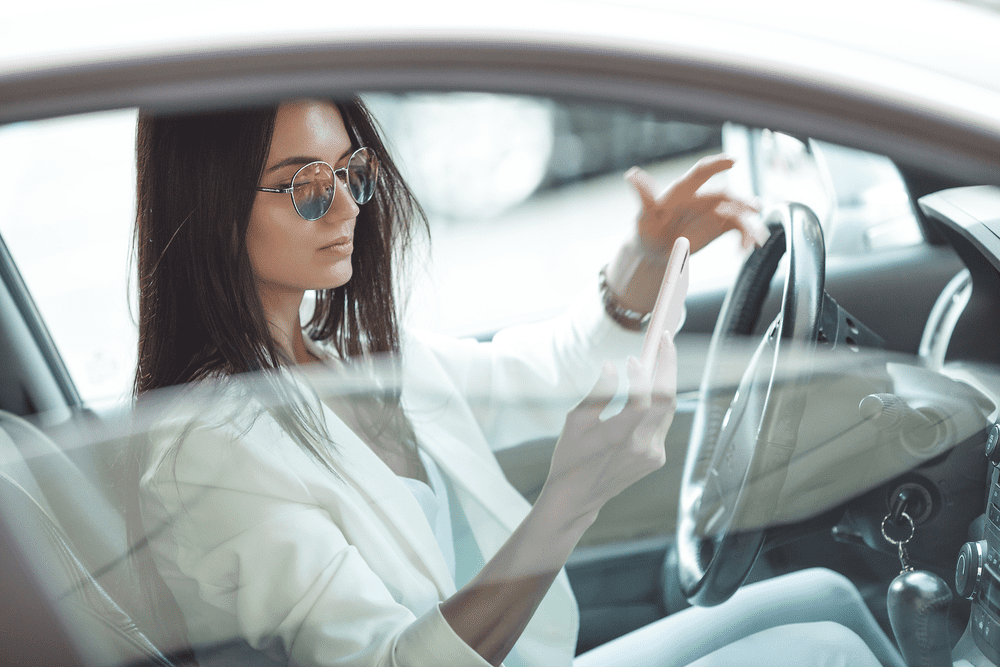 Make Money Renting Out Your Car
If you have a vehicle you're not using very much, you can rent it out for extra cash – which means passive income in your pocket. Just be sure to do the ROI from renting versus additional maintenance costs and wear and tear.
19. Turo
Turo is a great service where you can list your car as a rental car. This is a wonderful opportunity for people with a second vehicle or one they don't use often. It's also a great option for vacationers. Earnings are based on the car's market value and how long it's being rented. Depending on your vehicle and availability, you can earn 65-85% of the trip/rental price. Similar to a rental service, you choose the mileage limit, and the car is returned fully fueled.
20. Getaround
Getaround is a service that allows car owners to rent cars out to nearby people. Car owners get paid monthly, with the average owner making about $10,000 annually. Owners set the hours the vehicle is available (so if you work 9-5, you can select your car availability at the office or once you get home from work). Users download the Getaround app, which gives them a code to unlock the door and pick up the car. Drivers are fully covered by insurance during rental periods. To initially set up with Getaround, owners pay a $99 installation fee for "Connect" and $20 a month to list the car. Renters must be verified and set up a profile (including proof of license and driving record to rent).
21. HyreCar
HyreCar allows car owners to rent out their cars, but unlike other services, there are no specific requirements. They recommend cars are clean with low mileage and newer. HyreCar takes a 15% commission on all rentals listed through them, but you set the weekly or daily rental price, and you can accept or decline rental offers. They don't cover maintenance or upkeep on the car, as most transactions are handled primarily between the renter and the owner. Renters are responsible for refilling gas, providing insurance, and anything else the car owner requires. Complaints result in an administrative fee charged to the renter.
22. RVshare
Do you have a class A, B, or C motorhome? What about a pop-up, travel trailer, or fifth wheel? Then put your recreational vehicle to work when you're not using it. RVshare is an on-demand platform that connects RV owners with renters. It's free to use, and according to their website, you can earn $22,000-$60,000 a year (depending on the type of RV)! Booked rentals include 24/7 roadside assistance (so you know your RV is in good hands) and rental insurance. RVshare has been featured on CNN, the New York Times, NBC, Huffington Post, and numerous other publications.
23. Make Money as a Moving Billboard
If you don't mind wrapping your car with an advertisement, you can make extra money from monthly advertising fees. With car wraps, you can choose to do your entire vehicle, half your car, or minor advertising banners. Many wrap companies prefer to use rideshare drivers who are driving a good portion of the time, but they sometimes accept daily commuting drivers as well.
With companies like Carvertise, you can add an advertising wrap to your car. Just fill out the application, and they'll search for a brand that matches your driving habits and location. Once you're approved, they'll wrap your car for free, and you'll start making money.
On average, you'll earn up to $500 per month. Be aware of wrap companies offering high weekly pay rates, these opportunities do not pay a lot of money, and high pay rates are usually indicative of a scam. Be sure to do your due diligence when researching these options. Reviews on Carvertise are mixed (they have a B rating with the Better Business Bureau); there are some complaints about the slow removal of car wrap ads.
Conclusion
If you're ready to make money during your free time, there are plenty of opportunities to make money with your car. Whether you'd like to drive people around or you'd like to make your car available to others, why not earn some cash putting your car to work?
Check out this article for more ways to make money with your mobile phone!
Originally published June 6, 2017. Content updated September 2023.