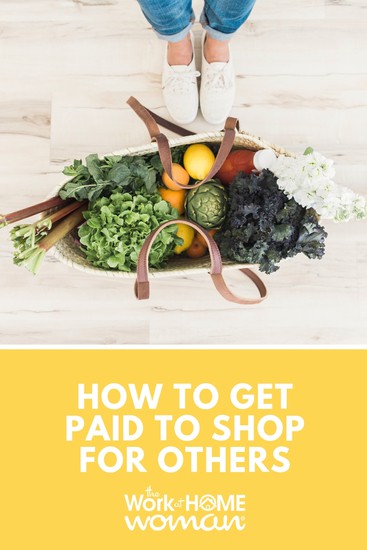 Getting paid to shop sounds too good to be true, right?!
Believe it or not, there are many companies that offer flexible and remote job opportunities where you can get paid to shop! From grocery shopping to clothes shopping, and mystery shopping, there are always a variety of gigs available.
Ready to get started?
Here are 20 different ways you can get paid to shop for others, both online and in-person!
Get Paid to Shop at Grocery Stores:
Do you have a knack for picking out the freshest produce? Do you enjoy being out and about? If so, you can get paid to shop for groceries (and in some cases, deliver them too).
Burpy is a grocery delivery service that is constantly looking for individuals to join their personal shopping team. As a shopper, you're responsible for picking up and delivering groceries to customers. The company provides a business credit card to use for on-the-job purchases, so your personal finances are never impacted. Burpy Shoppers earn around $25 per hour plus tips for full-time and part-time.
Care.com is an online marketplace known for helping families find childcare, but they also offer other caretaking positions, such as grocery helpers. Depending on your location, the average grocery helper through Care.com earns $12.50 per hour.
As a grocery helper, you also have the opportunity to branch out into other related services (and earn even more money). Popular positions include personal assistants and errand runners. To start searching for jobs, all you need to do is create a free online account at Care.com, upload a photo and create a profile. Once this is all set up, you're ready to get going and apply.
Delivery service site, Favor seeks team members who are passionate about quality customer service. Favor delivery employees (better known as "runners") consider themselves more than just a delivery driver — they're also personal assistants. At Favor, you never know what kind of stuff you might deliver. From groceries to tacos or maybe even dry cleaning, as a runner — each day will be different.
Favor runners keep 100% of the tips they earn and are compensated with an average hourly pay between $10 and $18. The only requirements to work at this modern-day delivery service company are that you must own an iPhone or Android device, a clean record, and of course, reliable transportation. If you're interested in working at Favor, they have both part-time and full-time opportunities available.
As a shopper for Instacart, you choose to work as either a full-service shopper or as an in-store shopper. A full-service shopper does the shopping and then delivers the groceries straight to the customer's door. In-store employees are part-time and don't require transportation as they stick to just shopping. Instacart offers flexible hours, competitive pay, and the chance to help make someone's life a little bit easier.
Shipt is a grocery delivery service that's owned by the Target Corporation. And you guessed it, Shipt hires grocery shoppers to shop and deliver groceries. According to their website, Shipt shoppers earn $22 per hour and are paid weekly. If you have a reliable vehicle, a smartphone, and a strong understanding of what qualifies as great produce, then becoming Shipt shopper may be your calling.
TaskRabbit is the jill of all trades on-demand company. On TaskRabbit, you can find gigs for cleaning, furniture assembly, and of course, grocery shopping. Personal shoppers and helpers who are part of the TaskRabbit family are known as "taskers." If you're interested in becoming a tasker, go online to register, attend an info session, and then get started. With TaskRabbit, you choose your rates — so your earning potential is based on what consumers will pay for your services.
Get Paid to Shop for Clothes:
Do you love picking out clothes for other people? Have a passion for fashion? If so, there are lots of great ways to work-from-home and get paid to shop for clothing, jewelry, accessories, and shoes.
Bombfell is a NY-based online men's style and fashion company focused on providing personalized clothing options for men. Bombfell occasionally has openings for Men's Online Stylists to join the Bombfell team. Stylists who work from home will select items for clients, respond to feedback, and provide styling advice. Stylists must live in the Tri-State Area, as occasional but mandatory training sessions are hosted at headquarters in NYC.
Remote stylist positions for Dia&Co are in high demand and not always available. BUT if you keep an eye out and continue to check their website, occasional part-time remote stylist positions are posted. Stylists for Dia&Co curate fashion boxes for clients based on their personal preferences, budget, and lifestyle. Based on my findings at FlexJobs, it looks like you need to live in NYC, Dallas, Atlanta, or Indianapolis for this work-from-home position (I'm guessing for on-site training).
Mac & Mia is an online kids' clothing subscription box company that hires remote commission-based stylists. In this position, you'll work as an independent contractor, choosing clothing for kids ages newborn to 10 years old. No previous experience is needed, but must self-motivated, self-aware, and accountable.
Rocksbox is a jewelry company that gives customers the opportunity to try different types of designer jewelry for a low monthly fee of $21. Customers can choose to either wear the jewelry then return it or use their monthly payment as a credit towards purchasing the pieces sent to them. Occasionally, this San Francisco-based company has jobs for remote stylists. Must live in the San Francisco area to attend training.
Don't quote me on this, but I think Stitch Fix was one of the first, if not the first, clothing subscription box services. Remote stylists for Stitch Fix hand-select five pieces of clothing/shoes/accessories/jewelry for their clients; which they now offer styling services for women, men, and children. For this part-time position, you must live in Austin, Cleveland, Dallas, Houston, Los Angeles, Minneapolis, Pittsburgh, Sacramento, San Diego, or San Francisco as you'll need to attend in-person training. For more info about this opportunity, check out the video below.
thredUP is an online store that sells secondhand clothing and designer brands at low prices, and they just added subscription box services (goody boxes) to their business model. For a short period of time, thredUp was hiring remote personal shoppers in CA, GA, WA, TX, PA, IL, AZ, and NY. I'm assuming if all goes well with the sales of their goody boxes, they'll continue to hire more remote personal shoppers. You can find out more about the personal shopper positions for thredUP at FlexJobs, or periodically check their career page for new openings.
Related Content: A HUGE List of Home-Based Business Ideas for Fashion Lovers
Start Your Own Subscription Box Service From Home:
Do you love subscription boxes? Are you great at finding new and trendy items? If so, you can create your very own subscription box service from the comfort of home.
From clothing to jewelry and even pet products, subscription boxes are all the rage. So, if shopping for unique finds, curating them in a neat package, and sending them off to waiting recipients sounds appealing, check out Cratejoy. They help aspiring subscription box entrepreneurs start, grow, and scale their businesses with an all-in-one subscription box e-commerce platform. You can even test the waters free for 14-days (no credit card needed). If you're curious about Cratejoy, be sure to check out this interview with Julie Ball, the brains behind the successful subscription box, Sparkle Hustle Grow.
Get Paid to Shop for Home Décor:
Do you have a creative flair? Do you have a Bachelor's Degree in Interior Design, Art History, or Architecture, or the like? Then see how you can work-from-home shopping for furniture and interior decor.
Modsy is a virtual interior design business that hires part-time remote stylists to assist customers with purchasing items and redesigning their space. According to their website, this is an entry level/junior designer position that requires a Bachelor's Degree, experience with Auto-CAD and SketchUp, and relevant interior design experience. You can work up to 40-hours per week, in 4-hour increments, from the hours of 7:00 AM – 6 PM PST (including weekends). According to Indeed, pay is $15.11 per hour.
Related Content: The Best Home Decor Direct Sales Businesses

Get Paid to Be a Mystery Shopper:
Certain retailers, restaurants, and businesses hire companies to bring in undercover mystery shoppers and evaluate the quality of their establishment. There are many different credible companies out there who hire mystery shoppers for legitimate jobs. It can be a great opportunity, provided you do your research beforehand. It's important to be aware of scams that often take place in this industry. Mystery shopping opportunities that seem too good to be true, often are.
According to the Federal Trade Commission, the main way to avoid a scam is to remember that no company should ever charge you or ask you for money to serve as a mystery shopper. Before you sign up, do plenty of research and ask questions. Check sites like the Better Business Bureau, the Ripoff Report, and Glassdoor.com for reviews.
If you're looking for legitimate mystery shopping companies, check out the following:
BestMark, which has an A+ rating with the Better Business Bureau, places mystery shoppers around the world to represent several well-known corporations including Fortune and Global 500 companies. With over 10,000 job postings a month, the opportunities for mystery shoppers on this site are huge! With this opportunity, you're given a shopping assignment, then you must complete the shopping trip, and finish with an exit interview concluding your experience. Attention to detail and good communication skills are needed for these types of positions.
Mobee is a mystery shopping app that allows you to be an on-demand mystery shopper. To get started, download the app, find a mission near you, go shopping and answer a few questions. Once your mission is complete and verified — you'll earn points which can be redeemed for prizes or gift cards from Starbucks, Target, Walmart, Best Buy, and lots more. Mobee is available for Android and Apple devices, and it has a three-star rating on iTunes.
Market Force mystery shoppers get paid to shop and eat. From fast food places to drugstores and grocery stores, there are many opportunities for mystery shoppers at Market Force. Shoppers with Market Force are compensated either with a payment or free meals and purchases. They too have a smartphone app where you shop on the go (available for both Android and Apple smartphones). Market Force also has an A+ rating with the Better Business Bureau.
Start Your Own Personal Concierge Business:
It's evident from all the opportunities listed above that there's a real need for personal assistants and helpers to conduct various types of shopping. The truth is, most people need assistance with everyday tasks they just don't have time to carry out. Consider starting your own personal concierge business to assist individuals with the overflow of tasks and errands. Working from home will give you the flexibility to take on plenty of different tasks and earn money helping others.
So Many Great Ways to Work from Home and Get Paid to Shop!
There are many ways to earn money from home, but who knew shopping was one of them?! If you have a passion for customer service, choosing the perfect products, and helping other people, then becoming a paid shopper may be your dream work-from-home career.