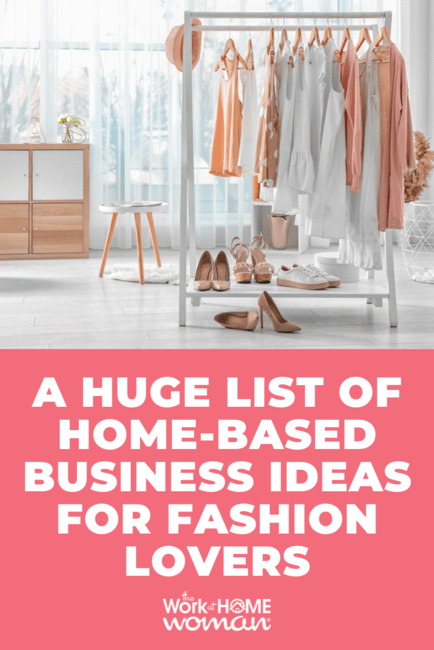 Do you love fashion and style? Would you like to run your own fashion boutique but don't have the funds to invest in a brick-and-mortar storefront? Keep reading. I have a list of home-based business ideas for fashion lovers!
The direct sales industry has made it easier than ever to have your very own home-based business within the fashion industry. In my opinion, network marketing companies that sell women's clothing are some of the best business opportunities out there. Not only do most women LOVE new clothes and accessories, but it is something that every woman needs, and that is regularly replaced and updated.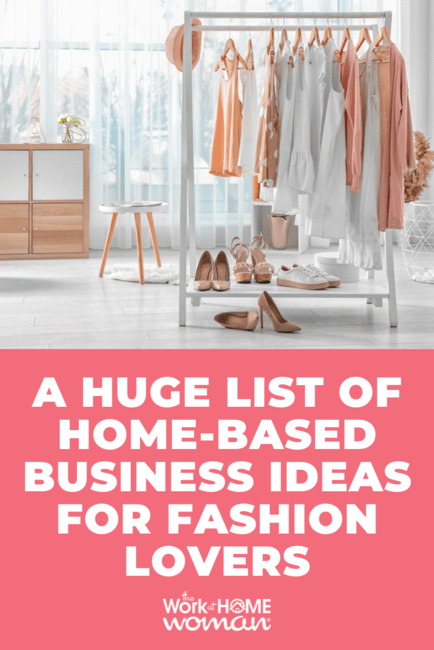 Plus, when you're selling clothes through the direct sales model, items tend to have a higher price point, so your overall earnings are higher.
If you've been thinking about launching your own home-based business and you love fashion — here is a massive list of business ideas for fashion lovers!
List of Home-Based Business Ideas for Fashion Lovers
1. Cabi
Cabi was created in 2002 by 12 female founders. The brand sells high-end clothing, shoes, jewelry, and accessories ranging from $39 to $449. With the cabi business model, you can earn a 25-33% commission on all items you sell, plus an additional commission on team sales. The startup cost (your seasonal inventory) is $1,000-$2,500, which can be sold at the end of the season for an additional profit and new inventory.
According to this article by Fortune.com, cabi has an 85% retention rate, rather than the typical 20% in the direct selling business. Cabi also gives back to the community through their Heart of cabi Foundation. The cabi business opportunity is available to residents of the US, the UK, and Canada. To learn more about the cabi business opportunity, check out our full review here.
2. Carlisle Collection
Founded in 1981, Carlisle Collection is a luxury fashion company based in New York City. Selling couture designs at ready-to-wear prices, Carlisle offers four new clothing lines each year. They currently have two ways to join; Traditional Stylist and Digital Stylist, however, I couldn't find information on commission rates or startup costs, but clothing and accessories sell for $35-$1,100 on up.
3. Crowned Free
Crowned Free is a social good company that donates a portion of its proceeds to organizations helping women who have escaped human trafficking and exploitation. When you join as a Stylist, you'll sell jewelry, gifts, beauty and wellness products, accessories, and clothing like skirts, tanks, tees, and cardigans for women and kids. Starter kits range in price from $19.99-$399, and you'll earn 15-30% commission on sales and get paid every two weeks.
4. Essential Bodywear
Essential Bodywear sells uplifting bras, panties, shapewear, sleepwear, athleisure, and ready-to-wear clothing. Representatives can earn up to 25-37% commission on sales, plus jewelry and trips for meeting certain milestones. Starter kits range in price from $199-$499, including three months of free website and email marketing services.
5. Etcetera
Etcetera is a luxury brand and part of the Carlisle family. Clothing prices range from $150-$650, with a focus on the classics with an edge. You can sign up as a Digital Stylist or a Trunk Show Stylist by requesting additional information on their website.
6. I Thought of You
I Thought of You is a good option for people who don't like recruiting or the MLM structure. It's a social good direct sales company that sells accessories, jewelry, and apparel. Curators earn 20-50% commission on sales, and starter kits range in price from $99-$299. To avoid oversaturation, applications are accepted on a region-by-region basis. They also offer a 4-payment installment plan on starter kits.
7. J. Hillburn
J. Hillburn sells custom men's clothing, such as suits, dress shirts, shoes, and ready-to-wear items. Stylists can earn up to 20-25% commission on sales and an additional commission for building a team. Your initial investment ranges from $199-$500, and clothing items range from $99-$1,590. J. Hillburn has been in business since 2007 and has been featured in Inc., Esquire, Men's Health, USA Today, and more.
8. Keylime Athletic Wear
Keylime Athletic Wear sells athletic wear for women and men. With this business idea for fashion lovers, you can launch your business for $79. As a Rep, you'll receive 40% off of clothing sample packs and 20-40% off online orders. You can sell the clothing online via social media, at pop-up parties, one-on-one consultations, and more.
9. Noonday Collection
Noonday is a social good company that sells artisan, Fair Trade jewelry, clothing, accessories, handbags, shoes, and home goods. Ambassadors earn 20-35% commission on personal sales and 6-14% on team sales. Payments are distributed weekly, and Ambassadors can earn trips to visit the artisans in various locales around the world. The starter kit is $199 and contains $510 worth of products and business tools, including your personal website, free for one month. After that, it's a $9.99 monthly fee for your website. With each sale you make, you'll be helping people in other countries earn income.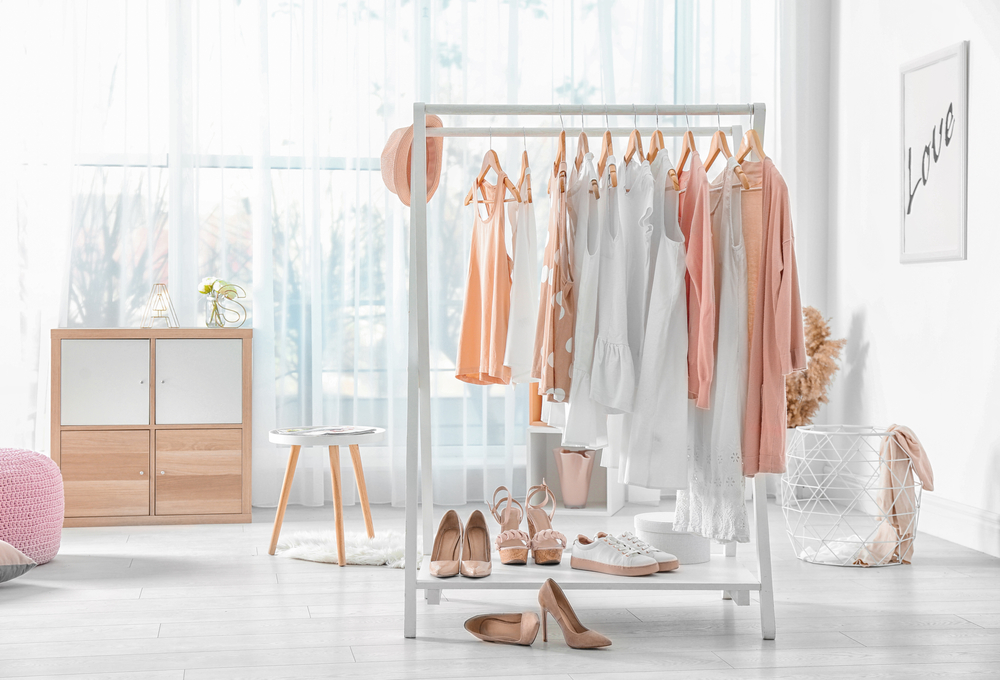 10. Ruby Ribbon
Ruby Ribbon sells clothing options that make women feel good, selling tees, tunics, tops, leggings, maxi shirts, as well as shapewear. Products range in price from $24-$89. The starter kits range in price from $45-$299, and Independent Stylists earn up to 40% commission on each sale. Ruby Ribbon has been featured in Oprah Magazine, WWD, InStyle, Forbes, and others.
11. Trades of Hope
Trades of Hope is a social good company that sells artisan jewelry, handbags, apparel, accessories, and coffee. Partners earn 25-35% on sales. Starter kits range in price from $49-$139, and there are no monthly minimum quotas. They also have an affiliate rewards program where you can earn a 15% commission on sales, and it has a one-time membership fee of $9.95.
12. Youngevity
Youngevity is a direct sales company that sells everything under the sun, including clothes, jewelry, and accessories. To become a Distributor, it's $30, and then it renews annually for $49.95. They also have a wide variety of startup kits to choose from. I couldn't find the commission structure, so you'll need to find that out before joining.
13. ZYIA Active
ZYIA Active sells premium fitness apparel and accessories for men and women. The starter kit is $295 (includes a $100 gift card), and Representatives earn 20-25% on personal sales, plus additional commission for when you build a team. ZYIA Active also offers product discounts, incentive trips, and rewards. The opportunity is available in the US, Canada, and Australia.
Conclusion
As you can see, there are many direct sales clothing opportunities that allow you to work in the fashion industry. Which one is right for you? That will depend on your style, tastes, preferences, and the company's pay structure and terms. You'll also need to find out how you're able to sell the company's clothing line: in-home parties, online pop-ups, social media sites like Instagram and Facebook, and catalog and website sales. Be sure to weigh all the pros and cons when doing your research. I've seen many direct sales companies close their doors over the past couple of years, so talk to some current independent consultants to get a real-life overview of the company.
Do you know of any other clothing companies within the direct sales industry? Drop us a note; we'd love to hear from you!
This post was originally published on May 2, 2013. Content updated March 2023.