Are you a talented artist, crafter, knitter, or seamstress? Would you like to make money from home with a craft job?
Great news! There are lots of money-making opportunities for artisans and crafters–and the market for handmade and DIY products has never been better, particularly with the growing availability of online resources.
From selling your crafts on Etsy to writing about your projects to sharing how-to instructions with others, the opportunities for crafters are wide open.
If you're artsy and crafty, check out these great craft jobs for stay-at-home moms.
1. Craft Blogger
If you're full of ideas or ingenious solutions to crafting problems—you've already found your perfect blog topic! Craft blogging is a huge niche that encompasses a wide variety of mediums, including paper, photography, painting, printmaking, jewelry design, and home decor, all fall under crafting.
Perhaps you enjoy creating crafts with your kids, making pottery, or even holiday-specific craftwork. Maybe you're interested in blogging about knitting, sewing, or quilting; the topics are endless.
Many stay-at-home moms who want to start a blog struggle with what to write about, but for crafters, simply doing what you love provides you with an endless well of ideas and topics surrounding your crafts. If you're an expert crafter, setting up and starting a blog is a natural extension to share your talents.
Get started by reading other craft blogs in your niche to learn the best practices. Try recording your process on video. Share detailed, step-by-step instructions to help your audience connect with your projects and content. Use Pinterest and other social media sites to drive traffic to your blog.
With work, it's possible to turn your crafting blog into a full-time source of income. That's what Jennifer Maker has done — in fact, she earns seven figures a year from her craft blog!
2. Craft Instructor
If you love to fuel the creative spark in others, becoming a craft instructor is a great work-at-home opportunity. With a wide array of online teaching platforms, you can record your own instructional videos, teach a class for a specific organization, or create tutorials for other bloggers.
Teaching classes online is an excellent way to supplement your income. Instructors earn thousands of dollars annually by recording and posting craft tutorials on different in-demand craft topics. With the trend toward the DIY mindset, crafts and artistic endeavors are a great area to explore.
There are plenty of places to search for teaching opportunities. Some opportunities will pay you per class, and others pay per registrant, so check out all the details before applying.
Here are a few places to check out for craft jobs:
3. Join a Direct Sales Craft or Scrapbook Opportunity
Do you prefer selling a tangible product? Then consider joining a direct sales craft opportunity. These opportunities are great if you have a wide social network, enjoy meeting new people, and selling products.
Chalky & Company offers a direct sales opportunity providing supplies for painting parties. During painting get-togethers, customers create beautiful decorative items for their homes, learn techniques such as crackling, and even work on projects with kids. Customers order online, and consultants get their own website for free for the first three months ($10/month after). You can purchase a starter kit for $99 and maintain an active status with $150 in orders every three months. Consultants earn a 30% commission.
Did you know there are direct sales companies that focus solely on scrapbooking? If you love the social aspect of craft get-togethers and creating paper projects with a group, this may be the perfect work-at-home business opportunity for you.
One popular scrapbooking company is Kiwi Lane, which offers cute scrapbooking kits, greeting cards, and photo frame kits. Consultants earn a 30% commission on sales, plus freebies and rewards. They also receive their own website.
Related content: Best Direct Sales Craft Companies to Join
4. Home-Based Embroidery Business
A mom at my daughter's school owns an embroidery and personalization business. She monograms and personalizes items like t-shirts, hats, bags, lunch boxes, Yeti tumblers, and lots more.
If you're interested in starting your own monogramming business, machine rental is a good way to begin. You can build up your customer base by working on small jobs first and then asking for referrals. Eventually, you can invest in your own machine and take on even more orders.
Many businesses, schools, and sports teams love working with a local vendor, especially when they can get a feel for the product, see samples firsthand and approve the design in person. If you love sewing, starting an embroidery business may be a great way to make money doing something you enjoy.
5. Online Craft Seller
If you love making soap, jewelry, candles, hair clips, Cricut crafts, or some other creative wares, you can turn your creative skills into cash!
Many of us think of Etsy as the go-to platform when we envision selling our crafts online. After all, Etsy offers a platform to sell any handmade creation you imagine.
Selling your crafts on Etsy is easy, especially if you don't have money to invest in your own crafting blog or e-commerce website. With Etsy, you set your own prices and promote your products. Etsy charges a small listing fee of $.20 per item and a 3.5% transaction fee for items sold. Pricing your creation at a competitive rate and offering reliable, fast shipping and customer service will ensure you receive repeat customers and build your ratings.
Another platform you may not have thought about is Amazon Handmade. With Amazon, you'll create a seller's account, and you can either pay $39.99 a month to join or get your products pre-approved. List as many products as you'd like; Amazon only takes a 15% fee once you make a sale.
If you have an excess of crafting supplies, you can sell your surplus on eBay or Etsy.
Once you've chosen a selling platform, you can use social media platforms to drive people back to your shop. You can also keep customers coming back by offering discounts to repeat customers and sending out an email newsletter with new product releases.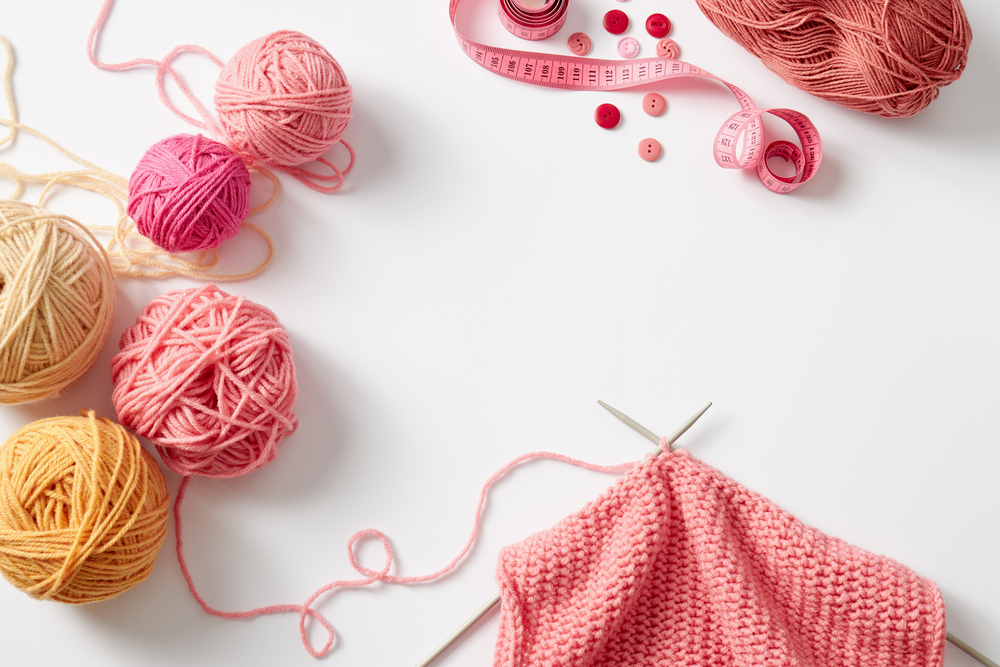 6. Pattern Maker and Seller
When you hear the word pattern, you probably think of a sewing pattern, but there is a wide range of patterns one can create and sell online. From Cricut and SVG files and digital designs to knitting, quilting, sewing, and more! If you're skilled at creating patterns, templates, and designs, you can earn money selling your patterns on sites like Craftsy, Creative Market, LoveCrafts, or Patternbank.
The great thing about selling patterns is it's a great source of passive income! Create the pattern once and sell it over and over again for cash! If you have a blog, you can sell your patterns directly from your own site, giving you an additional source of blogging revenue. My friend, Julie, sells crochet patterns on her blog, I Can Crochet That.
If you need more places to sell your patterns, check out these posts from Creative Howl and Real Ways to Earn.
7. Craft Book Publisher
Popular craft bloggers like Jamie Dorobek and Holly Homer have created and published their own craft books. Many bloggers find that repackaging their stand-out posts with additional content and then adding a well-formatted design is all they need to create a best-selling craft book.
Self-publishing an eBook is easy, especially as you're just feeling the market out for your book. Offering downloadable or e-reader-friendly formats will ensure your ideas get into the hands of crafters and creators right away.
Choose an area of focus (knitting, crocheting, felting, quilting) or compile your tutorials based on a common theme (holiday crafts, crafts for kids, easy crafts for beginners). Get to know your audience and create a craft book your niche will love.
8. Sample Knitter or Tester
If you're great with a pair of knitting needles, craft stores, pattern makers, and yarn shops will often pay knitters to test patterns and create samples. Test knitters look for mistakes in patterns and alert the pattern maker to any problems or areas where clarification is needed. Whenever you see a sample sweater or scarf hanging in the store, chances are a test knitter created it.
While test and sample knitting isn't high paying (most projects offer compensation between $50-$200 per project, which comes out to less than minimum wage), it's fun, and it's exciting to see your projects hanging or photographed.
You'll also build your knitting speed and skill level by crafting samples. Plus, test knitting is an excellent stay-at-home income option with flexible hours. To learn more about becoming a test knitter, read this great tutorial from The Penny Hoarder.
You can also check out these sites for sample knitting jobs:
9. YouTube Crafting Content Creator
YouTube is constantly growing, and approximately 5 billion videos are watched on YouTube per day! The good news is starting a YouTube crafting channel doesn't require much in terms of initial investment.
Some YouTubers earn a solid living, but there's a lot of promotion and work involved. Success and popularity rarely happen overnight. YouTubers who find the most success are great at cross-promoting their channel on social media and blogging. Earning money on your channel is dependent on its popularity and the advertising revenue you can generate. Creating solid, helpful content that's clear and easy to follow will boost your views and help you connect with your audience.
10. Join a Contest on Instructables
Instructables is a massive online community of DIYers and creators. With Instructables, you create an account and upload your DIY projects in writing, photos, videos, or uploads. You can submit projects in various categories, from crafts and cooking to living, outdoors, and more! Each month, they give away thousands of dollars in prizes, such as Amazon gift cards, laser cutters, 3D printers, and more. Some creators on the site have been featured in major publications and started businesses because of their involvement with the site!
11. Other Online Craft Jobs
Another way to find craft jobs is by looking at your favorite craft retailers, bloggers, and product lines. Many of these companies use freelance craft writers and makers to help them with step-by-step tutorials, ideas, and special projects.
For instance, Jennifer Maker has posted numerous crafts jobs on FlexJobs for video creators, social media experts, craft education writers, and more! If you have a favorite craft blogger, sign up for their email list and get involved in their Facebook Group (if they have one). These are often the places they will post their remote job openings. You can also pitch them your ideas and services. If you're not sure how to pitch your services, take a look at this article for helpful tips.
You can also search on Upwork for freelance arts and crafts gigs. A couple of interesting projects available were for crochet pattern makers and a cat-proof Christmas tree. You can also set up a profile on Fiverr, offering your crafting services to business owners and individuals alike.
Alert: Watch Out for Home Assembly Jobs!
Sadly, there is one area where crafters are often taken advantage of. If you find job ads to perform home assembly jobs or product assembly jobs — it's usually a dishonest opportunity where you'll lose money. These gigs usually work by setting up nearly impossible expectations for the finished product.
For example, you pay for a craft kit upfront and will supposedly be paid by the number of items you can put together in an hour, only to find it takes much longer to assemble them than was promised in the ad. Then when you send in the finished products, they don't meet quality control standards, so you never make any money.
When researching craft jobs, check reviews on Google and look for good standings on the Better Business Bureau website. Search for a customer help number, and try getting ahold of them by calling the phone number listed on their website. People promoting shady opportunities often try to hide behind PO Boxes, fake accounts, and non-working contact details. Make sure to do your due diligence before purchasing a kit and wasting your precious time and money.
Conclusion
As you can see, there are plenty of legit craft jobs where creatives can put their skills to good use. If you have artistic and creative talent, use it to earn money from home. Selling your handiwork is a great way to make money and an excellent way to express your creativity!
Are you ready to start a craft business from home? Be sure to grab our free business plan template.
Originally published February 26, 2018. Content updated March 2023.