Do you want to make money by selling your art projects? Today, we're exploring the best places to sell art online so you can earn money from your passion!
Many people want to become artists but aren't sure how to earn a living selling art. Maybe you already consider yourself an artist, but you have trouble making money with your art.
I'm sure you've heard the term starving artist, am I right? Well, it doesn't have to be that way. In this post, we'll show you how to sell art online and make money, so you can be free to pursue your passion and pay the bills.
As more and more people are selling products online these days, there are many websites dedicated to helping you do the same with your art.
Where you sell your art online depends on what type of art you sell. There are a wide variety of mediums that art encompasses. From drawing and painting to crafting and woodworking, chances are, if you're doing it, you can sell it and make money online.
Here are some of the best websites and art marketplaces to help sell your art online.
1. Etsy
Most of us know the power of Etsy. Since its launch, Etsy has helped many artists and creatives go full-time with their art business. Yes, there are listing fees and a lot of competition, but there is also a massive, engaged audience on their platform. If you haven't considered selling your art on Etsy, you should check them out.
Of course, with any online platform, you'll want to put your best foot forward by including high-quality images of your creations. If you're not sure how to set up your home photography studio — this post covers what you need to know to get stunning photos of your art projects.
Related Content: How to Be Successful on Etsy
2. Artfinder
Artfinder is an online marketplace for independent artists to sell their original art—be it painting, photography, sculpture, illustrations, and more! This platform is marketed toward high-end art collectors. On the plus side, buyers are often more willing to pay a premium price for quality work. However, it also means Artfinder's qualifications for sellers are a little more exclusive. You must apply to be a seller on Artfinder, and your application will be reviewed for quality and originality. Ideally, you will be self-represented and produce primarily limited-edition work, though it seems like there is some room for agent and gallery-represented artists.
Artfinder charges a base monthly fee of free to $12 AND a commission on all sales that range from 33-40%. Check out their seller subscription plans here.
3. Big Cartel
Big Cartel has pricing ranging from free to $29.99 per month. The cool thing is that it's a flat fee, and they don't take a percentage of your sales. This one is definitely worth checking out if you're looking to make money from your art.
4. Storeenvy
Storeenvy is all about discovering and connecting amazing brands, people, and products. And the best part is that you can sell your art for free using their platform. It's pretty simple to set up. My middle daughter started her craft website when she was only 12 years old!
5. ArtPal
You can sell your art for no upfront cost on ArtPal and keep 95% of the profits (when selling your artwork. Different terms apply for their on-demand service).
6. Artmajeur
Artmajeur is an online marketplace based out of Paris, France, but it sells artwork worldwide. You can list paintings, sculptures, photography, drawings, multimedia, and more! Their payment plans include a free Basic Account, which takes a 20% commission, or a $5 per month Platinum Account, which takes a 15% commission.
7. Zatista
Zatista is one of the more popular platforms for selling original fine art. It's been featured in many big-name publications like The New York Times, Apartment Therapy, and Architectural Digest. This makes it great for both sales and exposure, but it is also more exclusive in the artists it accepts—its current acceptance rate is only 5%. You must apply, and your artwork will be reviewed for quality, marketability, and the balance it brings to the site's overall collection. It is free to join and list on the site, but Zatista takes a hefty 45% commission.
8. Fine Art America
On Fine Art America, you can sell wall art, home decor, lifestyle products like tote bags, phone cases, greeting cards, apparel, and more! With their platform, you can sell through their website, mobile app, their retail stores, Shopify, and more! Most of their selling and marketing features are free, but they also have a premium membership for $30 a year. With this platform, they'll set the price for your artwork, and then you can adjust the price higher, which would be your profit. You can learn more on this page.
9. Society6
Society6 is another print-on-demand site where artists can sell their designs for money! With Society6, you can sell your artwork on wall art prints on canvas, home decor, mugs, bags, phone cases, and so much more. Artists earn 10% of every sale, and payments are distributed via PayPal.
10. Teemill
If you want to sell your designs on t-shirts, hoodies, and tote bags, check out the sustainably friendly, print-on-demand company, Teemill. With Teemill, you can start your own clothing brand quickly, easily, and for free! Just sign up for an account, upload your designs, pick your products, and start selling online. Teemill takes care of all the printing and shipping of items, and you can upload your original artwork or use elements from their online design library.
Check out this post for more print-on-demand companies that allow you to design and sell your art on t-shirts.
11. Saatchi Art
On Saatchi Art, you can sell paintings, photography, drawings, sculptures, prints, and NFTs. To start selling, create an account, photograph your art, upload your images, and wait for the sales to roll in. Once a purchase is made, you'll need to arrange the shipping of your artwork to the buyer. Once your artwork makes it safely into the hands of the purchaser, you'll be paid within seven days via check, wire transfer, or PayPal. Saatchi Art takes a 35% commission on the final sales price.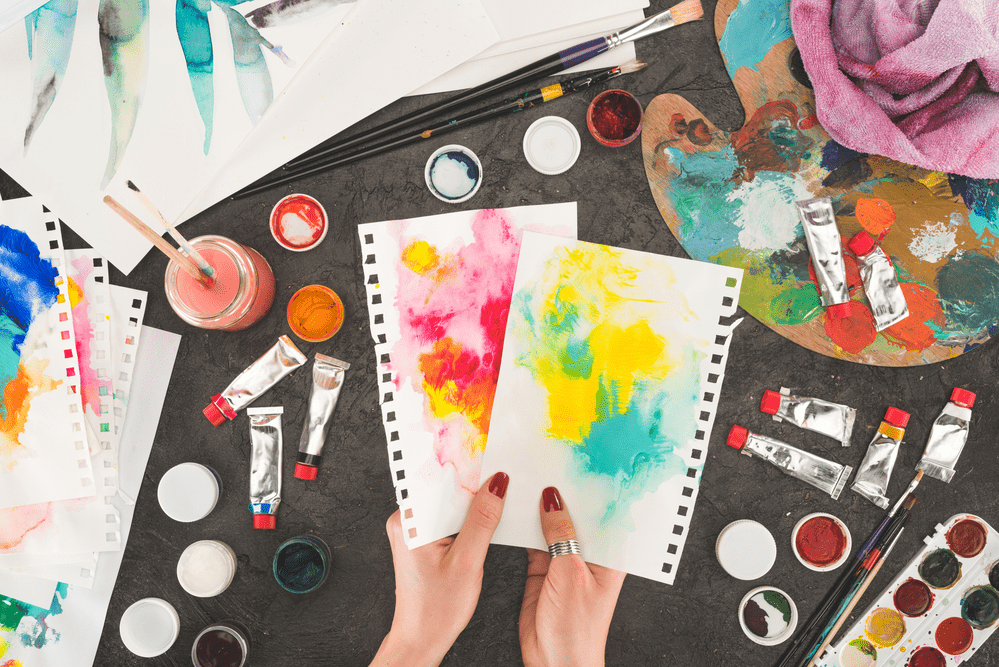 Other Places to Sell Art Online
You might be wondering if there are ways to sell art online and make money without using an arts or crafts marketplace. Having your e-commerce site to sell your art is recommended, but there are other ways you can bring in the cash. There is no shortage of ways to sell your art online from social media platforms and subscription platforms!
12. Instagram
My daughter sells art directly to her followers on Instagram. All that's needed is a way to collect payments, such as PayPal or Stripe. She posts pictures of already completed digital art, and people message her when they want to buy. You can also apply for Instagram Shopping, where customers can shop directly from your images.
13. Facebook
Groups are still popular on Facebook, and as an artist, you can create a community of art lovers that you can get your newest creations in front of any time. Again, a payment processor is all you need here. You can also sell on the Facebook Marketplace, which is usually local sales. You can meet up in person and accept cash or checks. Lastly, if you already have a Facebook Business Page, setting up a shop that allows you to sell directly on Facebook is a breeze.
14. Start a TikTok or YouTube Channel
I don't know about you, but I love watching artists create their artwork on platforms like TikTok and YouTube. I find it very relaxing to watch how these beautiful creations are made. Starting a video channel for your art is an excellent way to reach new buyers, and it's totally free!
Just create your account, shoot some videos while creating, and place to link to your art shop or portfolio in your profile. Once you reach certain thresholds on these platforms, you can start earning money from creator funds, advertising, and sponsorships.
15. Patreon
Artists can make money from their art on Patreon through a subscription-based model. Fans pay for exclusive experiences and behind-the-scenes content. Create art on your terms and keep 90% of the profits. Patreon keeps 5%, and transaction fees are around 5% as well. There are a variety of ways you can earn on this platform. I would recommend visiting their site and looking at the examples of how people are making money with Patreon.
16. Shopify
With most of the sites listed above, you're likely to notice a particular trade-off: either a high barrier to entry or a fair amount of work to market yourself. If you're already doing much of the heavy lifting to market yourself (SEO, social media, advertising, etc.), consider setting up your own online store and selling directly to potential buyers. Shopify is easy to use, and monthly plans start at $29 per month.
Conclusion
I hope this post has given you some fresh new ideas about how to sell your art online and make money that can help you transition from hobby artist to business owner. Please consider sharing if you found it helpful and leave your additional ideas in the comments; we'd love to hear them!
Originally published November 7, 2018. Content updated May 2022.