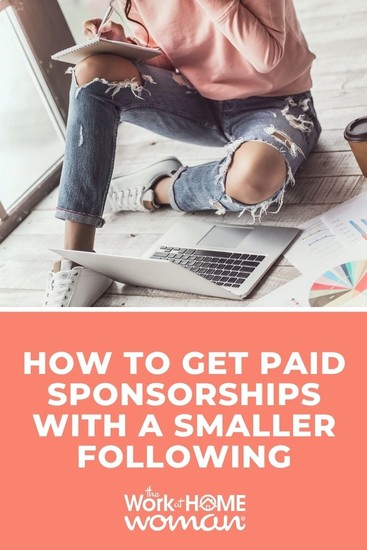 If you're a blogger or influencer, know that brands are always looking for marketing opportunities even if you have a smaller following. Advertising can be expensive, so partnering with bloggers who have a loyal audience can help get a brand's message and product out there in an effective way.
You may be wondering if you can get sponsored content opportunities with a smaller social media following or anywhere from 10,000 to 40,000 monthly pageviews on your blog. The answer is yes. However, tons of brands will probably not be beating down your virtual door to work with you.
Still, you can secure quality sponsorships by implementing a few of these key tips and strategies.
1. Find Your Niche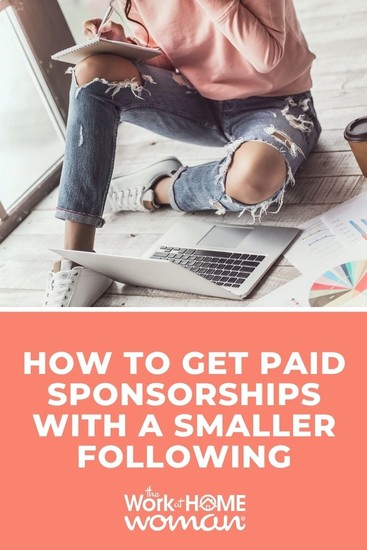 The key to growing your platform and marketing yourself for sponsored content is to find your niche. Determine who you'd like to serve and why. Realize that brands have a clear audience demographic and will expect you to know yours as well.
Even with a smaller following, you can be matched with a great brand if you both share the same niche and goals. Last year, I was excited to have been chosen to work with a regional bank that was open to working with smaller bloggers. I signed on to write four blog posts and do some social media posts for a few thousand dollars.
This bank held an all-expenses-paid event where influencers could go to their corporate location, meet the team, and learn more about their goals and mission. I was pleased to see many different influencers with followings ranging from just a few hundred people on social media to tens of thousands of followers.
If I hadn't narrowed down my niche to helping families improve their personal finances, I don't think I would have landed this sponsorship opportunity.
2. Don't Wait to Make a Media Kit
Your media kit can be a powerful tool in helping you secure paid sponsorships with a smaller following. Usually, a media kit is a one- to three-page document that summarizes what your blog or platform is about, who your target demographic is, and includes stats on your social followings and monthly page views.
You can create a media kit easily in Canva. You can even type in 'media kit,' and they will give you several templates that are easy to customize.
With Canva, you can easily update it each month. Even if you don't have impressive numbers, making a media kit is still essential because it will serve as accountability to help you grow your numbers over time. Plus, you can highlight interesting details like:
The type of brands your audience will resonate with
Other noticeable wins like a blog post you wrote that got a lot of social media shares
Your ideas for hosting a giveaway or promoting a brand by sharing a personal story
How you'd promote a sponsored post (i.e., Solely having an email list that you can use to amplify your message is a great perk in itself.)
All of these elements are valuable and will help you connect with more companies for partnerships. You can also use your media kit when cold-pitching brands to work with them.
Having one on hand lets people know that you're running a professional blog that you're serious about.
3. Focus on Engagement Over Likes and Follows
Brands like followers and page views, but what they love even more is engagement and community. If you've built up a small but loyal group of followers or subscribers that trust you, this will be crucial when pitching yourself to work with sponsors.
The Search Engine Journal reported that engagement rates for both organic and sponsored Instagram posts were declining. It's important to prioritize engagement over likes and follows and make sure you're posting quality content that connects with your readers.
Ask questions and prompt thought-provoking conversations with your blog and social media posts. This will help boost your engagement, and brands will take notice. Even if you have a small audience, if you're getting exceptional engagement on your content, a company will be more willing to pay you to promote a product or service to a loyal audience.
4. Join Influencer Networks With Little to No Requirements
Influencers network are some of the best places to find paid sponsorship opportunities for bloggers of all sizes. When you sign up, you'll create a profile and describe your blog and audience (similar to how you'd fill out your media kit). You'll then be connected with brand opportunities that fall in your niche so you can apply.
Other times, you may receive an email or request from a brand that wants to work with you. Either way, joining an influencer network can be helpful and save you time when it comes to looking for paid sponsorships.
However, some smaller bloggers or influencers shy away from influencer networks because they believe they need a big platform to join. While some sites have stricter requirements, others are open for anyone to join. Some of the best networks for influencers with a smaller following include:
5. Write a Review in Exchange For a Product
You may not be able to earn hundreds or thousands of dollars per sponsored partnership with a smaller following, but you can still earn some free products. Consider reaching out to a company and writing a review in exchange for a product. You may even want to organize a giveaway and offer the product to a lucky winner in your audience.
On the brand's end of things, offering a free product is not a huge liability. On your end, you can use the opportunity to gain some valuable experience that you can use to leverage for paid sponsorships in the future.
I reached out to a blogger named Alexis who now earns thousands per month with paid sponsorships. When her blog, Fitnancials, was receiving fewer than 50,000 page views per month, she made sure to personally reach out to brands instead of waiting for them to contact her.
"You can typically find a partnership contact via the contact page on any company's website," Alexis says. "If there's only one general email to contact the company, you can let them know that you'd like to get in touch with whoever is in charge of partnerships with bloggers and influencers."
Alexis recommends following up a few times as well since most companies receive a lot of emails. Her one-page checklist can help you create a strong email pitch to send to brands.
"Make sure your email is professional, has no grammatical errors, and shows off all the value you can offer the company."
Summary
At the end of the day, sponsorships are about elevating the company and sharing their products and services with an audience that could benefit from them. If you're a blogger or influencer with a smaller following, you can still make money through paid partnerships.
You just need to focus on engaging with your audience and consistently providing value. A strong but mighty army is still meaningful, and if you do a little digging, you'll be sure to find brands that are willing to partner with you.