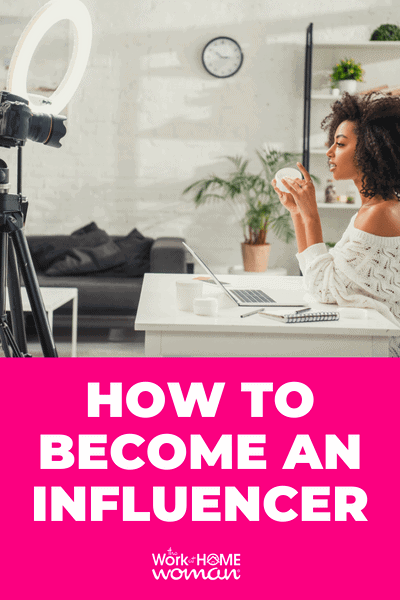 When I first launched my blog, I knew I wanted to make money with display advertising and affiliate marketing. I also knew that I needed a lot of blog traffic to do so. So I wrote high-quality content and marketed my blog through social media sites like Facebook, Twitter, Pinterest, and LinkedIn.
After being in business for a couple of months, I started to get requests for unpaid product reviews and giveaways. Since I was a beginner and not making any money yet, I was thrilled to get free products!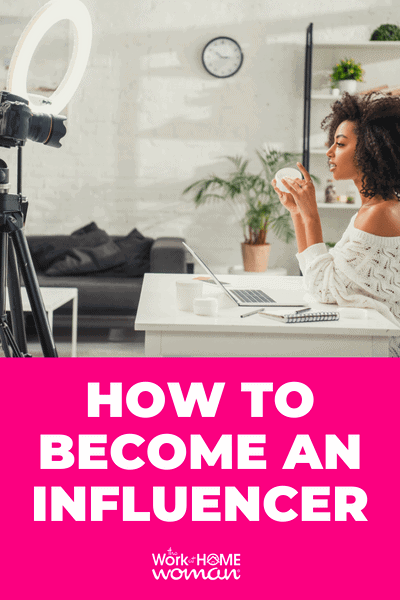 Over time, my blog grew and became more popular, and I received paid influencer marketing campaigns and sponsorship requests; everything from tech gadgets and office supplies to business opportunities, events, and so much more.
In fact, this is one of my favorite things about being a blogger; you never know what opportunities will come knocking on your door.
If you're wondering how to become an influencer and get paid for reviews, sponsorships, and social media campaigns, here are some tips to get you started.
PLUS, I've compiled a HUGE list of influencer platforms that connect influencers and bloggers with brand opportunities.
How to Become an Influencer:
1. Build Your Audience
First, you'll need to decide which platforms you will use. The options for content creation are really endless nowadays. You can start a blog, start a YouTube Channel, post videos on TikTok or Instagram, or use a Facebook page or Pinterest account.
After you've decided what platforms to use, take some time to determine your niche and build your target audience. This means you must decide what topics you'll cover and who you're talking to. Choosing a specific niche like fashion, food, travel, lifestyle, or finance will let your audience know what to expect from you. It also determines what kinds of brands you work with most of the time.
Next, you'll need to build this audience by consistently creating engaging content and being present on various social networks. Without regular content that entertains or informs, you're just a lonely content creator with only your family and closest friends viewing.
2. Make it Apparent
If you want to work with brands, you need to make it easy for companies and PR agencies (these are the people who are running many of the blogger campaigns for large brands and companies) to reach you. Designate a page on your blog for advertising or sponsorship requests, create a media kit, and make sure to have your email address listed in your social media profiles.
It should be clear what type of content you create and what your area of expertise is. Brands will also want to know your demographics, engagement rates, and stats. If this information is hard to find or unavailable, your blog may be passed up for the next one that does have the information. Remember to regularly check your DMs, comments, and email for messages, brands like working with responsive people.
3. What are the Benefits?
We already know why you want to work with brands: you want to make money! But why should a brand consider working with you?
Do you have a loyal follower base on Instagram?
Are your engagement rates on Pinterest super high?
Do your Facebook Followers hang on every word you say?
Are you able to convert followers to buyers?
Use your unique style and flair to woo brands into working with you. Don't over-embellish; you'll need to prove your ROI (return on investment). It's better to be honest than to overstate your influence and deliver a disappointing campaign.
4. Don't Burn the Bridge
I'm sure you've heard about influencer and PR company conflicts. Each one complains about the other; one acts entitled, and the other takes advantage of the little guy. Stop the madness. Act like a professional. If a nutty request comes your way, negotiate, politely decline, or make a referral to another influencer. There is no need to act rude, unprofessional, or go on a tirade.
Whenever I receive a request for free promotion, I often try and turn it into a paid opportunity by saying:
Thanks so much for reaching out!
This sounds like a great campaign. However, due to the overwhelming requests for product reviews, I'm only working on paid campaigns. If you're interested, I'd be happy to pass along my media kit.
Please let me know if I can be of further assistance.
All the best, Holly
Don't burn the bridge because you never know when you might have to or want to cross it again. Many PR agencies represent multiple brands, and just because one client doesn't have budget for paid campaigns, doesn't mean that other clients don't have budgets either.
5. Start Building the Relationship
Are you want to work with a specific brand? Start building and nurturing the relationship by following them on their social media platforms (all of them). Start interacting with them, use their hashtags, mention them in updates, and reshare their updates if it makes sense. This way, when you make your first contact with them, they already know who you are because you've been in their field of vision.
When you pitch them, remember to personalize your email, be short and sweet, and let them know what's in it for them. Brands and companies don't care about what you want — they want to see how you can help them achieve their goals. If you're having trouble finding the right contact person, try looking around on LinkedIn for the company's marketing or PR department.
6. Get Educated
Today brands are looking at much more than just your stats; they are looking for creativity, professionalism, and people who follow directions and meet their deadlines. To be a successful influencer, you must educate yourself on the best digital marketing practices, marketing terms, tools, FTC guidelines, and content creation techniques.
For instance, there are five levels of influencers:
Nano-Influencer – 100-10,000
Micro-Influencer – 10,000-50,000
Mid Tier Influencer 50,000-500,000
Macro Influencer – 500,000-1,000,000
Mega or Celebrity Influencer – Over a million
Knowing this information can help you determine your rates, negotiate better deals, and navigate this space as a professional.
I highly recommend reading Brittany Hennessy's book, Influencer: Building Your Personal Brand in the Age of Social Media. It's a good overview of the influencer industry from the perspective of a brand manager. Brittany gives lots of great tips and what to look out for so that you can earn what you're worth.
Where to Get Started?
If you're an influencer with a smaller following and brands aren't knocking at your door yet, you can always start by pitching them. Just be sure to use the tips mentioned earlier, and keep track of who you are contacting. Having a spreadsheet with initial contact dates, responses, follow-up dates, and campaign details will make your life easier.
Not ready to pitch brands? No problem, there are lots of places where bloggers and social media influencers can sign-up and get connected with campaigns from big brands.
Influencer Platforms That Connect Brands with Influencers and Bloggers:
Aspire is an influencer marketplace where creators and brands can connect for paid campaigns. Creators of all kinds, bloggers, social media influencers, and YouTube stars can sign up! With Aspire, you can create an account and apply up to 10 campaigns each month. Brands can also reach out via Aspire, and ask you to join their campaigns. I've used this platform before, and I was extremely happy with the process.
Find Your Influence is a platform that connects brands and influencers of all kinds. With this platform, you can create an account, connect your social media and blogging platforms, and then wait for brands to reach out with offers. Many of the brands on this site offer products in exchange for social media posts and reviews, but there are paid campaigns as well. I've also used this platform for paid work and was satisfied with the process and payment.
PayPerPost is an online marketplace that connects bloggers and social media influencers with advertisers. Opportunities will be presented, and you have the option of accepting, declining, or negotiating the terms with them. Depending on the opportunity you will be paid per word or per post, and you get to set your own prices. Payments are made via PayPal once you've reached a $50.00 threshold.
Pay U2 Blog is a third-party company that connects businesses to bloggers and influencers. Bloggers can get paid every two weeks via PayPal for writing sponsored blog posts, and hosting sponsored banner ads, videos, social media content, and podcasts. Assignment payouts will vary depending on the project, previous work history, and the number of bloggers enrolled.
There are actually lots of influencer platforms that connect bloggers and influencers with brands. Check out this list if you're interested in working on sponsored campaigns.
7. Delivering Campaign Results
Once you've scored the paid sponsorship and run the campaign, you'll need to provide the company with campaign results. The KPI (key performance indicator) should have been discussed during the negotiation phase, so you should know exactly what stats to deliver to the client.
Often the client will provide a special tracking link or coupon code so that they can track results on their end. But if they don't provide a tracking link, you can create one for free with Bitly. Some common stats that brands are interested in tracking include reach, impressions, engagement (comments, likes, and shares), CTR (click-through rate), and conversions. For your blog, you'll measure results using Google Analytics, and for social media accounts, you'll use their analytics tools that are already built into the platforms.
Conclusion
If you enjoy creating content and want to make money online, becoming a blogging or social media influencer is a great option. Just remember, you need to have patience. It takes time to build up traffic to your blog and social media following. Developing a content calendar and maintaining consistency will be critical in your journey. But keep putting out quality content on a regular basis and it will happen!
Oh, and here's a great Q&A with some top bloggers on how to become an influencer.
What tips do you have for working with brands? How did you become a brand ambassador? Drop us a note; we'd love to hear from you
Originally published January 6, 2012. Content updated July 2022.