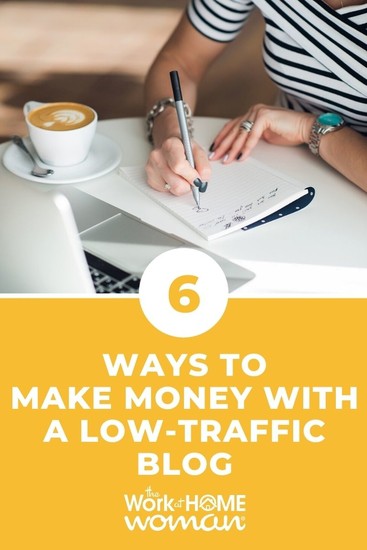 It's no secret that blogging for money isn't as easy as it used to be, especially in 2020, when it seems like there are already a million other bloggers doing the same thing as you.
However, that doesn't mean there aren't feasible ways to make good money as a newer blogger with a low-traffic website.
The key lies in pursuing multiple monetization methods, optimizing your conversion rate, and relying a bit less on passive income while your blog is still growing.
To that end, let's take a look at six solid ways to make money with a low-traffic blog: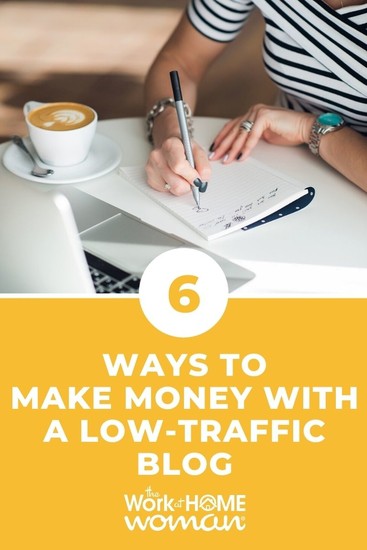 1. Write Affiliate-Centric Posts
Affiliate marketing is one of the easiest ways to start earning money with your blog, but it has to be done correctly.
To get started, sign up for programs like Amazon Associates and ShareaSale to find products and services that you can promote on your blog.
The trick with affiliate marketing is being strategic with your content and link placements. Scattering affiliate links throughout your blog posts and putting a banner up in your sidebar is not going to cut it.
You want to create problem-solving posts that are solved by the product or service in your affiliate links.
Pro Tip: The type of posts that work well for affiliate sales are "how-to," "best-of," and product reviews. These posts tend to have a very high conversion rate, even if they only bring low traffic from Google.
In other words, it's still very much worth the effort to target those low-volume, low-competition keywords.
For example, I wrote a "best of" type post that only gets about 500 page views a month, yet it's generated hundreds of dollars in affiliate sales in just a few months.
2. Nurture and Grow Your Email List
The truth is no matter how much traffic your blog gets; most people will visit your website once, look around for a minute or two, and then leave without ever returning.
That's why having "freebies" integrated into your blog posts can help scoop up visitor email addresses and give you access to one of the most valuable assets a blogger can have: your visitor's inbox.
A freebie is what you trade for the visitor's email address. Usually, it's something simple but valuable and interesting to the reader – like a checklist, quiz, or short informational pdf.
But it's not enough to just collect email addresses and then send out a sales email whenever you want them to buy something.
You need to develop a rapport with your readers by emailing them regularly with useful, engaging, and valuable content.
As they get to know and like you, they will be eager to take advantage of the offers you present them with when they do come along.
Pro Tip: Write to your email list how you would write to a friend and invite them to engage with you! Add open-ended questions at the end of your emails and a call-to-action to hit reply with their answer.
Related: The Five Best Free Email Marketing Services
3. Create and Sell Digital Products
A digital product is an umbrella term for anything you can sell passively on your website that can be accessed online and isn't a physical product that needs to be shipped.
It includes anything from a 1-page printable to a 6-module course on the topic of your expertise.
Many bloggers tend to shy away from creating digital products because it seems like a huge undertaking, but it doesn't have to be.
Start with something simple like a 1-2 page, low-cost printable to start generating revenue more quickly.
You can use a free design tool like Canva to create attractive-looking printables to sell on your website.
Printables can be anything from shopping lists, checklists, workbooks, games, challenges, trackers, calendars, and more!
Once you have created your digital product, you can easily use a platform like Gumroad or Sendowl to set up the payment gateway and delivery system.
Pro Tip: Set up low-ticket printables as a "tripwire" to your freebies. A tripwire is a special low-priced offer that only appears on the thank-you page when visitors sign up for your email list.
For example, if you have a workbook that you sell on your shop for $9.99, your tripwire could offer the same product for $4.99, specifying to the visitor that this is the only time they'll be able to save 50% on that product.
To make your tripwire a high-converting offer, it needs to be closely related to the topic of the freebie. For example, if your freebie is a 28-day calorie tracker, a good tripwire could be a low-calorie recipe e-book.
Not sure how to put it all together? Check out E-Printables Side Hustle Course; it will get you up and running quickly.
4. Write Sponsored Posts
Sponsored posts are another great way to take control of your blog's earning potential while building up your site.
Essentially, a sponsored post is when a brand pays you to write about their product. They are often in the form of product reviews.
An easy way to get started is to set up a simple page on your website for sponsors to contact you and title it "work with me" or "advertise".
But you don't have to wait for sponsors to come to you. There are many platforms that can connect you with brands looking for bloggers to sponsor their products, like Izea, Blog Meets Brand, and Acorn.
Go ahead and cast a wide net here; sign up for a few of these platforms and see where you get some nibbles!
You can also find sponsors by pitching brands you want to work with directly.
Pro Tip: You'll want to make sure you have a media kit ready for potential sponsors, which is a document detailing your website's stats, demographic, niche, and social media following. It demonstrates your professionalism to brands you are interested in working with.
You can easily create one using the free templates found on Canva.
5. Add a Service-Based Offering
For most bloggers, the dream is to reach your income goals by passive means. But when you're a smaller blog, adding a service-based offering can both help you get established in your niche faster and get the dollars rolling in sooner.
As a blogger, you have likely already positioned yourself to be an authority in your niche.
You can monetize this by adding one-on-one coaching or another service that's related to your niche.
The easiest way to start is to add a page to your website with a contact form and a list of your services. You can also advertise your services on social media and through online and offline networking.
Pro Tip: After you've worked with a few clients, gather some testimonials from them to put on your website.
Not only do testimonials further bolster your credibility within your niche, but it can also facilitate higher conversion rates for your affiliate links and digital products.
6. Incorporate Freelance Blogging
As a blogger, you likely already know how to write a decent blog post.
And there are a lot of other blogs out there that are looking to outsource content to freelancers. This is a double win for you because not only do you get paid to write blog posts, you also get your name out there and build authority in your niche.
My favorite way to find blogging gigs is via Problogger, which has a busy job board full of brands looking for bloggers. Just make sure the gig comes with a byline!
Pro Tip: Build a blogging portfolio on Contently to showcase your work to potential clients. You can add the best posts from your blog there, as well as any other published work or guest posts you may have written.
Not only is this a professional way to present your writing samples, but Contently itself can become a source of work, with the potential for brands to reach you directly with gigs.
Conclusion: Start Diversifying!
When it comes to making money with a low-traffic blog, diversification is the name of the game. Try to incorporate as many of these tactics as possible to optimize your earnings and accelerate your blog's growth.
You don't need to implement these tactics for the long haul if you don't want to. For example, once your blog has enough traffic to help you reach your passive income goals, you can scale back things like freelance blogging or online services if you prefer.
However, it's a good practice to always have a few different monetization methods in place. The world of blogging is ever-changing, and what works today can change tomorrow, no matter how big your blog gets!