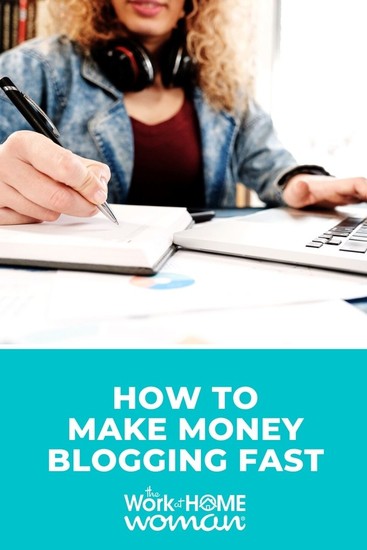 If you've ever wanted to start a blog and monetize it, there is no time like the present. Blogging can be very rewarding, and you can even earn passive income from your blog after putting in a lot of hard work.
The only potential drawback of starting a blog and running it like a business is that it often takes time to see the fruits of your labor. Blogging is not a get rich quick scheme. At the same time, you don't have to wait years to earn an income from your blog.
I know several bloggers who have been able to make money blogging fast. Whether it's 30 days, three months, or a year, time flies. If you start your blog today and work strategically, you could be earning income before you realize it. While there are no guarantees, you can do a few specific things if you're wondering how to make money with your blog fast.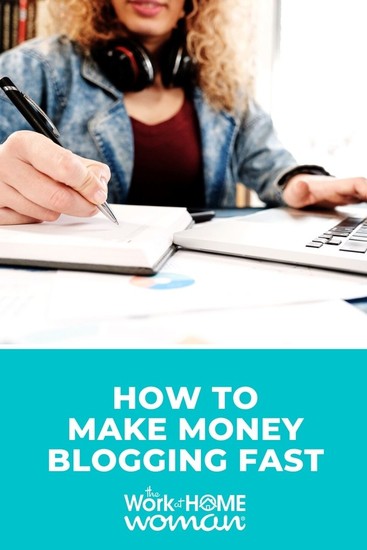 Get Traffic to Your Blog
I know it's not as easy as it sounds, but blog traffic is an essential factor if you're looking to earn money from display advertising, affiliate marketing, or selling products. Only a small percentage of people who read your blog and follow you online will actually convert and buy or sign up for something.
Still, blog traffic isn't everything. Often, a smaller but targeted and loyal group of readers is more than enough. There are plenty of bloggers with 10,000-20,000 pageviews per month who are still making money. One blogger started a niche insurance site and earned $13,000 per month with only 6,000 monthly pageviews.
The key is to narrow down your target audience and identify their needs. Write amazing content and promote it consistently. Connect with other bloggers if you can and collaborate to grow your page views. You can also utilize social media and Pinterest to share your content.
For more detailed tips and resources to help you build blog traffic, check out these 20 ideas.
Start an Email List ASAP
One of the top mistakes most bloggers say they make in the beginning is holding off on creating an email list. Sure, when you're just starting, and no one is reading your blog except your mom and sister, you may not feel the pressure to set up an email list. Do it anyway.
It only takes a few minutes, and it's important to give people an opportunity to hear from you behind the scenes. Create a helpful freebie offer to provide as a thank you to whoever joins your list.
Over time your list will grow. Then, whenever you have a product to promote or some important news to share, you'll already have a built-in loyal audience that trusts you and will value the information you share.
Related Content: The Best Free Email Marketing Services
Once you've done these two things, you can take a quick breather before jumping into work. Here are a few of the best ways to make money blogging fast – even if you don't have a ton of traffic.
Write an Ebook
Ebooks are a popular way of delivering helpful content as well as entertaining stories. If you're new to blogging, I'm a firm believer that one of your first digital products should be an ebook.
Survey readers or pick a specific topic that explains how to solve a problem your readers have. You may even want to take a popular blog post and go more in-depth with that subject by writing an ebook.
Your ebook doesn't have to be massive. You may even be able to write it in just a few hours. You can publish your ebook for free using Amazon Kindle Direct Publishing or sell it on another platform like Gumroad.
Depending on the topic and perceived value, ebooks are often priced between $2 and $50. Test out different price points to see what converts better and consider offering a few bonuses with the ebook so customers get more bang for their buck.
Design a Valuable Printable
If you'd rather not write an entire ebook, consider designing a printable that you can sell on your blog. Printables are also trendy and helpful to others, depending on the topic.
For example, if you're blogging about homeschooling, you can design and sell printables that help parents track lesson plans and plan out their weekly calendars.
You can design a printable product in just one sitting if you know how to use Photoshop and Canva. Consider selling printables directly from your blog with Shopify or through Etsy.
Submit a Paid Guest Post
If you're looking to build your traffic, one of the best ways to do this is by guest posting on other blogs and websites. You can share your expertise in a guest post and also get a link back to your blog so people can check it out.
Usually, guest post opportunities are unpaid, but you can still find sites that will pay you to submit a guest post, so it's a win-win.
Here is a massive list of sites that will pay for guest posts or even long-term contributor collaborations.
Sell a Private Ad
Placing ads on your blog is one of the easiest ways to earn blogging income. If you keep your ad space limited and target messages that are relevant to your readers, it shouldn't distract from the overall experience of visiting the blog to read your content.
In recent years, blogger ad networks have become popular, but often, you have to meet a minimum amount of monthly page views. Google Adsense is free for any blogger to join, but you may be waiting a while for payment since you need to reach $100 of ad revenue first.
A more traditional option would be to sell private ad space on your blog. Selling private ad space on your blog may sound a little old school, but it eliminates requirements for you to have a certain pageview number. Plus, you'll have the freedom to connect with brands and advertisers that directly serve your audience.
To get started, you need to determine the size of the ad space and where it will be shown on your blog. You may want to offer paid ad space in the header area or sidebar. Determine your pricing and how you'd like to price the advertising and your timeframe. For example, a newer blogger may charge $100 to $200 per month for a 250×250 sidebar ad space.
The most challenging part will involve pitching advertisers to see if they'd be interested and a good fit. For more tips on how to get companies to purchase advertising space on your blog, check out this post.
Sell a Membership
Memberships programs are great because they allow you to connect intimately with a specific group of people and provide them with exclusive tools, resources, and other valuable content. Most memberships programs are offered as a monthly, quarterly, or yearly subscriptions.
The easiest way to start a paid membership program is to make some of your content or additional resources exclusive. I have one client who started an entire blog with most of the content being offered under a paid membership. People can't view the content or resources unless they pay a monthly subscription fee.
While this may seem a little intense, you can always see how you can go above and beyond for your readers. Offer some free content on your blog and social media. Then, make an effort to pour value into the people who sign up for your membership. You can always start with a low monthly fee, and increase it as the value increases.
Even if you charge $20 per month and 10 people sign up, that's $200 per month of blogging income.
Pitch a Sponsored Review
Did you recently try a product that you love? See if you could pitch the company to do a sponsored review on your blog. Of course, the product or service should be related to your blog's theme in some way.
If you have a lifestyle blog, you can probably write sponsored posts about a variety of different things that you try. Companies may ask to see a media kit or inquire about your monthly page views, so make sure you have that information on hand and know your audience demographics.
As a beginner, you may have to charge less for your first sponsored review but focus on knocking it out of the park. Share clear and well-lit pictures, and go in-depth with your analysis. You can always use your first opportunity as a sample to help you pitch for higher-paying sponsored reviews.
Conclusion
While making money from your blog takes hard work and patience, speeding up the timeframe it takes to monetize your blog is not impossible. You don't need a ton of traffic or a massive following to make money. Just narrow down a strategy and stick to it until you see results. Some of these ideas will help you make money blogging fast, even if you just have a few loyal readers.