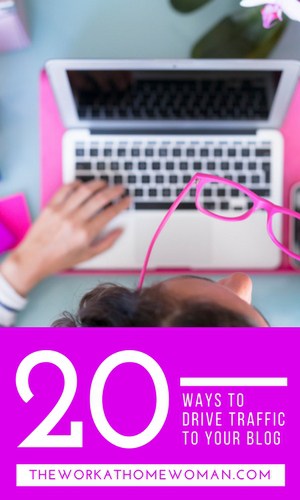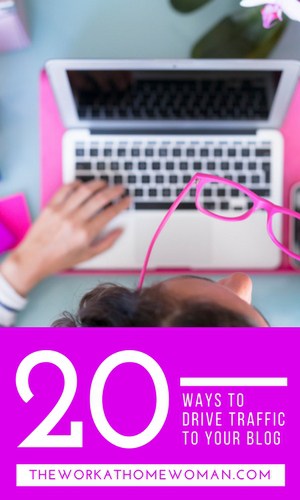 I love getting emails from readers! I enjoy the social interaction as well as the recognition, but what truly makes me happy is when I can help a reader fulfill their dream of working from home or becoming self-employed.
Lately, I've received a ton of emails from new bloggers and website infopreneurs who wanted to know how to increase traffic to their website or blog. I have been emailing each person individually with a short and general list of tasks to complete, but I figured it would be more helpful if I created a more extensive list and shared it with everyone.
So, here are twenty steps that I've taken to generate traffic to my blog. By no means is this list comprehensive, but, these are some of the actions that helped me to achieve over 46,000+ monthly page views within a four-month period.
Eight years later, my blog gets over a half-million page views a month.
1. Write Awesome Content
Before I launched The Work at Home Woman, I took 16 months to research and write content, so that when I launched, I already had 60+ pages of content in place. Most bloggers, however, launch, and then start writing content. No matter which route you decide to take, individuals and search engines alike love fresh and interesting content, and the more useful and helpful it is, the more successful your blog will be.
Part of writing awesome content is editing your blog posts for spelling, punctuation, and grammar. If you have an eagle eye, you can do this manually, but I've found that even when I go back and proofread two, three, even four times — I often miss typos. You could hire an editor to proof your content, but that can get expensive and be time-consuming. A more readily available and affordable option is to use an editing software platform. I've tried a few different platforms out, and by far my favorite is, Grammarly. It's easy to use and catches errors that most word processing programs miss.
Need more ideas for writing awesome blog content? Grab my free e-Book here – it goes into detail about how to write amazing content.
2. Get the Yoast Plugin
One of the first things you should do when you launch your blog is, upload the Yoast Plugin. This SEO plugin will help guide you with adding all the necessary SEO components to your blog post. Besides guiding your SEO efforts, it adds an XML Sitemap to your website so that the search engine spiders can crawl your website effectively.
3. Alert the Search Engine Directories
If you're new to the blogosphere, it can take some time for the search engines to find and index your website or blog. Jumpstart the process by adding your website to each of the major search engine directories: Google, Yahoo! and Bing.
4. Add Google Analytics
When it comes to measuring your website's stats (page views and visitors) Google Analytics (GA) is the gold standard. To get started, you will need to create a Google account if you don't already have one. Next, login to GA and add your blog or website. Once you get that added, you'll need to place a snippet of HTML code from GA into your website. If you're not tech-savvy, you can grab the Google Analytics for WordPress Plugin and just plug in your GA code into the plugin.
Is all of this tech talk making your head spin? Mine too! If you need additional help, this post from WP Beginner breaks the process down into bite-sized tips with visuals.
Want to know why measuring your stats are important? Check out this post for additional information.
5. Leave Blog Comments
There has been some debate on whether this tactic works or not, but from my experience when you comment on other blogs within your niche you can gain some new traffic and readers from it. Be sure to add valuable comments that will help to distinguish you as an expert in your field. For an added bonus, look for CommentLuv blogs that give commenters a do-follow link in their profile. Not sure where to find CommentLuv blogs? This post has a massive list of over 1,000 CommentLuv blogs.
6. Join the Conversation on Facebook
Facebook is the largest social network in the WORLD with over a billion and a half monthly active users. With all these people lingering around in one place, daily, you'd be crazy not to be using it to promote your website. Since you'll be using Facebook to promote your blog, you'll need to set up a Facebook Business Page. Once you get that setup, you can share your blog posts, relevant information, inspirational quotes, photos, articles, and even videos. For more information on using Facebook, check out this post, How to Stand Out on Facebook.
7. Start Tweeting on Twitter
Another great place to promote your blog is on Twitter. With 313 million active users a month you can tweet out new blog posts, promotions, and chat with your audience. Because Twitter is a fast-moving, micro-blogging platform, you'll need to get creative with your tweets if you want to grab your follower's attention.
For more information on to use Twitter to drive traffic to your blog – check out these posts:
8. Participate in Forum Conversations
Find some popular and same niche forums and respond thoughtfully to questions so that you can establish yourself as an expert in your field. Remember don't go into a forum and shout out information about your website, there is a fine line between self-promotion and spam; always add value to the conversation. On many forums, it's perfectly acceptable to leave a link to your website within your signature at the end of a response (Just double-check each forum's rules before posting).
9. Guest Blogging
Many blogs accept guest blog posts and allow guest bloggers to include a short bio and link back to their site, so you're able to introduce yourself to an entirely new audience. And since most bloggers are heavily involved in social media, your article tends to reach an even larger audience. Just remember you'll want to stay within your niche; a post about fashion isn't going to do well on a blog about fishing and hunting.
For more reasons on why you should write guest blog posts and how to go back it — check out this post.
10. Use Other Social Media Platforms
My second-largest source of traffic is from social media, specifically Pinterest and Facebook. Depending on what your blog's niche is you'll want to choose two main social networking platforms, as well as a couple of secondary platforms to be active on (Facebook, Twitter, Instagram, LinkedIn, Snapchat, Pinterest, YouTube, etc.). Choose networks that make sense for your niche and that you enjoy being on. Remember quality always trumps quantity, so don't spread yourself too thin.
11. Know Your Target Audience
If you want your readers to keep coming back, you need to invest some time in getting to know and understand your target market. Ask yourself some basic questions, like:
What is their biggest problem?
How old are they?
What is their biggest fear?
How much money do they earn?
Are they married or single?
Do they have kids? How many?
What frustrates them?
By knowing exactly who you are writing to, you can hone in on the topics, pain points, and areas that they want and need the most.
12. Participate in Interviews
Participating in interviews and podcasts is a great way to distinguish yourself as an expert in your field, expose yourself to a new audience, promote your blog, and drive traffic back to your site. Not sure how to find interview opportunities? Sign up for HARO which is a free daily email that connects reporters to sources for articles, interviews, and features.
Or visit our big list of websites that feature women for interviews.
13. Send Out a Press Release
I've tried this method once and I did get a boost of traffic for about a week after sending out my press release on PR Web. Basically, when you have a newsworthy tidbit to announce you can send it out through a press release. The premise of a press release is to catch the eye of a reporter or news outlet, so they will cover your story in-depth on their publication. However, with this said, I've found that if you want to be featured on a specific publication it's better to reach out to that source individually, as there are thousands of press releases sent out every day. While the press release I sent out did generate some traffic, it did not generate any further media coverage.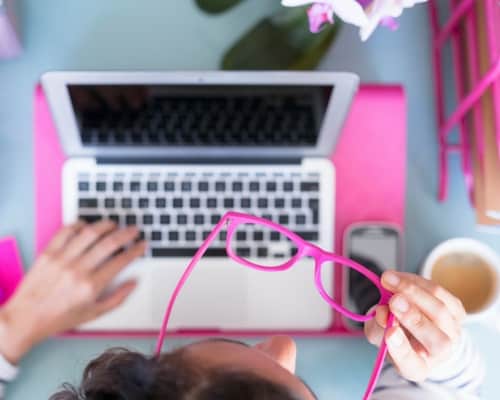 14. Email Marketing
From the very first day you launch your website – you need to make sure that you're building an email list. Search engine and social media algorithms are constantly changing, which means your web traffic can go up and it can down without any warning. But with an email list, it is something that you own, and that can always be used to reach your audience.
Not sure how to build an email list, what email marketing platform to use, or how to send out email newsletters? Here are some helpful posts to get you on your way:
15. Install Social Sharing Buttons on Your Blog
I can't tell you how many times I've been on a blog and I want to share their article, yet, there are no social sharing buttons. Sorry, but your readers are NOT going to take the time to copy, paste, shorten your link, and tag you! Don't lose out on this valuable traffic! Install a social sharing plugin like Shareaholic, Social Pug (this is what I use), or Monarch. Be sure to include your social sharing buttons both at the top of your blog post and at the bottom of your post, so your readers can easily find them. If they are too hard to locate, your readers will give up and move on.
16. Learn About Search Engine Optimization (SEO)
The majority of my traffic comes from Google, and this is because certain keywords and phrases on my site have ranked well with the search engines. Search engine traffic is free, and you'll want to take advantage of it. SEO can be very technical, and it's constantly changing, so to get familiarized with SEO here are some useful articles on the basics:
17. Generate Word of Mouth Marketing
When I first launched The Work at Home Woman, I sent out an announcement to all of my friends and family letting them about my site and asking them to please pass the word on. From this effort, I received a tremendous amount of traffic, blog comments, encouragement, and support. Other ways to garner word of mouth marketing include asking readers who email you to spread the word, offering referral bonuses, giving great customer/reader service, being responsive, and having awesome content!
Case in point, here is an email from a happy reader:
"The Work at Home Woman is THE best site in this niche I've ever read. I believe you actually care about the content you offer your readers, as no one could it fake it that well, and that puts you on top. Thank you! I've just sent your link to my entire personal email list." – Patty S.
18. Use Free and Paid Advertising Methods
When I first started blogging, the trend was for blogs to offer free advertising or listings for other bloggers. This trend has pretty much disappeared. But, there is still one place you can advertise for free, and that's Craigslist. You can list your blog under the general community category. The process only takes a few minutes, and it will generate a small amount of traffic to your blog (which is helpful when you're first starting out).
Today the trend is more about paid advertising on Facebook, Twitter, Instagram, and Pinterest. Each platform allows you to advertise your content to a highly targeted audience, and best of all, you can choose how much or how little you'd like to spend. If you'd like to know more about Facebook advertising, check out this post for some great tips!
19. Have a Well-Crafted Email Signature
How many emails do you send out each week? Probably hundreds, maybe even thousands! That's a lot of potential blog readers, contacts, and connections to build on. While not everyone will click on your website link within your email signature — the right email signature can be used as an opportunity to market your blog, expand your network, and increase your revenue. It's basically free advertising and another way to get your name, your blog, and your business out there. Need help crafting the perfect email signature? This post shows you what you need to include in a well-crafted email signature.
20. Be Authentic and Kind
This is so important for your online success. You need to let your unique personality and voice shine through! Often online there is the tendency for people to copy what other successful bloggers and influencers are doing, but what they don't realize is that your readers connect to you and your personal story. On the other end of the spectrum, there are people who are overly abrasive or snarky because there is not that face-to-face connection. Remember to always treat others with respect, tolerance, and dignity.
So, there you have it 20 awesome ways to drive traffic to your blog!
How do you drive traffic to your blog? Do you have a question about getting traffic to your blog? I would love you hear from you, feel free to drop a comment below.
If you are interested in starting your own blog, I have a tutorial that will walk you through the process step-by-step for just $2.95 a month — just click here! And be sure to grab my FREE blogging e-book that will tell you how to write great content, get traffic, and most importantly make money from your blog!
Originally published July 30, 2009. Last updated on April 7, 2017.
This post includes referral and affiliate links. Please be aware that we only promote advertising from companies that we feel we can legitimately recommend to our readers. See our disclosure policy for further information.