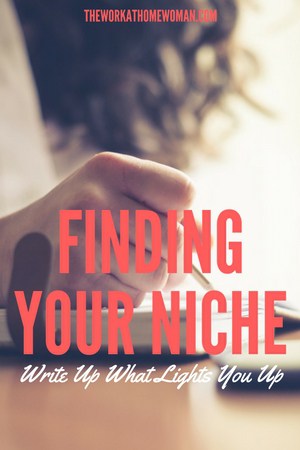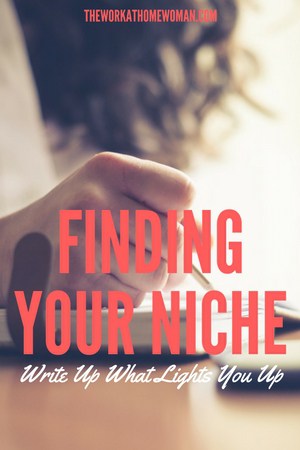 "Do what you love, and the money will follow." – Marsha Sinetar, writer
So you want to write. And you're good at it! And you even have a tiny bit of experience!
Now you're ready to get your blog up and running. Or pitch some clients for freelance writing opportunities, right?
Well, almost.
While some people find success in being a generalist, most writers and bloggers will need to focus and narrow down a topic of expertise. You guessed it: a niche!
Likely you've heard of finding your niche or "niching down," but what does that even mean? It means to choose a narrow topic or audience to focus your content. The reason for doing this is to allow you to create the most valuable content for a specific audience. That way, your readers will love what you wrote and feel like you wrote it just for them. That is what builds a loyal readership or client base.
Choosing your writing niche may be based on a topic, or it may be based on a demographic. Perhaps you have expertise in a certain field like sales, real estate, fashion, or event planning about which you would just love to write high-quality expert articles. Those are all topic-based niches. Demographic-centered niche examples are parents of special needs children, beginner photographers, or mid-life career changers.
Either way, your niche should be your expertise plus your passion. There is a bit of disagreement on what the third portion of that formula is.
A lot of folks say that your focus must also intersect with a market that is "highly profitable." But when you understand enough about content creation and strategy, you can make whatever your niche is into a profit. More power to you if your primary interest intersects with a big money topic! But don't worry if it doesn't.
The other traditional finishing element to that formula is asking the question "who does it help?" The answer can be something as noble as "individuals who want to find inner peace" or as profit-driven as "financial institutions that need frequent, high-quality white papers." Whatever lights you up!
While freelance writing is appealing partly because of how flexible your schedule can be, there's no question that the whole process (pitch, plan, write, promote, repeat) will take up a lot of your time. If you're going to spend that much time on something, you should probably at least like it.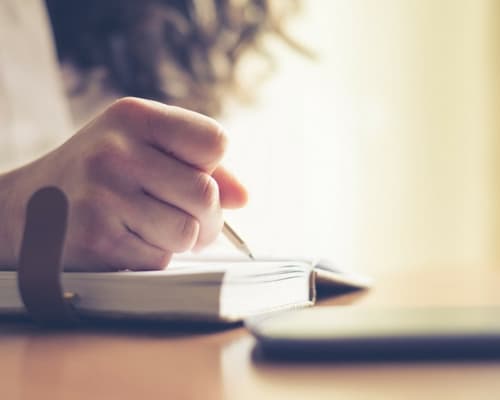 Okay, so you get it. You need a niche. Now, how do you figure out which one is yours? The good news is, ultimately you just have to pick one. If it doesn't work, change it! Planning plays an important part, but action often plays an even bigger one.
Let's work through it.
Open up a new digital note. Or, old-school it and get an actual piece of paper and pen. Time for some brainstorming! It will be helpful to have your resume(s), transcripts, and portfolio in front of you for these lists.
Here are some concrete ways to find niche ideas that resonate with you and your audience:
What is your expertise or background?
Coursework that you've completed
Any degrees or certificates you've earned
Professional work experience
What are your passions or interests?
Hobbies and activities
Ways you spend your free time
Things you like to talk about with your friends
Who do you want to help?
Any volunteer experiences you have enjoyed
Social causes that are personally meaningful to you
Nonprofits that you contribute to or follow
Check your social media.
There may be more subconscious interests that you didn't even consider!
Pinterest board content and topics
Types of people, companies, and organizations you follow on Twitter and Instagram
Topics of any blogs you follow
Put these lists next to each other. Do you see any themes emerging? Highlight list items that seem relevant to one another (or color code them if you're a total nerd like me!) and connect some dots. Your college minor in fine art may seem useless until you pair it with your passion for the local art scene and realize how much content marketing help small art studios and galleries need. Boom, you found your niche!
Conclusion
If you have trouble connecting the dots on your own, find a community that can help through blog comments, Twitter, or Facebook groups. The freelance writing world is full of people with a lot of experience and a vast willingness to help.
Please share your lists in the comments and let us know whether they helped you find some niche connections. If not, maybe we can help! You are closer than you realize to a real live freelance writing career.
If you haven't started a blog yet, here are two blog posts you'll want to check out!
Tara Bosler is a professional writer, freelance blogger, part-time educator, and regularly caffeinated mom. She writes about parenting, being a mompreneur, and saving and stretching dollars. You can find some of her freelance clips, as well as her live blog, on her writer website: www.tboslerwriting.com.