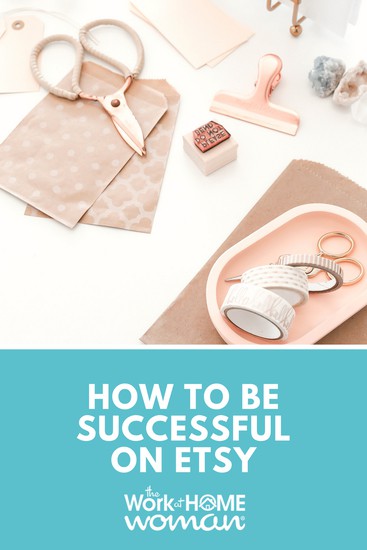 If you run a craft business or have an artistic streak, you may have considered making money with your creative venture online. Etsy is a popular route but comes with its own set of new technology, strategies, and challenges that can be overwhelming to the newcomer. With all of the options and competition out there today, I wanted to learn what a new Etsy seller can do to improve her odds of success.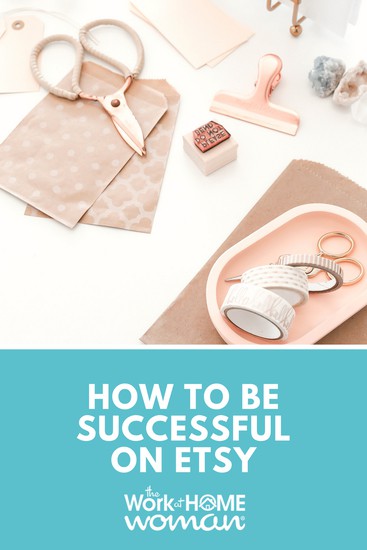 Lucky for us that I had the pleasure of interviewing a work-at-home woman who has definitely been successful on Etsy and knows the ins and outs of making money on Etsy. Let me introduce Melanie from Simple Made Pretty. By sharing her experience, we hope that you will learn enough about how to get started that you'll be able to decide if it's a viable option for you.
Tell us a little bit about how you got started and what prompted you to start an Etsy business.
I began working with paper products at a young age and have always loved creating DIY gifts for family and friends. In 2009, I handmade everything for my wedding, including invitations, favors, decorations, bridal party gifts, and more. Pinterest was barely starting out back then, and I had yet to discover die-cutting machines so I only had the ideas in my head and the abilities of my hands to make everything.
In 2013, I received my first Cricut craft machine (a Cricut Mini) and began making paper party supplies which led to home decor, t-shirt designs, greeting cards, and many other fun and useful craft products.
Around that time, my (realtor) hubby asked if I could make a "Happy Anniversary" real estate greeting card that he could send to his clients. He had the hardest time finding an anniversary card that wasn't romantic! So, I created a Happy Anniversary card with a little house on it in the colors of his real estate firm, which was perfect for him to send to his clients to celebrate the anniversary of their home purchase.
I realized the market for a card like that would do well since there wasn't a similar product available at the time. I started researching the best way to sell these cards and came across Etsy as an option.
I started selling on Etsy because it was easy to set up a shop quickly and the cost was low. It only took a couple of hours to open my shop and add my first listing! Listing an item costs $0.20 for four months, and once an item sells, there is a 3.5% transaction fee (Note: these fees may change in the future). Creating my first listing was simple as well. Just add a description, price, and at least one image. Looking back at my first listing, the photo was not the best quality, lol (see it below).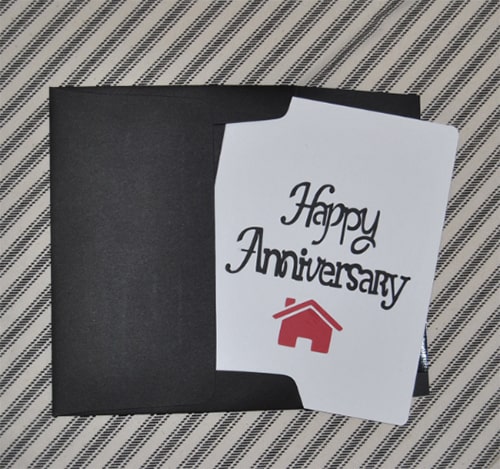 Within a week, I had my first order for 200 cards! I remember I spent an entire weekend working on that order (since I was still working a full-time job at the time). Also, the time I spent working on that first order made me realize that my cards were incredibly underpriced. Since my product did not exist anywhere else, I could not perform market research to see what my competitors were charging to determine a fair price. I ended up calculating the cost of the materials plus the time it takes to make one card to determine the amount to charge.
Pretty soon after that first order, I received many more and requests to make other cards (from my hubby and Etsy customers) which led to several different real estate products that are currently available in my shop.
I also started a blog to support my Etsy business. I wrote blog posts related to the products in my shop and linked to my Esty listings so readers could easily purchase my products through Etsy's platform. Soon after starting my blog, I began adding digital products to my Etsy shop (printable forms, labels, party supplies, digital files, and more). Digital products helped boost my Etsy sales and create a passive income. Etsy allows you to sell digital files up to 20 MB in size; it's a great way to make passive income if your products are priced well.
Do you have any tips for those just getting started on Etsy?
If you want to learn how to sell on Etsy, setting up a shop does not take long at all. You can always change the name of your shop later if you are undecided on a name. Your shop and items don't need to be perfect when you first start out. The best action to take is just to get your product out there – even if it's not 100% complete.
The only money you need to invest to get started is an Etsy listing fee and the cost of supplies for your handmade products. If you are selling vintage items or craft supplies, consider the cost of shipping supplies for items. There is currently no fee to open a shop. If you are selling digital products, you will only be investing the time it takes to create digital files.
As mentioned above, I had my first sale within a week after creating my first listing (and it was a big sale!). I was able to quit my full-time day job after one year from my Etsy and blog income. My Esty income keeps steadily increasing, with each year doubling sales from the year before.
I spend anywhere between 2-20 hours a week on my Etsy business. The hours I work depend on the season, whether I'm working on physical or digital orders, or the number of messages I receive.
Check out this post about When Your Hobby Becomes Your Business.
What has been crucial to the success of your business?
Consistency and customer service.
Do not give up. I cried after spending an entire weekend working on that first card order. I wanted to spend time with my family, and I contemplated giving up. Instead of giving up, I designed a different card, one that was easier to make and caused less stress and aggravation for me to make. Growing a business takes time; these things don't happen overnight! If something is frustrating you in your business, make a change rather than giving up.
With excellent customer service, your Etsy customers will turn into raving fans. They will purchase from you again and will tell their friends and family about your shop. They will share your listings on Pinterest and Facebook for you! Just imagine that every Etsy customer has a sign on their neck that says "make me feel important." Sometimes just asking what they want is all you need to do to help your customers. Give the refund, waive the shipping, and get creative with a solution that will make them happy.
What would you say is the most important thing a person needs for success on Etsy?
Etsy is a marketplace to sell handmade goods, vintage items, or craft supplies. Many Etsy shop owners are passionate about what they do, and passion for your business can go a long way; however, passion won't bring you sales!
As with any business, you get what you put into it. There's not just one thing a person needs to be successful on Etsy. My advice: Don't give up, do your research, share your creative passions, and offer outstanding customer service.
Any advice to give a newcomer thinking about starting an Etsy business?
Just start and see where it takes you! You don't need a business plan; however, I did write a one-page business plan one year after opening my shop. A business plan will help maintain your vision and long-term business goals. I also waited two years before registering my shop as an LLC. I recommend you discuss when and how to register your Etsy shop as a business with your accountant or attorney. As for tax information, Etsy is required to issue a 1099-K form to you and the IRS if you meet both of these requirements:
You had $20,000 in sales through Etsy Payments during the calendar year.
You received 200 or more payments through Etsy Payments over that period.
You can read more here about Etsy and filing taxes.

Now let's talk about how to run a successful Etsy business. What are the most important steps?
Here's a list of the top 5 things you should be doing every week for your Etsy business:
1. Responding to Etsy customer messages is a top priority in this business.
If you have any retail or restaurant work experience, you probably know how customer service can affect your bottom line. I get an average of five messages a day from Etsy customers, either requesting a custom product or inquiring about a recent order. I try to respond within 24 hours (or less if it's an urgent issue) and make sure to consider your tone and etiquette when replying through Etsy.
2. Update listings with keywords if they are not selling.
Etsy listings do well when the right keywords are used. Search on Etsy to see if your listing is showing up and where it shows up (first page, second page). See what keywords your competitors are using and test other search words. Include keywords in your listing title and tags.
3. Search competitors on Etsy.
As I mentioned, no one else was making real estate anniversary cards when I created mine, but now I can find them all over Esty. Keep up with your market research and make changes where you see might make a difference. Adjust prices when necessary too.
4. Update listings with high-quality images.
Images are also crucial to keeping up with competitors. Add as many photos as possible. Add a link to a YouTube video of the product in the description. Remember, your customers cannot touch or feel your products before ordering. Make it as easy as possible for them to see what they are buying.
5. Share listings on social media and check your blog posts where you can insert links to your products.
You can share any Etsy listing on social media (Pinterest, Facebook, Twitter). Post links to your products in related niche Facebook groups (if allowed) or on your Facebook page. Tweet your products. Pin listings to your Pinterest account (make sure to include keywords). If you have a blog, write a post to promote your products or check through old posts to see where you can link to promote new products.
Conclusion
Well, there you have it! A big thank you to Melanie; I hope you have enjoyed her story and advice about how to make money and be successful on Etsy! Please visit her Etsy shop and check out her blog as well.
Do you sell crafts and handmade goods online? If so, what platform do you use? What tips do you have for being successful on Esty? Drop us a note.