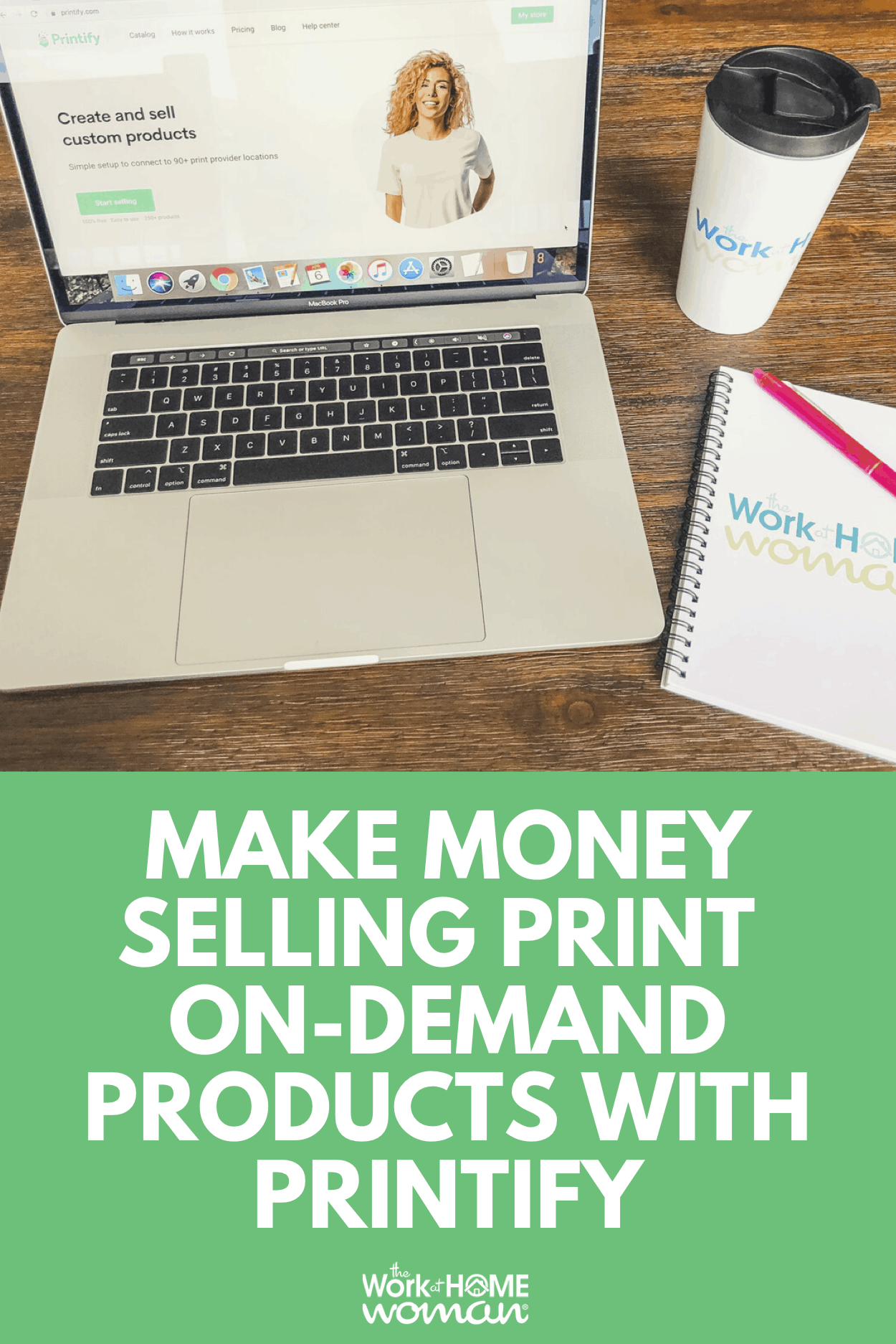 Are you always coming up with clever sayings that would look great on a t-shirt or coffee mug? Do you have killer design skills that you'd like to turn into an income stream? Or perhaps, you'd like to sell some branded swag for your business or blog? If you answered yes to any of these questions, you're the perfect candidate to make money selling print-on-demand products using Printify.
What is Printify?
Printify is a print-on-demand company that allows individuals to create and sell a wide variety of custom products like t-shirts, mugs, accessories, wall decor, phone cases — in fact, they have over 250 products you can customize. Once you've created your products and set up your shop, Printify dropships your products directly to customers, and you make money without ever having to leave your house!
How Do You Get Started with Printify?
To get started on Printify, click on the green start selling button, and create your account. From there, the store setup checklist will guide you through the process of designing your products, naming your shop, adding your personal details, and even connecting your shop to the appliable e-commerce platform.

For this review, I ran through the process and designed three separate products: a notebook, a t-shirt, and a stainless steel tumbler. Because I have zero design skills, I used my logo for the designs. It only took me a few minutes to create each one, modify the description, and approve the details.
Unlike other platforms I've tested, with Printify, you create your designs on your own (using Photoshop or Pixlr) and then upload them in either a JPG or PNG format (recommended size 2925 × 5850 px). Because of this, you have much more freedom in the design process.
Once you've uploaded your design to the product, you'll preview the mockups, modify the product descriptions, and determine your pricing. With Prinify, they show you the cost to make the product, and automatically set the retail price with a 40% profit margin. You can modify the retail price to be higher or lower, depending on your goals. After you've designed your products — you'll want to order samples to ensure that the quality of the printing and the product is up to your standards.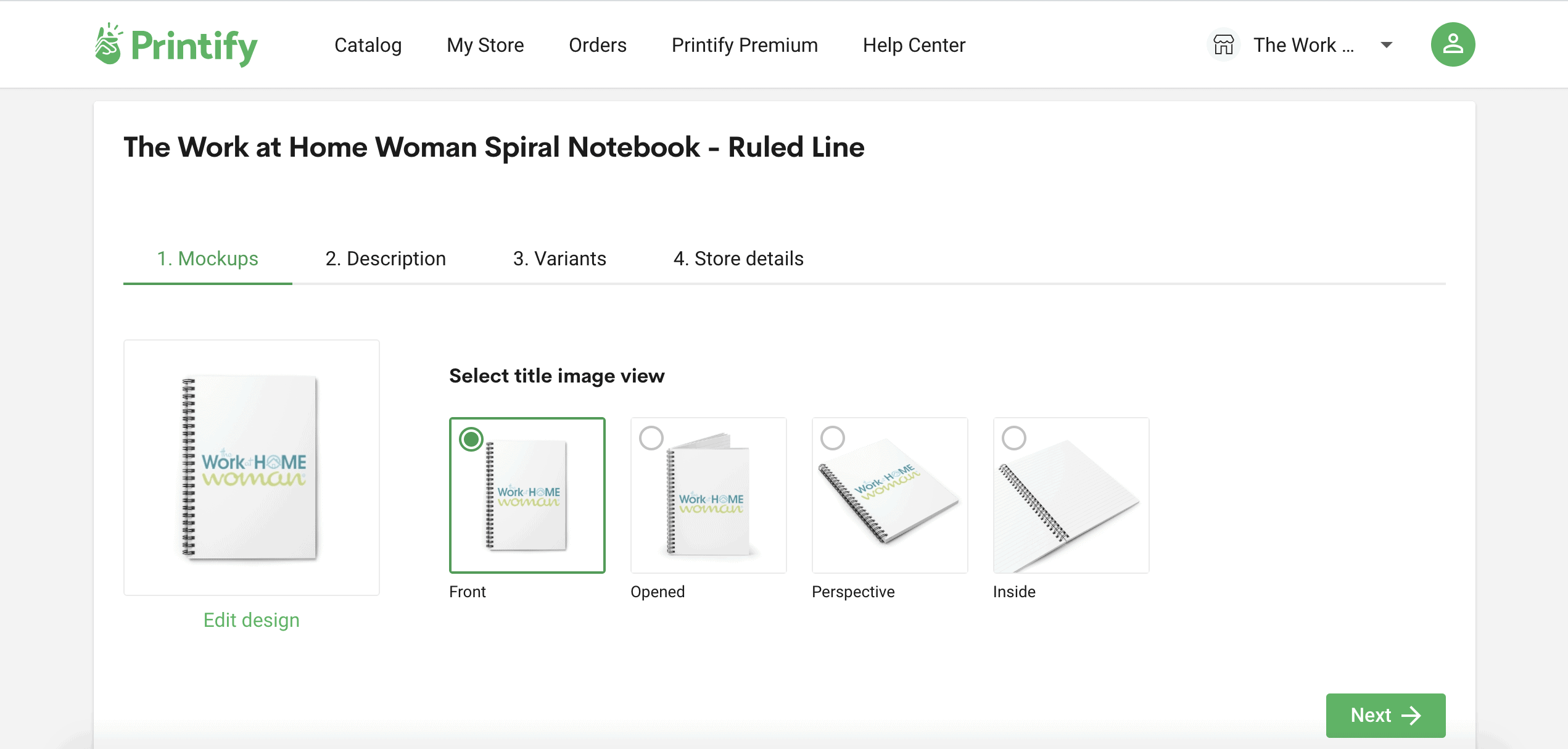 Printify graciously sent me samples of the products I created so that I could check out the quality. The first thing to note is Printify does not do the actual printing themselves, they contract the work to third party printers.
For instance, the printing for my notebook and tumbler were done by SPOKE Custom Products, and the colors were very vibrant. My t-shirt, on the other hand, was completed by Monster Digital, and the colors didn't stand out as much.
When you're choosing your products on the Printify platform, the print-on-demand company for each product is listed, so you may want to research them before choosing your products. The same is true for the products — there are name brand products and generic items.
One last thing to consider, Printify has printing partnerships around the world, so when you're choosing your products, you'll want to choose one that's in your region.
Connecting Printify
To start selling your Printify products, you'll need to connect them to one of their approved platforms, either Shopify, Wix, WooCommerce, Etsy, or eBay. Each platform has its pros and cons, so you'll need to determine which one is right for you. If you're working on a budget, Etsy and eBay are inexpensive options to get started. For instance, with eBay, your first 50 listings a month are free, and then once an item sells, they'll take their fee.
Once you've connected your shop, you'll need to verify the settings for things like shipping and sales tax (if your state mandates it). This post here walks you through the shipping set up for each platform. After you've verified the settings, you can publish your shop and start selling.
The cool thing about Printify is once a customer places an order, the printing partner prints it on-demand and then dropships the product directly to your customer.
How Much Does Printify Cost?
Printify is FREE to use, although they do have two paid options for businesses that are making high volume sales. Even though Printify is free to use, you will need to have an e-commerce platform to sell the products on.
Here is a quick rundown of the approximate pricing and fees for each platform, of course, you'll need to verify these before you make a decision.
How Do You Get Paid with Printify?
With Printify, your payments are distributed through the e-commerce platform you're using. For instance, if you're using Shopify, your customers can use a variety of payment options like Visa, PayPal, and Amazon Pay. If your customer uses PayPal to make their purchase, the funds will be deposited into your PayPal account. If they use a credit card, Shopify will issue your payment via direct deposit.
How Much Money Can You Earn with Printify?
It will depend on many factors like:
Your Design Ability
You need to be able to create professional-looking designs. Nobody is going to pay you for products with unattractive work. If graphic design isn't your strong suit, you can hire a freelance designer to create some custom designs for you. If you're looking for a budget-friendly option, you can try a freelance marketplace like Fiverr or Upwork.
Pricing
When you're determining your pricing, you'll want to be sure that you're competitive with other retailers, but also that your profit margins cover all of your expenses, fees, and self-employment taxes. These are details you'll need to investigate further when you're choosing your products, the printing partner, and your e-commerce provider.
Marketing
I'm sure you've heard the saying, build it, and they will come; that's not how it works. If nobody knows about your business, how are you supposed to make any sales? To get the word out about your shop, you'll need to market it consistently. To do this, you can use a wide variety of digital marketing methods like social media, email marketing, and SEO. The better you are at getting the word out, the more sales you'll make.
Sample Earnings With Printify
Let's say you choose to sell your products using the Shopify Lite plan, which is $9.00 a month. And you're selling t-shirts for $20, which leaves you with a $10.13 profit margin, minus the $0.50 payment processing fee for each item sold. If you wanted to earn $500 a month, you'd need to sell 53 t-shirts ($536.89) minus the monthly Shopify fee ($9.00) minus the payment processing fees ($26.50) for a profit of $501.39.
Printify Review Wrap-Up
If selling t-shirts, mugs, and other products online sounds fun, Printify is a good option. The process of creating and connecting the app is simple, and they have a solid 4.5-star rating on Shopify. What I like about the print-on-demand and dropship business model is that you don't have to stock inventory, and you don't have to leave your house to ship products to your customers.
You will need some money to get this business running, as you'll want to purchase samples of your products, and you'll need to choose which e-commerce platform to use. The other con about print-on-demand is it can take two weeks or longer for customers to receive their products. If you're not a skilled designer, hiring one to create your design will be another expense you'll incur. But overall, your startup costs are very minimal.
Are you ready to start selling with Printify? Go here and create your free account.