Have you ever thought about starting a t-shirt business? Maybe you've wondered how easy or complicated it would be to design your own t-shirts to sell online.
When you think of selling t-shirts from a traditional standpoint, you may picture someone setting up a booth at an event or fundraiser and selling customized shirts on the spot for cash. Maybe they went to a local t-shirt printing company to get their inventory.
Selling your t-shirts has evolved in recent years so that you can handle the entire process from start to finish online. With help from sites like Teespring, you can start and run a successful t-shirt business in less time and with lower fees.
What is Teespring?
Teespring is an e-commerce platform that allows people to create and sell custom apparel. They handle everything from printing to shipping and customer service. Since most people are shopping online these days, launching a t-shirt business through Teespring makes sense due to the convenience the platform provides.
If you're looking to create a simplified and user-friendly shopping experience for anyone looking to buy custom t-shirts, Teespring is one of the best sites to use for this.
How to Get Started
You can get started by creating an account and then designing your product right on Teespring's platform. Teespring allows you to design a wide variety of items so you can expand your store's inventory over time. For the sake of this post, I'll just cover the t-shirt designing aspect.
Teespring's Design Launcher allows you to choose images, text, colors, and designs for the t-shirts you want to sell. You can also design the back of the shirt if you wish.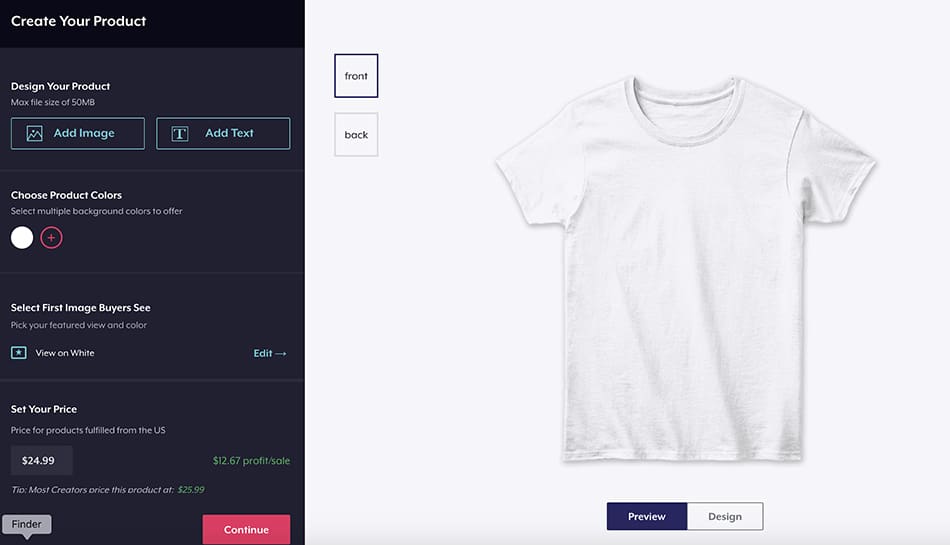 It's best to choose a theme for your store so you can create several shirt designs that coincide with that theme. This is great for branding and also means that if someone buys one t-shirt from your store, they will be more likely to buy another shirt that you're selling as well.
Once you finish designing your shirt and set a price, you can share the link to your store and utilize Teespring's integrations and marketing tools to boost visibility and sales.
Keep in mind, you don't need to have a separate blog or brand to start a t-shirt business with Teespring. You can sell directly from your store on the platform since a lot of people search for items to buy on the site.
Once a buyer places an order from your store, Teespring will process the order and ship the product to the customer. You won't have to deal with inventory since they create and ship the shirts you design. You can always get a copy of your shirt sent to you if you want to see how it will look, but it's not required.
How Teespring's Pricing Works
Teespring is FREE to use, but they take a fee from each of your orders. It's important to price your t-shirts with this in mind. Teespring will charge a base fee, which includes the costs involved with creating the shirt and the operating services that the company provides. After this base fee is deducted, you get to keep the remainder of the sale's profit.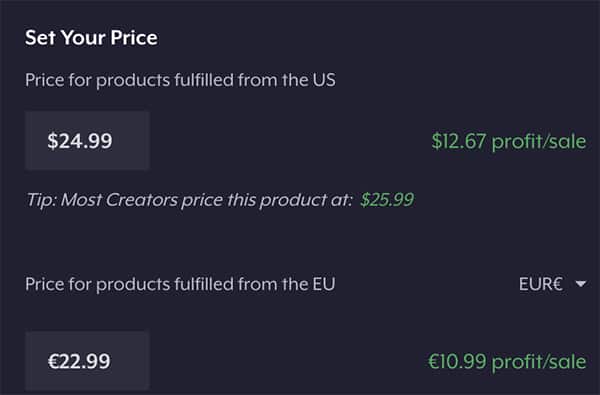 When you create a shirt, Teespring will recommend a price point to ensure you earn a suitable profit. For example, a basic t-shirt that you design may have a base cost of $10, which is the amount Teespring would take when it sells. However, if you price your shirt at $24.99, you'd still make a profit of $14 once the base cost is deducted from the sale.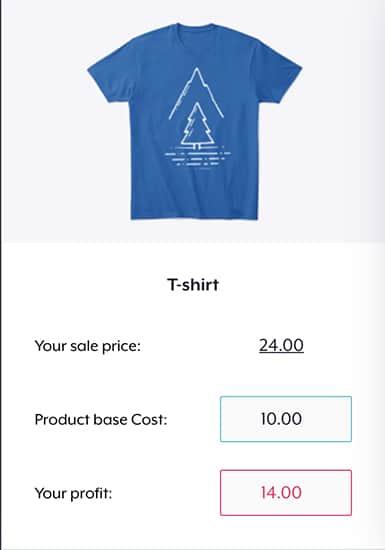 Teespring has pricing tiers, so if you sell a higher volume of shirts, their base cost fee gets reduced.
One of the best things about Teespring's pricing set up is that it allows you to start a t-shirt business with little to no money down. If you had to pay for the cost of shirts, printing the design, shipping, hosting a website, photography, customer service, etc. on your own, you'd easily spend more than $1,000 just to launch your t-shirt business.
Teespring provides all of this while only charging a flat fee per item you sell. You won't get charged anything until you make a sale.
Marketing Your T-Shirts with the Boosted Network
While Teespring makes it easy to get started and design your t-shirts, you may also be wondering how you'll market a t-shirt business to get consistent sales. When you think about how many online t-shirt stores there are already, how can you get your business to stand out and reach customers?
There are a lot of different ways to market and promote your online t-shirt store. One of the most common is through the Teespring Boosted Network.
The Boosted Network allows you to sell your products worldwide and earn organic sales through marketplace searches on platforms like Wish, Etsy, Rakuten, eBay, Amazon, and more. This tool has helped drive more than 500,000 sales for Teespring sellers so far.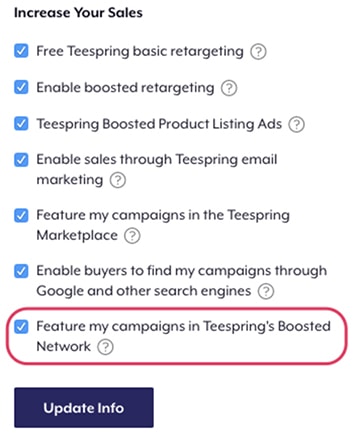 You'll get to enjoy features like:
End to end integration – includes optimized listings and customer service for buyers
No listing costs on your end
Guaranteed specific profit margin
Protected brand status – this provides an extra level of defense against anyone who might try to copy your unique designs
Trusted ratings with positive product reviews
To enroll in Teespring's Boosted Network, you need to:
Verify your payment method within your account settings
Drive your first sale and receive a good trust score
Once you get your first sale, you'll be automatically prioritized in the Boosted Network so long as you've opted in. Make sure you've opted in to utilize all of Teespring's marketing tools and features to help you drive sales.
Additional Tips to Help with Marketing and Promotion
When starting a business, it's essential to narrow down your target customer and learn everything about them. This is commonly referred to as market research.
When you're in the planning stages of launching your online t-shirt business, make sure you get crystal clear on your ideal customer. Are they stay-at-home moms? Working moms? Online entrepreneurs? Dog lovers? Video gamers? Travel enthusiasts?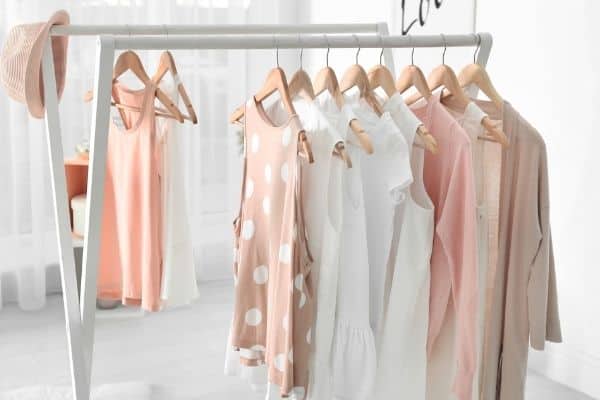 Do some research to see which t-shirt designs are selling best right now, and use this to fuel your plans. Maybe you'll find that you like inspirational quotes best, funny graphics, or bright colors.
Test out different designs to see which ones people like best and realize it may help develop an online presence on other platforms to help promote your store. Depending on who your ideal customer is, you may want to start an Instagram or Facebook page. If your target customer is on TikTok, you may want to head there.
Teespring offers promotional guides for platforms like YouTube, Facebook, Instagram, TikTok, Twitch, and Pinterest.
Paid advertising is, of course, another option you may want to look into to market your store, but make sure you've done all the things outlined in this blog post first.
Summary
If you've been playing around with the idea of starting your own t-shirt business, Teespring is one of the best sites to use. They make the start-up process easy and affordable while providing all of the support and marketing tools you'll need.
As with any business, your success will be determined by your ability to develop a quality idea, understand and serve your target audience, and execute an effective marketing plan. Teespring gives you a headstart so you can set yourself up for success with a flexible home-based business.