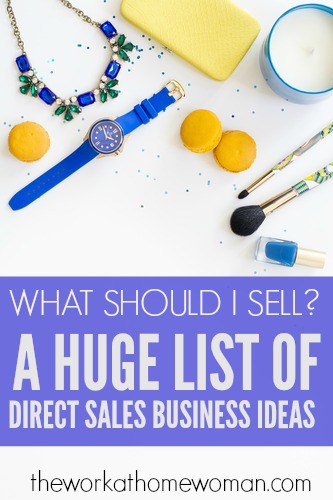 This page includes affiliate and paid links.
If you grew up in the 70s, you probably remember the Avon lady coming to your door saying … "Avon calling!" Or maybe your mom hosted a Tupperware Party when you were younger. The direct sales industry has come along since then, and it can be a great way to earn money from home. If you're not familiar with this business model, here's the gist of it.
What is a Direct Sales Business?
Direct sales is the process of selling products face-to-face away from a retail store location. Many times this is done through in-home shopping parties, presentations, and catalog sales. For a minimal fee, companies give you a starter kit that includes everything that you need to start your own business.
Often your first prospects and buyers will be friends, family, and co-workers, you will then build your customer base by getting referrals and marketing your business. Some direct sales companies will even give you a few leads to get started.
As a sales consultant, you will be paid a commission for each product that you sell. Some direct sales companies will also pay you a commission on products sales from consultants who you referred into the program. Besides being able to work from home, you will also be able to choose your working hours and the type of products that you sell. Many moms opt to do their home shopping parties at night or on the weekends when Dad can watch the kiddos.
How Much Money Can You Make as a Direct Sales Consultant?
The average commission for a direct sales consultant is 20 – 35 percent; so if you sold $500 in products and your commission rate was 25 percent, you'd earn $125 for a few hours of work. With this said, many direct sales companies offer a tiered commission plan based on your monthly sales, (The more you sell, the higher your commission is).
If you're outgoing, confident, and are genuinely excited and passionate about the products you are selling, a career in direct sales may be the perfect work-at-home opportunity for you! Check out the resources below to get started.

Helpful Direct Sales Articles:
Direct Sales Resources:
Huge List of Direct Sales Companies:
Please be aware that these companies have not been researched by me. As is always the case, please do your due diligence before enrolling in any business opportunity.
4Life Research, LLC sells nutritional products and supplements.
Abby + Anna sells leggings, tunics, and dresses for women and young girls.
AdvoCare International sells nutritional and skincare products.
Agnes & Dora sells comfy leggings, tunics, and dresses that are made in the USA.
Aihu sells healing skincare and body products.
Alice's Table allows you to make money by hosting floral arrangement parties. With Alice's Table, you take home up to 70% of ticket sales (before the cost of flowers) and can earn up to $600 per two-hour event (depending on the size of the event). You also have the opportunity to earn mentoring bonuses. Click here to apply and mention you saw us on The Work at Home Woman.
Aloette Cosmetics, Inc. sells scientifically advanced skincare and makeup with good-for-your-skin ingredients.
Amway-Quixtar sells health and wellness products.
Arbonne International sells botanical-based beauty and healthcare products.
Avon – sells bath and beauty products, clothing, jewelry, and a lot more.
Azuli Skye sells jewelry.
Barefoot Books sells award-winning children's books, CDs, and gifts.
BeachBody sells workout videos and home fitness programs.
Beauty Counter sells chic, safe and effective beauty products.
Beauty Society is the only skincare line offering the treasure not trash refill program, where refillable items are sold at a 15% – 30% savings.
Become sells anti-aging cosmeceutical skincare products.
Black Box Cosmetics sells bath, body, and skincare products.
Boisset Collection sells wine, jewelry, accessories, and gifts.
cabi sells high-end, stylish clothing by Carol Anderson.
Carico sells fine china, cutlery, tableware, and crystal.
Carlisle Collection sells high-end fashion for women.
Chalky & Company sells all-natural chalk paint.
Close To My Heart sells scrapbooking supplies and products.
Cocoa Exchange sells premium chocolate treats and products.
Color Street sells nail designs and applications.
Creative Memories sells scrapbooking products and supplies.
Crowned Free is a Christian-based company that sells women's clothing, accessories, and jewelry.
CUTCO sells fine cutlery.
Damsel in Defense sells self-defense products for women.
Discovery Toys sells educational toys.
doTERRA sells essential oils.
Dudley Beauty Corp, LLC sells hair care, cosmetics, skincare, products for men, and gifts.
Ellie Kai sells made-to-order clothing for women and little girls.
Esbe Designs sells handcrafted jewelry designed by Sara Blaine.
Essential Bodywear sells bras, panties, and shapewear.
ETCETERA sells woman's clothing.
EVER sells botanically-based skincare products, but because it's part of the Stella & Dot Ambassador program, you also get to sell (if you want) Keep Collective and Stella & Dot products all under one umbrella.
Fifth Avenue Collection sells beautiful jewelry – an international company.
Forever Living sells health, wellness, and weight loss products, as well as essential oils.
Forever Green sells natural energy drinks.
Gold Canyon sells candles and fragrances for the home.
Grace & Heart sells faith-inspired jewelry.
Grace Wear Collections sells jewelry, purses, and accessories.
Harpers Love sells trendy, personalized jewelry.
Hello Pink sells clothing for women, kids, maternity, and men.
Heritage Makers sells scrapbooking supplies and products.
I Thought of You sells fair trade jewelry and handmade goods.
In a Pikle sells compact organizers for essential convenience items, needed for life's emergencies.
Initial Outfitters is a Christian-inspired direct sales company that sells personalized gifts and jewelry.
Initials, Inc. sells monogrammed totes, bags, purses, wallets, luggage and storage containers.
Isagenix sells healthy weight loss products.
It Works sells weight loss body wraps.
J. Hilburn sells stylish men's clothing.
Jafra sells cosmetics and beauty products.
JBloom sells jewelry and gifts.
Java Momma sells organic fairtrade coffee, flavored coffee, loose leaf tea, cocoa, and accessories in a variety of yummy flavors like Sea Salt Caramel Mocha and Pumpkin Muffin.
Jeunesse Global sells wellness products.
Jewel Scent sells candles and bath bombs with hidden jewelry inside.
Jordan Essentials sells bath and body products for adults and children.
Kaeser & Blair sells promotional products.
KEEP Collective sells one of a kind bracelets and necklaces that can be personalized with charms. Because Keep Collective is part of the Stella & Dot Ambassador program, you also get to sell EVER skincare products and Stella & Dot products too.
Kirby sells vacuums and bags, replacement parts, and cleaning products.
Kyani sells a superfood juice.
Labella Baskets sells gift baskets.
L'BRI Pure N' Natural sells natural aloe vera skincare products.
Lemongrass Spa sells bath and body products.
Le-Vel sells wellness supplements.
Life Force sells nutritional supplements.
Lusomé sells luxury sleepwear that keeps women cool when sleeping.
Magnabilities sells customized magnetic jewelry.
Mannatech sells nutritional supplements.
Martha and Mary is a Christian-inspired direct sales company that offers a unique blend of business and ministry, selling home decor items and gifts.
Mary Kay sells cosmetics, skin and body products.
Maskcara Beauty sells makeup that enhances your skin tone, camouflages blemishes and dark circles, and sculpts features on your face.
Matilda Jane Clothing sells children's and women's clothing.
Melaleuca sells personal care, cosmetics, cleaning, and wellness products.
Metrin sells skin-care products.
Mia Bella sells candles and melts.
Modicare sells laundry, auto, and personal and home care products.
MONAT Global sells all-natural hair care products.
Morinda sells essential oils, noni juice, skincare products, and lip products.
Nature's Sunshine sells health and wellness products.
Ndulge sells leggings, both casual and activewear for women and little girls.
Neora sells a line of skincare products.
Nikken sells wellness products.
Noevir sells skincare, haircare, body care, and cosmetics.
Noonday Collections sells jewelry and accessories.
NuSkin sells skin-care products.
Nygard Style sells women's clothing (pants, jackets, and shirts) with patented SLIMcurve Technology, which lifts, shapes, and sculpts your figure.
Nyla and Noelle sells women's leggings, wraps, dresses, jumpsuits, shirts, and jewelry in sizes S to XXXL.
NYR Organic sells organic haircare, body, cosmetics, aromatherapy, herbal remedies and more.
One Hope sells wine, gifts, and other gourmet products while providing built-in donations for each product to various charities.
Origami Owl sells personalized charm jewelry.
Pampered Chef sells high-quality kitchenware and gifts.
Paparazzi Jewelry sells fun and fabulous jewelry for five bucks.
Park Lane Jewelry sells jewelry.
Part & Parcel sells clothing for plus-sized women.
PartyLite sells candles, home décor, and gifts.
pawTree sells pet food seasonings, food, treats, supplements, and accessories.
Pink Zebra sells candles and home fragrances.
Peach sells stylish clothing, accessories, and undergarments for the gym, work, and play.
Perfectly Posh sells pampering products.
Pierre Lang sells designer jewelry.
P!PHANY sells leggings, dresses, skirts, tunics, cardigans, pants and tees for women.
Plexus sells all-natural, healthy solutions to help individuals lose weight.
Plunder sells vintage-style jewelry at savvy prices.
Premier Designs is a Christian-inspired company that sells jewelry.
Princess House sells products for your home.
Purely sells essential oils, beauty products, products for men, and jewelry.
Rainbow sells home cleaning systems.
Red Aspen sells silk and faux mink lashes, as well as lip and nail products.
Regal Ware Worldwide sells cookware.
Reliv sells nutritional products.
Rena Ware sells cookware, juicers and water purifiers.
Restaurant.com offers a B2B opportunity, where independent consultants get local restaurants to participate in daily deal offerings.
Rodan + Fields sells dermatology-based skincare treatments for men, women, and teens. Formulated by the doctors who created Proactiv©.
Royal Prestige sells cookware.
Ruby Ribbon sells clothes with built-in shapewear.
Saba sells appetite, control and energy supplements.
Sabika sells jewelry.
Saladmaster sells complete cooking systems.
Scentsy independent consultant sells wickless candles.
Scout & Cellar sells wine.
SeneGence International sells long-lasting cosmetics.
Shaklee.com sells wellness products.
Silver Icing sells chic and comfy clothes.
SimplyFun sells play products (board games, family games, and party games) that bring families & friends together.
Soul Purpose sells bath and body products.
Sportron International Inc sells wellness products.
SQN SPORT sells luxurious women's activewear that is made in the USA.
Sseko Designs is an ethical fashion brand that sells apparel, sandals, jewelry, handbags, and accessories that benefit women in Uganda through a work program that enables them to attend university.
Stampin' Up! sells high-quality rubber stamps and accessories.
Steeped Tea sells loose leaf tea, gourmet mixes, and other kitchen and food accessories.
Stella & Dot sells stylish jewelry, clothing, bags, charms, and accessories. But, when you sign-up to become a Stella & Dot Ambassador, you're also able to sell products from their other two family brands, EVER and Keep Collective! As a Stella & Dot Ambassador, you get three brands for the price of one.
Style Dots sells jewelry.
Sunrider sells health and beauty products.
Sweet Minerals sells all-natural, mineral-based makeup and skincare products.
Tastefully Simple sells gourmet foods and gifts.
Tealightful Treasures sells gourmet teas and food mixes.
The Gourmet Cupboard sells gourmet food mixes and coffee.
Thirty-One is a Christian-inspired company that sells bags, totes, purses, and backpacks.
Threads Worldwide sells Fair Trade, handcrafted jewelry, and accessories
Thrive Life sells food, seasonings, sauces, snacks, beverages, and more.
Tocara sells an exclusive line of fine jewelry.
Tori Belle sells magnetic eyeliner, lashes, and makeup.
Touchstone Crystal sells Swarovski crystal-embellished jewelry.
Traci Lynn Fashion Jewelry sells high-quality, affordable fashion jewelry.
Trades of Hope sells fair trade jewelry made by artisans from around the world.
Traveling Vineyard sells wine.
TruAura sells makeup.
TriVita sells herbs and nutritional supplements.
Tula Xii sells customizable lifestyle organizers
Tupperware sells storage solutions.
Unicity International sells nutritional, personal care and wellness products.
USANA sells quality nutritional and personal care products.
Usborne Books and More sells children's books.
Valentus sells health and vitality supplements and drinks.
Vantel Pearls in the Oyster sells pearls.
VIC Cosmetics sells makeup.
ViSalus (Body by Vi 90 Day Challenge) sells weight loss and fitness products.
VOXXLife sells socks with Voxx HPT technology.
W by Worth sells stylish clothing for women.
Watkins Online sells home care and personal care items.
Willing Beauty is a direct sales company for young girls. They sell healthy skincare products and makeup.
WineShop at Home sells wine, gift baskets, and stemware.
Wink Kitten sells fake eyelashes.
Yanbal sells makeup, skincare products, and jewelry.
YOR Health sells nutritional products and supplements.
Young Living sells essential oils.
Youngevity sells wellness and health products, beauty and care products, and food and beverage products.
Younique sells makeup and accessories.
Zermat International, LLC sells skincare, body care, and makeup.
Zija sells essential oils.
ZYMBOL sells inspirational jewelry based on ONE design element that contains every letter of the alphabet and every number, hidden in an intricate design.
Holly Reisem Hanna is the publisher and founder of The Work at Home Woman, which has been helping individuals find remote careers and businesses that feed their souls since 2009. Through her unconventional career path of holding over 30 jobs and obtaining two college degrees, she's been able to figure out how to find a career path that you're truly passionate about. Holly's had the pleasure of sharing her expertise on sites like CNN, MSN Money, Huffington Post, Woman's Day Magazine, as well as being recognized by Forbes as one of the "Top 100 Websites for Your Career." Holly resides in Austin, Texas, with her husband and daughter and enjoys reading, traveling, and yoga.
Please be aware that these companies have not been researched by me. As is always the case, please do your due diligence before enrolling in any business opportunity.
This page includes some affiliate and referral links. Please be aware that we only promote advertising from companies that we feel we can legitimately recommend to our readers. Please see our disclosure policy for further information.