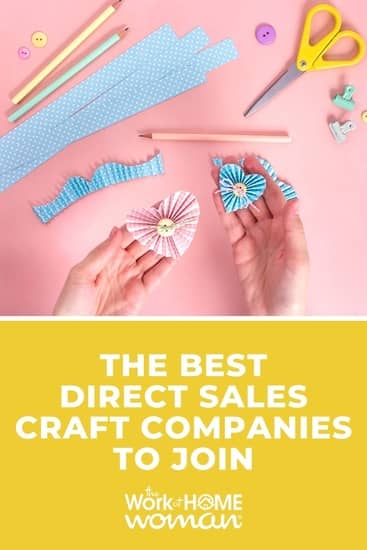 Do you love to create? If scrolling through the craft ideas section on Pinterest and ending the day covered in paint is your idea of a good time, why not make some cash out of it? Direct sales roles at craft companies offer the opportunity to spread the love of crafting and earn an income too.
Crafting is indeed a fun hobby, but it can also be a way to create a side hustle or even a full-time income. While you can try your hand at selling your handmade creations on Etsy or at craft show booths, direct sales companies offer another opportunity for people to make money doing what they love.
In this post, we will look at direct sales craft companies, what each offers, and what you can expect in terms of earnings or start-up costs.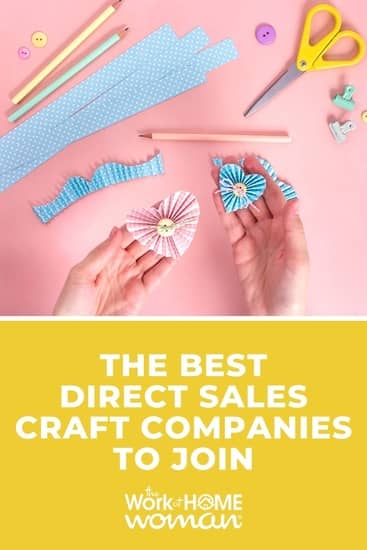 9 Direct Sales Opportunities at Craft Companies
While Avon and Mary Kay are still some of the most well-known and loved direct sales companies, the industry has come a long way since those days and offers tons of opportunities outside of makeup and cosmetics for work-at-home moms. Direct sales have expanded into many niches that can offer anyone exciting, creative businesses, one of which is arts and crafts.
The direct sales crafting industry is booming as more and more people discover the joys of working from home and spreading the joy of creating. The best direct sales crafting companies are easy to get started with and offer plenty of opportunities for creativity as you work! Here are nine arts and crafts MLM companies to consider.
1. Crimson Pallets
As the name hints, Crimsom Pallets offer pallets and other wood designs as well as kits to use at sign painting parties. They have over 100 original pallet designs available and are continually coming out with more, so the options for demonstrating are plentiful.
You can even market your services as a fundraiser or team-building opportunity.
How to Join
To become a Crimson Pallets affiliate, you'll need to fill out an interest form. Get more info about how to join Crimson Pallets here.
How Much Can I Make?
Host pallet painting parties in-person or virtually, and you can earn up to $15 per attendee.
2. Chalky & Company
While working with Chalky & Company, you will sell DIY kits, stencils, specially formulated chalky paint, craft tools, accessories, and embellishments. Their craft paint is one of the most popular offerings and what the company is most well known for.
How to Join
You can become a direct sales consultant for Chalky and Company by purchasing a $99 starter kit. This kit is filled with C&C products that you can use for demonstrations as you begin to book paint parties.
To get more information and apply for an independent consultant role, fill out this form.
How Much Can I Make?
This company pays out based on the commission of sales. According to this site, the commission is 25%-30%, and more if you build a team.
3. Close to My Heart
Close to My Heart is a company that centers on scrapbooking albums and memory-making paper items. This includes stamps, patterned paper, DIY calendar sets, card-making kits, ink pads, and more.
How to Join
To become a Close to My Heart Maker, you'll need to pay an initial signup fee of $50 plus tax. In return, you'll receive $25 CTMH Cash that you can apply to the start-up supplies of your choosing. You can also order a free package called the Business Basics Bundle that will provide you with resources and information to get your business running.
Everyone who joins receives a free website where your customers can place their orders.
How Much Can I Make?
There are several ways to earn money with this direct sales craft company. The commission is based on performance and can vary between 25-45% of all orders. Those who opt to build their team can have even larger potential earnings.
Additionally, as you continue to sell, you can earn product credits. These credits can be used towards merchandise, allowing you to book even more parties and demonstrate (and sell) the offerings further!
To remain active as a Maker, you'll need to meet the minimum sales requirement of $300 per quarter.
4. Stampin' Up
Stampin' Up is a company that has been in business for over 30 years. They sell a wide array of paper crafting supplies for scrapbooking and making greeting cards, postcards, invitations, and more. Their most popular product is rubber stamps, but they also sell embossing kits, die-cutting supplies, various inks, embellishments, and accessories.
It's worth noting that all of the items are pre-order and cannot be bought in person. Because of this, many sellers opt to promote and sell products from their website and hold both in-person and online workshops to boost sales.
The stamp designs vary widely from classic holidays to more trendy designs. You can view their Digital Catalogs to see their current offerings.
How to Join
Signing up as a Stampin' Up demonstrator is simple and can be done online. The initial fee is $99, which nets you a customized starter kit valued at $125. You can often even find these on sale.
How Much Can I Make?
Like all direct sales craft companies, the amount you earn will vary, based on your sales abilities. According to Stampin' Up's compensation plan overview, sellers can choose between instant or deferred income, which comes to 20-25% of each order.
Additionally, there are opportunities to earn rebates based on the monthly volume of sales. These range from 4-13% of your total monthly orders.
Lastly, those who build a team will earn commission based on their team's sales. The earnings range from 1-6.5% of the team's total sales.
5. Creative Memories
Creative Memories sells scrapbook-related crafting items, ranging from paper to stickers, paper punches, and more! Recently under new management, the company remains one of the top scrapbooking companies in the United States.
How to Join
Join here to become a Creative Memories Advisor for $49 per year. You'll receive an instant $50 credit to purchase products to get your business started.
The company does not have any sales requirements, making it a relatively low-stress commitment.
How Much Can I Make?
With Creative Memories, you can expect to earn a sales commission that ranges from 10-40%. Those who build a downline will receive a 4-8% commission. There are also additional opportunities for earning, such as a $100 credit once you or your group hits $2,000 in sales for the month.
6. Youngevity
Youngevity is a massive direct sales company that produces tons of products, including weight loss and nutritional products, natural essential oils and fragrances, skincare and beauty products, clothing, jewelry, handbags, and much more.
In addition to the above, Youngevity sells craft products through its brands Our Memories for Life and Anthology, which produce various scrapbook supplies, stamps, stickers, and other paper embellishments.
How to Join
You can join Youngevity as either a Preferred Customer or Distributor. A Preferred Customer membership costs $19.95 per year and gives you immediate access to a 20% discount on all of Youngevity's products. A Distributor Membership costs $30 per year, comes with a free business page, and opens up additional earning opportunities and business resources on top of the 20% discount.
How Much Can I Make?
As a Youngevity affiliate, you'll start with a built-in 20% commission and have the opportunity to make additional commissions and bonuses as you meet sales and team goals. Beginner Distributors will typically start with an additional 5% commission. At a 25% base commission, not including bonuses, this is a fairly generous commission as far as multi-level marketing compensation goes.
7. Heritage Makers
Heritage Makers, which also falls under the Youngevity brand, helps customers turn digital photos into custom keepsake books, cards, calendars, and other photo gifts. With Heritage Makers' online platform, you'll have all the tools, templates, and support to start creating and printing your photo products.
How to Join
You can sign up as a Youngevity Memory Keepers Distributor and work from home, online, in-person, or hold workshops and sell products directly from your website.
How Much Can I Make?
Heritage Makers has a robust compensation guide available. The commission is based on the sales volume each distributor has, as well as the team structure. Those who want to build a team will have additional earning opportunities as well as bonus opportunities.
8. Artsy
Artsy is a bit different from other companies as it's an association for paint party businesses. They offer 500+ painting and project designs, 70% wholesale discounts on art supplies, and training and tools for business management. The goal is to train individuals in how to have their own paint party business.
The Artsy brand oversees several creative companies. Gallery on the Go hosts mobile paint parties; Create in the Classroom is an after-school art workshop for kids; Art Bar hosts home decor creating events, and Artsy Pop Up allows you to set up make-and-take craft booths at larger events.
How to Join
An Artsy Annual Membership is just under $300 but gives you access to seemingly unlimited resources for starting and maintaining a successful paint party business, including a free website, an email marketing subscription, and tons of webinars and training videos.
How Much Can I Make?
The amount you earn depends heavily on how many paint parties you throw and how much you charge for your events. On average, members earn $200 per in-home party. As you can imagine, the potential for higher earning is available for larger events.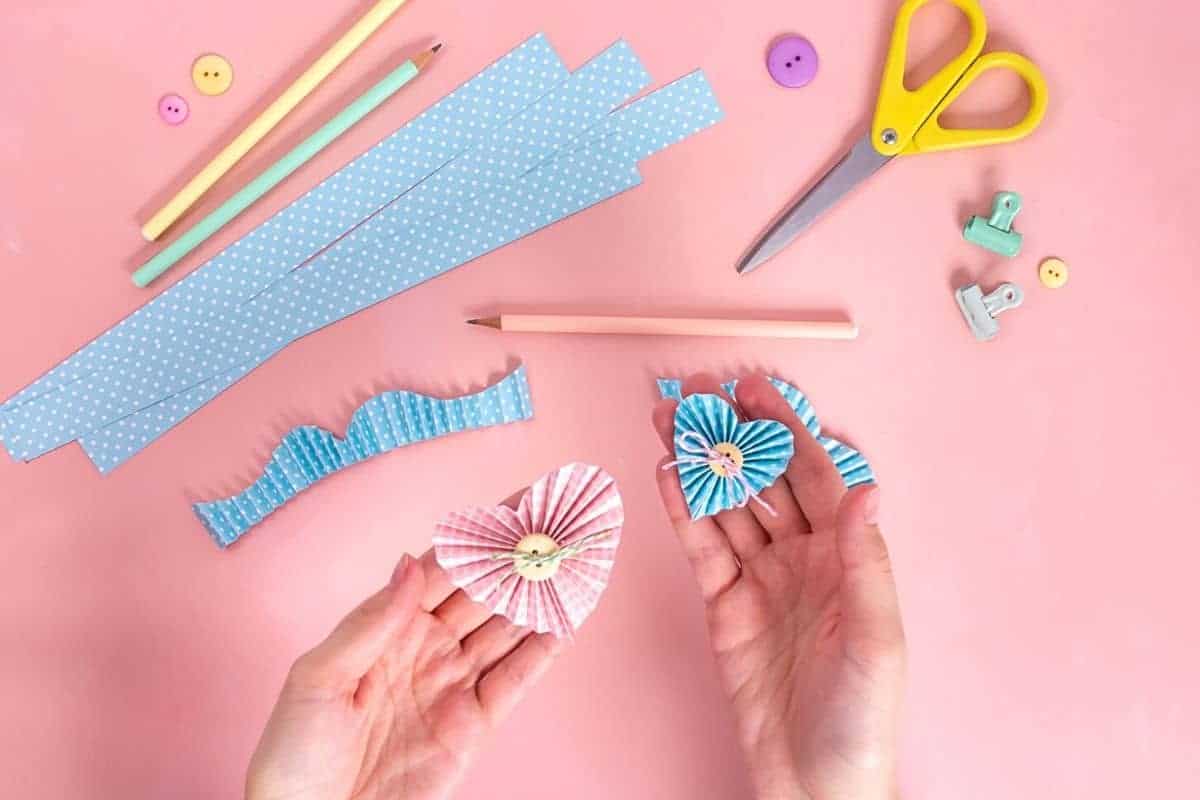 9. Chalk Couture
Chalk Couture sells custom DIY chalkboard designs and all the tools needed to make them. This includes everything from containers of chalk paste to sponges and transfers.
How to Join
Join here to become a Chalk Couture Designer. The starter kit is $99 and includes an array of items that will allow you to start demoing how the product works as you build your business through workshops and paint parties.
How Much Can I Make?
Chalk Couture works on a simple commission formula. If you purchase items at a discounted designer rate, then later sell them at suggested retail value, you will earn a 40% commission.
If you prefer not to invest money upfront and instead sell items through your own website, you can expect to start out earning a 25% commission. This commission is deferred as it is not paid until the 15th of the following month.
Strong sellers also can receive bonuses based on the points value of their personal sales.
There are additional earning opportunities by building a team. Those who choose to recruit others to sell Chalk Couture receive additional commission opportunities.
The Best Direct Sales Craft Companies to Join
I hope this list has given you inspiration and ideas for your home crafts business! For any of these opportunities, you'll need to learn how to share your business with friends and family. This article shows you exactly how to promote your craft business using nine different methods.
What draws many to these companies is that you can go as big or as small as you want with your business. Whether you want to sign up to get items you already use at a discount or dream of hosting massive workshops, there is an opportunity to earn with these direct sales craft companies.