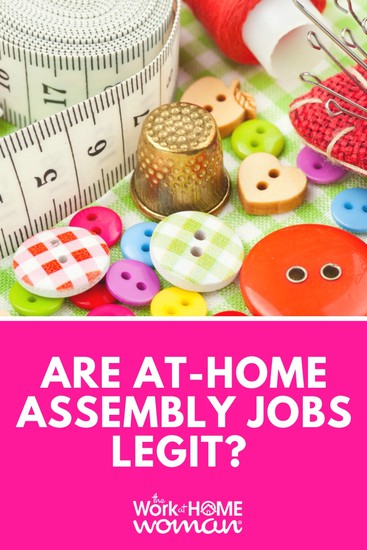 Today we're tackling a question from a reader:
Dear Work at Home Woman,
Years ago, my aunt assembled Christmas crackers for money. I would love to supplement my income by doing the same sort of piecework or making toys at home. Is this still a legitimate way to make money from home?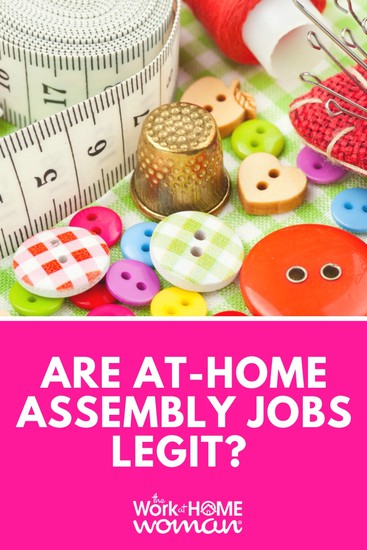 Thanks, Tina
Are Assembly Jobs Legit?
Hi Tina,
My gut reaction to this question is no. But it's been a long time since I've done any research on the topic, so I decided to dig in and see if there were any new opportunities out there.
Upon my initial search, I found numerous companies that allow you to assemble products at home and get paid. The items include chains, jewelry, charms, pins, hair bows, wrapping paper, bookmarks, crosses, dollhouse furniture, magnets, electronics, and circuit boards.
They all have a similar process in place. People who want to work from home pay these companies a fee (usually $50-$100) for an assembly starter kit, which includes supplies and directions on how to make the items. Once the assembly kit is received, the individual puts the pieces together and sends the assembled products back to the company, hopefully for a profit.
Sounds easy, right?
Well, from my research, I'd stay away from assembly job opportunities. Here's why …
Impossible Expectations
In my research, the one thing that stood out was how difficult these products were to make, not to mention the hours expended aren't worth the pay. One company boasts that it only takes five minutes to create an item, but upon further investigation, many people claimed it took 30 minutes or more to make one bracelet. While there is going to be a learning curve with any new endeavor — these types of opportunities negatively use up your time, money, and crafting supplies, leaving you with little to no profit.
One woman interviewed on the website I've Tried That purchased one of these kits, and here's what she had to say:
"I ordered the Disciple's Cross Kit several years ago and made the Crosses, and also ordered 1 pre-made Cross already made by them. You know how I know this company is a scam? When I submitted my 10 crosses to be inspected, I sent the 'perfect' Disciple Cross they made for inspection, and guess what – they rejected all of them (even the one they made) and said "you have potential". You can never ever make 'their' crosses good enough … do not waste your money."
There's Not a Market for These Products
For the majority of these hand-crafted products, there's not a viable market of people who want to purchase these items. Most of the products that I viewed lacked originality, functionality, and aesthetic appeal. In fact, in Tory Johnson's book, Will Work From Home, she says:
"We've tried to find legitimate craft assembly work, but have always come up empty-handed. The ads promise that you'll learn how to put together adorable little craft projects and then sell them for a profit. The catch: There's no market for your wares. Nobody wants to buy them. And no company will pay you for them either, no matter how much they promise to do so."
Poor Reviews
Whenever I research work-at-home companies, I perform a Google search, as well as check out reviews on sites like Glassdoor.com, WAHM.com, and the Better Business Bureau. These sites are unbiased and allow real consumer testimonials, so you can get the low down on what's legit. And when I looked at these opportunities, the reviews were overwhelmingly negative. Even the Federal Trade Commission warns people to stay away from this scam, saying:
"You see an ad that says you can make money assembling crafts or other products at home for a company that has promised to buy them. You may have to invest hundreds of dollars for equipment or supplies — like a sewing or sign-making machine from the company, or materials to make items like aprons, baby shoes, or plastic signs. Then you spend many hours making the "product." But after you've bought your supplies and done the work, the company doesn't pay you — supposedly because your work isn't "up to standard." Unfortunately, no work ever is, and you're left with equipment and supplies, but no income."
How Can I Work From Home Crafting?
So, back to your original question, can you make money with assembly jobs? I wouldn't get involved with these opportunities. There are too many red flags and not a substantial market for these sorts of products. If you're interested in making money by crafting items from home, consider these options.
1. Start a Crafting Blog
If you're a DIYer, then consider starting your own craft blog where you highlight different crafts and projects. Bloggers in the craft industry can earn money from affiliate marketing, ad networks, direct advertising, e-book sales, brand sponsorships, and more. Starting a blog is easy and affordable; if you're interested in becoming a blogger, check out our step-by-step tutorial to get started.
2. Sell Crafts Online
If you enjoy spending your time making arts and crafts, consider making them and selling them online. There are lots of different options to choose from, but the best-known online market for handmade items is Etsy. With Etsy, you can get started for as little as $0.20 (plus the cost of your crafting supplies). When you do make a sale, you'll pay a small transaction and payment processing fee. One woman that's found success on Etsy is Melanie from Simply Made Pretty. She sells one-of-a-kind greeting cards and talks about how to be successful on the platform in this interview.
3. Join a Direct Sales Opportunity
If you prefer an opportunity with a little more direction, consider joining an arts and crafts direct selling opportunity. With a direct sales opportunity, you pay a small start-up fee, and you're equipped with all the tools you need to start a craft business from home, including training and support. If this sounds appealing, here are some companies to check out.
Conclusion
While craft assembly jobs are NOT legit opportunities, there are many ways for you to work from home using your crafting skills. Check out one of the options above, or see this list for even more craft opportunities that you can do from home.
Good luck!
Have you purchased a work-at-home assembly kit? What was the outcome? Drop us a note; we'd love to hear from you!
Originally published on January 23, 2014. Content was updated on October 31, 2019.