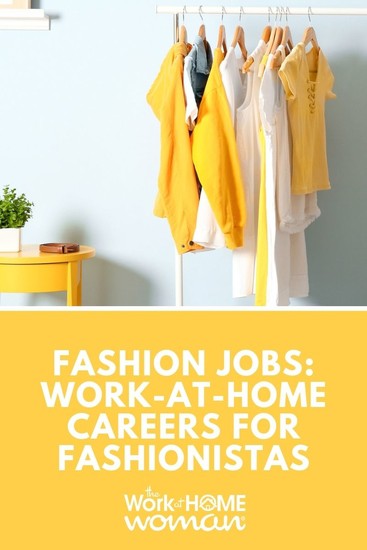 Are you of the philosophy that playing dress-up should never have an age limit? Do you spend time and thought into picking out your outfits daily? Do you believe that the right handbag can help you take on the day? If yes to any (or all!) of these, you might be a fashionista.
You may believe that your love for fashion can't take you further than being an enthusiast or helping your friends shop, but in today's economy, there are plenty of work-at-home careers for fashionistas where you can earn serious money doing what you love.
Work-at-Home Careers for Fashionistas
Ready to take your passion for fashion and turn it into cold, hard cash? These ideas will show you exactly how. Whether you want to build a nice side income, save money for a big purchase or create a full-time work-at-home job, these are the BEST work-at-home careers for fashionistas.
1. Work as a Stylist
Perhaps the first thing most people think of when it comes to a work-at-home career in fashion is the role of a stylist. The basic job description is either using your fashion skills to choose clothes for your clients over the internet, using his or her online profile and information or hosting an in-home styling event and working with people face to face. Many companies offer this popular type of service, and they are almost always looking for stylists to join the team. Here are some of the most popular companies that offer work at home careers for fashionistas:
Stitch Fix
Stitch Fix is perhaps the most popular option for virtual styling. As a virtual stylist here, you are considered both a trendsetter and a problem-solver. You will review the online portfolios of customers—their likes, dislikes, what they have kept and what they have sent back in the past, then use that information to send them a box with five pieces of clothing in it.
This is one of the work from home careers for fashionistas that is truly 100% online—no hosting parties needed. While you do need to commit to a minimum of 15 hours per week, the role allows you to set a flexible work schedule while also enjoying building relationships with colleagues through training and company events.
Find current openings for Stitch Fix stylists (and other roles) here. Note that only residents of specific areas are eligible to apply due to in-person training sessions.
cabi
Cabi is becoming one of the increasingly popular ways to make money at home with fashion. As a stylist, you will share a designer collection of women's clothing in a pop-up shop in your home (or the home of a friend/client). The pieces come in a good variety of sizes (0-16) and are timeless, yet trendy items that can be effortlessly mixed and matched together.
This role is fun for those who want a flexible schedule where they mainly work at home but also have the opportunity to plan parties for girlfriends to gather, snack, and shop. Plus, you will be able to run your very own online store as well so your customers can shop at any time.
Related Content: Become a cabi Fashion Stylist, No Experience Needed
Other Stylist Positions to Check Out
Here are some more companies who offer work-at-home careers for fashionistas that are worth checking out.
Bombfell – personal styling for men
Dia & Co. – plus-size fashion styling
Rocksbox – a monthly styling service for women's jewelry
2. Start a Fashion Blog
People love blogs—you are reading one right now! Why not start your own blog and write about your unique style or current trends? Once you grow your following, there are so many ways you can make money from home as a fashionista such as sponsored posts, product sales, giveaways, and affiliate marketing. You can also earn money by advertising and score fun products from your favorite brands. And, there truly is no other job that gives you the ultimate flexibility as blogging does!
Related Content: How to Make a Career Out of Blogging About Fashion & Beauty

3. Grow Your Social Media Following
Maybe you don't really love writing, but would love to start a micro-blog of some sort. If that's you, there's never been a better time to earn money from home with fashion skills! Start an Instagram page or a Facebook page and start posting. YouTube is another great place to post fashion videos and earn some income over time. Again, there is a significant amount of flexibility here.
4. Sell Your Clothing
This is one of my favorite work-at-home careers for fashionistas. Declutter your closet and get rid of clothes you don't wear anymore by selling them online. You can even try your hand at "flipping" clothing by scouring thrift stores and garage sales, choosing pieces you think will sell for a profit, and photographing them in an appealing way.
There are so many websites you can utilize to make money with your clothing. Some of my favorites include:
Related Content: Where to Sell Used Clothes Online for Cash
5. Take a Remote Job as a Fashion Writer
If you have both excellent writing skills and a love for fashion, you have even more opportunities available to you. Why not combine your skills and offer your services as a copywriter who specializes in fashion? You can check out opportunities for corporate work and bloggers on websites like Direct Response Jobs, Problogger, and FlexJobs.
Conclusion
As you can see, there truly is no shortage of work-at-home careers for fashionistas! Which one of these opportunities for fashion jobs are you most excited about?