Clothing is something we all have, wear, and eventually, get rid of. So why not make money by selling your used clothing? In this post, you'll learn where to sell used clothes online for cash so you can earn money to pay bills, provide extras for your family, or – heck – just buy more clothes!
As an added bonus, we also have a list of ideas for selling new clothing online too; best of all, some of these platforms don't cost a penny to get started!
Where to Sell Used Clothing Online
Sell vintage clothing (and independent brands) to 20-something fashion lovers. You pay 20% commission as well as a monthly fee. It seems to be a great place to make money selling clothing online for Millennials.
Couture USA provides a fast and fair process to sell your designer luxury items. You start by requesting a quote, and then you ship your clothes directly to the store. You can choose to sell on consignment and earn a bit more, or you can sell directly to Couture USA and get paid right away.
Because Craiglist is a localized platform, you'll have to meet up with the buyer, but there is no cost to sell on Craigslist. Just a word of caution: Make sure to meet up during the day in a public place. Use usual safety precautions when meeting people you don't know.
Related Content: Make Money on Craigslist: How I Earned $3,500 in 30 Days
Sell clothing and accessories for cash or credit at Crossroads. They have many selling options to choose from, including bringing your clothing directly to the store or requesting a bag to mail in your items.
Depop allows users to sell a plethora of products online. You are in control as far as what you sell, listing your items, and setting the price. All sellers must have a PayPal account to sell on Depop. They charge a 10% commission fee on your sales.
People have been selling used clothing on eBay for years, and it can even be lucrative for some. Easily list your used clothing items, snap a picture, write a clear product description, and add your price. You handle shipping, and there is a bit of a learning curve, but once you get it, you can cash in on your old clothing or even purchase old clothing to resell on eBay.
Related Content: Etsy vs. eBay for Reselling: How to Choose
Undoubtedly one of the biggest online selling platforms there is, Etsy is a wonderful choice to set up shop and sell vintage clothing online. There are limitations with Etsy; you can't sell just anything. It has to either be handmade or vintage (over 20 years old). There is a $0.20 listing fee and a standard payment processing fee as well as a small commission when an item sells.
Related Content: How to Be Successful on Etsy
Facebook groups and Marketplace are great ways to sell used clothing online. I've utilized this resource myself and have gotten rid of countless items by simply meeting up with people at a local store parking lot to make the exchange. You can also run targeted Facebook ads if you're going to be doing more than just a little selling but are looking to have a regular, used clothing resale business.
LePrix consigns high-end clothing from brands such as Christian Dior, Celine, Christian Louboutin, and more. They will send you a free consignment kit with a pre-paid shipping label to send your clothing.
Trade in your unwanted designer clothing at Material World. They only accept certain brands in specific categories, and items must be authentic with the brand label and have no damages or odors. You get paid upfront.
11. Mercari
I have used Mercari for buying (not clothing, I have a slight coffee cup addiction if you must know!), and it's been a pleasant experience. They have a wide variety of items for sale, and they make it easy for both the buyer and the seller. There are no upfront costs to sell your used clothing, only a 10% flat fee when your items sell. You take photos, list your items, and set your price, so all that's left for you to do is wrap and ship your item once it sells. Receive a prepaid shipping label, and voilà, you're good to go!
12. Poshmark
Download the free Poshmark App to start selling right away. Simply snap a few pictures of your item on your phone and write a product description. Poshmark even sends a prepaid shipping label when your item sells. You can sell women's, men's, and children's clothing, so you can earn money selling clothing from the entire family, which I thought was pretty cool as there's usually someone growing out of or getting rid of something at any given time!
Complete Recycle Your Fashions' simple submission form, listing everything you're interested in consigning. Recycle Your Fashions will tell you what they want, and then you bag up your clothing and ship them your items.
Refashioner works like a clothing swap. You show them what you have to sell, and if it's approved, you will be emailed with a suggested price. After your item sells, your money stays in your account and is applied to any purchases you make.
To start selling with Swap.com, you can either print out a prepaid shipping label to send in your gently used clothing or request an inbound box to mail your items. Once they decide which items to accept, they price them and list them for sale. Some people might prefer to list their items themselves, but I think the Swap.com system is great. It's less work for me, and I can still earn money – heck yeah!
The RealReal is an online consignment store for luxury brands such as Gucci, Chanel, Louis Vuitton, Prada, and more. You keep 70% of the sale price, but The RealReal can adjust the price of your item after 30 days if it's not selling fast enough.
It's free to sell on Tradsey, and you can list your item in minutes. From snapping the photo to writing product descriptions, they'll guide you each step of the way to sell your used clothing, handbags, shoes, accessories, and wedding items.
18. thredUP
You can sell women's and kids' items on thredUP. Sign up to order a free Clean Out Kit and earn cash or credit for accepted items. They now have two payout options: You can sell your items on consignment and earn a bit more money, or choose to get paid upfront as soon as your items are accepted and earn a slightly lower amount.
VarageSale is an online garage selling site that allows you to buy and sell items, including clothing, locally. Just create an account, upload an image of your clothing, add some minor details, and you're ready to start selling. If an individual is interested in purchasing your item, they message you via the platform or app, and then you make arrangements to meet in person. The platform is free to use and integrates with Facebook, Twitter, and Pinterest so you can share your items with an even larger audience.
Yoogi's Closet is another platform for selling designer, luxury items. Answer a few simple questions about your clothing to receive a quote, and then ship your items using their pre-paid UPS label. After receiving their final offer, you choose whether to consign your items or sell directly to Yoogi's. Payment is made via check, PayPal, or store credit within two business days.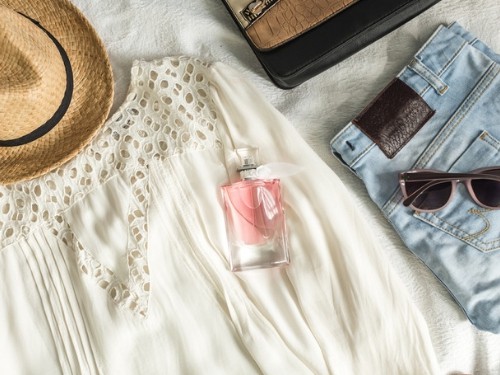 Another great option for selling clothing online is selling new or custom-made clothing, including clothing you've designed yourself. There are a wide variety of platforms to help you do this, but we've listed a few below.
You can set up your own store on CafePress to sell T-shirts and hoodies (as well as other items) for around $10 a month, or you can sell in the marketplace for free. Just upload your designs, decide what you want to put them on, and then list them. CafePress does all the printing and shipping.
Redbubble is similar to CafePress. There is no fee to sell on Red Bubble, and you set your prices by adding your fees to their base price for products.
You can sell pretty much anything on Shopify, from used clothing to new clothing and more. You can even drop ship clothing, which means you partner with a brand to ships the items you sell without ever having to store inventory or even see the item. You can get a free 14-day trial of Shopify, and after that, you can choose from several different plans starting at $29 a month.
Spreadshirt is cool because even if you don't create your designs, you can still custom make clothing to sell. They have designs created by others you can add to t-shirts, tack on your commission, and make a profit.
Related Content: Spreadshirt Review: Make Money Designing and Selling T-Shirts
Teespring is a free online platform where you can design t-shirts, leggings, tank tops, long-sleeve tees, onesies for babies, sweatshirts, hoodies, among other non-clothing items. Just create an account, design your items, promote them, and you'll earn a percentage of each sale.
Related Content: How to Start a T-Shirt Business with Teespring
One neat thing about Zazzle is that you don't have to design or create anything to sell clothing. You simply create a shop, sell clothing created by others as an affiliate, and still earn money! How neat is that?!
Tips for Selling Clothing Online
Choose Trendy Clothing
Obviously, if you wear high-end fashion, you're going to make a lot more money selling your clothing. But you also have to pay for it upfront first, so you will have to decide for yourself if it's worth it. If it's clothing that you'd be buying anyway, then go for it!
Take High-Quality Photos
When it comes to clothing, customers only have photos to help them decide whether or not they like an item. The better your photographs, the better chance you have of selling your clothing.
Related Content: How to Set Up Your Home Photography Studio
Specific Measurements
To make sure you don't have items returned due to improper fitting, make sure to list the correct measurements of your clothing.
Accurate Details
From color to size to listing any imperfections, the more specific your details, the more likely you'll have a happy customer as they know everything about the item before they buy it.
Item Knowledge
The more you know about the items you're selling, the more you can accurately convey the details and list thorough product descriptions.
Give Great Customer Service
Treat your customers like you would a good friend. You want what's best for them and for them to be happy. Make sure that's what they feel in each interaction you have with them.
Conclusion
We hope this post has given you enough information about where to sell used clothes online for cash that you'll be able to do anything from going into business for yourself to earning a little extra spending money. And you'll get your closet cleaned out – win-win!