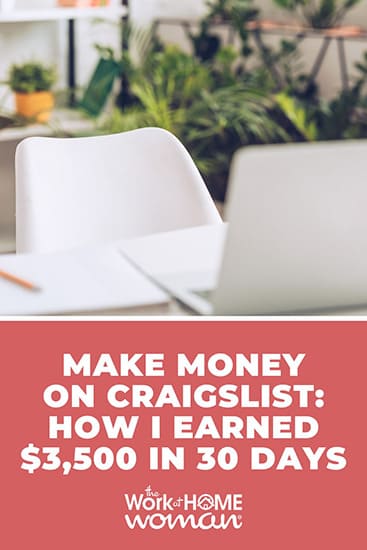 When I first started working from home, 99% of my business came from word-of-mouth – a design here, a few blog posts there. I started every workday by spending a few hours writing cold emails to friends of friends and pitching to freelance gigs found on various sites and Facebook groups. Finding work was as much a part of my work-at-home job as doing the actual work.
Eventually, though, as you'll find out if you're in the work-at-home world long enough, there will come a time when you decide to scale your business, branch out of your current line of work, or diversify your income. So how can you quickly and easily find new clients and customers to fill this gap and take your side hustle full time?
This is how I earned $3,500 on Craigslist in 30 days, using minimal marketing that anyone can do.
Making Money on Craigslist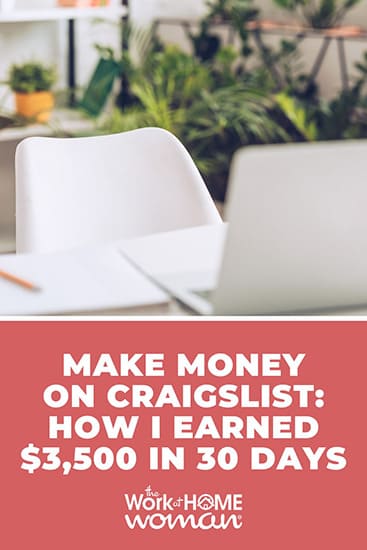 Now, I'm going to forewarn you that I made money on Craigslist in two very different ways: One, completely average, and the second, a little unusual.
When I decided to expand my photography portfolio from corporate work to family and portraits, I knew I would have to branch out of my current client list. Outside of family and friends, I was at a loss for where to turn. I mean, how do you advertise services you've yet to actually perform?
It All Started With a $5 Ad
On a whim while spring cleaning, I posted a classified ad on Craigslist. One $5 ad, and a month later, I had landed $2,700 in photography work – with no website, business cards, networking, or marketing.
You heard that correctly!
Because of the overwhelming amount of spam and scams on Craigslist, the site now requires you to pay for advertising services—a $5 fee. I can confidently say that the ROI on my $5 advertisement was well worth it.
Deciding What to Sell on Craigslist
The following $800 I earned through a rather unusual hobby—but before I tell you about it, I want to tell you about how I came to the decision to monetize it. After reading posts on The Work at Home Woman about generating income through finding your niche, I spent a good deal of time thinking about these things:
What hobbies do I enjoy?
On what subjects am I the expert?
Is there any type of work I could spend hours doing?
Any topic I could spend hours talking about?
After that, the answer was easy – aquascaping! Aquascaping is the art and design of living, planted aquariums; you can learn more about it here.
Along with my ad for photography and a host of items I found while cleaning out my closet, I posted an advertisement for live aquarium plants. I didn't anticipate much demand, and at only a few dollars per plant, I didn't anticipate much profit. But as plants produced from trimmings that I would otherwise have thrown away, every cent earned was (almost) one that didn't cost me anything to produce. Talk about a profit margin!
What I thought would be a low-key Craigslist ad that almost no one would pay attention to turned into $800 in extra money over a two-week span. While I don't think this will replace my day job any time soon, it was absolutely the easiest (and most fun) $800 I've ever made!
Do you have a service, product, craft, or hobby that could potentially be monetized? If you'd like to test the business model in a low-risk environment with minimal upfront costs, consider advertising on Craigslist or one of the numerous online platforms available to you.
What is Craigslist?
Before we get into how to make money on Craigslist, it might be helpful to talk about what Craigslist is exactly. Craigslist is a no-frills classifieds advertisement website that is reminiscent of newspaper classifieds.
Most people know of the Craigslist sales section, but you can also find listings for jobs, real estate, apartments, lost pets, garage sales, services, and even discussion forums.
The company is based out of San Francisco and features local listings in almost every major city worldwide. While nowadays Craigslist has numerous buy-and-sell competitors like Facebook Marketplace and OfferUp, you can still find tons of activity on Craigslist across every category.
Here's How to Get High-Quality Responses and Make Money From Craigslist Advertising
1. Use Quality Photos or Example Pieces
If you don't use photos in your advertising, you're unlikely to get a response – period. And a simple link to your portfolio site is unlikely to be clicked if the person doesn't open your ad in the first place. Include at least 4-8 photos in your ad to give people a bite-sized preview of your work.
You don't necessarily need professional photos for your listing either; you can get great, high-quality images with your iPhone. If you're listing items for sale or advertising physical products, be sure to use good lighting and include shots from multiple angles if possible. Here are some photography tips for taking high-quality images at your home.
What about writing or more abstract services? Head over to Canva to design yourself a nice-looking service offering graphic.
2. Introduce Yourself
This seems like such a simple step, but it's one that's frequently overlooked! Especially with a platform like Craigslist, making your ad friendly and personable is one of the easiest ways to establish trust with potential buyers. Tell people who you are, why you're posting, and where to find additional information about you.
3. Tell People Precisely What Kind of Jobs You Want to Do
When you create your ad, consider your prospective clients and customers and for what they will be searching. For me, particularly with my plant ad, I was targeting people who were looking to purchase used fish tanks on Craigslist. Think – what are the odds someone would search for the exact genus and species of aquatic plant I was selling? Not high! Instead, I listed my ad for "Live Aquarium Plants," and in addition to the name of the plant, I included in my description naturally-placed search terms like "fish tank" and "aquarium."
Do the same with your service. I could have left my photography ad at "Photography," but instead, I individually listed out "engagement photography," "senior portraits," etc.
4. Offer a Deal or Leave Room for Negotiation
Now, this may sound counterintuitive if your goal with advertising is to bring in cash, but I assure you, this trick of the trade works – and it works well. Ads that include "OBO" (or best offer), "price negotiable," or "discounts available" have a roughly 75% greater response rate. Price your services and items so you have room for negotiation; people love a good deal.
5. Have an onboarding plan in place
Learn from my mistakes. I was unprepared for the rush of business I received. My inbox was flooded with emails and looked like a downright disaster zone, most of them asking the same questions, inquiring about the same dates, and almost all of them coming from similar-looking, auto-generated Craigslist email addresses that removed any identifying information. Know how you will handle these emails, organize them, and how you'll set your rates.
Safety Tips
Like any buying-and-selling platform, you'll want to take certain precautions to ensure your safety as a seller on Craigslist. Depending on the type of posting, you'll likely want to meet your buyer in a public location to complete your transaction or perform some type of vetting or screening for potential clients.
When selling high-dollar items, police stations are a safe bet. For smaller items, a busy public parking lot will usually do.
Keep in mind that even for services where you're not necessarily dealing with expensive products, you could potentially still be dealing with expensive equipment – such as photography or woodworking. It's best practice not to invite strangers into your home, studio, shop, or wherever it is you may be storing such equipment.
If you can't meet potential service clients in public, I'd recommend doing a phone or video call or (if following tip #5 from above) having them complete a questionnaire.
Whether selling products or services, cash is king, of course, but there may be times you'll want to accept payment via a third-party platform like Venmo, CashApp, or Zelle. In general, you can avoid most scams by not allowing buyers or clients to pre-pay without meeting or seeing the item. If, for some reason, that is not an option, using a PayPal business account will afford you some protection as a seller.
Conclusion
So there you have it; these are my best tips for finding clients and customers and making money on Craigslist when you're just starting out. It also serves as an excellent, free platform for testing the waters of a product-based business you might have in mind. If the demand for your product is so great in such a small, localized area—just think: What could you accomplish with an online store?
Do you use Craigslist to make money? If so, we'd love to hear your story!
Originally published August 6, 2018. Content updated May 2023.