If you like being on the go, maybe you should consider the possibility of earning extra cash by running errands for other people.
Whether you'd like to go into business for yourself or use one of the helpful online services out there, making money while helping others is a great way to earn a living.
These Platforms Can Help You Make Money Running Errands
1. Care.com
Care.com is a marketplace where individuals can request help with child care, tutoring, senior care, pet care, housekeeping, and running errands. With Care.com, you can create a profile and then search job listings. People request help with all sorts of tasks like errands, house management, scheduling travel, furniture assembly, organizational tasks, meal prep, and more! Errand runners generally earn $10-$25 per hour.
2. DoorDash
With DoorDash, you can make money by delivering restaurant meals to people who don't feel like leaving home. With this app, you can use your bike, scooter, motorcycle, or car; you just need to be at least 18 years old and pass a criminal background check. DoorDash is available in 7,000 cities across the US, Canada, and Australia. The sign-up process only takes a few minutes, and most drivers can start working in a few days. If this sounds appealing, check out this honest review of being a delivery driver with DoorDash.
3. Favor
Favor is a Texas-based company that offers people in major Texas cities a side gig to become a runner (personal assistant). With Favor, you can deliver groceries, pick up dry cleaning, deliver tacos, run to home improvement stores, and more! To sign up, you'll need a current smartphone, a clean driving record, and be at least 18 years old. Runners earn a portion of each delivery and 100% of their tips. According to their website, Favor runners can earn up to $30 per hour!
4. Instacart Shopper
With Instacart, you can become a driver and deliver groceries to customers, or you can become a shopper and shop for the groceries and deliver them as well. You will, of course, need a vehicle, but the hours are flexible, and you set your schedule. Their application process is simple! Apply in less than five minutes, attend an in-person training session, and start work within a week. According to this post, full-service shoppers (independent contractors) should expect to earn a base rate of $13-$18 per hour plus 100% of tips. In-store shoppers don't deliver groceries, and they work part-time as employees.
5. Shipt Shopper
Using the Shipt app, you can make money shopping for others! You can shop at grocery stores and local stores like Target. To use the Shipt app, you'll need to be at least 18 years old, have a valid driver's license and auto insurance, a current smartphone, as well as a reliable car, 1997 or newer. According to their website, shoppers can earn up to $22 per hour, and payouts are distributed weekly.
6. TaskRabbit
You can deliver items such as groceries, dry cleaning – even furniture. You can pick up items at the store or pharmacy, drop off donations, and more. Signing up through Task Rabbit means that you will be connected with people in your neighborhood. According to Compare.com, the average tasker can earn an extra $100 a month doing random side gigs. Although, some full-time taskers earn $6,000-$7,000 per month!
7. Uber Eats
Uber Eats, which recently purchased the Postmates Fleet app, is another way you can make money delivering food from restaurants. With Uber Eats, you can use your vehicle, scooter, or bike to make deliveries, and you can create your schedule. Using the app, you see exactly what you'll earn before accepting an assignment, and you get to keep 100% of your tips. Payments are automatically distributed weekly, or you can request your earnings up to fives times a day with Instant Pay.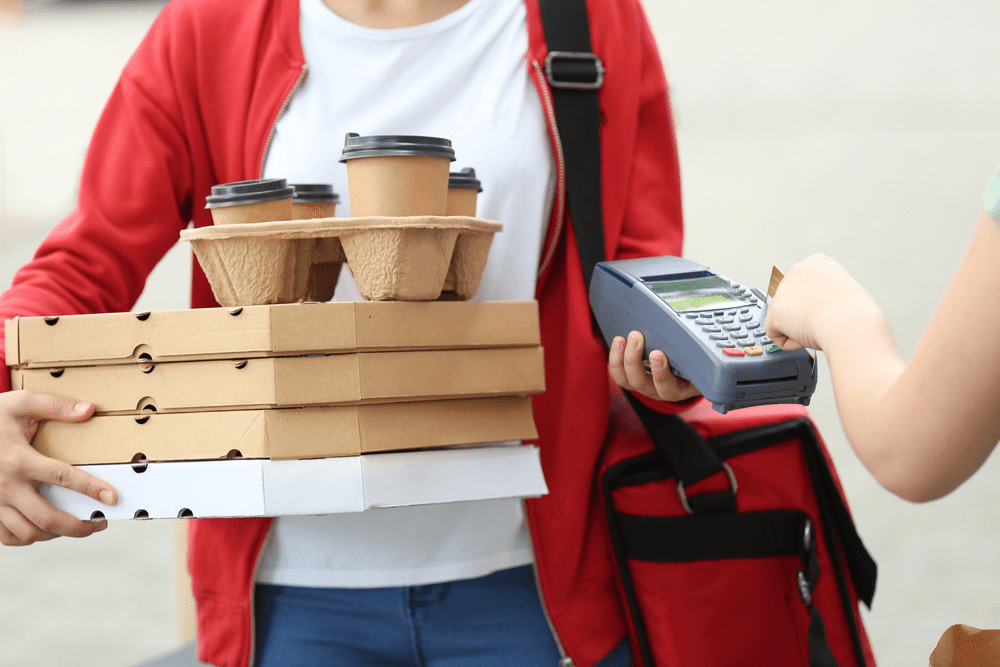 Start Your Own Personal Assistant Business
Depending on your financial goals and whether you want to work part- or full-time hours, you may decide to start your own personal concierge business. Starting a business allows you to work on the tasks you enjoy the most while setting your own rates.
Here are some personal assistant niches to consider these options to make money running errands:
Make Money Running Errands for Seniors
Some seniors are unable to drive, and others have limited mobility. Simple trips out of the house to the store or other errands become burdensome and hard to manage. Because of this, they appreciate having someone to run errands for them. You can do things like go grocery shopping, pay bills, prescription medication pick up, hair appointments, and go to the Post Office – just to name a few.
Running Errands for Busy Professionals
This is something I've contemplated doing myself. When you think about it, most small business owners are consumed with their businesses and have very little time to run errands for themselves. Whether they own a restaurant, a retail store, or even a home-based business, their daytime hours (which is when errands, like going to the Post Office and picking up prescriptions and dry cleaning, have to be done) are usually consumed with work. Retail store owners are typically at the shop during business hours and can't leave to do their shopping, so offering this service is a good option no matter the community you live in.
Running Errands for New Moms
This is another venture I've considered doing myself as a way to help new moms take a little of the stress out of those first few months. There were times having all four of my kids that I would have gladly paid someone to do a quick errand or two for me if it meant I didn't have to take all the kids out to the store. (Sometimes it's easier just to stay home!)
You can even offer discounts if you can get several new moms to use your services at once. For example, having three moms that need you to buy groceries at the same store would mean you can shop for all of them at once, then they can split the hourly charge, saving them all money in the long run.
How Much Can You Earn With Running Errands Jobs?
Most people charge by the hour for this service. You can include a small stipend for mileage if you choose or even a per-mile surcharge if your drive time varies from week to week. The pay range also can vary depending on where you're located and what tasks you're doing. According to Senior Errand Service, you can earn between $20-$35 an hour running errands, with the national average being about $30 an hour.
Conclusion
Whether you're looking for a full-time job, a part-time side hustle, or you want to start a business, being an errand runner is a great option. Of course, you'll need the minimal requirements of having reliable transportation, a valid driver's license, and a smartphone.
Otherwise, running errands is a flexible opportunity where you have control of your potential earnings, which is a great feeling. Almost as good as the positive feelings you'll have when you know you're making a difference in someone else's life.
Orginally published June 22, 2016. Content updated February 2022.