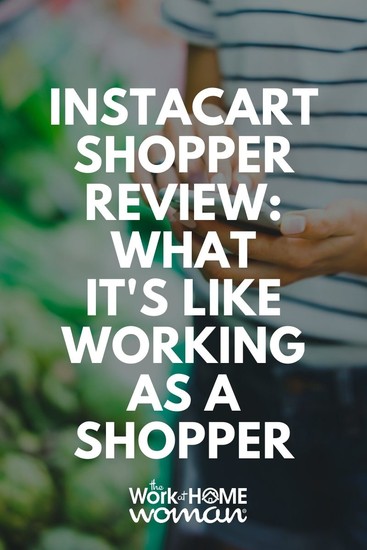 If you've seen Instacart shoppers confidently breezing through your local grocery store, you might be intrigued about what it's like to work for Instacart, and how much money you can earn shopping for others. Well, you can stop wondering, as we've done some digging to save you the time and effort.
Instacart is always on the lookout for shoppers and drivers, so if you love grocery shopping, have a smartphone, and reliable transportation, this could be an option worth considering. Check out our review of what it's like working as an Instacart Shopper to see if it's the right fit for you.
What is Instacart?
Instacart is one of the largest, most widely available same-day grocery delivery services across the United States and Canada. Consumers use the mobile app that links up to most well-known supermarkets, pharmacies, specialty stores like butchers and liquor stores, and membership stores such as Costco and BJs Wholesale. A local personal shopper will handpick items and deliver the groceries to the customers' homes.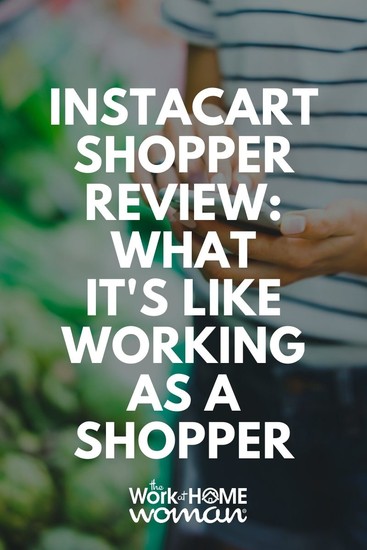 What's It Like to Work for Instacart?
There are two different shopper roles: A full-service shopper and an in-store shopper. Each has different benefits and requirements.
As a full-service shopper, you are a self-employed independent contractor who uses the platform to shop and deliver orders with no limit on how many batches you fulfill. 'Batches' consist of up to three customers' orders from the same store.
As an in-store shopper, you are an employee of Instacart. You would be based at a store, and once you receive an order through the app, you would fill the order and hand the items to an Instacart delivery driver. No car is required for this role.
Related Content: How to Get Paid to Shop for Others
How Long are Instacart Shifts?
Full-service shoppers choose their hours, so you could work as much or as little as you wish. Peak times are weekday evenings and weekends, so being available at these times is a bonus. This would make it ideal as a second job or one that works around family commitments.
An in-store shopper is a part-time employee and works in scheduled shifts for up to 29 hours per week. You can choose your hours and won't be expected to work during peak periods. However, the greater the volume of orders, the higher your earnings will be.
How Much Does Instacart Pay?
According to Glassdoor.com, full-service shoppers should expect to earn $13-$18 per hour. Of course, how much you earn will depend on the volume of your orders, your location, and tips. Tipping is strongly recommended, so there's potential to earn more since you get to keep 100% of customer tips.
In-store shoppers earn an hourly wage that aligns with the applicable state and federal law. Because Instacart caps the hours at 29 per week, they're not required to provide you with health insurance (which is for employees who work over 30 hours).
Instacart pays all of its shoppers weekly. There is another way to earn money with them, which is through referrals. You can receive a bonus when you refer a friend to shop with Instacart, but there are several terms and conditions to meet first.
Pros and Cons of Working as an Instacart Shopper
For a Full-Service Shopper
Pros: You choose your hours and work as much or as little as you like. You could potentially earn more than an in-store shopper due to tips and mileage reimbursements.
Cons: Since you are essentially running your own business, you must handle your income tax obligations and cover all of your expenses, such as fuel, vehicle maintenance, and repairs.
Related Content: My Honest Review of Being a DoorDash Delivery Driver
For an In-Store Shopper
Pros: You're an employee, but you can choose your hours and are entitled to a guaranteed minimum wage.
Cons: You can only work a maximum of 29 hours, so there are no health insurance benefits.
How Do I Sign Up to be an Instacart Shopper?
To become a full-service shopper, you can complete the entire signup process in the app or online – here.
Requirements to be on the platform as a full-service shopper include:
Minimum 18 years of age
Eligibility to work in the USA or Canada
A smartphone with Android 5.0 or later, iOS 9 or later
A functioning, registered vehicle
Vehicle insurance
You can lift 30+ pounds
Follow Instacart's food safety policies
If you're interested in applying for an in-store shopper position, you can submit the form in the shopper app or online – here. If approved, you'll receive an email with the next steps, which includes an in-person onboarding session. You won't need a car for this role.
Requirements for applying as an in-store Instacart employee include:
Minimum 18 years of age
Eligibility to work in the USA or Canada
A smartphone with Android 5.0 or later, iOS 9 or later
You can lift 30+ pounds
Follow Instacart's food safety policies
A Final Word on Working as an Instacart Shopper
If you love the idea of running your own business, enjoy driving, and need flexibility in your work hours, then you might consider working as a full-service Instacart shopper. There are several things to weigh before applying. You need to consider the impact it will have on your vehicle, as delivering orders will increase wear and tear. You'll also need to factor in the time you spend (unpaid) in traffic, looking for parking spots, and standing in long checkout lines during peak times.
If you're leaning more toward in-store shopping, some aspects to consider are how monotonous it can be and how stressful crowded supermarkets can be during peak times. (Think about how you feel shopping during these periods yourself!)
So, if the perks of this job outweigh the drawbacks for you, it could be worth the time and effort. Before you dive in, ask current and former shoppers in your area about their experiences and gauge whether there's enough work available to make it a financially viable option. Read anecdotal reviews carefully on reputable sites, such as Glassdoor and Indeed before making a decision.
If working as an Instacart shopper isn't appealing, and you'd like greater earning potential and stability, then rest assured there's a better-suited opportunity out there for you. You could start by looking at our Massive List of Work-at-Home Jobs for Reliable Income and our 24 Unique and Fun Ways to Make Money From Home.