Are you searching for ways to make money with Amazon? Then keep reading; this post has 16 legit Amazon work at home jobs and money-making opportunities!
You probably know Amazon as the world's largest e-commerce seller. But did you know that Amazon owns subsidiaries like Whole Foods, Zappos, Ring, Amazon Web Services (AWS), Audible, Alexa, AbeBooks, IMDb, Shopbop, Twitch, and many others?! With this massive worldwide reach comes a whole host of Amazon work at home jobs and money-making opportunities!
If you'd like to cash in on Amazon's money-making empire and you want to work from home, here are some great virtual jobs, flexible side gigs, and business opportunities with Amazon!
Amazon Work at Home Jobs
If you're looking for remote jobs, there are many work at home positions with Amazon, including full-time, part-time, and independent contracting roles. Here is a sampling of some of Amazon's most popular work from home jobs!
1. Amazon Mechanical Turk (MTurk)
If you want to make a little extra cash on your own schedule, try completing short tasks on Amazon's Mechanical Turk (MTurk for short).
MTurk is an online marketplace where businesses connect with online workers to have small tasks completed. Human Intelligence Tasks (HITs) are listed for workers to choose from. Many of the tasks are simple, such as differentiating between two images or categorizing products. Workers typically earn a few cents per task, which goes into their Amazon Payments account. Tasks may take anywhere from a few clicks to a few minutes, and pay is scaled accordingly. Workers with specialized skills may be eligible to complete higher-paying gigs like translation or transcription.
I've never tried MTurk, but it does get mixed reviews on Sitejabber (2.5 stars). Before you invest a lot of time there, I'd check out this in-depth review to see if it's worth exploring for your situation.
2. Amazon Customer Service Jobs
Probably the most popular Amazon work at home job is that of the customer service associate. In this role, individuals work with customers and drivers to solve problems and issues. To be eligible for this position, you must have some basic qualifications like excellent communication skills, a high school diploma, basic computer skills, and knowledge of Microsoft Windows and Outlook. While this position doesn't require any prior experience, they prefer at least six months of customer service experience. According to FlexJobs, part-time virtual customer service associates earn $15 per hour, and benefits will kick in after 90 days of employment.
For these customer service positions, you must live in Alabama, Arizona, Arkansas, Iowa, Illinois, Kansas, Louisiana, Mississippi, Missouri, Nebraska, New Mexico, North Dakota, Oklahoma, South Dakota, Tennessee, Texas, Wisconsin, or Wyoming to apply.
3. Amazon Online Shopping Stylist
Another popular Amazon work-at-home job is their stylist position. Stylists with Amazon help Amazon customers choose fashion items based on their preferences. Applicants must have two years of experience in the fashion or retail industry, excellent communication skills, and basic computer skills. While you don't need a college degree for this role, Amazon does prefer a bachelor's degree and multi-lingual applicants.
You must live in the United States in one of the following states: Alabama, Arizona, Arkansas, Delaware, Florida, Georgia, Indiana, Iowa, Kansas, Kentucky, Louisiana, Maine, Maryland, Michigan, Mississippi, Missouri, Nebraska, New Jersey, New Mexico, New York, North Carolina, North Dakota, Ohio, Oklahoma, Pennsylvania, South Dakota, Tennessee, Texas, Vermont, Virginia, West Virginia, Wisconsin, or Wyoming to apply.
4. Amazon Work at Home Jobs in Corporate
With warehouses worldwide and new products added daily, Amazon is growing at an accelerated rate. This means they have many work at home jobs for professionals with experience. Types of jobs include Human Resources, Account Management, Sales, Software Development, Project Management, Recruiting, Operations, IT, Business Development, Marketing, Advertising, Design, Finance, and more. Salaries are based on your experience, position, and availability. These roles are for residents of the US (29 different states), the UK, the Netherlands, Italy, Germany, Japan, and Costa Rica.
When you work full-time with Amazon, you get many benefits and perks like health insurance, paid time off, adoption assistance, maternity and parental leave, employee discounts, and more.
Affiliate Marketing with Amazon
If you're a blogger, content creator, or business owner, and you would like to make money referring others to Amazon's huge inventory of products, consider becoming an Amazon affiliate. Here is some basic information on getting started.
5. Amazon Associate Program
With Amazon Associates (Amazon's affiliate program), bloggers, content creators, and publishers can earn money by recommending products. For example, when creating a DIY blog tutorial, a craft blogger may use an affiliate link for a specific paint they used in the project. The link directs the reader to the product page on Amazon. When the reader purchases the product, the blogger gets a percentage of the sale (up to 10%).
One of the great things about this program is that customers don't need to purchase a specific product to earn money. Any purchase the customer makes on Amazon during their visit (with some exceptions) will result in a percentage of the sale. To maintain active in the program, affiliates must have at least one sale per month, and you can not purchase products through your own Amazon affiliate links.
6. Amazon Influencer Program
You can apply to the Amazon Influencer Program if you have an established social media following on Facebook, Instagram, TikTok, or YouTube. With this program, you'll receive a customizable page on Amazon and a vanity URL to showcase your favorite Amazon products. The Amazon Influencer Program is an extension of Amazon's affiliate program, so you'll earn approximately up to 10% commission on items sold through your account. When applying, Amazon looks at how many followers you have and your engagement rates.
To better understand what this program looks like, check out The Work at Home Woman's Amazon Shop.
Publish Your eBooks on Amazon
Did you know that you no longer need a publisher to publish a book? With Amazon's Kindle Direct Publishing, you can take your written words and turn them into a best seller all on your own!
7. Kindle Direct Publishing
Kindle Direct Publishing offers authors the option to self-publish directly to Kindle. With KDP, authors create their own ebooks using their own manuscripts and cover. Content is uploaded to the KDP program (provided it meets all content and quality guidelines). Authors retain control of their rights and set their own list prices. After writing a description and setting up the book in KDP, authors can expect their books to appear in the Kindle store within a day or two. Authors can earn up to 70% in royalties on sales.
If you're interested in selling used books on Amazon, they have a couple of different selling options to choose from here.
Narrate Audiobooks
If you've been told you have a great voice, becoming an audiobook narrator is easier than you think. You'll need high-quality recording equipment and background knowledge to get started, but once you learn the ropes, you can become an audiobook narrator using Amazon's ACX program.
8. ACX
ACX, an Amazon-owned property, is a marketplace where authors and publishers can connect with voice actors, engineers, and recording studios to create audiobooks. To start narrating audiobooks, create an ACX profile, upload your samples, pick your rates, and search for books you'd like to narrate. Interested parties will send you an offer, and once you accept, you'll start recording. After the project is complete, you'll get paid your production fee.
If narrating audiobooks sounds fun, check out this post for tips and a free training program.
Be an Amazon Entrepreneur and Start Selling Products
Whether you're crafty, thrifty, or artsy, Amazon has many different programs where you can work from home selling various products online.
9. Amazon FBA
Fulfillment by Amazon (FBA) provides an easy way for sellers to sell products on Amazon and then have Amazon use their fast and speedy shippers to deliver them! With this program, you'll set up an account, create your product listings, and then ship them to an Amazon fulfillment center — then Amazon does the rest! Amazon has different programs and fees based on the size of your shipment.
Sound intriguing?
Check out Tracy's story and find out how she earns $1,200 a month selling through Amazon's FBA program.
10. Amazon Handmade
If you're looking for an Etsy alternative, check out Amazon Handmade. With Amazon Handmade, if you submit an application and become an approved seller, Amazon will waive the $39.99 monthly fee. Once you're approved, list your products, and promote them online. When you make a sale, Amazon will deduct a 15% fee.
11. Merch by Amazon
Merch by Amazon is a way to sell your designs on things like T-shirts, coffee mugs, and tote bags. With this program, you upload your designs, set your price, and then Amazon prints and ships your products. Designers earn a royalty on each product sold. There is no cost to join, and you can view average royalty rates here.
Check out this post for other sites that allow you to sell your designs on T-shirts and products.
12. Sell Private Label Items on Amazon
One unconventional way to earn money on Amazon is by selling private-label items through the FBA program. Sellers search for unlabeled products that can be sourced cheaply through a wholesale supplier like Alibaba and then sell under a private label for a higher price. This requires market research, finding the right supplier, and adding your own logo and branding to the packaging. After the initial startup cost (depending on the cost of the inventory, packaging, and design), private-label products can offer a great return. While profits vary by product, many experts say to aim for a profit margin of around 50%.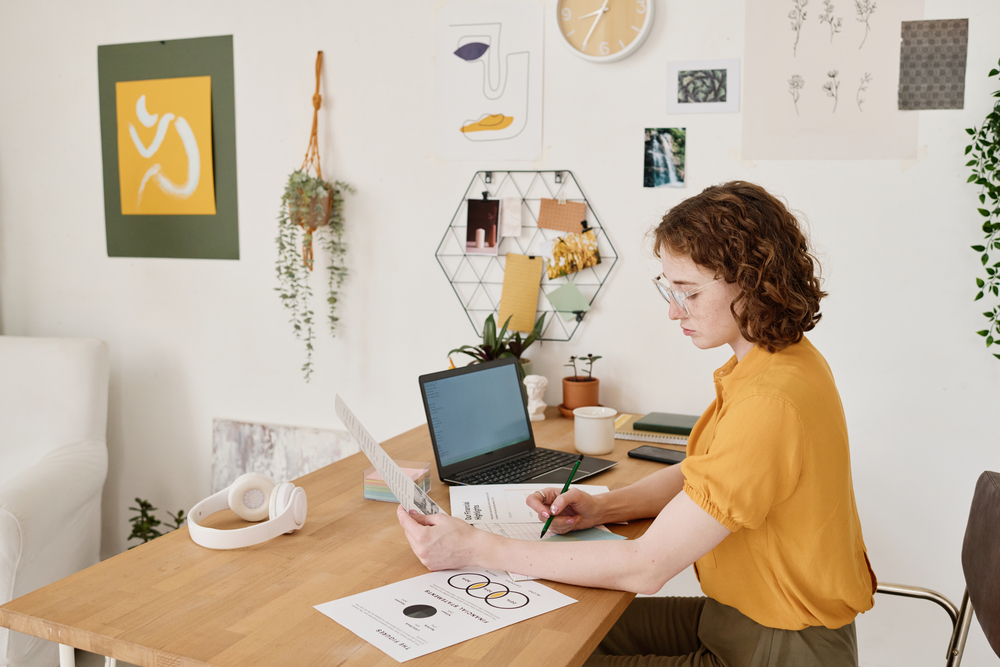 Flexible Amazon Jobs: Delivery Drivers, Shoppers, and Warehouse Workers
These next three Amazon positions are not work at home jobs, but they offer flexible scheduling and fast pay options, so I thought they were worth mentioning in this post.
13. Amazon Flex
Amazon Flex pays drivers to deliver Amazon packages using their own vehicles. While this isn't an online job, it does come with flexible scheduling. Drivers choose their own block of hours to work, then pick packages up from a local Amazon Fulfillment Center and deliver packages. The Amazon Flex app records package information and deliveries made; it even provides route information. Drivers earn between $18-$25 per hour, and payments go out every Tuesday and Friday via direct deposit. You must be at least 21 years old to drive for Amazon.
You can learn more about the Amazon Flex program in Anna's review here.
14. Amazon Grocery Shopper Jobs
With Amazon's purchase of Whole Foods Market, they now offer flexible job opportunities for in-store grocery shoppers! Unlike other on-demand grocery shopping apps, with this position, you're an employee, not an independent contractor. These positions offer flexible schedules, anytime pay, and a casual dress code. The average pay for a shopper is $15 per hour.
15. Amazon Warehouse Fulfillment Jobs
If you live near an Amazon warehouse, their fulfillment jobs offer quick pay, flexible schedules, and in some cases, benefits. With these anytime shift jobs, you can work as little as four hours per week, you get to make your own schedule, and you can cancel a shift in advance, no questions asked. This means you can work at night, during school hours, or on whatever schedule suits your needs. Amazon also has a feature called anytime pay, which allows workers to instantly cash out 70% of their earnings 24 hours a day, seven days a week. For these positions, you must be able to lift 49 pounds and tolerate standing, bending, pushing, and pulling for extended periods.
Amazon Trade-In Program – Earn Amazon Gift Cards
Would you like to earn free Amazon gift cards? Here are some legit ways to score free Amazon gift cards during your spare time.
16. Amazon Trade-In Program
The Amazon Trade-In Program allows you to trade in used electronics and video games for Amazon gift cards. Amazon provides a list of items that are eligible for trade-in. Just browse the products, answer a few questions, and you get an immediate quote of how much they'll give you for your product. If you agree to the terms, you'll print a shipping label and send them the item. Once your trade is processed, you'll see the trade-in value in your Amazon account under the gift card balance.
Of course, there are many ways to earn free Amazon gift cards outside of Amazon. You can take surveys, use smartphone apps, or complete short tasks online. To learn how to earn free Amazon gift cards during your free time, check out this post.
Be Aware of Work at Home Job Scams Mentioning Amazon
The opportunities listed above are legitimate ways to make money through Amazon. But it's important to be aware of work at home scams. Imposters are everywhere pretending to be Amazon employees looking for remote workers.
There are many variations of this Amazon scam where crooks pretend to be Amazon, posting fake job ads on legitimate websites like Indeed, ZipRecruiter, and LinkedIn. If you're contacted by a recruiter claiming they're with Amazon, verify that the email address is from Amazon and look for the recruiter's profile on LinkedIn. Legit companies and recruiters will not contact you via text or third-party messaging apps like Telegram or WhatsApp. And they won't be using a free email account like Gmail, Yahoo, or Hotmail to contact you.
You also need to be careful when using career sites, where you have the option of uploading your resume. Scammers can view your contact information, and they may send you a fake job offer. I suggest always applying directly on the hiring company's website, this way, you know you're dealing with a legitimate job listing.
You should also keep track of your job application submissions by listing the date, company, and position you applied for. This way, when a job offer comes your way, you can refer back to your documentation to verify that you applied for the job. If you need a system to help you research companies, organize your job search, and track job applications, my Work From Home Career Planner can help!
Amazon Work at Home Jobs Conclusion
Amazon offers many legitimate work at home jobs and ways to earn money from home. If you're looking to supplement your income with part-time work, build a full-time business, or find a full-time remote career, you'll find many options with Amazon. Just be sure that you're doing your due diligence, as there are many scammers pretending to be Amazon.
Last but not least, make your resume and cover letter stand out from the crowd. Everybody wants an Amazon work at home job, so you need to make sure that your resume gets past ATS by adding the right keywords to your resume. If you need help writing a resume that grabs the attention of a hiring manager, check out the Ultimate Resume Template Bundle!
Do you earn money with Amazon? If so, drop us a note; we would love to hear from you!
Originally published December 26, 2017. Content updated September 2023.