For those of you who have kiddos, you know that daytime hours are often packed with diaper changes, storytimes, school activities, sports, and the like.
With so few hours in the day (even with naptime and school schedules), squeezing in the time to earn money can be a bit of a challenge.
Thankfully, with work-from-home opportunities at an all-time high, you can easily take advantage of earning money when the kids are asleep – all from the comfort of home!
Grab your PJs, a cup of cocoa (or your beverage of choice), pull up a seat, and start making cash! We have your jumpstart right here with this list of 20 remote night shift jobs you can do when the kids are catching some zzzs.
Remote Night Shift Jobs
1. Byron
Do you love the idea of working as a virtual assistant but hate the thought of having to track down potential clients? Byron hires virtual assistants to complete small microtasks for their clients. This could be anything from internet research to booking hotels and airfare for clients.
With Byron, you can set your own schedule working as little as one hour per month or up to 160 hours per month. Byron makes it easy to grab virtual assistant work as the kids head off to bed.
Interested? Here's the low down on Byron.
What you'll need to have:
Live in the US
Must be at least 18 years old
Have three years of experience in an admin role
The types of tasks you'll perform:
Making phone calls on behalf of others
Scheduling appointments – business and personal
Researching the best price on something
Finding hotels
Byron offers a good opportunity for individuals who are looking to make some extra cash with overnight work. The starting pay rate is $13-$17 per hour, and in this role, you'll work as an independent contractor.
2. Rev Transcription Jobs
If you have strong English skills, a reliable computer, and fast and accurate typing skills, transcription work is for you! As a Rev transcriptionist, you'll listen to audio files and convert them into text.
Here's a little more about this flexible work-from-home night position:
Start working immediately after taking a grammar quiz and submitting a transcript sample
Freedom to select the types of jobs you want to transcribe
Work as much or as little as you would like
Get paid WEEKLY via PayPal
As a Rev freelancer, you can choose between transcription and closed captioning work.
Here's the difference between the two:
Transcription: Pay Range: $0.24-$0.90 | Per audio/video minute
Listen to audio and video
Accurately type what is being said
Label speakers
Captioner: Range of Pay: $0.45-$0.75 | Per audio/video minute
Watch video
Accurately type what is being said
Creatively convey sounds
Sync typed audio with video
The flexible hours at Rev make it one of those home jobs that can easily change as your kid's schedules change. If you decide to switch to working some day shifts, you can do that too!
3. Clickworker
Clickworker hires independent contractors to complete projects for other companies. As a freelancer with Clickworker, you'll get to choose from a wide variety of tasks that businesses need to be completed.
Here are just a few examples of projects you'll get paid to complete as an independent contractor with Clickworker:
App testing
Text creation
Mystery shopping
Photo capturing
Below is additional info about Clickworker:
Sign up online
Flexible hours – you can work at night and set your own schedule
Must have a computer or mobile device with an internet connection
Work as a freelancer and decide how much or how little work you want
Clickworker is always hiring contractors, and with so many options to choose from, you can pick what tasks are right for you.
FYI — this site gets mixed reviews, do your research before joining.
4. Cambly
Do you have a flair for conversation? Want to get paid to talk to others? Cambly provides a fantastic remote night shift opportunity for those who love to talk and want to get paid to do so.
Cambly is an online English teaching and tutoring service that connects you with students studying English as a second language. Here's a little more about this opportunity:
You can chat from your laptop or desktop computer
Must be a native English speaker from anywhere in the world
You must have a reliable device with a webcam
Some of the perks of working with Cambly are:
Set your own schedule
Pay rate: $0.17 USD per minute ($10.20 per hour) talking to adults
Pay rate: $0.20 USD per minute ($12.00 per hour) talking to kids
Get paid every week via PayPal (minimum of $20 needed in your account)
5. Advanis: Remote Telephone Research Interviewers
Advanis is a privately owned, Canadian-based market and policy research company that completes surveys for companies looking for marketing and other data.
This remote night position is specific with hours, and there is no set hourly wage advertised with the job position.
Here's some additional information you'll want to know before applying to Advanis:
Hours are specific: Monday through Friday, 3 PM to 10 PM, and Saturdays, 10 AM to 5 PM MST
Training is paid
You must have a good command of the English language
You must have excellent customer service skills
A typing speed of 30 WPM is required
You'll need a computer with high-speed internet, a corded headset with a noise-canceling microphone, and a landline — no cell phone allowed
5. Liveops
Liveops hires independent contractors to work with various clients in its virtual contact center. The industries you might work in are retail, healthcare, roadside assistance, technical support, non-licensed insurance, and tax support.
As a call center representative, you'll be able to set your own schedule and choose when and where to provide services.
As of right now, there are four types of jobs available with Liveops, including night and weekend positions, which are perfect for when the kiddos are in bed.
There are a few steps you must complete during the application process with Liveops:
Liveops accepts contractors from the following states: AK, AL, AZ, DE, FL, GA, IA, ID, IL, IN, KS, KY, MD, ME, MI, MN, MO, MS, MT, NC, ND, NE, NM, NV, OH, OK, PA, RI, SC, SD, TN, TX, VA, WV, and WY
Complete an application
Pay for a background and credit check — it will cost around $24.99
Liveops is looking for contractors who have the following:
A minimum of one year of customer service experience
Computer skills, including navigating multiple tabs, Windows, and systems
Basic typing skills
7. Appen
Appen offers several flexible work-from-home opportunities that are perfect for doing while the kids sleep! Whether you're looking for longer-term projects or shorter-term tasks, Appen has a variety of positions available.
Here are some of the positions you can choose from at Appen:
Data entry and collection
Surveys
Starting work with Appen is simple. Just create your profile, verify your email address and start working. Another great feature of Appen is that all of the tasks have payment information displayed next to each task. This way, you'll know exactly what you'll be paid before applying to complete the job.
While many of the tasks don't require training, some will have you go through a qualification process where you will need to verify the information to be selected to work.
Other tasks require that you download an app or have a smartphone device. Reading through each project description will help determine whether a project is right for you.
8. TELUS International
TELUS International helps companies around the globe stay on top of their daily workflow by assigning their tasks to individuals like you! From translation and language interpreters to gaming and search engine evaluation, TELUS has many flexible, remote night shift projects. You may not need to look any further than this platform for work!
TELUS also makes it simple to view open projects immediately without signing up. Select a category, scroll to "open projects," and you'll be able to view the work-from-home opportunities available!
9. U-Haul
As a company, U-Haul assists its customers by providing them with a variety of moving and transporting solutions. They rent trucks, trailers, moving supplies, and the like. Although this company primarily specializes in moving, there are a lot of remote, full-time, and part-time job opportunities at U-Haul.
If you don't mind phone jobs, U-Haul frequently hires remote sales and reservations representatives for day, evening, and overnight work. As an employee, you're also eligible for benefits from U-Haul, which makes this remote night shift opportunity an even sweeter deal!
For a quick insider look at what U-Haul has to offer, check out this article.
10. ModSquad
ModSquad prides itself on being a "fun place to work" with the flexible work schedule you need. They hire mods for a variety of remote positions, such as social media managers, chat agents, community moderators, and customer service reps. If you're looking for remote night work that has flexible hours, ModSquad is your perfect fit. These are independent contracting roles that can be done anywhere in the world!
11. Wheel
Are you an RN looking to balance your passion for healthcare while being able to stay home with your little ones? Thankfully with Wheel, you can do both! Wheel's marketplace matches clinicians to opportunities in virtual care.
As an RN for Wheel, you'll assist patients from pediatric to geriatric age by:
Providing virtual primary and urgent care treatment for non-emergent conditions as well as triage and front-line care navigation
Conducting live video, remote patient consults from a Wheel-provided computer
Assisting with common conditions including cold, flu, vomiting, fever, as well as others
Becoming a Wheel RN allows you the flexibility of being home with your kids while also being able to help others with their medical needs.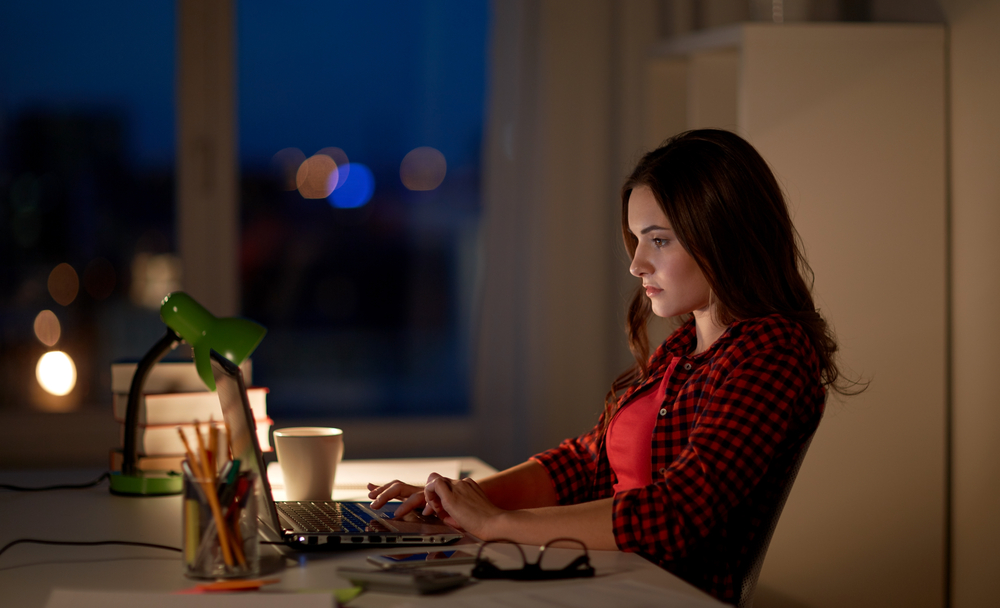 12. AAA
AAA has an array of second and third-shift remote work opportunities available. Perfect for those looking for remote night work they can easily do while managing the kiddos!
Remote opportunities at AAA include:
Customer Service Representatives
Member Service Representatives
Corporate Travel Agents
Emergency Roadside Specialist
These graveyard shifts are full-time roles that start between the hours of 8:00 PM and 10:00 PM. Pay is competitive and comes with a shift differential and benefits.
13. Apple
Want a great way to make money AND get discounts on the amazing Apple products you already love? Apple is one of those companies that is always looking to add to their team of devoted Apple users. If you enjoy Apple products, this flexible work-from-home opportunity is the best way to share your knowledge and help others.
There are three levels of remote jobs at Apple that you can apply for:
At-Home Advisors
Team Managers
Area Manager
The most common of these remote opportunities is the At-Home Advisor role, but if you have experience leading teams or being in a supervisory role, the other two positions might be the perfect choice for you! Apple's remote team works between 9:00 AM in the morning to 10:30 PM at night.
Check out this post for an in-depth look at how to become an Apple At-Home Advisor, Team Leader, or Area Manager, and get the inside scoop on the hiring process, how much you'll make, and more.
14. SocialBee
Do you love social media? How about writing? If you said "yes" to one or both of these, SocialBee is the perfect way to make money as a remote night shift worker. This freelancing platform offers a variety of opportunities for those looking to make money from their social media experience.
Here are some remote freelancing positions you can easily apply for on SocialBee:
Social Media Bee: For social media gurus who love everything about being social.
Engaged Growth Bee: For those who love to dive into analytics and monitor growth.
Paid Advertising Bee: Love to run marketing and ad campaigns? This opportunity is for you!
Content Writer Bee: If you love writing clear and engaging content, this position is the perfect fit for you!
After reviewing each position, select the category that suits your interest and level of experience, fill in the application, and SocialBee will get back to you if you're a match.
15. Sitel Group
Sitel Group hires remote employees from all states except California, Washington, and New York for a wide variety of customer and sales positions. With Sitel Group, you can work part- or full-time hours, with the latter offering a wide variety of employee benefits. Schedules vary depending on each client's needs, but they do have overnight, weekend, and regular business hours available.
Some positions have specialized qualifications, but most roles just require the following:
High school diploma or GED
18 years old
Typing speed of 25 WPM
Pass a criminal background check
16. Smith.ai
Smith.ai hires virtual receptionists from all around the globe! In these work-from-home jobs, you can choose to work full- or part-time hours. Shifts are broken into 2-5 hour blocks, and they are open 24/7, 365 days a year, so there are day, night, and weekend hours available. Full-time roles come with benefits, and the starting pay for US team members is $15 per hour and $16 per hour for bilingual (English/Spanish) team members.
To work with Smith.ai, you'll need the following qualifications:
Excellent oral and written communication skills
Typing accuracy of 100% and speed of 40 WPM
Prior customer communication experience
17. The Trevor Project
If you're looking for a meaningful job with overnight shifts, check out The Trevor Project. They are a non-profit organization that helps LGBTQ youth through counseling, tools, and information. Because their help lines are open 24/7, 365 days a year, they have crisis counselors working day, night, and weekend shifts. These positions are typically full-time roles that come with benefits like health insurance and paid time off. Interested job candidates should be empathetic listeners with excellent communication skills.
18. Fiserv
Fiserv is a financial transaction company that has remote overnight jobs for customer service roles. They do not hire employees from the following states: California, Colorado, Connecticut, Illinois, Massachusetts, New York, Oregon, Rhode Island, Vermont, Washington, or Washington D.C. Positions are full-time and come with benefits like health insurance, paid vacation, 401K, stock options, and more.
For these remote night shift jobs, you must have the following:
At least one year of customer service experience
Be tech-savvy
Pass criminal, drug, and credit background checks
19. Axion Data Services
Axion Data Services hires part-time data entry operators to work around the clock. However, because these positions are so popular, they rarely have openings, but they do encourage interested applicants to apply. In this role, you'll work as an independent contractor, and you'll be paid per completed piece. Payments are distributed biweekly via direct deposit.
To work with Axion Data Services, you must have the following:
High diploma or GED
2-3 years of data entry experience with a typing speed of 50 WPM (error-free)
Proficiency with Microsoft Office Suite
Pass a criminal background check
Must be able to work 20 hours per week
20. Studypool
Studypool hires online tutors from around the world to answer homework questions online. In this independent contracting role, you can create your own schedule and work as much or as little as you'd like. Of course, during the application process, you'll need to prove your expertise and credentials for being a tutor. Once you're approved, you'll use the Studypool online portal to answer questions and chat with students. According to their website, top tutors can earn $7,500 a month.
Other Ways to Find Remote Nighttime Work
FlexJobs
FlexJobs is another great place to find remote night shift jobs. This online platform has a mixture of flexible job opportunities from night shift to fully remote and hybrid positions (work hours are split between office and home). Being specific in your search on FlexJobs is important as it will allow you to find the perfect night shift jobs on the platform quickly.
Conclusion
If you've been thinking about making money from home but struggle with time constraints, then these remote positions are for you! There are numerous virtual night shift jobs you can do when the kids are in bed and you have a little extra time.
The best part about these jobs? They're fun, AND many allow you to work as much or as little as you want. You also have the freedom to double up on some of these job opportunities and increase your earning potential. The flexibility to work on projects you enjoy and when you want to makes these positions invaluable!
Are you in a remote late-night position that you love? We would love to know more! Have questions about working remotely? Drop us a line below; we would love to help!
Originally published March 13, 2020. Content updated January 2023.