If you're looking for a flexible work-from-home job, that doesn't require a set schedule, keep reading, this post has you covered!
Flexibility has become the most desirable aspect of a career. In fact, 92% of job-hunting millennials cite flexibility as their top priority.
And because the internet plays such a huge part in business, the supply is rapidly rising to meet demand.
Whether you're looking for a little extra money on the side or something to replace your primary source of income, check out these flexible work-from-home jobs that will help you schedule work around life instead of life around work.
1. Transcribing and Captioning
Many businesses need audio transcribed and videos captioned. As it is a time-consuming task, it's common for them to outsource to freelancers and independent contractors, making it a great flexible work-from-home option.
Transcription agencies like Rev pay $0.30-$1.10 for every audio minute transcribed, but it also depends on if you're transcribing audio or video. It's ideal for getting your transcribing feet wet, but it's probably not something from which you can make a full-time income.
For example, if you earn $0.30 per audio minute, that's only $18 for an hour of audio.
Remember that you will repeatedly be replaying parts of the audio to get the transcription accurate, which means making that $18 could realistically take closer to two or three hours.
If you're serious about transcribing as a career and have the chops, you can start your own transcribing business to make more money. And if you learn specialized types of transcription, like legal or medical, you can make a pretty tidy living!
Here are some more transcriptionists jobs that allow you to create your own hours:
VA work is big these days because there are tons of small businesses and solopreneurs who need help with their day-to-day tasks. The term virtual assistant covers a wide range of work and can entail anything from administration to content management and social media management.
One way to break into VA work is to start with an organization like Fancy Hands. These jobs are first come, first serve, which means gigs tend to get snapped up quickly. Nevertheless, it is suitable for earning a little bit of side income and is definitely flexible.
Another company you can explore is Byron. They hire experienced virtual assistants to work on projects, and you can choose how much or how little you'd like to work; these positions pay an average of $13-$17 per hour.
If you're looking for something with higher income potential, you can look into starting a VA business and finding your own clients. If that prospect sounds overwhelming, sign up for this free training from Abbey Ashley of The Virtual Savvy.
If you're a voracious reader and a stickler for grammar, proofreading is an excellent avenue for earning an income on a flexible schedule!
There are millions of publishers and content creators out there who need help checking their blogs, ebooks, and transcriptions.
Unlike editors, proofreaders don't actually make changes to the document their proofing. They make a note of any spelling and grammatical errors. There is a technical side to it, though, so additional training might be needed if you're looking to launch a proofreading business. (Perhaps the most comprehensive course on the market is Caitlin Pyle's Proofread Anywhere courses.)
Once you've learned the skills, you can find work at companies like Babbletype and Express Writers or source your own clients.
If you're handy with Boolean search and enjoy digging into statistics, trends, and fact-finding, you might consider becoming an online researcher.
Businesses often outsource their research to agencies to get the information they need without wasting time by finding and training a researcher.
One such agency is Wonder. You can apply to become a Wonder researcher by filling out the form on their website. You'll then be asked to demonstrate your research capabilities by finishing an online quiz and test assignment.
Once approved, you can log onto your dashboard whenever you have time to work and take on research assignments.
The pay varies depending on how long it takes you to finish a job, but it typically ranges from $8-$16 per question. Right now, Wonder is not accepting new applicants, but you can bookmark their site for future openings.
Flexible customer service jobs are plentiful if you're a people person with excellent communication skills.
Usually, customer service entails helping customers with their questions and troubleshooting problems by phone, email, or online chat.
You can apply at an agency like NexRep, where you can find customer service work as an independent contractor in various industries, including food, fashion, hospitality, and nonprofit.
The application process at NexRep is relatively straightforward. Once you're determined to be a good fit for the company, you need to complete their online certification before working with clients. The pay is typically somewhere in the $15-$25 range, and scheduling is flexible.
You can also find remote customer service jobs with flexible hours at ACD Direct, Yardi Matrix, Working Solutions, Omni Interactions, LiveOps, and FlexJobs.
Online tutoring is another popular option for making money on a flexible schedule. Cambly is another option for helping teach English to people all over the world. At $10.20-$12.00 per hour, the pay is less than VIPKID, but you can apply even if you have no experience; you only need to be fluent in English.
7. Freelance Writing
Another easy way to make extra cash on your own schedule is with freelance writing. Opportunities for freelance writing have exploded over the past decade, and there is no shortage of writing gigs available for those who enjoy writing and have a solid grasp of English grammar.
Although writing gigs usually come with expectations on turnaround time and deadlines, when you do the writing is totally up to you, making it a super "set your own hours" job!
And despite popular belief, you do not need a journalism or English degree to be a well-paid freelancer.
That said, making money as a freelancer can be tricky when you're a beginner. Many rookies fall into the trap of writing for content mills, organizations that churn out dirt-cheap content by paying their writers pennies for their work.
It's far more profitable to find freelance writing clients by building a portfolio and finding work through job boards like Contena and Problogger.
For more freelance job postings, check out this massive list of paid writing jobs!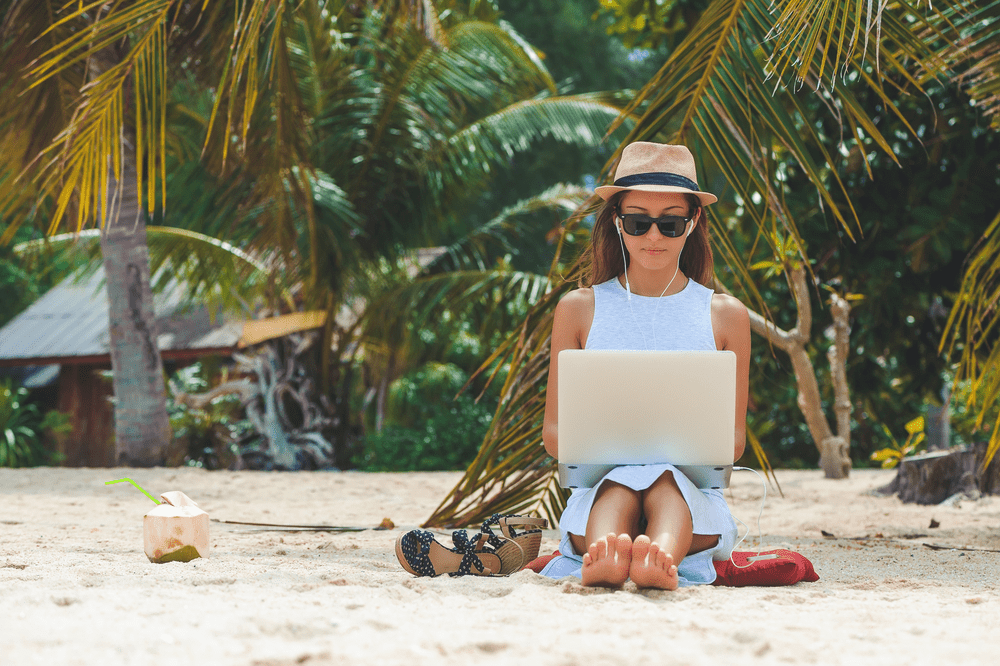 Translation work is an excellent option if you are bilingual.
You can find work with translation agencies like Speakt or Gengo. Depending on what languages you can speak and how much you work, these agencies can help you earn an extra few hundred dollars per month.
You can also be a freelance translator and source your own clients. (It's something that might work well as a VA offering!)
Smaller, one-off tasks are ideal for side-income and offer the ultimate flexibility; you just pop online whenever you feel like working and take your pick from the available tasks.
You can apply to organizations like Amazon Mechanical Turk, TELUS International, and Appen, which offer a wide variety of work, from marketing, sales, and data entry, to interpreting and search engine evaluation.
Or, if you're looking to get out and about, Gigwalk is another company that offers pay for going out to stores and photographing displays.
If you're well-versed with social media platforms like Facebook, Instagram, Twitter, YouTube, and TikTok, you can make money as a social media manager!
From creating images for Pinterest and editing videos for TikTok to moderating content, answering queries, and running paid campaigns, there are positions for beginners and experienced marketers alike!
Some remote companies that offer flexible schedules include SocialBee, ModSquad, and VaVa Virtual Assistants. You can also search for freelance social media gigs on platforms like Upwork, Fiverr, and Legiit.
If you're skilled at using software programs like Canva and Photoshop, working on graphic design projects is an excellent way to make money on a flexible schedule. As a graphic designer, you can create logos, marketing assets, business cards, printables, and more. And as long as you can meet your deadlines, you can work any hours you choose!
To start working as a graphic designer, check out:
12. Pet Sitter
With the on-demand economy, connecting with people who need your services has never been easier! If you're an animal lover and don't mind boarding other peoples' pets in your home, you can make good money using an app like Rover.
To get started, download the Rover app, fill out your profile, and await approval. Once approved, you can choose which services you'd like to offer (dog walking, house sitting, pop-in visits, and boarding), you're availability, and what kind of animals you're willing to watch. You also get to set your own work schedule and prices!
For more info on Rover, check out our full review here.
13. Flexible Full-Time Job
You may have noticed that most of the jobs listed in this post are freelance opportunities or independent contracting roles. While freelancing offers a lot of flexibility, it does have its cons. When you work as an independent contractor, you're responsible for paying self-employment taxes and getting your own health insurance, and often work hours are only part-time.
If you prefer to work as a W2 employee, we found some companies that will allow you to set your own schedule as a full-time employee!
Here is a list of flexible jobs that allow you to work anytime:
Conclusion
When it comes to finding flexible work-from-home jobs with no set schedule, you have choices!
If you're testing the waters or only need a little extra side income, you may find success with the many online companies that offer flexible work.
Or you can launch your own business. As a business owner, you can work whenever and wherever you want, plus it has the potential to become your primary source of income!
And if you're looking for full-time employment, some companies allow employees to choose their own work hours!
Originally published July 13, 2020. Content updated August 2022.