Making money with your smartphone has never been easier! With tons of apps that cater to the booming world of side gigs, there are many ways you can turn your smartphone into a personal side hustle.
As a stay-at-home mama who just exited the workforce, earning even an extra $10 during nap time seemed like an awesome opportunity! After reading through several money-making app reviews, I decided to jump in and join the Gigwalk community.
Here's everything you need to know about Gigwalk and if it's the right opportunity for you.
What is Gigwalk?
Gigwalk is a smartphone app that pays you to perform small tasks (aka "Gigs") based on your location. Companies looking for Gigwalkers are typically retail stores looking for brand audits or feedback on products and product displays.
How Do You Become a Gigwalker?
Becoming a Gigwalker is extremely simple. Here are the steps:
Find and download the Gigwalk App on your smartphone. It's available for both iOS and Android devices.
Easily register your Gigwalk account. All you need to do is answer a couple of questions and provide your email address.
Connect your PayPal Account. This makes getting paid fast and easy. (I got paid within 32 hours of my first Gig.)
How Does Gigwalk Work?
One of the greatest advantages of Gigwalk is its flexibility. You decide if you want the Gig, if it fits your schedule, or if you're going to pass it by for something different.
Another great feature is that you're not limited to just your hometown. You can use the "search this area" feature on the app to see what's outside of your general location as well.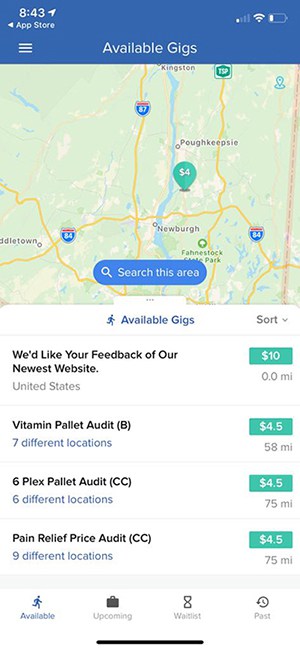 Here's an overview of how Gigwalk works:
A Gig is posted in the Gigwalk app and shows up on the map. Each Gig listing includes the payment amount, a short description, and location. Miles are calculated based on your phone location.
Look for Gigs in your area that could be a good fit, and apply for those in which you're interested.
Apply for a Gig by clicking the "Apply to this Gig" button.
Occasionally, the business may ask a screener question before you're accepted, such as, "Explain why you would be a good fit for this Gig."
When accepted, you'll be notified and given instructions for the Gig.
Upon completing the work, submit it through the Gigwalk app. You may need to answer a few follow-up questions.
Wait for business approval to get paid, and after approval, payment is sent directly to your PayPal account!
What Types of "Gigs" Will I Do?
This is the fun part. Many of the jobs featured on Gigwalk are posted through retail stores looking to check on displays or products on their shelves. Although, they also have online gigs like website testing and surveys too.
Essentially, stores are looking to verify product pricing, availability, and conditions. Some other consumer brands or retailers will have you ensure that marketing events are done correctly and on-time. You'll verify this by taking photos of the products, displays, and events.
My first Gigwalk task was for a big retailer (Kohl's), and I landed it while taking my kids out for some groceries! I was walking around and decided to check the app to see if anything popped up in our area. The store next to us had a Gig available, so I jumped in and got it!
The Gig asked me to take pictures of a blender display and to upload them to the app. All in all, the entire job took me five minutes to complete – even with kids in tow!
How Much Money Can I Make as a Gigwalker?
That very first Gig I landed took me five minutes and paid $6. This included the time it took me to locate the product, take pictures, and upload them. Not to mention, I was out and about shopping with my kiddos.
Considering it was fast and convenient, you can imagine how excited I was to earn this extra cash!
Overall, the amount of money you can make varies by location and by Gig. On average, Gigwalkers can earn anywhere from $3-$100 for an individual task.
If you're looking to complete a substantial number of gigs, the app tends to benefit those who live in cities. Not only are there more businesses, but you can also rack up extra money without necessarily having to worry about the cost of gas.
When Will I Get Paid for Gigs?
Gigwalk allows customers up to 14 days to approve your work before an automated payment comes to your Paypal account.
However, I personally have never waited that long to get paid (at least not yet). I typically see payments in my PayPal account within 32-48 hours.
Gigwalk Tips and Tricks (Plus Benefits)
Some complaints regarding Gigwalk include problems with app connectivity and Gig availability. Here's what I've found as a Gigwalk user:
On Gigwalk App Connectivity Issues
One way to fix some app connectivity issues is simply by allowing the app to locate your device.
I know sometimes individuals get nervous about allowing apps or other devices to "know their location," which I totally get! But for apps like Gigwalk to work properly, it is one fear (gulp) you'll have to put aside.
Another piece of advice: If you don't want the app to know your precise location, you can always access the Gigwalk App while you're away on vacation.
This way you can earn some money without revealing your hometown location to the app. Simply turn off the location feature, or delete the app before you head home!
Gig Availability
I can tell you from experience that this can be an issue if you're searching for Gigs in a more rural location.
On average, I see about 10 Gigs in my area over the course of two or three days. This number will vary depending on your location.
As mentioned earlier, the app does have a "search this area" feature, so you can broaden the hunt for Gigs if it makes sense to do so.
The key is to keep checking the app and widen your search – especially if you're out of town anyway.
Gigwalk Tips
Here are a few extra tips regarding the Gigwalk app we thought you should know.
Not all Gigs require you to drive. Every now and then, remote Gigs will pop up from companies looking for you to test out their websites.
When you attempt to accept Gigs outside of your location, a popup will remind you that you're over a certain number of miles from your area and ask you if you want to proceed.
This great little feature will help to ensure that you're ready to take on a Gig that may be further away.
If you're a city dweller, you can maximize the amount of money you make by taking on Gigs within blocks of each other.
Combine your side hustles! Because many Gigs are quick, you can piggyback your side hustles to really cash in.
If you're already cashing in with Instacart or DoorDash, then why not score some extra money as a Gigwalker while waiting for your next pickup?!
Recap of Gigwalk
The Gigwalk app is a great way to make extra money while you're out and about.
If you live in the city or are visiting, you'll have more Gigs available to you, but don't dismiss the app if you're in the suburbs or rural areas either. Other opportunities, such as remote Gigs, do pop up on the app.
Remember, if you're traveling, take advantage of your time on the road and grab that extra cash with a simple Gig.
Have questions or comments about Gigwalk? We would love to hear from you! Drop us a line below to share your experience with the app!