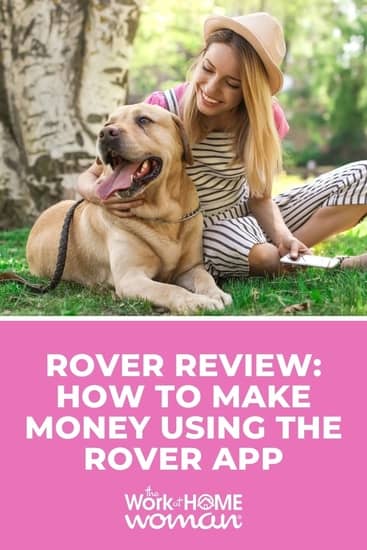 Making money to play all day with your furry friend may sound a bit far-fetched, but with apps like Rover, you can easily make money while doing something you love. Below is your full Rover review on how to make money using the Rover app.
What is Rover?
Founded in 2011, Rover is the leading online marketplace for pet care. This platform connects pet owners with pet care enthusiasts (like you) for various services needed for their furry family members.
Although dogs are the most common animal on Rover, they do cater to a wide variety of other pets as well. Whether you're partial to cats, hamsters, rabbits, or the like, you can make money on Rover tending to your favorite type of pets.
Some pets are not allowed on Rover (like venomous snakes!), so you'll want to check out their terms of services to make sure the pet you'd like to care for is among the animals approved on Rover.
Thousands of pet owners look for reliable, trustworthy pet care every day, and that's where you come in!
From grooming and drop-ins to house sitting and overnight boarding, you can make money using the Rover app, providing most types of pet care.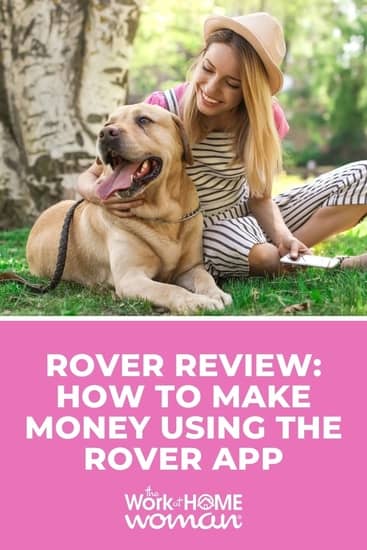 How Can I Start Making Money Using Rover?
To start using Rover, you can create a profile on the Rover app or desktop site.
However, there are a few requirements you need to meet.
To use Rover, you need to be 18 years old and submit a background check and a $25 processing fee.
During the initial sign-up, Rover will select one service (i.e., dog walking) for you. Once approved for that particular service, you'll be able to either continue or delete that service or offer additional services at any time.
After you complete those steps, your profile is reviewed, and Rover will send over an email detailing your results.
Once approved, you'll work as an independent contractor for Rover. While this means that there are no benefits or set salaries, you have complete flexibility with how much you make working for Rover!
Approval for services such as grooming or boarding may require additional information on Rover.
Using the Rover app, it's pretty easy to navigate. After you sign up and fill in your profile information, the app will connect you with pet owners who need your services.
When a pet owner wants to connect with you for your services, they will send you a request which will appear under the "pending requests" section. Click on that request to view the gig's details.
Being brand new to Rover, you may find that the process takes a bit of time the first-time a pet owner books with you. Rover does suggest that you meet with new owners before committing to bookings. This will help create better connections and better experiences for you and the client.
If you want to book the gig, you or the owner can click the "Book It Now" button, which will open a three-day window for the other person to accept the request.
How Much Money Can I Make Using Rover?
As with any other side hustle, your earnings on Rover will vary and depend on the types of services you offer and how frequently you offer them. Rover estimates that you can earn up to $1,000 a month as a dog walker or sitter.
If you can establish a customer base and have a system in place, it's pretty easy to earn well over $1,000 a month as a dog walker or sitter.
Rover doesn't accept cash payments, so you'll need to either set up a PayPal account or accept checks.
Your clients will pay through the Rover app after you complete your service. Rover charges a 20% or 25% service fee, which will come out of what you've earned.
The difference in the service fee percentages depends on whether you use RoverGo. RoverGo is a separate program you can apply for that's for sitters who are available four or more times a month.
After you complete a service, you can withdraw your earnings two days later. To access your money, you'll need to request it using PayPal or through the Rover app.
When you receive money from Rover via PayPal, there is typically a 24-hour wait period before you can access it.
If you prefer to get a check, it can take over a week to receive it, and there's a processing fee.
All in all, making money with Rover is fast and easy. Below we detail how to monetize your Rover experience even further.
How to Double Your Money as a Pet Sitter
To capitalize on Rover and make upwards of twice the regular rate of dog walkers or pet sitters, you'll want to expand the services you offer.
Some other ways you can make more money on Rover include:
Boarding Services:
Rover indicates that offering a boarding service can easily double the amount of money you bring in each month. To bring in money on Rover, you'll want to provide this service.
House Sitting:
You can charge more for house sitting or overnight stays for pet owners who need more of your time.
Repeat Clients:
One neat thing about Rover is how easy it is to book repeat clients. Often, clients look for pet care providers to establish a relationship with. Finding clients who need more than a one-off service will ensure that you make consistent income as their go-to pet care person.
Pet Sitting Other Animals:
Broaden your services and let clients know that you're able to care for their entire family of fur babies!
Offering Services for Pets with Special Needs:
If you have experience (or you're comfortable), you can provide care to puppies, aging animals, or other types of pets that have certain health conditions, you can charge a higher rate. These pets take more of your time, care, and attention and, therefore, demand a higher rate.
Cash Tips:
Aside from what you make as a pet sitter, clients often tip their Rover workers for the services they provide. Cash tips are not a given every time, but they add up.
Using the Algorithm:
Gain top service provider status and garner the attention of new clients faster by answering messages quickly and getting great testimonials or "sitter points."
Get Your Camera Ready:
Grab your smartphone the next time you're out on a walk with a pup or tending to your favorite kitty. Providing pictures will help to build a connection between you and potential clients while also demonstrating the level of care you give to all of your pets.
How to Get More Pet-Sitting Gigs on Rover
Getting more opportunities to work as a pet-sitter on Rover means more money every week for you! As a pet sitter on Rover, you'll get reviews and a "sitter score" based on your clients' overall experience with you.
The better your reviews or "sitter points," the more likely you'll be able to land new dog walking or pet sitting opportunities through owner recommendations.
Here are a few pointers for increasing your chances of getting good testimonials and, in turn, more recommendations.
Always act professionally when interacting with pet owners, either online or in-person.
Communication is key! Communication that is consistently clear and quick is the best way to establish yourself with a new pet owner.
Go above and beyond when offering service. Bringing treats or a ball, for example, will help you to stand out.
Sending pictures of your doggie daycare in action to your pet parents is another excellent way to communicate with your pet owners.
Follow through with your scheduled service times, and don't ever be late.
Benefits of Using Rover to Make Extra Money
There are many perks to establishing yourself as a reliable pet sitter on Rover. While complete flexibility and control over your pet services are one of the biggest benefits you'll enjoy while working for Rover, you'll also love:
Setting your own schedule and pricing.
Being able to offer any combination of pet care services you want.
Managing your pet sitting business on the go with Rover App.
Complete confidence with full backing by Rover and their vet care reimbursement.
You can make as much or as little money as you need, working with Rover part-time or even as a full-time job. The combined flexibility with the advantage of working with animals makes this work-from-home job one of the top selections for people looking for flexible schedules.
Frequently Asked Questions About Using the Rover App
How much money should I charge as a Rover dog sitter?
Whether you're walking dogs, dog boarding, grooming, or taking care of other animals, you'll set your own prices working on Rover. A lot of what you charge will reflect your current local market.
One great way to gauge pricing for your services, especially for pet-boarding, is by simply checking out the local going rate for doggie daycares in the area. Many places post their rates online, or you can also call around. Keep in mind, you'll need to provide a cushion for the Rover fee, so you may need to charge slightly higher rates.
As a dog walker, you'll price your services per 30-minute walk, and as a dog boarder, you'll set a nightly rate.
How much does Rover take out of my pay?
Rover charges a 20% or 25% fee depending on whether you're in the RoverGo program. When you're pricing out your services, be sure to include the Rover charges as well!
What is a "Sitter Score"?
Sitter performance scores are assigned to everyone who works with Rover. They offer some insight into how you're performing compared to other pet sitters on Rover. These scores are also important as they influence your profile ranking on the platform. So the higher the score, the better placement your profile will receive when potential clients search for your services.
There are two types of performance scores: a booking score and a repeat score.
The booking score is your overall booking rate, which measures the number of clients who end up booking and leaving a positive review after initially contacting you. The repeat score is how often your new clients book with you again.
What's great about these scores is that only you can view them. They are not public knowledge and will not influence potential customers.
What is RoverGo?
RoverGo is perfect for dog sitters who have more availability on their calendar to earn even more money.
The team on Rover will set you up to earn loyal clients with 4-6 stays each month. Some of the benefits to joining RoverGo are a complimentary background check, a professionally written profile, and a boost in search rankings if you're a new sitter. This means you show up higher in search results. You'll also receive a welcome package with your choice of dog bandanas, t-shirts, and more.
It's completely free to sign up. The only difference is that you keep 5% less of what you earn than the Rover sign-up alone.
According to Rover, sitters with RoverGo have the opportunity to earn $100+ more each month, have about 20% more conversations with dog owners and get 10-15% more bookings than a regular sitter.
Rover Review Wrapup
Using the Rover app is a great way to earn extra income in your spare time, and for those who are a bit more serious, they can easily replace a full-time income. Starting a doggy daycare business, providing boarding services for when people take vacations, or even offering simple dog walking and pet sitting options are just some of the ways you can take advantage of this gig.
If you're looking for more side gigs and work-from-home opportunities, you can check out this list of money-making ideas here.