Have you ever wanted to start a dog treat business from home? Today we're talking to Kristin Larsen, an experienced business owner, enthusiastic side hustler, and blogger. Through her blog and signature courses Become a Pinterest VA TODAY! and Diva Dog Bakery™, she's helped thousands of women start successful and profitable side hustles. Keep reading to see if starting a gourmet dog treat business from home is your calling!
Tell us how you got started selling gourmet dog treats.
The very first dog treat I made was a cupcake for my dog Bella's birthday. I wanted to make something special for her and was disappointed by the quality of dog treats I found at the local pet food stores, so I decided to take it upon myself to learn how to bake a cute treat made from healthy, dog-friendly ingredients.
After seeing how much she loved the cupcake I made for her, I started experimenting with lots of different homemade dog treats – from treat bones to donuts to cookies. As much as Bella loved the treats I made, she couldn't possibly eat them all, so I started gifting them to my dog-owning friends and family.
I was perfectly happy just making these treats for Bella and as gifts. The idea of making a business out of it never crossed my mind, so when I had someone reach out and ask if they could buy my dog treats, I admit I kind of panicked!
Thankfully, I quickly calmed down, told them, 'I would love to sell them to you!' and formed my bakery: Diva Dog Bakery™.
My hobby turned into a side hustle, and when the Great Recession caused me to lose my job, I turned my side hustle into a full-time business. I sold my treats on Etsy, at local farmers' markets, in local pet food stores, and more.
How did you get involved in teaching people how to start a dog treat business?
When I was actively running the bakery, I had people reach out to me all the time asking how they could start their own dog treat business. I would always reply with a few tips and words of encouragement. I knew I had more knowledge to share, but I didn't have the time to sit down and put it all together.
After running my dog treat business for several wonderful and successful years, I slowly wound it down when I took a demanding 9-5. And then (in a crazy turn of events!) I ended up quitting that job to pursue blogging and Pinterest management full-time. I created a successful program on how to manage Pinterest accounts (Become a Pinterest VA TODAY!), which has taken up most of my time since.
It's been in the back of my mind for years to create a course sharing all of my dog treat business knowledge. I finally put the Diva Dog Bakery™ course together in 2020, and my only regret is not doing it sooner.
We've had so many successful students! It's fun to see how quickly they can become successful when they have a roadmap to success. (I had no idea what I was doing when I first started!)
What will people learn during your free training series?
The workshop is called Learn How to Start and Grow a Thriving Dog Treat Business. In it, I share the story of my business and some of my top tips for opening a dog treat business.
What are some of the benefits of running a dog treat business?
The most significant benefit is that you're getting into a lucrative, growing industry. When I owned my dog treat bakery business, people were a bit skeptical of the idea of 'gourmet dog treats.' I had to educate them about the importance of feeding their dogs healthy treats, whereas these days, the concept is fairly common. Pet owners are a lot more conscientious of the ingredients that go into the food they feed their pets.
Secondly, the profit margin on dog treats is really high – many of the treat recipes I share in my course run a 60%+ profit margin, which can increase even further when you start buying ingredients in bulk.
It's also just a FUN business. Your customers are adorable, you can tap into your creative side with your recipes and packaging, and you don't have to sit in front of the computer all day to earn an income.
Is a dog treat business profitable? How much can you make?
Yes, it definitely is! One of the many great things about a dog treat business is the high profit margins.
If you run this business as a side hustle, you can earn about $500 to $1,000+ per month once you get going.
As a full-time business, you can make a healthy four – or even five – figures a month once you start to scale your operations.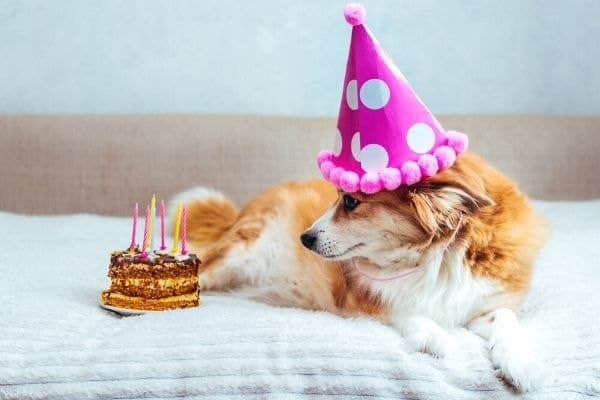 How much does it cost to start a dog treat business?
To start a dog treat business, you're looking at an investment in the $100 to $300 range if you're in the U.S. (costs and laws vary outside of the U.S.), which you can quickly earn back after selling your first several batches of dog treats.
Your start-up costs will go toward:
Initial ingredients
A few essential baking tools if you don't already have them in your kitchen
Packaging costs (pretty packaging goes a long way and can help you increase your prices)
Business License
Treat registration fees – these vary by state and may be a one-off fee or a per-treat fee
What sorts of personality types do well with this business?
As far as introvert vs. extrovert, both personality types do well with a dog treat business, but your personality may impact your preferred sales method.
If you're an introvert, you may gravitate toward online sales, such as an Etsy shop and social media.
If you're an extrovert, you may gravitate toward selling your treats at farmers' markets, expos, and the like.
That said, I consider myself an introvert, and I LOVED selling at farmers' markets. It was so much fun to see people and their dogs! I think it's important to step outside of your comfort zone sometimes because you never know where it will lead you.
Anything else you'd like to add?
If the idea of owning a dog treat bakery interests you, I invite you to check out my free training workshop so I can share more of my knowledge with you. I'd love to see you there!
Oh, and one more thing – you do not need baking experience to run a dog treat bakery. My baking experience was limited when I started my bakery; I learned it all 'in the field' (aka my kitchen!).
For more information on running your own dog treat business, check out Kristin's course HERE.