Do you have a passion for food? Do you love cooking? Great news! There are many ways to make money cooking at home!
If you have experience in the culinary field, you consider yourself a foodie, or you love experimenting in the kitchen there are plenty of options out there that allow you to earn money while sharing your love of cooking with others.
If you love food and cooking, check out these flexible work-at-home career options. Bon appétit!
Here are 13 ways to make money cooking at home!
1. Teach Cooking Classes
If you're passionate about healthy food options and love kids, consider teaching cooking classes through the Healthy Hands Cooking instructor program.
This cooking instructor program walks you through all you need to know to help kids and families create healthy, whole-food-based meals. Over the course of 11 modules, program participants learn the basics of teaching kids how to cook, food safety, licensing, and permits, as well as how to market their cooking instructor business. At the end of the program, you become a certified Healthy Hands Instructor.
The course is $997, and instructors keep 90% of what they earn from their classes and demonstrations.
2. Join a Direct Sales Business Opportunity
You've probably heard of direct selling companies like Avon, Tupperware, and Mary Kay, but today there are options for every interest and hobby that you can imagine! Here are a few food-based companies to check out if you'd like to make money selling yummy food and beverages from home.
One of the most popular direct sales companies focused on food and cooking is Tastefully Simple. This home-based business has been growing steadily since 1995. Consultants sell delicious, easy-to-make foods such as dips, sauces, seasonings, mixes, and meal kits in a home party plan set up. New consultants join by purchasing a starter kit for $49-$99. From there, they're given the tools they need to earn up to 40% commission on sales and additional bonuses for team-building activities.
Another great direct sales option is Traveling Vineyard. If you're a wine lover, this is an awesome career—enjoy free wine, home tasting parties, and great opportunities. To become a Wine Guide, you'll need to purchase a starter kit which ranges in prices from $59-$99. After purchasing your kit, you receive your own personal website (free for the first three months and $15.95 a month thereafter). Wine Guides earn 15-35% commission on personal sales. They also receive bonuses and a discount on wine purchases!
More of a coffee or tea connoisseur? Java Momma sells organic fairtrade coffee, flavored coffee, loose leaf tea, cocoa, and accessories in various yummy flavors like Sea Salt Caramel Mocha and Pumpkin Muffin. Baristas earn 20% commission on sales and additional commissions on team sales. Baristas must make one sale or purchase via their replicated website every three months to remain active. Java Momma offers three starter kits to choose from, ranging in price from $20-$32.50.
Related content: The Best Beverage and Food Party Plan Companies
3. Sell Cooking Class Subscriptions Online
If you're comfortable in front of the camera and enjoy doing cooking demos, why not create your own cooking class subscription to sell online? Video tutorials are popular because they help you connect with your audience and people are all about video. They're simple to create, and you don't need a big investment upfront besides a laptop, video camera, or smartphone, and video platform like Uscreen. Create subscription services for your online videos to keep viewers coming back and to create an ongoing source of revenue. You can even release teaser content on a site like YouTube or TikTok and encourage viewers to join your subscription site.
4. Apps for Selling Home Cooked Food
You've familiar with on-demand apps like Uber and DoorDash, but did you know that there are on-demand apps for selling your home-cooked food? If you'd like to make money by sharing your love of food and cooking, check out the following money-making apps.
With BonAppetour, you can become a host and make money by offering food tours, tasting and beverage trails, cooking classes, home dining, dinner parties, and outdoor food experiences. According to their website, hosts can earn up to $1,000 per experience doing what you love!
DishDivvy is an app (avilable for Android and Apple phones) that allows you to make money cooking meals for people in your neighborhood. Users get a dedicated webpage where they have a bio, menu selection, and a scheduling app. The app is free to use, and you'll earn 85% of what you price your meals at, and payments are distributed after the meal is delivered. DishDivvy gets a 4.8-star rating in the app store.
On EatWith, hosts earn up to $700 per event by opening their kitchen to guests. There are EatWith chefs around the globe, hosting in-home pop-up restaurants and meals for travelers and food-lovers who want a new cultural and social experience. If you enjoy sharing your specialties with others, EatWith offers a unique opportunity to connect with foodies right from your own home.
The Homefoodi app, available for Android and Apple operating systems, allows you to make money cooking food for people locally. Each home chef that applies will have to go through a verification visit to ensure their kitchen is clean and hygienic. Once approved, you can create your account, list your menu, and start taking orders. Homefoodi receives a 4.5-star rating in the app store.
Savorly in an Android app where you can make money by selling home-cooked meals to people in your community. There's not much information listed on their website, but the app gets 3.7 stars out of 1,000+ reviews, and Brenda Radtke runs the company. If you're interested in finding out more, you can request additional information on their website.
Food and recipe writing is an art form. Recipe writers must capture all the steps, ingredients, and details of a dish so readers can replicate the meal successfully. Believe it or not, many cookbook authors employ recipe writers to explain and detail the important steps in recreating dishes.
To get started, post your services on Fiverr or Upwork. If you're experienced with a special way of cooking (vegetarian, vegan, gluten-free) or another niche cooking style, writing recipes is an in-demand service. You may also want to offer photos of their recipe creations as well. In fact, I know of one gal who creates new recipes and shoots videos for bloggers for $300 a pop!
In addition to Fiverr, there are other paid writing opportunities where you can craft and list your recipes and even food writing. You may find gigs to write articles for print magazines like Eating Well and Cuisine at Home. Solve a problem, share a food tip, or review a favorite meal, food product, or restaurant. There are many opportunities for writers with a passion for culinary arts!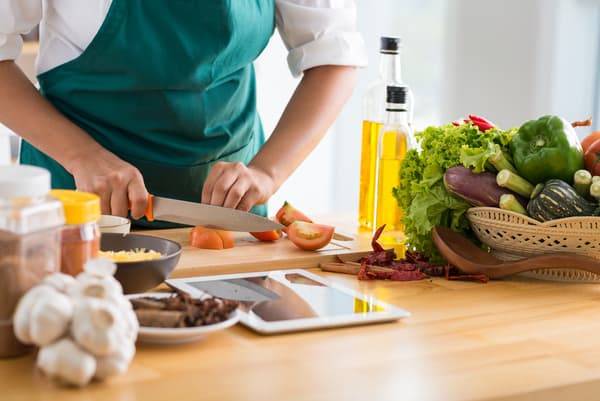 6. Become a Food Blogger
Passionate food writers can also earn money by creating a food blog. The market for food and recipe blogs is vast, and if there's a niche, food style, or area you're experienced with, your writing is in high demand. Food blogging couple Lindsay and Bjork at Pinch of Yum shared their income reports from 2011-2017 as their blog grew from a hobby to a full-time business. On one of their last income reports, they earned over $70,000 in one month!
Food bloggers can make money through ad networks like Google Adsense, Raptive, Mediavine, and Ezoic. But they can also earn money through affiliate marketing, product sales of courses, printables, cookbooks, and subscription services, as well as brand sponsorships.
If you're interested in starting a food blog, here are some easy step-by-step instructions for starting a blog.
7. Watch Cooking Shows
If you prefer watching others cook (Food Network fans, here's looking at you), earn points on Swagbucks simply by watching cooking shows on their video channel. All that's required? Just log in and watch. You can earn SBs and exchange them for payment via PayPal or gift cards to your favorite stores like Amazon, Starbucks, and Old Navy. While you won't earn a full-time income from Swagbucks, it's a nice way to add some extra cash to your wallet.
Related content: 7 Simple Ways to Earn Money By Watching Videos
8. Start a Cooking Channel on YouTube
YouTube creators can earn big money! The cooking channel, CharlisCraftyKitchen earns $127k per month! Running your own YouTube channel requires a willingness to share your videos with others, regular posting, and a unique creative idea. Vlogging isn't necessarily the career for everyone, but it can yield high incomes for some. One of the keys to working on YouTube is to use your platform to drive traffic to affiliate links rather than relying solely on ad revenue (which requires large numbers of viewers and takes a long time to build). YouTube is also a strong way to drive traffic to your online storefront and sell your own products.
9. Sell Gourmet Goodies
Small food makers can apply to sell their wares via Goldbely, a carefully curated food lover's delivery service. This shop sells the top treats from around the country as they're created by local artisans, iconic shops, and go-to food joints. Think Joe's Pizza from New York, Danish Kringle pastry from Wisconsin, or King Cake from Gambino's in New Orleans. These treats are shipped to buyers around the US so they can enjoy the taste of home or their favorite destination.
Related: Starting a Cupcake Business From Home
10. Become a Personal Chef
If cooking is your passion and you love feeding others, working as a personal chef may be your calling. This may mean offering your services for a special event, cooking daily meals, catering, or frozen meals. When you're a personal chef, you can set your own prices, work for the number of clients you prefer, and specialize in your own style of cooking. When it comes to becoming a personal chef, word-of-mouth marketing is key. Plus, you'll want to set up your own website, business cards, and social media accounts.
11. Make Money on TikTok
If you've ever watched TikTok, you know how quickly trends and videos go viral. In fact, how many of you made the famous baked tomato feta pasta? I know I did. If you love sharing your recipes, food outings, or restaurant hacks, you can make good money on TikTok through the TikTok Creator Fund, sponsored content, or selling your own products via the platform. Recently, Tori Dunlap, who runs herfirst100k shared that she earns $12,000 per TikTok video! Granted, she has 1.7 million followers, but I just recently started a TikTok account, and I already have 17k followers, and I've had a video go viral with over 450k views! For more tips and info about getting started, read this helpful TikTok post.
12. Food Stylist
Part of what makes a recipe alluring is the photos, and while good photography is part of that equation, styling the food, so it looks fresh and appealing is the other part. To become a food stylist, you may need to get a degree in culinary arts, baking arts, or nutrition. Others may learn from on-the-job training or running their own food blog, Instagram account, or photography business featuring food. There are also some books on the topic that you can check out on Amazon. According to Comparably, the average food stylist earns $140,635 annually!
13. Food Videographer
If you're great at recipe creation and you have a knack for creating viral videos, becoming a food videographer may be your calling. Like food styling, many food videographers get their training and experience through experimentation in their own kitchens. Besides knowing how to film, direct, set up, and edit videos, you'll also need to be familiar with the platforms where the videos will be hosted (YouTube, Facebook, Instagram, Pinterest, or TikTok). For more information on this career and how to get your first client, check out these helpful tips.
Conclusion
There are many ways to making money cooking from home while still enjoying the flexibility of setting your own schedule, working your preferred hours, and running your business from home. If you're looking for stay-at-home career options, don't give up on your culinary dreams. There are plenty of home-based opportunities for foodies and cooking enthusiasts.
Originally published October 3, 2017. Content updated August 24, 2021.